Belterra Casino Florence
Address: 777 Belterra Dr, Florence, IN 47020, USA
Phone number: +1 812-427-7777
Website: https://www.belterracasino.com/
Hours: Monday – Thursday 9:30am – 2:00am Friday – Sunday 9:30am – 4:00am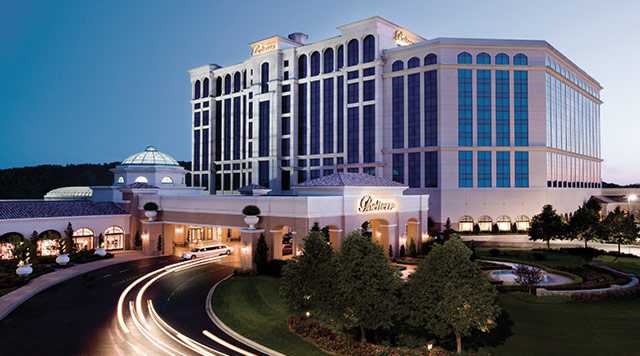 Belterra is a casino located in Florence, Indiana. It is owned and operated by Boyd Gaming. The casino has over 1,000 slot machines and 30 table games. Some of the table games offered include blackjack, roulette, craps, and three-card poker.
In addition to gambling, Belterra Casino also features live entertainment events, multiple dining options, and a luxury hotel with over 500 rooms. The casino also has an 18-hole championship golf course on site.
Whether you are looking for a fun night of gambling or a relaxing stay at the hotel, Belterra Casino offers something for everyone. Come check out all that Belterra has to offer.
Belterra Casino has an average rating of 4.5 out of 5 on TripAdvisor. Guests praise the casino for its great selection of games, fun atmosphere, and luxurious accommodations.
Some guests have mentioned that the casino can be busy at peak times, but for the most part, guests enjoy their experience at Belterra.
(Related reading: Indiana casinos)
Gaming
This casino offers over 1,000 slot machines with a variety of denominations. Guests can also enjoy 30 table games, including blackjack, roulette, craps, and three-card poker.
Table Games
Table games are a classic staple of any casino experience, and Belterra has no shortage of them. With over 50 table games to choose from, guests can try their hand at traditional favorites like blackjack, roulette, and craps, or they can explore more unique options like Pai Gow Poker and Mississippi Stud.
There's something for everyone at Belterra, and with friendly dealers and comfortable seating, it's easy to spend hours playing the tables.
So whether you're a seasoned veteran or a first-time player, be sure to check out the wide selection of table games at Belterra – you're sure to find something you'll love.
It offers table game minimums as low as $5 for some games. These low minimums make it easy for players of all budgets to enjoy a fun night at the casino.
Slots
There are nearly 1,000 slot machines at this casino, making it one of the largest casinos in Indiana. With so many options, deciding which ones to play can be hard.
Here are some of the most popular choices:
Penny slots: These machines offer a wide variety of games, including many themed after popular TV shows and movies. They're a great option for those who want to try their luck without spending a lot of money.
Video poker: Video poker is a popular choice for both casual players and those looking for a challenge. There are many different variations available, so players can choose their favorite or try something new.
Progressive slots: These machines offer the chance to win big jackpots. The amount of the jackpot increases as more people play, so it's always growing. Many people love playing progressive slots because they never know when they might hit the big one.
With so many options available, a slot machine at Belterra Casino is sure to be perfect for everyone.
According to Indiana Gaming Commission regulations, Belterra slot machine payback percentage is currently 90%. This means that, on average, for every dollar a player spends on the slots, they can expect to receive 90 cents back in winnings.
Hotel/Resort
Belterra Resort in Florence, Indiana, is the perfect getaway for those looking to enjoy all that casino gaming has to offer. The resort offers a wide variety of gaming options, as well as a variety of dining and entertainment options.
In addition to the casino, guests can enjoy a variety of amenities, including an indoor pool, a spa, and a fitness center. The resort also offers a number of meeting and banquet facilities, making it the perfect place for business or pleasure.
Whether you're looking to hit the slots or take in a show, Belterra is sure to have something to offer.
Belterra offers a variety of room options, including deluxe rooms and suites. Prices vary depending on the season and day of the week, but as an example, a standard deluxe room can cost around $150 per night.
Check-in time at Belterra Hotel is 4:00 pm
Check-out time at Belterra Hotel is 11:00 am
Restaurants & Buffets
If you're looking for a delicious meal to accompany your gaming fun at this casino, you'll have plenty of great options to choose from.
One standout choice is 19 Steak & Seafood, where you can savor steakhouse classics like tender filet mignon and rich Lobster Thermidor. Or, if you're in the mood for something lighter, the fresh seafood options are sure to please.
If you're looking for a more casual dining experience, Stadium Sports Bar & Grill is the perfect spot to kick back and enjoy some wings or a burger while you catch the big game on one of the many TVs. No matter what your taste, Belterra's restaurants are sure to hit the spot.
Pools
The indoor pool at Belterra Resort offers a relaxing oasis for guests looking to take a break from the excitement of the casino. The pool also features a hot tub and a sauna, perfect for unwinding after a long day.
The resort's outdoor pool is open seasonally, offering the chance to soak up some sun while enjoying a refreshing dip in the water.
Belterra Casino Florence, IN FAQ
Does Belterra Casino Have A Sportsbook?
Yes, this casino has a sportsbook. The FanDuel Sportsbook is located on the casino floor and offers sports betting with 4 self-service betting kiosks, 12 television screens, and a large video wall with a sports ticker. The sportsbook is open daily from 9 am to 1 am.
Is Poker Available At Belterra Casino?
Yes, poker is available at Belterra Casino. The casino offers both live and video poker games. Live poker games are offered daily, with a variety of different tournaments and cash games available. Video poker games are also available, with a wide selection of machines to choose from.
In addition, the casino also offers a monthly Poker Freeroll tournament, which is open to all players.
What Are The Age Requirements For Gambling At Belterra Casino?
To ensure that our facilities are used appropriately, we have established a minimum age requirement of 21 for all gambling activities. This policy is strictly enforced, and anyone found to be violating it will be asked to leave the premises.
Does Belterra Have An Online Casino?
No, this casino does not have an online casino. While many casinos have moved to online platforms in recent years, Belterra Casino has remained focused on its brick-and-mortar location.
This decision likely stems from the fact that it is already a successful business, and its owners may feel that there is no need to shift to an online platform.
Is There An Belterra Casino App?
A Belterra Casino App is available for download on both the Apple App Store and Android Google Play Store. With this app, you can not only earn Boyd Points and Tier Credits but also enjoy a galaxy of fun!
Stardust Social Casino offers a wide variety of casino games, including slots, blackjack, poker and more. So download the app today and start earning those Boyd Points and Tier Credits.
What Is The Dress Code At Belterra Casino?
While there is no specific dress code at this casino, they ask that all guests please dress in a manner that is appropriate for a public setting.
While casual attire such as jeans and t-shirts are allowed, they ask that clothing not be excessively torn or dirty, and they do not allow clothing with offensive language or imagery.
Is There An Airport Shuttle Available From Belterra?
No, this casino does not offer an airport shuttle service. However, multiple transportation options are available for guests looking to get to and from the airport.
These include taxis, car rentals, and public bus systems. Guests can also arrange for private shuttle services through their hotel concierge.
What Is The Smoking Policy At Belterra?
This casino allows smoking in designated areas throughout the facility. These areas include a limited number of slot machines and the smoking lounge on the casino floor.
Non-smoking guests are asked to avoid these areas, and the casino has established a no-tolerance policy for smoking outside of designated areas. Guests found violating this policy will be asked to leave the premises.
What Is The Pet Policy At Belterra Resort?
This casino does not allow pets to be brought into the facility. The only exception to this policy is service animals, which are allowed in all casino areas.
Guests with service animals may be required to present documentation, and any non-service animals found on the premises will be asked to be removed.
Is Wifi Available At Belterra Hotel & Casino?
Yes, complimentary wifi is available for all hotel guests. Guests can access the wifi by connecting to the "BelterraGuest" network and entering their room number as the password.
Wifi is also available throughout the casino floor, with a password provided at the Guest Services desk.
What Is The Cancellation Policy For Belterra Resort?
The cancellation policy for hotel reservations at Belterra Casino varies depending on the rate and room type. For most reservations, guests must cancel at least 24 hours before their scheduled arrival to avoid any charges.
For specific details, it is best to contact the hotel directly or refer to the cancellation policy listed on your reservation confirmation.
Conclusion
Belterra Casino is a popular destination for both gambling and entertainment, offering a wide variety of games, amenities, and services for guests. They have a strict no-smoking policy and do not allow pets on the premises, except for service animals.
Wifi is available for hotel guests, and there is an app for earning rewards at the casino. The dress code is casual but appropriate for a public setting.
While there is no airport shuttle, transportation options are available for guests looking to travel to and from the airport. Visit this casino for a fun and enjoyable experience.