Blue Chip Casino Michigan City
Address: 777 Blue Chip Dr, Michigan City, IN 46360, USA
Phone Number: +1 219-879-7711
Website: https://www.bluechipcasino.com/
Hours: Blue Chip Casino is open 24 hours a day, 7 days a week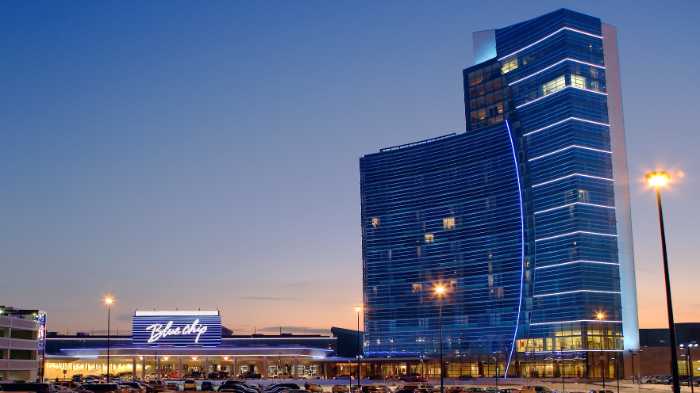 The Blue Chip Casino in Michigan City, Indiana, is a popular gambling destination. It has been operating since 1989 and features over 2,000 slot machines and nearly 60 table games. The casino is also home to several restaurants, including a steakhouse, buffet, and sports bar.
In addition to gaming, visitors can also enjoy live entertainment at the on-site Stardust Event Center, which has hosted performances by major music acts such as Reba McEntire and Earth, Wind & Fire.
The Blue Chip Hotel offers luxurious accommodations for those looking to extend their stay.
Whether you're a seasoned gambler or just looking for a fun night out, the Blue Chip is sure to provide an entertaining experience. Be sure to check out their promotions and events before your visit for even more excitement.
Guest reviews of the Blue Chip Casino in Michigan City, Indiana, are generally positive. Many guests appreciate the wide variety of gaming options, on-site restaurants, and entertainment.
Some reviewers note that the casino can be quite crowded on weekends, but overall, it is a great place to visit.
(Related reading: Indiana casinos)
Gaming
This casino offers a variety of gaming options, including over 2,000 slot machines and nearly 60 table games. Popular games include blackjack, craps, roulette, and poker.
Table Games
This casino is home to a variety of table games that will keep you entertained for hours on end. There is something for everyone, with so many different games to choose from. Blue Chip has you covered if you are looking for a classic game, such as blackjack or roulette.
If you want something a little more adventurous, you can try your hand at Pai Gow Poker or Three Card Poker. And if you really want to test your luck, Blue Chip also offers a variety of high-stakes games, such as baccarat and Craps.
No matter what your skill level or budget, Blue Chip has a table game that is perfect for you.
The minimum bets for table games at this casino vary depending on the game and time of day. Generally, during peak times, the minimum bet for most table games is $10-$15. However, off-peak times may have lower minimum bets or special promotions with even lower minimums.
Be sure to check with a casino representative for specific minimum bets for the game you want to play. And don't forget to check for any promotions that may offer even lower minimum bets.
Slots
This casino is home to a variety of different slot machines, each with its own theme and payout structure. Two of the most popular machines at the casino are the "Wheel of Fortune" and the "Mega Moolah".
The "Wheel of Fortune" machine is based on the popular television game show of the same name and offers players the chance to win big jackpots. The "Mega Moolah" machine is a progressive jackpot machine, which means that the jackpot increases every time someone plays it.
In addition to these two machines, Blue Chip offers a wide range of other slot machines, including video poker and keno machines. Whatever your budget or gambling preference, there is sure to be a slot machine at Blue Chip that will suit you.
The payback percentage for slot machines at Blue Chip is not publicly disclosed. However, the overall average payback percentage for Indiana casinos as a whole is 91%.
This means that, on average, the player can expect to receive about 91 cents back in winnings for every dollar spent on a slot machine at an Indiana casino.
Hotel/Resort
Blue Chip Casino is a beautiful gambling destination situated on the shores of Lake Michigan. The casino offers its guests a wide range of amenities, including various gaming options, world-class dining experiences, and luxurious accommodations.
Visitors can choose from a variety of games, including slots, table games, and video poker. There are also many restaurants on-site, serving everything from fine cuisine to casual fare.
And for those looking for a place to stay, the casino offers a variety of suites and rooms, each with its own unique style and amenities. Blue Chip has something to offer everyone, whether you're looking for a fun night out or a relaxing getaway.
The cost of accommodations at this casino varies depending on the room and time of year. Generally, rooms range from $99 to $299 per night.
Rates may also vary based on promotions or special events happening at the casino. It is best to contact the hotel directly for exact pricing and availability.
Check-in time at Blue Chip Resort is 4:00 pm
Check-out time at Blue Chip Resort is 11:00 am
Restaurants & Buffets
It has some fantastic restaurants that will suit any taste. Nelson's Deli has a great selection of sandwiches, soups, and salads for those looking for a quick snack or a light meal. For something more hearty, The Game Steakhouse offers a mouth-watering menu of steaks, ribs, and chicken.
And for the ultimate dining experience, William B's Steakhouse serves up classic steakhouse fare with a focus on fresh, locally sourced ingredients. No matter what you're in the mood for, the Blue Chip has a restaurant that will hit the spot.
Pools
The Blue Chip also has a beautiful outdoor pool with cabanas and a hot tub. The pool is open seasonally, typically from May to September.
Guests can rent cabanas for the day or use them complimentary if they stay in one of the casino's select suites. Pool hours vary, so be sure to check with the hotel for specific times.
It also offers poolside refreshments and food, so you can enjoy a delicious meal or snack while lounging by the water.
Blue Chip Casino Michigan City, IN FAQ
Does Blue Chip Casino Have A Sportsbook?
Yes, this casino does have a sportsbook. The FanDuel Sportsbook offers 2,730 square feet of sports betting, with 5 betting windows, 10 self-service betting kiosks, 22 television screens, and 2 sports tickers.
FanDuel offers spreads, single bets, parlays, and more for all major U.S. sports, including professional baseball, basketball, hockey, soccer, football, golf, boxing, motorsports, and collegiate football and basketball.
So whether you're a fan of the NBA playoffs or the Stanley Cup Finals, you can find a way to place a bet at the Blue Chip.
Is Poker Available At Blue Chip Casino?
Yes, poker is available at this casino. The casino offers a variety of poker games, including Texas Hold'em, Omaha, and 7-Card Stud. There are also daily poker tournaments with cash prizes.
In addition, the casino has a dedicated poker room with table games and slot machines. Poker players can also take advantage of the casino's VIP program, which offers exclusive benefits and perks.
What Are The Age Requirements For Gambling At Blue Chip?
The legal gambling age at this casino is 21. This means that you must be at least 21 years of age to gamble at the casino, whether you are playing slots, table games, or poker. You will be required to show a valid ID before being allowed to gamble.
If you are under 21, you will not be permitted to enter the casino floor or any gambling areas. However, there are some other areas of the casino that you may be able to access if you are under 21.
These areas include restaurants, hotels, and shops. so even if you can't gamble, you can still enjoy everything else the casino has to offer.
Does Blue Chip Have An Online Casino?
Yes, this casino has an online casino. You can use the FanDuel Sportsbook to place wagers on sports from your home computer or mobile device. The online sportsbook includes the same odds and betting choices that you will find at the Blue Chip.
You can also use the online casino to play slots, table games, and video poker. The casino offers a variety of bonuses and promotions, including a welcome bonus, reload bonuses, and more. You can also earn rewards points that can be redeemed for cash, prizes, and more.
Is There An Blue Chip Casino App?
The Stardust Social Casino app is a free-to-play mobile app that offers users the chance to earn Boyd Points and Tier Credits. The app is available for download on the Apple App Store or Android Google Play Store.
Through the app, users can access a variety of casino games, including slots, blackjack, roulette, and more.
In addition, the app offers users the ability to connect with friends and other players and participate in leaderboard competitions. With its wide range of features, the Stardust Social Casino app will provide hours of fun and excitement for all who download it.
What Is The Dress Code At Blue Chip Casino?
There is no specific dress code at this casino. However, it is recommended that visitors dress in a manner that is appropriate for a casino environment. This may include attire such as slacks and collared shirts for men and dresses or nice tops and bottoms for women.
Keep in mind that the casino does have upscale restaurants and bars, so it is suggested to dress accordingly if visiting these areas.
Is There An Airport Shuttle Available From Blue Chip?
This casino does not offer an airport shuttle service. However, the casino does offer a complimentary shuttle service to select destinations within a 5-mile radius of the casino. This includes locations such as hotels, shopping centers, and other attractions in the area.
For those looking for transportation to and from the airport, it is recommended to arrange for a taxi or rideshare service. The nearest airport to the casino is the South Bend International Airport, located about 30 miles away.
What Is The Smoking Policy At Blue Chip Casino?
The smoking policy at this casino is that smoking is permitted in designated areas only. These designated smoking areas are located on the casino floor, and all have proper ventilation to ensure a comfortable environment for both smokers and non-smokers.
The casino also has a smoke-free slots area for those who prefer not to be around secondhand smoke.
What Is The Pet Policy At Blue Chip?
The casino does not allow pets on the property, except for service animals. Service animals must be registered with the casino and wear proper identification. It is recommended to contact the casino prior to your visit if you will be bringing a service animal with you.
Is Wifi Available At Blue Chip Hotel & Casino?
Yes, the casino offers free wifi for all guests. The wifi network is named "Blue Chip Guest" and can be accessed with a room key or by requesting a login at the front desk.
What Is The Cancellation Policy For Blue Chip Hotel?
The cancellation policy for hotel reservations at this casino is that any cancellations made within 24 hours of the scheduled arrival date will result in the first night's room and tax charges. Cancellations made after this time period are subject to a cancellation fee.
It is recommended to contact the hotel directly for any questions regarding cancellation policies or to make changes to a reservation.
Conclusion
Overall, Blue Chip Casino offers a variety of gaming options, dining choices, and entertainment possibilities for visitors. Its range of amenities and services is sure to provide an enjoyable and memorable experience for all who visit.