Horseshoe Hammond Casino
Address: 777 Casino Center Dr, Hammond, IN 46320
Phone Number: (219) 473-7000
Website: www.caesars.com/horseshoe-hammond
Hours: Horseshoe Hammond Casino is open 24 hours a day, 7 days a week.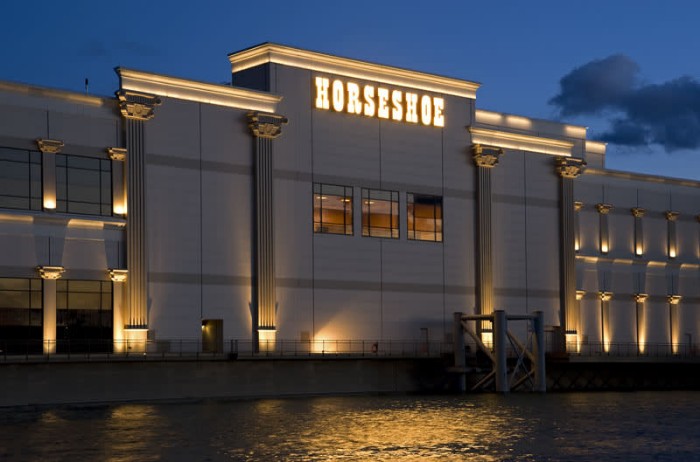 The Horseshoe Hammond Casino was originally established in 1996 as the Empress Casino. It was rebranded in 2001 as its current name and has since become one of the most popular gaming destinations in the Midwest.
Located just minutes away from downtown Chicago, the casino offers a variety of table games, slots and video poker machines and a sports betting lounge. It is also home to several restaurants, bars and lounges, including a world-class steakhouse.
The casino has also become a popular destination for live entertainment, featuring top acts worldwide. From comedians to bands, this casino hosts it all in its state-of-the-art showroom. Additionally, guests can take advantage of regular promotions and weekly events.
Whether looking for a place to gamble, enjoy great food and drinks or enjoy live entertainment, this casino is the perfect destination for an unforgettable gaming experience. With its convenient location and endless excitement, this casino has something for everyone.
On the most popular review platforms, this casino has an average rating of 4.5 stars out of 5. One guest said, "I had a great time at this casino! The service was top-notch, the food and drinks were amazing, and the gaming options were plentiful. Highly recommended."
Another visitor commented, "I had a great time at the Horseshoe Hammond. My favorite part was the live shows – they were always entertaining and well worth the price of admission."
(Related reading: Indiana casinos)
Gaming
Their 350,000-square-foot gaming floor boasts more than 1,800 slot and video poker machines, as well as over 60 table games. The casino also offers live sportsbook betting on all major sporting events.
Table Games
At this casino in Indiana, table game enthusiasts will be thrilled to know that there are many options.
You can try your luck at the classic game of blackjack or test your intuition on the spinning wheel of roulette. If you're in the mood for something more exhilarating, craps will surely provide an exciting option.
For those who like to keep things calm and collected, there's always baccarat to enjoy. Other available table games at this casino include 3-Card Poker, Mississippi Stud, Ultimate Texas Hold'Em, and Omaha.
The minimum bets for table games at this casino depend on the game you are playing. Generally, though, minimums range from $5 to $25. Check with the table game staff for current minimums before playing.
Slots
This casino offers a wide selection of slot machines. Some of the most popular include:
Wheel of Fortune
Star Wars
Tiger Treasures
eBay
Lord of the Rings
King's Jewels
The Hangover
Quick Hits
Monopoly
The payback percentage of the slot at this casino is 89.9%. This means that for every $100 wagered, the casino will pay an average of $89.90 in winnings.
Hotel/Resort
If you're planning a visit to this casino in Indiana, you'll be pleased to know that while there's no hotel on the property, there are several nearby options.
For those seeking comfort and convenience, Ramada by Wyndham Hammond Hotel & Conference Center is a great choice, offering cozy rooms and easy access to the casino.
If you're looking for more budget-friendly accommodations, Days Inn and Suites by Wyndham is a top pick, with affordable rates and comfortable amenities.
For those seeking a touch of luxury, DoubleTree by Hilton Hotel Chicago is located just a short drive away and offers stylish rooms and upscale dining options. Whatever your preference, there's a hotel near this casino that will make your stay enjoyable.
Restaurants & Buffets
When it comes to dining options at this casino in Indiana, guests are in for a treat. One restaurant in particular, the Foo Noodle Bar, offers a unique and delicious menu.
Featuring a range of Asian cuisine, from ramen bowls to tasty bao buns, the Foo Noodle Bar is the perfect spot for those craving some flavors from the East. For those looking for a more classic American steakhouse experience, Jack Binion's Steak is the go-to.
Known for its prime cuts of beef and gourmet side dishes, this restaurant is a must-try. And if you're searching for something quick and casual, The Eatery serves up a variety of fast and fresh options. Whether you're hungry for sushi, steak, or a sandwich, this casino has you covered.
Pools
While this casino in Indiana may not have any swimming pools onsite, there are plenty of other activities to enjoy during your stay. From exciting casino games to world-class dining options, guests can indulge in various entertainment options.
The surrounding area offers many outdoor recreational opportunities, such as hiking, fishing, and cycling. If you're looking to beat the heat, there are also several nearby water parks and beaches just a short drive away.
Horseshoe Hammond Casino, IN FAQ
Does Horseshoe Hammond Casino Have A Sportsbook?
They have the Caesars Sportsbook, which allows you to place bets on sporting events without ever leaving the casino. It offers the same features and betting options as traditional sportsbooks and is available 24/7. They also have the BetMGM app for sports betting on the go.
Is Poker Available At Horseshoe Hammond?
They offer a variety of poker games, including Texas Hold 'Em, Stud and more. To play at their poker tables, guests must be 21 or older, and there is a minimum buy-in. For those looking for a more casual experience, they offer daily tournaments with various buy-in options.
What Are The Age Requirements For Gambling At Horseshoe Hammond Casino?
The legal gambling age at this casino is 21. Guests under 18 are not permitted in the casino and must be accompanied by an adult when on the property. Table game minimums may vary, so patrons should check with the table game staff before playing.
Does Horseshoe Hammond Have An Online Casino?
No, this casino does not have an online casino. Guests may only access the casino and its games in person at the property. However, they do offer an online sportsbook and mobile app that allow users to place bets on sporting events without ever leaving their homes.
Is There An Horseshoe Hammond Casino App?
No, they do not have an app for the casino itself, but they offer a BetMGM app that allows users to place bets on sporting events from their mobile devices. Their website is also optimized for mobile devices, allowing users to access the same features and information as desktop users.
What Is The Dress Code At Horseshoe Hammond?
The dress code at this casino is generally casual. However, it does require that shirts and shoes be worn at all times. As a courtesy to other guests and to maintain the casino's atmosphere of sophistication, patrons should avoid wearing clothing deemed too revealing or offensive.
Is There An Airport Shuttle Available From Horseshoe Hammond Casino?
No, they do not offer an airport shuttle service. However, there are several transportation options available from the airport to the casino, including taxis, shuttles and rideshare services. Guests can also rent a car for their stay or take public transportation via bus or light rail.
What Is The Smoking Policy At Horseshoe Hammond?
This casino is a non-smoking facility. Smoking is prohibited indoors, including on the gaming floor and in restaurants. There are designated outdoor smoking areas located on the property. These areas comply with all local laws and regulations regarding secondhand smoke exposure.
What Is The Pet Policy At Horseshoe Hammond Casino?
Only service animals are allowed in the casino and its restaurants. Pets must be leashed or in a carrier at all times, and owners must clean up after their pets. All pet waste must be disposed of properly, and any damage caused by the pet must be reported to staff immediately.
Is Wifi Available At Horseshoe Hammond?
Yes, complimentary wifi is available throughout the casino and its restaurants. Login credentials are available at the front desk. Guests may also access their favorite streaming services and other online content while on the property.
What Is The Cancellation Policy For Horseshoe Hammond Casino?
They do not have a hotel onsite, so guests must make their own cancellation arrangements with the hotel they have booked.
If you have a reservation for a special event or tournament, they may have their own cancellation policy that you must adhere to. Please check with the casino staff for more information on their cancellation policy.
Conclusion
This casino is the perfect destination for a night of entertainment, offering guests dozens of gaming options in addition to restaurants, bars and special events. The age requirement is 21, and the dress code is casual.
On top of that, the casino offers complimentary wifi and a mobile sportsbook app. Pets are not allowed on site unless they are service animals, and smoking is prohibited indoors. Now that you have all the information, why not head to Horseshoe Hammond Casino and experience it yourself?