Casino Queen Marquette
Address: 100 Anti Monopoly, Marquette, IA 52158
Phone Number: +1 563-873-3531
Website: www.casinoqueenmarquette.com
Hours: Casino Queen Marquette is open 24 hours a day, 7 days a week.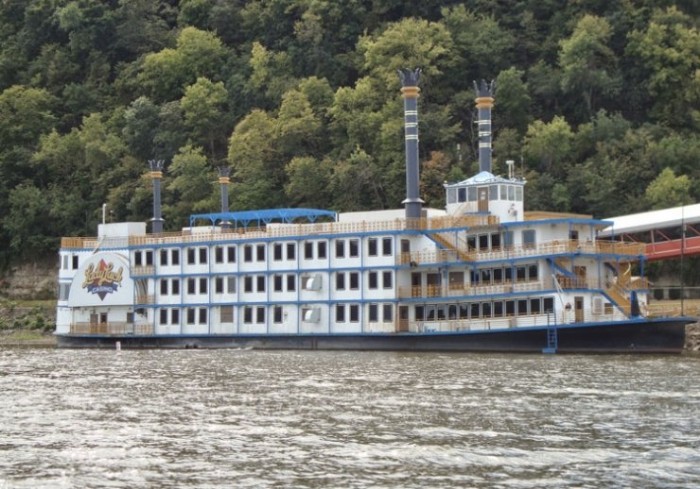 Casino Queen Marquette opened its doors in 2000, becoming one of the many riverboat casinos in Iowa. Since then, it has developed into a popular destination for gamblers. Additionally, its owner, CQ Holdings, is moving the casino onto land, allowing for a greater gaming experience.
The casino offers a range of popular table games such as blackjack and over 400 slot machines and video poker machines from all the top manufacturers. Additionally, this casino is home to a sportsbook, where visitors can bet on the latest sporting events.
The casino also offers a wide range of entertainment options. From live music to comedy acts, this casino has something for everyone. It also features three onsite restaurants ranging from fast food to fine dining.
This casino is committed to providing its customers with the best experience possible. With its wide range of gaming options, entertainment choices, and great food selection, this casino will surely exceed expectations.
On average, this casino has a 4.5-star rating of 5 stars on customer review sites such as Google, Yelp, and TripAdvisor. One guest said, "Casino Queen Marquette offers a great selection of slots and table games. The staff is friendly and helpful, the atmosphere is fun."
Another guest commented, "I have been here several times, and I like it. The atmosphere is great, the games are well kept, and the staff is very friendly."
(Related reading: Iowa casinos)
Gaming
Their gaming space features 400 gaming machines, table games and sportsbooks. Players may join their rewards program and earn exciting rewards when they play.
Table Games
When it comes to table games, this casino has a bit of a specialty in blackjack. This classic game of 21 is a fan-favorite for a good reason – the thrill of beating the dealer and winning big has been a casino staple for decades.
While this casino's focus on blackjack may be narrower than some other casinos, don't let that deter you from visiting. With friendly staff and a welcoming atmosphere, you'll have a great time playing blackjack here.
The table game minimums at this casino vary depending on the day and time of your visit. Generally speaking, the minimums are between $5 and $25.
Slots
At this casino, players can enjoy various slot machines from top manufacturers. Popular slots include:
88 Fortunes
Dragon Spin
Geisha
Fu Dao Le
Genie's Riches
Cleopatra
This casino's slot machine payback percentage varies from game to game. Generally speaking, the average payback percentage for slot machines is 90%.
Hotel/Resort
If you're searching for a place to stay at this casino, there isn't a hotel attached to the property. However, there are a few nearby options that might interest you. For starters, there's the Cobblestone Inn and Suites, a cozy hotel with an inviting atmosphere.
Alternatively, you could try the Microtel Inn and Suites, which offers comfortable accommodations at an affordable price. Another option is the AmericInn by Wyndham, where you'll find modern amenities and a range of convenient features for your stay.
Regardless of which hotel you choose, you can be sure that staying near this casino will be a memorable experience.
Restaurants & Buffets
If you find yourself at this casino, be sure to check out its impressive selection of restaurants. For a quick bite, Deli & Chips has you covered with sandwiches and snacks.
But if you want something more substantial, head to Market Street Buffet. Here, you'll find an array of delicious options ranging in price from $14.99 to $24.99.
Try their Market Street Home-Style Chicken, a crowd favorite made with juicy, tender chicken and flavorful seasonings. No matter what you're in the mood for, this casino has something to satisfy every craving.
Pools
While this casino in Iowa may not have any swimming pools onsite, there are still plenty of fun and exciting activities to partake in during your stay.
The casino offers a variety of slot machines, table games, and even a sportsbook for those interested in betting on their favorite teams.
If you're looking to explore the surrounding area, there are nearby attractions. While swimming may not be an option, there is no shortage of entertainment and adventure at this casino.
Casino Queen Marquette, IA FAQ
Does Casino Queen Marquette Have A Sportsbook?
Yes, they have the Queen Sportsbook, which is a great place to bet on your favorite teams. They offer betting lines for various sports, including football, baseball, basketball and hockey.
Is Poker Available At Casino Queen Marquette?
No, they do not offer any live poker tables. However, they do have video poker machines that can be enjoyed. In addition, there are tournaments and special events held regularly where players can compete in video poker tournaments for prizes.
What Are The Age Requirements For Gambling At Casino Queen Marquette?
To gamble at this casino, you must be 21 or older. Those under 21 cannot enter the casino and will be asked to leave if found inside. Minors may pass through the casino but cannot stay for any time.
Does Casino Queen Marquette Have An Online Casino?
No, they do not have an online casino. Players must physically visit the casino to gamble, as all gambling is done onsite. Customers can also enjoy a variety of live entertainment offerings, restaurants, and other amenities while visiting the casino.
Is There An Casino Queen Marquette App?
No, they do not have an app. Players must visit the casino website to access information about promotions, events, and other offerings at the property.
Customers can also check out the website for up-to-date hours of operation and contact information for any inquiries.
What Is The Dress Code At Casino Queen Marquette?
Casual dress is encouraged, but guests should avoid wearing clothing that is overly revealing or offensive. Shoes and shirts are always required, and no hats are allowed in the casino.
Is There An Airport Shuttle Available From Casino Queen Marquette?
No, there is no airport shuttle service offered. The casino is located just off of I-80 and is easily accessible by car. Additionally, the surrounding area offers a variety of other transportation options, such as taxis, rental cars and buses.
What Is The Smoking Policy At Casino Queen Marquette?
The casino is a non-smoking facility with designated smoking areas located outside. All guests must adhere to the no-smoking policy, and any violations will be subject to penalties. Also, all electronic cigarettes must be used in designated smoking areas.
What Is The Pet Policy At Casino Queen Marquette?
Pets are not allowed inside the casino. However, service animals are permitted with proper identification and paperwork. All animals must be leashed at all times and must remain with their owners while on the property.
Is Wifi Available At Casino Queen Marquette?
Yes, this casino offers free wifi for customers. Connecting to the network is easy and can be done from any device with a wifi connection. Additionally, there are charging stations located throughout the casino for those who need to power up their devices.
What Is The Cancellation Policy For Casino Queen Marquette?
Since they do not have a hotel, there is no formal cancellation policy. All reservations are subject to change at the discretion of the management and must be made in advance. Customers should inquire directly with the casino for any questions related to cancellations or refunds.
Conclusion
This casino offers an array of gaming, entertainment and dining options for guests to enjoy. With a sportsbook, video poker machines, free wifi and designated smoking areas, Casino Queen Marquette has something for everyone.
Guests should adhere to the dress code and no-smoking policy while visiting the property, and all minors must be accompanied by an adult. Additionally, pets are not allowed, and all cancellations must be made in advance.
With its convenient location off of I-80, this casino is a great destination for anyone looking to have a fun and exciting night out.