Catfish Bend Casino Burlington
Address: 3001 Winegard Dr, Burlington, IA 52601
Phone Number: +1 319-753-2946
Website: www.funcityresort.com/casino
Hours: Catfish Bend Casino is open Monday 10 AM – 2 AM, Tuesday 10 AM – 2 AM, Wednesday 10 AM –2 AM, Thursday 10 AM – 2 AM, Friday 10 AM – 2 AM, Saturday 10 AM – 2 AM, Sunday 10 AM –2 AM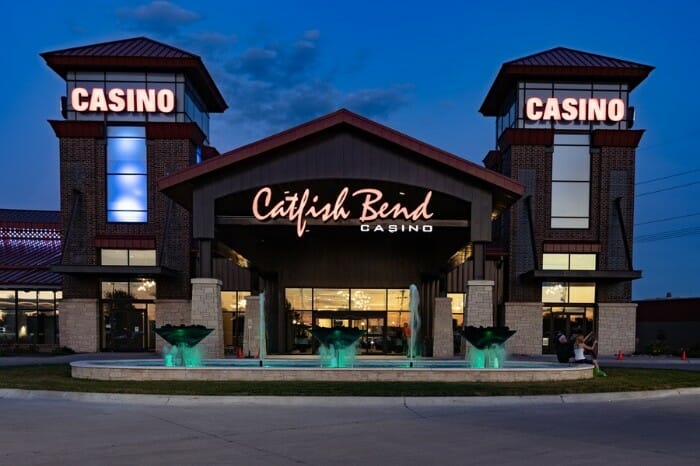 Catfish Bend Casino has been an Iowa gaming destination since 1994. Located in Burlington, Iowa, it is owned and operated by Great River Entertainment. Since its opening, the casino has been a popular destination for gaming enthusiasts.
It features more than 600 slot machines and live table games such as blackjack, craps, roulette and poker. Plus, with multiple promotions and rewards, this casino is the ideal place for an exciting gaming experience.
For those looking to relax, the casino also has a massage spa where people can get massages and spa treatments. There are also restaurants and bars onsite, so you can take a break from gaming and enjoy a meal or drinks.
Whether you're looking for an exciting night of gaming or just want to relax and have some fun, this casino is sure to provide an enjoyable experience. So come on out and see why this Iowa casino has been providing great entertainment for more than 25 years.
According to reviews on Google, this casino has a 4.4-star rating out of 5 stars from 303 reviews. One guest said, "I love Catfish Bend casino! Great place to go for a fun night out. Slot machines always pay, and the staff is friendly and helpful."
Another guest said, "This is one of my favorite places for a night out. The slots and table games are fun, the restaurant food is great, and there's usually something going on."
(Related reading: Iowa casinos)
Gaming
Their casino floor features over 600 slot machines and live table games, including blackjack, roulette and poker. Plus, they have a variety of promotions and rewards that make the gaming experience even better.
Table Games
At this casino, the options for table games are plentiful. Whether you're a seasoned gambler or a newcomer to the world of casinos, you're sure to find something that piques your interest.
Some of the games available include classic favorites like Blackjack, Roulette, and Craps, as well as other options like Fortune Pai Gow Poker, 7 Card Stud, and Omaha.
If you're a fan of Texas Hold'Em, you'll be glad to know that several variations are available, including NL Texas Hold'Em, Limit Omaha 8 or Better, and Ultimate Texas Hold'Em. Generally, the minimum bets are around $5, and the maximums can be upwards of $2,500.
Slots
At this casino, there are hundreds of different slot machines available. Some of the most popular include:
The Flintstones
Lord of the Rings
Cleopatra
Diamonds are Forever
Double Gold
Wheel Of Fortune
River Riches
Quick Hits
Fort Knox
Unfortunately, the casino does not publicly disclose its slot machine payback percentage. However, the Iowa Racing and Gaming Commission states that all casinos in Iowa must have a minimum return of 80%.
Hotel/Resort
If you're planning a visit to this casino, you may wonder where to stay. Although there isn't a hotel attached to the property, don't worry – there are several nearby options for you to choose from. If you're looking for convenience, the Catfish Bend Inn is just a short walk away.
Or, if you prefer a nationally recognized chain, both the Hampton Inn and the Fairfield Inn are also within close proximity. With a range of accommodations available, you'll find the perfect place to rest and recharge after a night of gaming and excitement at the casino.
Restaurants & Buffets
If you're looking for a bite to eat while visiting this casino, you'll be excited to know that there are several dining options to choose from.
The Boogaloo Sports Bar & Grill is a great spot to grab a burger and watch the big game, while the Edgewater Grille offers a more upscale dining experience with a menu featuring steak and seafood.
Looking for a quick and convenient option? Head over to Panera for freshly baked bread, soups, and sandwiches. No matter what type of cuisine you're in the mood for, there's a restaurant at this casino to satisfy your cravings.
Pools
While this casino does not have swimming pools on-site, there are plenty of options in the surrounding area for those looking to cool off on a hot summer day.
There are several public pools located throughout Burlington and West Burlington, all of which offer affordable admission prices and various aquatic features. If you're looking to make a splash during your visit to this casino, rest assured that there are plenty of nearby options.
Catfish Bend Casino, Burlington, IO FAQ
Does Catfish Bend Casino Have A Sportsbook?
Yes, they offer a sportsbook that features multiple televisions and betting terminals for you to make your wagers. You can bet on all major sports, including football, basketball, baseball, hockey, golf and more.
Is Poker Available At Catfish Bend?
Yes, Catfish Bend offers poker games with a variety of options. These include Texas Hold'Em, Omaha 8 or Better, and Seven Card Stud. Whether you are new to the game or a seasoned pro, there will surely be a game that fits your skills and budget.
What Are The Age Requirements For Gambling At Catfish Bend Casino?
The legal gambling age at this casino is 21 years old. All patrons must present valid identification before entering the casino floor and playing games. If it is found that a person under the age of 21 has been gambling, they will be asked to leave and may face further disciplinary actions.
Does Catfish Bend Have An Online Casino?
No, they do not have an online casino. All gaming activities at this casino must be conducted in person and on the premises. Patrons must be legally allowed to enter the casino floor and play games.
Is There An Catfish Bend Casino App?
No, they do not have an app. All gaming activities and promotions must be conducted on the premises. However, there is a website where players can find information about upcoming events, promotions and more.
What Is The Dress Code At Catfish Bend?
At this casino, there is no dress code. However, guests are encouraged to adhere to the standard dress code expected from any other establishment. No clothing items deemed offensive or inappropriate will be allowed on the premises.
Is There An Airport Shuttle Available From Catfish Bend Casino?
Unfortunately, there is no airport shuttle available from this casino. However, there are several taxi and limousine services located within close proximity to the casino. These can be used for transportation both to and from the casino.
What Is The Smoking Policy At Catfish Bend?
The smoking policy at this casino is that all smoking must be done in designated areas only. There are no smoking areas on the gaming floor, and vaping is prohibited anywhere inside the casino. All guests must respect this policy or face potential disciplinary action.
What Is The Pet Policy At Catfish Bend Casino?
Sadly, pets are not allowed inside the casino. All guests must leave any pets or animals outside of the premises. Service animals specifically trained to assist a person with disabilities are permitted.
However, they must remain under the control of their handler at all times and may not be left unattended in the casino.
Is Wifi Available At Catfish Bend?
Unfortunately, the casino does not offer wifi services. Guests must rely on their own cellular data when connecting to the internet at this establishment.
However, there are several restaurants and shops located in the area that provide free wifi for customers. This can be used to access the internet while on the premises.
What Is The Cancellation Policy For Catfish Bend Casino?
As there is no hotel attached to this casino, there is no cancellation policy. All reservations must be honored, and guests are expected to comply with the terms and conditions of their reservation. Failure to do so may result in additional fees or fines.
Conclusion
This casino in Burlington, Iowa, is perfect for anyone looking for a night of gaming and entertainment. With various table games, slots, poker and more, there's something sure to please everyone.
Keep in mind their age requirements, dress code and other policies when planning your visit. With the right preparation and research, you'll surely have a great time at Catfish Bend Casino.