Hard Rock Casino Sioux City
Address: 111 3rd St, Sioux City, IA 51101, USA
Phone Number: +1 712-226-7600
Website: https://www.hardrockcasinosiouxcity.com/
Hours: Mon – Mon 00:00 – 04:00; Mon – Thu 07:00 – 03:00; Fri – Fri 07:00 – 00:00; Sat – Sun 00:00 – 23:59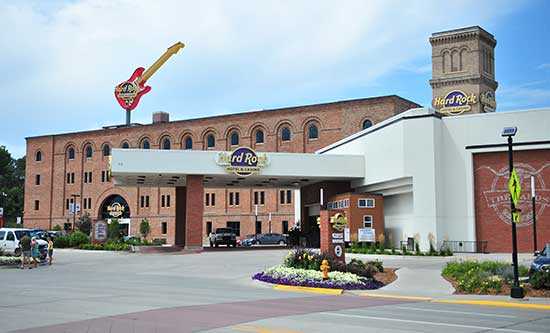 The Hard Rock first opened its doors in 2007. It is a large casino and hotel complex that covers a total of 45,000 square feet.
The casino offers over 600 slot machines and 38 table games. There is also a full-service restaurant, three bars, and a hotel with over 54 rooms.
In addition to gaming, it hosts live musical performances and events at its outdoor amphitheater. Popular acts such as Joan Jett, Foreigner, and Chicago have graced the stage here.
With its exciting casino options and entertainment offerings, the Hard Rock is a top destination for tourists and locals alike. Visit their website for more information and to book a stay at the hotel.
According to TripAdvisor, guests rate the Hard Rock Casino quite highly. It currently has a rating of 4.5 out of 5, with many guests praising its gaming options and live entertainment.
If you're looking for a fun and exciting casino experience, the Hard Rock Sioux City is definitely worth checking out.
(Related reading: Iowa casinos)
Gaming
This casino has over 600 slot machines and 38 table games, including blackjack, craps, and roulette.
Table Games
If you're looking for some fun and games during your visit to Hard Rock, there's no shortage of options. The casino floor is full of all the classic table games, from blackjack and craps to roulette and baccarat.
There's also plenty of opportunity to try your luck at one of the many slot machines. And if you're feeling lucky, why not head to the High Limit Room for some high-stakes action? Whatever your game, this casino has something to offer.
The minimums for table games at this casino vary, with the lowest starting at $5. Check with staff or the casino's website for specific game minimums before you play.
Slots
Hard Rock is home to a wide variety of slot machines, from classic favorites to the latest and greatest games. With so many options, deciding which ones to play can be tough. However, a few slots stand out as being particularly popular among guests.
One of the most popular slot machines at this casino is the Wheel of Fortune slots. These slots offer a chance to win big jackpots, making them a favorite among guests.
Another popular option is the Cleopatra slots, which offer guests the chance to experience the thrill of Ancient Egyptian culture while chasing after sizable jackpots.
Finally, the Penny slots are also a favorite among Hard Rock visitors, as they provide an inexpensive way to experience all the excitement of slot machine gaming. Whatever your taste in slots may be, Hard Rock is sure to have a machine that will suit your needs.
The slot machine payback percentage at this casino is unknown, as Iowa law does not require casinos to publicly disclose their payback percentages. However, Iowa's average payback percentage for slot machines is 89%.
Hotel/Resort
Hard Rock Casino offers an array of amenities to keep guests entertained and comfortable during their stay. The casino floor features 655 slots and 19 table games, providing plenty of options for guests to try their luck.
For those looking to stay active, the 24/7 Body Rock fitness center is exclusive for hotel guests. The ROCK SHOP offers a variety of Hard Rock-branded merchandise, including apparel, glassware, and souvenirs.
The pool and hot tub are seasonal and provide a relaxing atmosphere for guests to enjoy during the warmer months. Although the pool is closed for the season, the Hard Rock Hotel team members are available to answer any questions and ensure guests have a pleasant stay.
The cost of staying at Hard Rock Hotel varies, depending on the room type and date of travel. Rates start at $89 for a standard room with one king bed or two queen beds.
For more luxurious options, the resort offers suites with amenities such as separate living areas, wet bars, and whirlpool tubs that start at $119 per night. Special offers and packages are often available, so be sure to check the website for deals before booking your stay.
Check-in time at Hard Rock Hotel is 4:00 pm
Check-out time at Hard Rock Hotel is 11:00 am
Restaurants & Buffets
It is home to several restaurants that are sure to please any appetite. Fuel American Grill offers all-American classics like burgers and fries as well as lighter fare such as salads and sandwiches.
Fuel American Grill also serves up a menu selection of wings and pizza for those looking for a late-night option. Main + Abbey is the perfect spot for Those who appreciate good food and drink.
The restaurant features an extensive craft beer selection and a menu of award-winning cuisine. Whether you're looking for a quick bite or a sit-down meal, Hard Rock has a restaurant to suit your needs.
Pools
Hard Rock features a seasonal outdoor pool and hot tub, providing the perfect place to relax during the warmer months. The pool is currently closed for the season but will reopen in the spring.
Hotel guests have exclusive access to the pool area, which includes lounge chairs and cabanas available for rental. Poolside drinks and food can be ordered from the pool bar and delivered directly to guests.
Hard Rock Casino Sioux City, IA FAQ
Does Hard Rock Casino Have A Sportsbook?
This casino does have a sportsbook. You can find it on the second level of the casino. It is open Monday-Friday from 12:00 pm to 8:00 pm and on Saturday & Sunday from 10:00 am to 8:00 pm.
The sportsbook offers a great view of the casino floor, so you can watch all the action while you place your bets. You can also enjoy the bar's food and drinks while watching the game. There are plenty of TVs so that you won't miss a minute of the action.
Whether you're a casual fan or a die-hard sports fan, you'll enjoy betting at the Hard Rock sportsbook.
Is Poker Available At Hard Rock Casino?
Yes, poker is available at this casino. The casino offers a variety of poker games, including Texas Hold 'em, Omaha, and Seven Card Stud. Several tournaments are held each week, with cash prizes and entry into larger tournaments.
In addition, the casino offers a bad beat jackpot, which pays out if a player loses with a hand that is particularly strong. As a result, poker players of all levels can find something to suit their needs at Hard Rock Casino.
What Are The Age Requirements For Gambling At Hard Rock Casino?
The legal gambling age at this casino is 21. This means that you must be at least 21 years old to enter the casino, gamble on any of the games, or collect any winnings.
While this age limit is relatively standard across the United States, it's always important to check the age requirements of any casino before you visit.
Does Hard Rock Have An Online Casino?
While Hard Rock Casino does not have its own online casino, it does offer a sportsbook through PointsBet. This makes it possible to place bets on a variety of different sports, including football, basketball, baseball, and hockey.
In addition, the sportsbook offers a wide range of betting options, from simple moneyline bets to more complex parlay bets. As a result, Hard Rock provides a convenient way to place bets on your favorite sports.
While you won't be able to play casino games online, you can still enjoy the thrill of gambling on your favorite sports teams.
Is There An Hard Rock Casino App?
No, there is not currently a Hard Rock Casino app available. However, the Hard Rock website is mobile-friendly and can be accessed from most smartphones and tablets.
What Is The Dress Code At Hard Rock Casino?
The dress code at this casino is casual. However, they do ask that guests refrain from wearing clothing with offensive language or graphics. In addition, they request that beachwear, bathing suits, and flip-flops not be worn in the casino or restaurants.
Is There An Airport Shuttle Available From Hard Rock Casino?
Unfortunately, this casino does not offer an airport shuttle. However, several transportation options are available for getting to and from the casino. These include car rentals, taxis, and ride-sharing services such as Uber or Lyft.
What Is The Smoking Policy At Hard Rock?
The casino allows smoking in designated areas. These areas have clearly marked entrances and exits and ventilation systems to ensure the comfort of non-smoking guests. Non-smoking areas are also available throughout the casino.
What Is The Pet Policy At Hard Rock?
The casino does not allow pets, with the exception of service animals. Service animals must always remain on a leash or in a harness and cannot be left unattended. Guests with service animals may be asked to provide documentation from a licensed veterinarian or physician.
Is Wifi Available At Hard Rock Casino?
Yes, complimentary wifi is available throughout the casino. Guests can easily connect to the internet and stay connected during their visit.
What Is The Cancellation Policy For Hard Rock Casino?
Cancellation policies may vary based on the specific reservation or package. It is recommended that guests contact the casino directly for information on their specific reservations. In general, cancellation fees may apply, and it is best to cancel as early as possible to avoid any penalties.
Conclusion
Hard Rock offers a variety of gambling options, from traditional table games to poker tournaments. The casino has a casual dress code and allows smoking in designated areas.
Wifi is available throughout the casino, and there are several transportation options for getting to and from the venue. Pets, with the exception of service animals, are not allowed on the premises. Cancellation policies may vary, so checking with the casino directly for information on specific reservations is best.
Hard Rock Casino offers a fun and exciting gambling experience for guests 21 and over.