Isle Casino Bettendorf
Address: 1777 Isle Pkwy, Bettendorf, IA 52722, USA
Phone Number: +1 563-441-7000
Website: https://www.islebettendorf.com/
Hours: Isle Casino is open 7 am – 10 pm, 7 days a week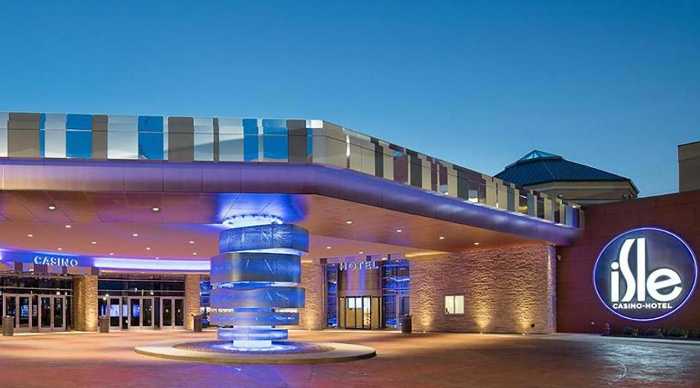 The Isle Casino first opened its doors in December 1995. It was originally known as the Isle of Capri Casino Bettendorf but later changed its name to the Isle Casino Bettendorf. The casino is located in Bettendorf, Iowa and is open seven days a week from 7 am to 10 pm.
This casino offers a variety of gambling options, including slots, table games, and poker. They also have live entertainment and dining options on-site.
The Isle Casino is worth checking out if you're looking for a fun night out in Bettendorf or just passing through Iowa. Be sure to check their website for special promotions and events before your visit.
Whether you're a seasoned gambler or just trying your luck for the first time, the Isle Casino is sure to provide an exciting and enjoyable experience.
The Isle Casino Bettendorf has an average rating of 3.9 out of 5 on Google, based on reviews from verified guests. Most guests seem to enjoy the casino's atmosphere and gaming options, while a few complain about food and drink prices.
Overall, the Isle Casino seems to be a popular destination for gamblers in the Midwest.
(Related reading: Iowa casinos)
Gaming
This casino offers a variety of gaming options, including slot machines, table games, and poker. Whether you're a high roller or just looking to have some fun, you'll find what you're looking for at this casino.
Table Games
This casino offers a wide variety of table games for guests to enjoy. Whether you're looking for a classic game like blackjack or a more modern option like Mississippi stud, you're sure to find something to suit your taste.
It also offers high-limit gaming in its VIP area, giving guests the opportunity to test their luck with higher stakes. In addition to traditional table games, it also offers several electronic table games, giving players the chance to play their favorite games without having to wait for a dealer.
Whether you're a seasoned gambler or just looking for a fun night out, Isle Casino is sure to have something for you.
The minimums for table games at this casino vary, depending on the game and time of day. For example, during non-peak hours, the minimum bet for blackjack is $5, while during peak hours, it can be as high as $25.
It's always a good idea to check with casino staff or look at the signage at the table before playing to ensure you're aware of the minimum bet.
Slots
When it comes to finding the perfect slot machine, players have different preferences. Some players prefer machines that are themed after their favorite TV show or movie.
Others prefer machines with interactive bonus games. And still, others prefer machines that offer the chance to win a progressive jackpot. At Isle Casino, there is something for everyone.
Some of the most popular slot machines at the casino include:
Classics like Cleopatra and Wheel of Fortune
Themed machines like Ghostbusters and The Walking Dead
Interactive bonus games like Sex and the City and Ellen's Dance Party
Progressive jackpot machines like Mega Moolah and Major Millions
No matter what your preference, you're sure to find a machine that suits you at Isle Casino.
The payback percentage for slot machines at this casino is currently unknown. However, Iowa state law requires that all casinos have a minimum payback percentage of 80% on their slot machines.
Hotel/Resort
The Isle Casino is a popular destination for both gambling and non-gambling guests. The casino offers a hotel with over 300 rooms and suites, multiple restaurants and bars, live entertainment, and a fitness center. Guests can also take advantage of valet parking and shuttle services.
The casino is located in Bettendorf, Iowa, and is open 24 hours a day. Guests can gamble on slot machines, table games, and video poker, or they can enjoy the many non-gambling amenities the casino has to offer.
Whether you're looking for a place to stay, something to eat, or just want to be entertained, the Isle is sure to have something for you.
The cost of a hotel room at the Isle Hotel depends on the type of room and time of year. On average, basic rooms start at about $100 per night, while suites can cost up to $250 per night.
Guests can also book packages that include meals and other amenities for a discounted price.
Check-in time at Isle Hotel Bettendorf is 4:00 pm
Check-out time at Isle Hotel Bettendorf is 11:00 am
Restaurants & Buffets
American Grill is open for breakfast, lunch and dinner. The menu features all your favorites including fresh seafood, steak and chicken. The Express menu offers a quick and easy option for those on the go.
The Lone Wolf is a great place to enjoy a night out with friends while enjoying delicious food and drinks. There are also several restaurants within walking distance of the casino that offer a variety of cuisines to choose from.
Whether you're looking for a quick bite or a leisurely meal, you're sure to find something to suit your taste at Isle Casino.
Pools
Isle Casino offers a beautiful outdoor pool with plenty of lounge chairs and cabanas available for rent. The pool is open seasonally, usually from May to September. Guests can enjoy food and drink service while relaxing in the sun at the pool.
Isle Casino Bettendorf, IA FAQ
Does Isle Casino Have A Sportsbook?
This casino does have a sportsbook! You can find it in the non-smoking area of the casino. They offer a diverse betting menu with something for everyone. You can bet on your favorite team no matter what sport they play.
So whether you're a football fan or a basketball fan, you can find a bet that's right for you. And because they offer bets throughout the year, you can always find something to wager on.
Is Poker Available At Isle Casino?
Yes, this casino offers poker games and tournaments. They have daily poker tournaments with buy-ins ranging from $30 to $200. The casino also offers a high-limit poker room for those looking for larger-stakes games.
What Are The Age Requirements For Gambling At Isle Casino?
Isle Casino is 21 and up. That's because, in order to gamble in the United States, you must be of legal gambling age as determined by your state of residence.
They take this requirement very seriously, and the staff is trained to verify the ages of all our guests. They also have a variety of measures in place to prevent underage gambling, including ID checks at all our entrances and gaming areas.
Does Isle Casino Have An Online Casino?
No, Isle Casino does not have an online casino. However, there are many other online casinos that players can choose from. While Isle Casino may not offer the same selection of games as some of the other online casinos, it does provide a good variety of gaming options.
In addition, Isle Casino offers a loyalty program that can provide players with rewards for their continued play. Ultimately, whether or not to play at Isle Casino is a personal decision that players must make for themselves.
Is There An Isle Casino App?
There is no Isle Casino app currently available. The Isle Casino does have a mobile website that can be accessed by visiting their main website from a mobile device. The mobile website is designed for ease of use and accessing all the features available on the main website.
Players can search for games, check member rewards, and view promotional offers. Additionally, players can use the same login information across both the desktop and mobile versions of the site.
While an app would be convenient, the mobile website is a great way to access the Isle Casino while on the go.
What Is The Dress Code At Isle?
The dress code at this casino is casual, but they do ask that the guests refrain from wearing clothing with offensive language or graphics. They also ask that shoes and shirts be worn at all times in the casino.
If a special event calls for a different dress code, it will be listed on the event's information page.
Is There An Airport Shuttle Available From Isle Casino?
Unfortunately, this casino does not offer an airport shuttle at this time. However, many transportation options are available for getting to and from the casino.
Guests can use a taxi or ride-sharing service, rent a car, or take public transportation. The casino does offer complimentary self-parking for all guests.
What Is The Smoking Policy At Isle?
This casino has designated smoking areas throughout the property for guests who wish to smoke. The casino also offers a non-smoking gaming area for those who prefer a smoke-free environment.
The casino does not allow vaping or e-cigarettes in any indoor areas, including the designated smoking areas. They also ask that all tobacco products be used responsibly.
What Is The Pet Policy At Isle Casino?
Isle Casino does not allow pets, with the exception of service animals. They ask that all guests with service animals have appropriate documentation or identification for their animal.
Additionally, the casino asks that service animals be well-behaved and kept on a leash at all times while on property.
Is Wifi Available At Isle Casino?
Yes, this casino offers complimentary wifi to all guests. The wifi can be accessed by selecting the network "IsleGuest" and entering a room number or loyalty card information.
What Is The Cancellation Policy For Isle Hotel?
The cancellation policy for Isle Hotel varies depending on the specific reservation. It is recommended that guests contact the casino directly to inquire about cancellation policies and fees for their specific reservation.
Conclusion
Overall, Isle Casino offers a variety of entertainment options, including gambling, dining, and events. They have a casual dress code and offer complimentary wifi and self-parking amenities. There is a designated smoking area, except for service animals, and pets are not allowed.
Cancellation policies may vary based on the specific reservation. Be sure to visit this casino next time you're in Bettendorf, Iowa.