Lakeside Hotel & Casino Osceola
Address: 777 Casino Dr, Osceola, IA 50213, USA
Phone Number: +1 641-342-9511
Website: https://www.lakesidehotelcasino.com/
Hours: Lakeside Casino & Hotel is open 10 am – 2 am, 7 days a week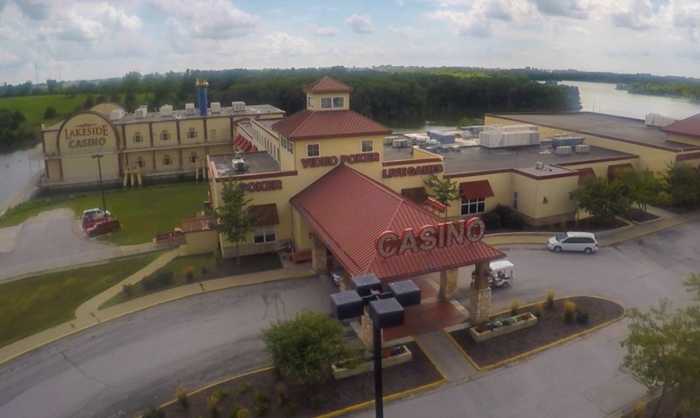 The Lakeside first opened its doors in 1993. It was originally built as a bingo hall and has since expanded to include a casino, hotel, and event center. The casino features over 600 slot machines and a variety of table games.
The hotel has over 100 rooms, including suites and Jacuzzi rooms. The event center can accommodate up to 1,000 people.
It is located just off Highway 34 in Osceola, Iowa. It is about an hour's drive from the Twin Cities. Osceola is a small town with a population of just over 5,000 people. The town is in Clarke County and is home to various businesses and attractions.
The Lakeside is a popular destination for both tourists and locals. The casino offers a variety of gaming options, including slots, table games, and bingo.
A hotel is a great option for those looking for accommodations in Osceola. The event center is perfect for weddings, business functions, and other special events.
Guests who have stayed at the Lakeside Hotel and Casino have given it an average rating of 3.5 out of 5 on TripAdvisor.
Many guests enjoy the variety of gaming options available at the casino, as well as the comfortable rooms and friendly staff at the hotel. However, some guests feel that the casino is too smokey and that the slots are tight.
(Related reading: Iowa casinos)
Gaming
This casino offers various gaming options, including slots and table games. The casino has over 600 slot machines, making it a great option for those who enjoy playing slots. Table games available at the casino include blackjack, poker, and roulette.
Table Games
This casino in Iowa offers a wide variety of table games for visitors to enjoy. The most popular game at the casino is blackjack, and there are also plenty of options for those looking for something a little different.
Craps, roulette, and poker are all available, and there is also a selection of electronic table games. Whether you're a seasoned gambler or just looking to try your luck, Lakeside Casino has something for everyone.
The minimums for table games at Lakeside vary depending on the game and time of day. Blackjack minimums start at $5 during happy hour and go up to $25 during prime time.
Roulette minimums start at $1 during happy hour and go up to $10 during prime time. The poker room has a $40 buy-in for cash games and a $60 buy-in for tournaments.
Slots
With over 1,200 slot machines, there are plenty of gaming options for everyone. And with prizes ranging from cash to free hotel stays, there's something for everyone to win.
Here are some of the most popular slot machines at Lakeside Casino:
Wheel of Fortune: One of the most popular TV game shows comes to life on this slot machine. With a chance to spin the wheel and win big, it's no wonder this machine is always one of the first to fill up.
Mega Moolah: This progressive jackpot machine is always a hit with guests. With a minimum jackpot of $1 million.
Cleopatra: This timeless classic never goes out of style. Guests love trying their luck at winning free spins and multipliers on this fan favorite.
Whether you're looking for excitement or relaxation, there's a slot machine for you at Lakeside.
This casino's payback percentage is not publicly available. Although Lakeside does not publicize its payback percentage, it is safe to assume that it is in line with the state average of 89%. This means that for every $100 you spend playing slots, you can expect to win back $89 on average.
Hotel/Resort
The Lakeside Hotel offers a wide range of amenities for guests to enjoy. The hotel features a full-service casino with table games, slots, and live entertainment. There is also an on-site restaurant, bar, fitness center, and swimming pool.
Guests can also take advantage of the hotel's complimentary shuttle service to and from the airport. In addition, Lakeside offers a variety of packages and deals that make it an affordable choice for both leisure and business travelers.
Whether you're looking for a romantic getaway or a fun-filled family vacation, the Lakeside Casino is sure to have something to suit your needs.
The cost of a room at this casino starts at $99 per night. However, the price will vary depending on the season and availability.
Check-in time at Lakeside Hotel is 4:00 pm
Check-out time at Lakeside Hotel is 11:00 am
Restaurants & Buffets
This casino in Iowa is home to two restaurants, each with its own unique style and flavor. The Westlake Bar & Grill offers a casual dining experience with American classics like burgers and wings.
The Lakeside Express serves seafood and steaks in a fine dining setting for a more upscale meal. No matter what your taste, the Lakeside Casino has a restaurant to satisfy your hunger.
Pools
It offers its guests a place to take a break and relax at its heated indoor pool. The pool is located on the lower level of the hotel and offers a variety of different amenities for guests to enjoy. The pool area also has a snack bar where guests can purchase refreshments.
The pool is open year-round so that guests can enjoy it any time of year. Whether you're looking to take a dip in the pool or just relax in the sun, the Lakeside pool is the perfect place to do it.
Lakeside Hotel & Casino, IA FAQ
Does Lakeside Casino Have A Sportsbook?
Sports betting has become increasingly popular recently, and many casinos have installed Sportsbooks to cater to this demand. The Lakeside Casino is no exception.
The brand-new Sportsbook offers a wide range of betting options, and its massive viewing wall is the perfect place to watch the game.
Plus, the convenient location makes it easy to deposit and withdraw from your account. So whether you're a casual bettor or a serious gambler, the Lakeside is the perfect place to place your bets.
Is Poker Available At Lakeside Casino?
This casino offers both live and electronic poker games. Poker is a gambling card game in which players bet on the value of their hands. The winner is the player with the highest-valued hand. Lakeside Casino offers Texas Hold'em and Omaha poker games.
They also have a variety of electronic poker games available. They have a game for you whether you're a beginner or an experienced player.
What Are The Age Requirements For Gambling At Lakeside Casino?
You must be 21 years of age or older to participate in any gaming activities at the casino. This includes playing slot machines, table games, and poker.
It is important to note that even if you are not gambling, you must be 21 years of age or older to enter the casino floor. So if you want to enjoy all that Lakeside offers, make sure you bring your ID.
Does Lakeside Have An Online Casino?
No, the Lakeside Casino does not currently offer an online casino. However, they are considering adding one in the future.
It offers a variety of gambling options, including slots, table games, and a sports book. So although they do not offer an online casino at this time, they still provide a great gaming experience for their guests.
Is There An Lakeside Hotel & Casino App?
No, there is not Lakeside Casino App. The App Store and Google Play do not have an app for this hotel and casino. There is a website for the hotel and casino, but it does not appear that you can book rooms or access other features of the site through an app.
However, there are a number of apps that can help you find hotels and casinos in the area, as well as provide information about things to do in the area.
If you are looking for an app that will allow you to book rooms at the Lakeside Hotel, you may want to try one of these other options.
What Is The Dress Code At Lakeside Hotel & Casino?
There is no dress code at the Lakeside Casino. However, they do ask that you refrain from wearing offensive or obscene clothing. This includes clothing that is revealing, excessively baggy, or has profanity or hate speech.
If you are unsure whether your clothing is appropriate, it is best to err on the side of caution and dress conservatively.
Is There An Airport Shuttle Available From Lakeside Casino?
Yes, the Lakeside Casino offers an airport shuttle for guests who are flying into the Des Moines International Airport. The shuttle runs every half hour from 7:00 am to 11:00 pm. The cost is $15 per person, and you can purchase tickets at the hotel front desk.
The shuttle will take you to the airport terminal, and you can then take a taxi or Uber to your final destination.
What Is The Smoking Policy At Lakeside?
The Lakeside Casino is a non-smoking facility. This means that you are not allowed to smoke cigarettes, cigars, or pipes inside the casino. However, they do have a designated smoking area outside the casino.
This area is for guests who wish to smoke and is equipped with ashtrays and benches. If you choose to smoke in this area, please be considerate of other guests and dispose of your cigarette butt properly.
What Is The Pet Policy At Lakeside?
At Lakeside Hotel, they know that pets are part of the family. That's why they're happy to welcome four-legged friends in its RV park.
They also have a limited number of pet-friendly rooms available in the hotel, so you can keep your furry companion by your side no matter where you stay.
Please let them know that you're traveling with pets when you make your reservation, so they can be sure to accommodate your needs.
Is Wifi Available At Lakeside Hotel?
Yes, Lakeside Hotel & Casino offers free WiFi to all guests. You can connect to the WiFi by selecting your device's "LakesideCasino" network. Once you are connected, you can browse the internet, check your email, and use other online services.
What Is The Cancellation Policy For Lakeside Hotel?
The cancellation policy for Lakeside Hotel is as follows: If you cancel more than 7 days before your arrival date, you will receive a full refund.
If you cancel within 7 days of your arrival date, you will be charged the full amount of your stay. If you need to cancel your reservation, please call the hotel directly.
Conclusion
The Lakeside Hotel & Casino is a great place to stay if you are looking for a casino in the area. They offer a variety of gaming options, as well as an airport shuttle and pet-friendly rooms. They also have free WiFi available for guests.
If you need to cancel your reservation, please note that you will be charged if you cancel within 7 days of your arrival date. Don't miss out on a great opportunity to stay at the Lakeside Casino.