Rhythm City Casino Resort Davenport
Address: 7077 Elmore Avenue, Davenport, IA 52807, USA
Phone Number: +1 563-328-8000
Website: https://www.rhythmcitycasino.com/index.html
Hours: Rhythm City Casino is open 24 hours a day, 7 days a week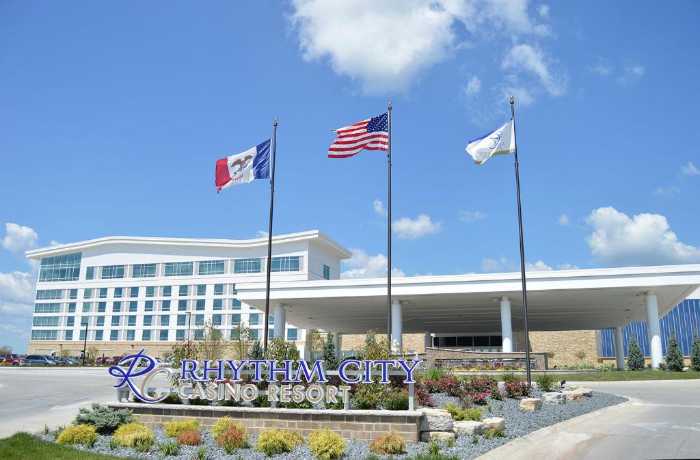 Rhythm City is a casino and hotel located in Davenport, Iowa. The casino has over 1,000 slot machines and 42 table games. The hotel has 142 rooms.
The resort was opened on December 20, 1996, as the Isle of Capri Casino Resort Davenport. In 1998, the resort was sold to Columbia Sussex and rebranded as the Rhythm City Resort.
In addition to gambling, the resort also offers fine dining at its Elements restaurant and casual dining at The Kitchen Buffet & Bistro. Guests can also enjoy entertainment at the on-site Rhythm Room Lounge and Event Center, which hosts live music, comedy acts, and special events.
The resort features an indoor pool and fitness center for guests to use during their stay. A gift shop and business center are also available at the resort.
Whether you're looking for a night of gambling or a relaxing getaway, Rhythm City Casino has something for everyone.
TripAdvisor says guests rate the Rhythm City Resort in Davenport 4.5 out of 5 stars. They praise the casino's variety of games and slots, as well as the on-site entertainment.
Some guests noted that the hotel could use some updating, but overall they had a positive experience at the casino resort.
(Related reading: Iowa casinos)
Gaming
This casino offers games, including blackjack, craps, roulette and poker. They also have over 1,000 slot machines, with a variety of themes and options for different levels of gaming.
Table Games
Rhythm City Casino Resort in Iowa offers a wide range of table games for visitors to enjoy. Blackjack is one of the most popular games on offer, and guests can also try their hand at Roulette, Pai Gow Poker, and Craps.
The casino also offers a range of specialty games, such as Mississippi Stud and Let It Ride.
The minimum bet at Rhythm City table games varies, but most have a minimum of $5. With so many options available, there is sure to be a game to suit everyone's taste.
Slots
There are a wide variety of popular slot machines at this casino. One of the most popular is the Wheel of Fortune machine. This machine offers players the chance to spin the wheel and win prizes.
Another popular slot machine is the Mega Moolah machine. This machine offers players the chance to win big jackpots. There are also a number of other popular slot machines at the casino, such as the Lucky 7s, Cleopatra, and Diamond Jackpot machines.
Whatever your preference, you're sure to find a popular slot machine at Rhythm City that you'll enjoy playing.
Rhythm City Resort has a payback percentage of 90%. This means that, on average, for every $100 wagered at the casino, players can expect to receive back $90 in winnings. The actual payout may vary depending on the slot machine and the wagered amount.
Hotel/Resort
The Rhythm City hotel offers 142 rooms and suites with flat-screen TVs and pillow-top mattresses. The resort also has an indoor pool, fitness center, gift shop, and business center.
Guests can enjoy fine dining at Elements restaurant or casual dining at The Kitchen Buffet & Bistro. The Rhythm Room Lounge and Event Center offer entertainment, such as live music, comedy acts, and special events.
The prices for rooms at Rhythm City in Davenport, Iowa, vary depending on the date and type of room. Currently, rates start at $90 per night for a Standard King Room and go up to $169 per night for a Deluxe Suite.
Special deals and packages are often available, so be sure to check the website for the best deals on your stay.
Overall, Rhythm City Resort offers a complete vacation destination for guests with its gambling options, dining options, entertainment, and lodging. Whether you're looking for a night of fun or a relaxing getaway, this casino has something for everyone.
Check-in time at Rhythm City Hotel is 4:00 pm
Check-out time at Rhythm City Hotel is 11:00 am
Restaurants & Buffets
If you're looking for a delicious meal while staying at Rhythm City, you'll have plenty of options to choose from. Robert's Buffet offers a wide variety of breakfast, lunch and dinner items, as well as a Sunday brunch buffet.
Draft Day Sports Lounge is the perfect place to watch the big game, with dozens of TVs and a menu featuring wings, burgers and other pub favorites. Or enjoy a romantic dinner for two at Ruthie's Steak & Seafood, where you can savor steakhouse classics like prime rib and lobster tails.
No matter what your taste, you're sure to find something to your liking at one of the on-property restaurants.
Pools
This casino offers a luxurious oasis for guests to relax and unwind. The indoor pool is open year-round, with comfortable lounge chairs and cabanas available for rent.
The outdoor pool is open during the warmer months, with a spacious deck perfect for soaking up some sun. And don't forget about the hot tub, where you can melt away any stress and tension.
Fitness Center
Stay on top of your fitness routine while at Rhythm City Resort with our state-of-the-art fitness center. They offer a variety of cardio and weight machines, as well as free weights and stretching areas. And for those who prefer group workouts, they offer exercise classes like Yoga and Zumba.
Events & Entertainment
In addition to casino gaming options, it offers a variety of entertainment options. The Rhythm Room Lounge and Event Center hosts concerts, comedy shows, and special events throughout the year.
And don't forget about our on-site bars and lounges, where you can listen to live music while enjoying a drink.
Gift Shop
Looking for a souvenir or last-minute gift? The Rhythm City Gift Shop offers a wide selection of clothing, jewelry, and other items that are perfect for anyone on your list.
And be sure to check out our "Local Favorites" section, where you can find products made by local artisans and companies.
Business Center
For those who need to stay connected while traveling, it offers a fully-equipped business center. Here, you can access computers, printers, and other office equipment. Wi-Fi is also available throughout the property for all guests.
Rhythm City Casino Resort Davenport, IA FAQ
Does Rhythm City Casino Have A Sportsbook?
When it comes to sports betting, there is no shortage of options at this casino. Whether you're looking to place a bet on your favorite team or try your hand at something new, the betting platform has you covered.
With an easy-to-use interface and highly secure system, you can place your bets with confidence, knowing that your information is safe. Plus, the ticket writers are always on hand to help you place your bets and answer any questions you may have.
Is Poker Available At Rhythm City Casino?
Yes, poker is available at this casino. The casino has a wide variety of poker games to choose from, including Texas Hold'em, Omaha, and 7-Card Stud. There are also plenty of tournament options available, with buy-ins ranging from $50 to $2,500.
In addition, the casino offers a wide range of other gambling options, including slots, blackjack, and roulette. As such, it is a great choice for anyone looking for a complete gambling experience.
What Are The Age Requirements For Gambling At Rhythm City Casino?
21 is the legal gambling age at this casino. All guests must present a valid photo ID to enter the casino, and minors are not allowed on the casino floor. Rhythm City is the place for you if you're looking for some fun and excitement.
Does Rhythm City Have An Online Casino?
No, at this time, Rhythm City does not have an online casino. However, they are partnered with Elite Sportsbook Iowa, an online sports betting platform. You must be physically located in the state of Iowa to place a bet, but you can sign up for an account anywhere.
When online betting launches in Michigan, it's expected that Elite Sportsbook will also extend its services to include Michigan residents.
So while Rhythm City doesn't currently have an online casino, its partnership with Elite Sportsbook provides access to online sports betting.
Is There An Rhythm City Casino App?
The app is available for iOS and Android devices and can be found in the App Store or on Google Play. Once installed, you can log in with your existing Elite Sportsbook account or create a new one.
After logging in, you will have access to the same betting lines and options as you would at the casino. The app runs smoothly on any smartphone and offers a great betting experience from anywhere in Iowa.
Whether you're at home or on the go, the Rhythm City Casino app is the perfect way to place your sports bets.
What Is The Dress Code At Rhythm City?
This casino does not have a strict dress code. However, they do ask that guests refrain from wearing offensive or overly revealing clothing.
If you plan on visiting the fine dining restaurants on the property, it is recommended to dress in business casual attire. Otherwise, comfortable and appropriate attire is acceptable for all other areas of the casino.
Is There An Airport Shuttle Available From Rhythm City Resort?
The casino does not offer an airport shuttle at this time. However, they have a valet and self-parking service for guests arriving by car.
Additionally, several taxies and ride-sharing services can easily transport you from the airport to the casino.
What Is The Smoking Policy At Rhythm City Hotel & Casino?
Rhythm City has designated smoking areas throughout the casino floor and in select outdoor areas. Non-smoking sections are also available for those who prefer a smoke-free environment. Electronic cigarettes are allowed in all casino areas except non-smoking sections.
What Is The Pet Policy At Rhythm City?
Unfortunately, pets are not allowed in this casino. The only exceptions are service animals with proper documentation.
If you are traveling with a pet, there are several nearby hotels that offer pet-friendly accommodations. Alternatively, the casino has partnerships with local pet-sitting and dog-walking services to assist guests during their stay.
Is Wifi Available At Rhythm City Casino?
Yes, free wifi is available for all guests throughout the casino and hotel. Guests can easily connect to the "Rhythm City Casino" network with their personal devices.
What Is The Cancellation Policy For Rhythm City Hotel?
The cancellation policy is based on the type of reservation and can vary depending on the time of year and special events. It is recommended to check with the hotel upon reservation for specific details. Generally, cancellations must be made at least 24 hours in advance to avoid any fees.
Any cancellations within 24 hours may result in a fee equal to one night's stay. The cancellation policy may vary for group and event reservations, and it is recommended to contact the hotel for specific details.
Conclusion
Rhythm City offers everything you need for a fun and relaxing stay. From gaming options to dining choices, entertainment options, and more, there's something for everyone at this Iowa destination. Book your stay today and discover all that Rhythm City has to offer.