Riverside Casino & Golf Resort Riverside
Address: 3184 IA-22, Riverside, IA 52327, USA
Phone Number: +1 319-648-1234
Website: https://www.riversidecasinoandresort.com/index.html
Hours: Riverside Casino is open 24 hours a day, 7 days a week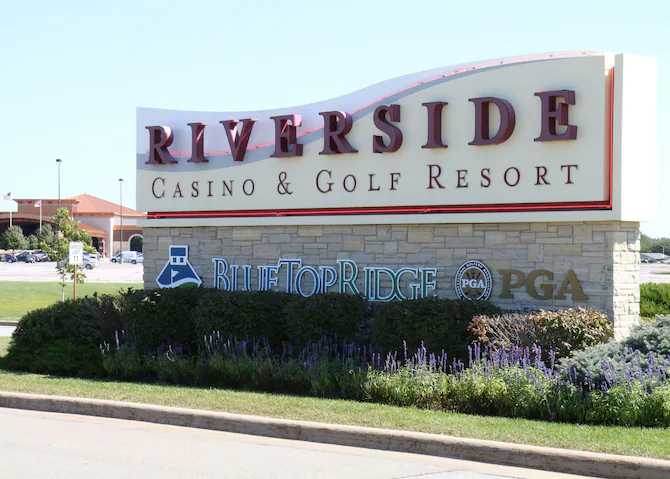 Riverside is a hotel, casino, and golf resort in Riverside, Iowa. The casino has over 900 slot machines and 16 table games. The golf resort has an 18-hole course.
In addition to gaming and golf, the resort also offers fine dining options, live entertainment, a spa, and meeting facilities. Guests can also participate in various promotions and tournaments at the casino.
Stay in one of the luxurious hotel rooms or suites for a truly enjoyable experience.
Guests rate Riverside Casino very highly, awarding it 4.5 out of 5 stars on TripAdvisor. Many guests praised the casino's selection of games and its luxurious accommodations. The golf course is also highly rated, with many guests calling it one of the best in the state.
(Related reading: Iowa casinos)
Gaming
This casino offers the best in gaming, with over 900 slot machines and 16 table games. Try your luck on popular slots or play a classic game of blackjack.
Table Games
This casino offers a wide variety of table games for guests to enjoy. Blackjack, Craps, Roulette, and Mississippi Stud are just a few of the many games available. The casino also offers a number of speciality games, including Pai Gow Poker and Three Card Poker.
For those looking for a more traditional gaming experience, the casino also offers Baccarat and Poker. Whether you're a seasoned gambler or a novice, you're sure to find a game to suit your interests at Riverside Casino.
Table game minimums vary at Riverside Resort. Blackjack starts at $5, while Baccarat and Poker have a minimum of $10. Craps and Roulette both have a minimum bet of $2.
Slots
This casino is home to a wide variety of slot machines, ranging from classic games to the latest in video technology. Whether you're looking for progressive jackpots or simple fun, there's sure to be a machine that's just right for you.
Here are some of the most popular slot machines at this casino:
The Big One: This machine offers a chance at a huge jackpot, making it one of the most popular choices at Riverside.
Wheel of Fortune: This classic game is always a favorite, and it's easy to see why with its bright colors and exciting gameplay.
Cleopatra: This ancient-themed slot machine is perfect for history buffs or anyone who loves a good adventure.
The Walking Dead: If you're a fan of the hit TV show, you'll love this slot machine which features characters and scenes from the show.
Davinci Diamonds: This beautifully designed slot machine is based on the work of legendary artist Leonardo da Vinci.
Riverside has the perfect slot machine for you, whether you're looking for excitement or relaxation. With so many choices, there's sure to be a game that's just right for you.
The Iowa Racing and Gaming Commission requires all casinos in the state to have a minimum payback percentage of 80% on their slot machines. Riverside Resort's actual payback percentage for its slot machines is not publicly disclosed.
However, with over 900 machines to choose from and a wide range of denominations, there are plenty of opportunities for players to win big at this casino.
Hotel/Resort
Riverside Golf Resort in Riverside, Iowa, is a comfortable, convenient and exciting destination for your next getaway. The casino offers over 1,000 slot machines, more than 25 gaming tables and a live poker room.
You can also enjoy live entertainment at the Riverside Theater. If golf is your game, you'll love the resort's championship course, which has been rated one of the best in the state. When you're ready to relax, the Riverside Spa offers a variety of treatments to help you unwind.
And if you're looking for a place to stay, the casino resort features comfortable guest rooms and suites. Whether you're looking for excitement or relaxation, Riverside Casino has something for everyone.
The cost of a stay at Riverside Hotel will vary depending on the type of room and the time of year. You can check availability and current rates on their website or by calling the resort directly.
Some packages and promotions may also be available, offering discounts or added amenities for your stay. Be sure to inquire about any offers when booking your stay.
Check-in time at Riverside Resort is 4:00 pm
Check-out time at Riverside Resort is 11:00 am
Restaurants & Buffets
Casino-goers looking for a break from the slots will find plenty of dining options at Riverside. Robert's Buffet features all-you-can-eat American and international favorites, while 22 & Vine offers a more refined dining experience with a menu of classic steakhouse fare.
For lighter fare, Draft Day Sports Bar & Grill is the perfect spot to catch the game and enjoy a burger or wings. Or, for a truly special evening out, Ruthie's Steak & Seafood serves up prime cuts of beef and fresh seafood in an elegant setting.
Pools
The resort features an indoor pool, a hot tub, and a seasonal outdoor pool. The pools are available for guests of the resort during their stay. Pool hours may vary seasonally or due to weather conditions, so be sure to inquire about current hours during your stay.
Riverside Casino & Golf Resort, IA FAQ
Does Riverside Casino Have A Sportsbook?
This casino offers a variety of ways to place bets on your favorite sports games. You can bet online, on your phone, or in person at the Draft Day Sports Lounge or one of the kiosks in the casino.
There is also a Progressive Parlay offered by ELITE Sportsbook that allows you to win even if one of your selections loses. In addition, if you feel that your bet will lose, you can take advantage of the Early Cashout feature.
Riverside is the perfect place to place your bets on the game, with so many options and features available.
Is Poker Available At Riverside Casino & Golf?
Yes, Riverside offers live poker in the Poker Room. The room features tables for Texas Hold 'Em, Omaha, and other popular variations of poker.
In addition to daily tournaments and cash games, special events such as the Iowa State Poker Championship are also held in the Poker Room. Players can check out the current tournament schedule and availability on the Riverside Casino website.
Whether you're a seasoned player or just starting out, come try your luck at the poker tables at Riverside.
What Are The Age Requirements For Gambling At Riverside Casino?
You must be 21 years or older to gamble at this casino. Valid photo identification will be required upon entry to the casino and before participating in any gambling activities.
Please note that while minors may accompany adults in certain areas of the resort, they are not allowed in the casino or sportsbook areas at any time.
For any questions or concerns about age requirements, please contact Riverside directly.
Does Riverside Have An Online Casino?
No, Riverside does not have an online casino. However, the resort offers a sportsbook where guests can place bets on various sporting events.
The sportsbook is located in the casino, and guests can also take advantage of the casino's other amenities, such as slots, table games, and live entertainment.
In addition to the sportsbook, Riverside Casino also offers a number of other recreational activities, such as a golf course, spa, and restaurants. As a result, the resort provides plenty of options for both gambling and entertainment.
Is There An Riverside Casino & Golf Resort App?
No, there is no Riverside Resort app. However, an elite sportsbook app is available that allows users to place bets on various sports, including football, basketball, baseball, hockey, and more.
The app also provides up-to-the-minute odds and lines, as well as live scores and updates. In addition, the app offers a variety of banking options, making it easy for users to fund their accounts and withdraw winnings.
Consequently, bettors who are looking for a reliable and user-friendly betting experience will find everything they need with the elite sportsbook app.
What Is The Dress Code At Riverside Golf Resort?
There is no specific dress code at this casino. However, proper attire and footwear are required. This means that clothing such as swimwear, offensive material, and exposed undergarments are not allowed in the resort's casino or other public areas.
Is There An Airport Shuttle Available From Riverside Resort?
No, there is no airport shuttle service available from this resort. Guests can arrange for transportation through a third-party provider or rent a car for their stay. The nearest airport to the resort is the Eastern Iowa Airport, located about 40 miles away in Cedar Rapids.
What Is The Smoking Policy At Riverside?
The casino and sportsbook areas of the resort are non-smoking. However, designated outdoor smoking areas are available for guests who wish to smoke.
Additionally, select hotel rooms have been designated as smoking rooms upon request. These rooms feature balconies or patios where guests can smoke.
What Is The Pet Policy At Riverside Golf Resort?
Unfortunately, this resort does not allow pets on the premises. Service animals for guests with disabilities are allowed, but all other pets must remain at home or in a kennel during the stay.
Please contact the resort directly for any additional questions or concerns about Riverside Golf Resort policies.
Is Wifi Available At Riverside?
Yes, complimentary wifi is available for resort guests in all public areas and guest rooms.
What Is The Cancellation Policy For Riverside Casino Hotel?
Cancellations must be made at least 48 hours prior to the scheduled arrival date in order to receive a full refund. Cancellations made within 48 hours of arrival will result in a charge equal to one night's stay.
Conclusion
In conclusion, Riverside Casino & Golf Resort offers a variety of amenities for guests, including a casino, sportsbook, and golf course. The resort has designated smoking areas and does not allow pets on the premises.
Free wifi is available for guests, and cancellations must be made 48 hours in advance to receive a refund. Don't miss out and get to this casino resort for all your gambling and entertainment needs.