Rocky Gap Casino Resort Flintstone
Address: 16701 Lakeview Rd NE, Flintstone, MD 21530
Phone Number: (301) 784-8400
Website: https://www.rockygapresort.com/
Hours: Rocky Gap Casino is open 24 hours a day, 7 days a week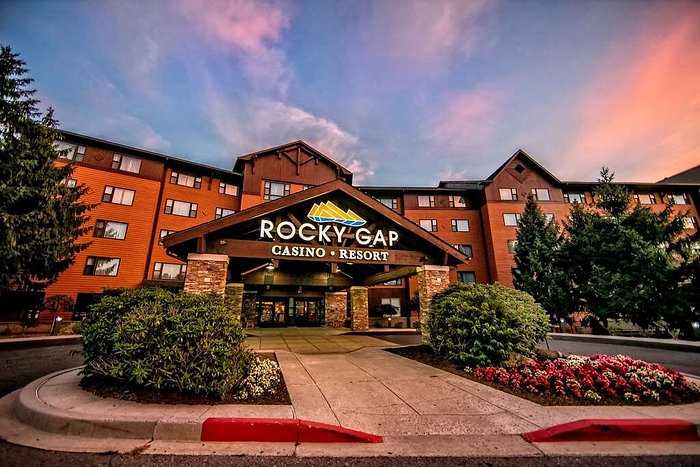 The Rocky Gap is a casino and resort located in Flintstone, Maryland. The casino has been open since 2007 and features table games, slots, and a poker room. The resort features a hotel, spa, and several restaurants. 
Guests can also enjoy outdoor activities such as golf, hiking, and fishing. Whether you're looking for a relaxing getaway or an exciting night at the casino, Rocky Gap has something for everyone. 
It has various promotions and deals throughout the year. Be sure to check their website for more information and to book your stay. Experience the beauty of Maryland's mountains and lakes at Rocky Gap.
Guests rate Rocky Gap Casino 4.5 out of 5 stars. Guest reviews highlight the beautiful scenery, friendly staff, and fun casino atmosphere. Book your stay today and have a memorable time at Rocky Gap. 
(Related reading: Maryland casinos)
Gaming 
This casino offers all the popular Vegas-style games, including blackjack, roulette, craps, and more. They also have over 600 slot machines with a variety of themes and jackpots. The poker room offers Texas Hold'em tournaments daily. 
Table Games 
This casino is home to a variety of table games that are sure to provide you with hours of entertainment. Whether you're looking for the excitement of blackjack or the strategy of poker, they have a game for you. 
The friendly and professional dealers will be happy to teach you the ins and outs of each game, so you can hit the felt with confidence. And if you're feeling lucky, they also offer progressive jackpots on select games.
The minimum bet at Rocky Gap varies by game but generally ranges from $5 to $25. Please check with a casino associate for specific table game minimums before placing your bets.
Slots
The resort features a variety of slot machines, as well as table games, video poker, and a live dealer casino. The most popular slot machines at Rocky Gap are the Wheel of Fortune slots, the Cleopatra slots, and the Zeus slots. 
The Wheel of Fortune slots are based on the popular TV game show, and the Cleopatra slots are based on the ancient Egyptian queen. The Zeus slots are based on the Greek god Zeus. 
Rocky Gap also offers a variety of other gambling games, including blackjack, roulette, baccarat, and craps. In addition to its casino offerings, Rocky Gap also has a hotel, an indoor pool, a spa, and a golf course.
The payback percentage for slot machines at Rocky Gap Casino Resort is not publicly available information. However, the Maryland state average for slot machine payback is 89.10%.
Please note that payback percentages can vary from machine to machine and may change over time. It is always recommended to check the specific pay table of a machine before playing.
Hotel/Resort
Rocky Gap Resort offers visitors a wide range of amenities to enjoy. The resort features a luxurious spa with a variety of treatments designed to relax and rejuvenate guests. There is also an indoor pool, perfect for a refreshing dip after a long day of exploring Rocky Gap State Park. 
For those looking for excitement, the casino offers over 600 slots and 28 table games, as well as live entertainment. And no trip to Rocky Gap would be complete without sampling the local cuisine at one of the resort's five restaurants. 
Whether you're looking to relax or experience some thrills, Rocky Gap has something to offer everyone.
The cost of a stay at this casino depends on the room type and date of travel. Rates start at $119 per night for standard rooms and go up to $399 per night for suites. Discounts are available for AAA members, government employees, senior citizens, and active military personnel.
Check-in time at Rocky Gap Hotel is 4:00 pm
Check-out time at Rocky Gap Hotel is 11:00 am
Restaurants & Buffets
Rocky Gap is home to several outstanding restaurants, each with its own unique atmosphere and menu. Lakeside Grille is the perfect spot for a romantic dinner or special occasion, offering breathtaking views of the lake and an expansive menu of steakhouse favorites.
Sports Lounge is ideal for a more casual dining experience, with a relaxed atmosphere and ample seating for large groups.
Or, enjoy the action at On the Rocks, where you can sip on a signature cocktail while watching the game on one of our many HD TVs. No matter what your taste, Rocky Gap has a restaurant to suit your needs.
Pools
Rocky Gap Resort offers guests a refreshing indoor pool, perfect for cooling off on a hot summer day or relaxing after a workout in the fitness center.
The resort also offers poolside cabanas and private poolside dining, allowing guests to fully enjoy the luxury of the resort's indoor oasis. 
For those looking for more adventure, Rocky Gap State Park offers a beach and lake where guests can swim, boat, fish, or simply soak up the sun.
Golf Course
In addition to its casino and hotel amenities, Rocky Gap also offers a beautiful 18-hole golf course that winds through the mountains and forests of Western Maryland. The course offers stunning views and challenging holes, making it a must-play for golf enthusiasts visiting the area. 
Golf packages are available for those looking to spend an entire day on the course, or individual green fees can be paid for just one round. The resort also offers golf lessons and club rentals for those in need.
Rocky Gap Casino Resort Flintstone, MD FAQ
Does Rocky Gap Casino Have A Sportsbook?
Rocky Gap does not have a sportsbook. The casino does have a golf course, spa, and hotel. You can also find restaurants and gaming at the casino.
Is Poker Available At Rocky Gap Casino?
Yes, this casino offers poker games with daily tournaments. The casino also offers a variety of other table games, such as blackjack and roulette.
What Are The Age Requirements For Gambling At Rocky Gap Casino?
The legal gambling age at this casino is 21. This means that you must be 21 years of age or older to gamble at the casino. If you are under 21, you will not be allowed to gamble or enter the casino floor.
ID checks are conducted at all entrances to the casino, and anyone who appears to be under 21 will be asked to provide a valid ID. If you are caught gambling while under 21, you may be subject to penalties, including being removed from the casino and losing your winnings.
So if you're looking to gamble at Rocky Gap, make sure you're of legal age first.
Does Rocky Gap Have An Online Casino?
No, at this time this casino does not have an online casino. However, they do offer a variety of gaming options at the physical casino, including slots, table games, and poker.
Is There An Rocky Gap Casino App?
The True Rewards Players Club is the only way to receive rewards at Rocky Gap. The program has five card tiers, making it easy for members to move up and receive greater rewards.
Players can use their cards every time they play to earn points that can be redeemed for slot play, comps, and cash back. The True Rewards Center will give players information about their account and current rewards.
Members can also use their card to qualify for other great offers, including invitations to members-only events.
What Is The Dress Code At Rocky Gap?
The dress code at this casino is casual. There is no need to dress up in order to enjoy the casino floor, though you may want to dress more nicely if you're planning on dining at one of the resort's upscale restaurants.
Is There An Airport Shuttle Available From Rocky Gap Casino?
No, there is no airport shuttle available from this casino. However, the casino is located just off of I-68, making it easy to get to by car. There are also a variety of hotels in the area if you're looking for somewhere to stay.
What Is The Smoking Policy At Rocky Gap?
The smoking policy at this casino is that guests are only allowed to smoke in designated areas. These areas are clearly marked and are usually located outside.
Smoking is not allowed on the casino floor or in any of the casino's restaurants. You may be asked to leave the casino if you are caught smoking in a non-designated area.
What Is The Pet Policy At Rocky Gap Resort?
The pet policy at this casino is that only service animals are allowed on the property. This includes dogs that are trained to perform tasks for people with disabilities.
Pets are not allowed in the casino, hotel, or any of the restaurants. Service animals must always be on a leash and cannot be left unattended.
Is Wifi Available At Rocky Gap Hotel & Casino?
Yes, free wifi is available throughout the casino property. You can connect your device to the "Rocky Gap Casino Free WiFi" network.
What Is The Cancellation Policy For Rocky Gap Hotel?
The cancellation policy for Rocky Gap Hotel is that reservations must be cancelled at least 24 hours before arrival to avoid being charged for the first night's stay.
If you need to cancel your reservation, you can do so by calling the casino directly. Be sure to have your reservation number handy when you call.
Conclusion
In conclusion , Rocky Gap Casino is a great place to gamble and have some fun. Just make sure you're of legal age and dress casually. There are plenty of gaming options available, and the True Rewards Players Club is a great way to earn rewards while you play.
If you need to cancel your hotel reservation, just be sure to do so at least 24 hours in advance. And finally, don't forget to enjoy the free wifi.