Four Winds Casino New Buffalo
Address: 11111 Wilson Rd, New Buffalo, MI 49117, USA
Phone Number: +1 866-494-6371
Website: https://www.fourwindscasino.com/newbuffalo
Hours: Four Winds Casino is open 24 hours a day, 7 days a week.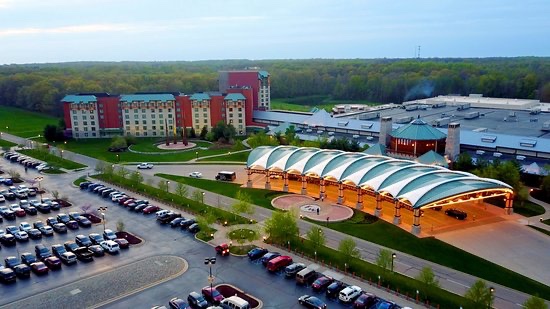 The Four Winds Casino New Buffalo was opened in 2007. It is owned and operated by the Pokagon Band of Potawatomi Indians. The casino has over 2,000 slot machines, nearly 60 table games, a poker room, and a high-limit salon.
Other amenities include a hotel, spa, fitness center, and several restaurants. Whether you're looking for excitement on the gaming floor or just want to relax in one of their beautiful suites, Four Winds is the place for you.
To learn more about this popular casino and entertainment destination, visit their website today.
Guest reviews for the Four Winds Casino New Buffalo are generally positive. Many guests appreciate the wide variety of gaming options and the luxurious accommodations. Others comment on the friendly staff and excellent food options.
While a few guests mention that the casino can be noisy, the vast majority of reviewers recommend a visit.
(Related reading: Michigan casinos)
Gaming
This casino offers a wide range of exciting gaming options, including slot machines, table games, and a poker room.
Table Games
This casino is home to a wide variety of table games, ensuring that there's something for everyone. One of the most popular options is blackjack, and there are several different variations available.
For those looking for an added challenge, Lucky Lucky blackjack features a side bet that can result in big payouts. 21 + 3 & Top 3 is another variation that adds an extra layer of strategy, while Free Bet Blackjack allows players to split and double down without having to put up any additional chips.
High Card Flush is a fast-paced game that's perfect for groups, and Criss Cross Poker offers a unique twist on the classic card game. Whatever your preference, this casino has you covered.
Most table games at this casino have a minimum bet of $10. However, there are some games that require higher bets. For example, you'll need to put down at least $20 for roulette and baccarat, while craps require bets of $25 or more.
Slots
If you're looking for excitement, Four Winds is the place for you. With more than 2,200 slot machines, there's something for everyone. Whether you like to play penny slots or $100 machines, you'll find a wide variety of games to choose from.
With progressives starting at $100,000, you could hit it big! Some of the most popular slots at Four Winds include Buffalo Grand and 5 Dragons Grand, both of which have jackpots that start at $500,000.
Then there's Wheel of Fortune Gold Spin and Timber Wolf Grand, with jackpots starting at $250,000.
The slot machine payback percentage at Four Winds New Buffalo is currently unknown. There are no official reports on the payback percentages for each game, so it's difficult to determine which machines offer the best odds.
Hotel/Resort
Four Winds Hotel is the perfect place to escape every day and enjoy all the best that southwest Michigan has to offer.
The hotel's 415 luxury rooms, suites, and celebrity suites are all elegantly appointed and offer guests impeccable service and all the amenities you would expect to find at a luxury resort.
The hotel's exciting cuisine, lively entertainment, and nightlife are second to none, making Four Winds Hotel the perfect choice for your next southwest Michigan getaway. Book your room today and experience the Four Winds difference.
Room rates at the Four Winds Hotel vary, depending on the time of year and room type. A standard room typically costs between $250 and $375 per night, while a suite or celebrity suite can cost upwards of $600.
However, you can save by booking your stay during off-peak times, such as midweek or during the fall and winter months. Additionally, there are often discounts available online, so be sure to check their website before making your reservation.
Regardless of when you choose to stay at Four Winds, you're sure to have an unforgettable experience.
Check-in time at Four Winds New Buffalo Hotel is 4:00 pm
Check-out time at Four Winds New Buffalo Hotel is 11:00 am
Restaurants & Buffets
Nestled within the stunning landscape of southwest Michigan, Four Winds Casino New Buffalo is home to some of the area's best dining. At Copper Rock Steakhouse, guests can enjoy perfectly aged steaks and succulent seafood, paired with an award-winning selection of wines.
The menu features a variety of gourmet dishes, including starters, entrees, and desserts. And on Tuesdays, Wednesdays, and Thursdays* guests can enjoy a special three-course dinner menu.
Whether you're stopping by for a quick bite or spending the evening enjoying a leisurely meal, Copper Rock Steakhouse is sure to please.
Pools
The Pool Bar at this casino is the perfect spot to relax and enjoy the scenery. The pool is surrounded by luxurious chaise lounges, and the bar offers a variety of drinks and food. The Pool Bar is also a great spot for after-dark entertainment.
The casino has a strict dress code, so be sure to pack your best swimsuit. Get there early to get a good spot by the pool. It's the perfect place to escape the everyday and party into the night.
Four Winds Casino New Buffalo, MI FAQ
Does Four Winds Casino New Buffalo Have A Sportsbook?
Ready to add some excitement to your next casino visit? Four Winds New Buffalo now offers sports betting. You can place wagers on a variety of live sporting events, including football, basketball, baseball, and hockey.
The Sportsbook is conveniently located on the main casino floor so you can get started right away. With all the action and excitement of live sporting events, you're sure to have a great time while you're there.
Is Poker Available At Four Winds Casino New Buffalo?
Yes, this casino offers a range of poker tournaments and slots. Whether you're new to the game or a seasoned pro, there's something for everyone at this casino. There are also poker lessons available if you're looking to improve your skills.
What Are The Age Requirements For Gambling At Four Winds New Buffalo?
The age requirement for gambling at this casino is 21. This means that you must be at least 21 years old to enter the casino and gamble.
Does Four Winds Have An Online Casino?
The casino does have an online casino where players can go to gamble. The website is user-friendly and offers many different casino games for players to participate in.
There are also many daily bonuses and promotions that players can take advantage of when they visit the website. Players will find that there is always something new to try when they visit the Four Winds Casino website.
Is There An Four Winds Casino New Buffalo App?
Yes, the casino does have an app that players can use to access its online games. The app is available for both iOS and Android devices and offers many of the same features as the website itself.
With this app, players can enjoy a variety of games on the go, access their account information easily, and stay up to date on all the latest promotions and bonuses.
What Is The Dress Code At Four Winds?
There is no dress code at this casino, but it does request that players dress appropriately when they are on the property. Most guests choose to wear casual clothing or comfortable attire.
Is There An Airport Shuttle Available From Four Winds New Buffalo Casino?
No, there is not an airport shuttle that runs directly to the casino. You may be able to travel by airport shuttle or other public transportation to a nearby location and then take a taxi to the casino.
However, you can also choose to hire a private car service or Uber for transportation between your hotel and the casino. No matter how you choose to get there, you're sure to have a great time at Four Winds New Buffalo.
What Is The Smoking Policy At Four Winds Casino?
The casino is a non-smoking facility. This means that all smoking must be done outside of the property, either in designated areas or in your personal vehicle. If you choose to smoke at the casino, you may be subject to disciplinary measures and/or fines.
What Is The Pet Policy At Four Winds Casino New Buffalo?
This casino does not permit pets on the property. If you are traveling with a pet, you will need to make other arrangements for their care during your stay. However, there are pet-friendly hotels nearby if you are looking for an alternative option.
Is Wifi Available At Four Winds Hotel & Casino?
Yes, free wifi is available at the hotel and throughout the casino. Guests and visitors can connect to wifi simply by selecting "Four Winds" from their device's list of available networks.
Whether you're visiting for business or pleasure, you'll be able to stay connected while you're there.
What Is The Cancellation Policy For Four Winds Hotel New Buffalo?
The cancellation policy for the hotel varies depending on the type of room you book. Generally, if you cancel within a certain time frame (usually one to seven days), you may be subject to a fee or downgrade in your room type.
Be sure to check the specific guidelines for your reservation when booking your room at Four Winds Hotel New Buffalo.
Conclusion
Overall, whether you're looking to gamble, enjoy a meal at the casino's restaurant, or stay overnight in its hotel, Four Winds has something for everyone.
Whether you're a seasoned gambler or just want to enjoy some fun activities with friends and family, this is an excellent choice for your next vacation destination.