Kewadin Casino Christmas
Address: N7761 Candy Cane Ln, Christmas, MI 49862
Phone Number: +1 906-387-5475
Website: www.kewadin.com/accommodations/christmas/
Hours: Kewadin Casino Christmas is open Monday 9 AM – 1 AM, Tuesday 9 AM – 1 AM, Wednesday 9 AM – 1 AM, Thursday 9 AM – 1 AM, Friday 9 AM – 1 AM, Saturday 9 AM – 1 AM, Sunday 9 AM – 1 AM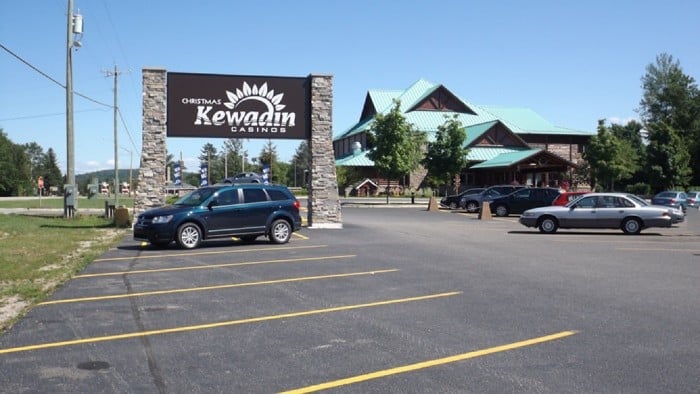 Kewadin Casino Christmas was established in 1994 by the Sault Ste. Marie Tribe of Chippewa Indians to offer gaming, entertainment and hospitality services to northern Michigan. Since then, it has become one of the best casinos in Michigan's Upper Peninsula.
Their gaming floor consists of almost 300 slots and video poker machines. Plus, with promotions and specials, players can get even more bang for their buck. There are no live table games at the casino, but there is a selection of electronic table games on offer.
There's also a pub onsite where guests can enjoy various drinks and meals. The casino also offers plenty of entertainment, including live acts and bands that play on their stage throughout the year.
This casino is known for its commitment to giving back to the local community as well. They sponsor various charities and events in the area and are committed to being responsible community members.
So whether you're looking for a night out with friends, some gaming fun or want to enjoy a meal and drinks, this casino is the place to be.
On Google, this casino has a rating of 4.2 stars out of 5. On TripAdvisor, reviews are mostly positive, with an overall score of 4 stars out of 5. One guest said, "The casino was clean, and the staff was friendly. The food in the restaurant was great too."
Another wrote, "We had a great time at Kewadin Casino Christmas. The slot machines were exciting, and it was a fun atmosphere."
(Related reading: Michigan casinos)
Gaming
The game offerings at this casino include more than 300 slot machines, video poker, and electronic table games. All of the slot machines feature progressive jackpots and a variety of themes.
Table Games
Looking for an exciting table game experience? This casino offers a variety of slot machines and electronic table games that will keep you entertained for hours on end. Although there are no live gaming tables, you can enjoy favorites like blackjack, craps, and roulette, but with a digital touch.
However, if live table games are what you're after, you may want to look elsewhere. There are other casinos in the area that offer live table games that you might prefer.
Slots
Are you looking for some excitement in Christmas? Look no further than this casino, where you can find a variety of popular slot machines. If you're into mythical creatures and ancient magic, give Colossal Wizards a spin.
Or, if you're feeling bold and brave, try your hand at Spartacus Gladiator of Rome. For those who prefer a more mythical theme, Forbidden Dragons and Queen of the Wild II might be more of your style.
Want something a little more colorful? Lazer Lock Ice Sapphire offers a visually stunning experience. And for a lighthearted touch, Li'l Red will surely put a smile on your face.
There are no data or information available on the payback percentage of slot machines at this casino. However, casinos in Michigan generally have a minimum payout rate for slots of 80%.
Hotel/Resort
If you're planning a trip to this casino and looking for a place to stay, you're in luck. While there's no hotel attached to the property, you have a range of nearby options. For those who love the great outdoors, White Pine Lodge offers cozy cabins nestled in the woods for a rustic experience.
Alger Falls Motel offers clean and comfortable rooms at affordable prices, which is a great option for travelers who want to stick to a budget. If you prefer a more luxurious stay, AmericInn offers well-appointed rooms with all the modern amenities you want.
Restaurants & Buffets
When it comes to dining options at this casino, Frosty's Pub 'n Grub is a must-visit spot. This restaurant, located inside the casino, serves delicious pub-style food in a cozy atmosphere. While there is no buffet here, there are plenty of tasty menu options.
Whether you're in the mood for a juicy burger, crispy chicken wings, or a hearty sandwich, Frosty's has got you covered. And if you're looking for a drink to wash it all down, the bar offers a great selection of beers and cocktails.
Pools
While this casino boasts a range of exciting amenities for visitors, swimming pools are not among them. Those looking to cool off on a hot summer day must seek alternative options.
Fortunately, the friendly staff at this casino can offer suggestions for nearby swimming holes or other outdoor activities to enjoy in the area. Don't let the lack of onsite pools deter you from experiencing all that this casino offers – there's still plenty of fun.
Kewadin Casino Christmas, MI FAQ
Does Kewadin Casino Christmas Have A Sportsbook?
No, they do not have a sportsbook. For those looking for an exciting sports betting experience, other casinos in the area offer this feature. Alternatively, online sportsbooks are usually available if you live in a state where they are allowed.
Is Poker Available At Kewadin Casino Christmas?
No, there is no live poker available at this casino. Alternatively, there are video poker machines that you can play on-site. If you're looking for a live poker experience, other area casinos may offer this option.
What Are The Age Requirements For Gambling At Kewadin Casino Christmas?
The legal age for gambling at this casino is 18 years old. Anyone under the age of 21 is not allowed to purchase alcohol from any of the onsite restaurants. Identification must be presented if requested by any staff member.
Does Kewadin Casino Christmas Have An Online Casino?
No, there is no online casino associated with this casino. You may only gamble at this casino while physically present. However, their selection of slots and other amenities makes it a great destination for those who like to experience the thrill of live casino gaming.
Is There An Kewadin Casino Christmas App?
No, they do not have an app. However, they have a website where you can find out about promotions, events, and other details about the casino. You can also sign up for their emails to get updates on new offers and upcoming events.
What Is The Dress Code At Kewadin Casino Christmas?
The dress code at this casino is casual. Shirts with sleeves and closed-toe shoes are required for all guests. Tank tops, flip flops, and other forms of beachwear are not allowed in the casino. Overly revealing clothing is also prohibited.
Is There An Airport Shuttle Available From Kewadin Casino Christmas?
No, there is no airport shuttle service available from this casino. Alternative transportation options may be available nearby, including ride-share services and public transportation. The casino staff can provide additional information and details on possible transportation solutions.
What Is The Smoking Policy At Kewadin Casino Christmas?
The casino is smoke-free. However, there is a designated smoking area outside the premises for those who wish to light up. Smoking and vaping are not permitted anywhere inside the casino or restaurants on these premises.
What Is The Pet Policy At Kewadin Casino Christmas?
Pets are not allowed inside the casino. Service animals that are certified and have appropriate paperwork must be kept on a leash and accompanied by their owner at all times. Any other pets must remain outside the premises.
Is Wifi Available At Kewadin Casino Christmas?
Yes, visitors have access to free wifi at this casino. The internet is available in all casino areas but may have some restrictions. For more information, contact a staff member at the help desk or visit their website for details.
What Is The Cancellation Policy For Kewadin Casino Christmas?
This branch has no hotel accommodations, so there is no cancellation policy for rooms. However, any reservations made for events or other services may have cancellation fees associated with them. Make sure to contact a staff member for more information on these policies.
Conclusion
This casino is a great destination for those seeking an exciting gambling experience. With various slots, electronic table games, restaurants and other amenities, Kewadin Casino Christmas offers something for everyone.
Just abide by their age restrictions, dress code and pet policy when visiting the premises. Additionally, take advantage of their free wifi and explore the area for other transportation options. With a little planning and research, you can have an enjoyable visit to this casino.