Kewadin Casino Hessel
Address: N 3 Mile Rd, Hessel, MI 49745, USA
Phone Number: +1 906-484-2903
Website: https://www.kewadin.com/
Hours: Kewadin Casino is open 24 hours a day, 7 days a week.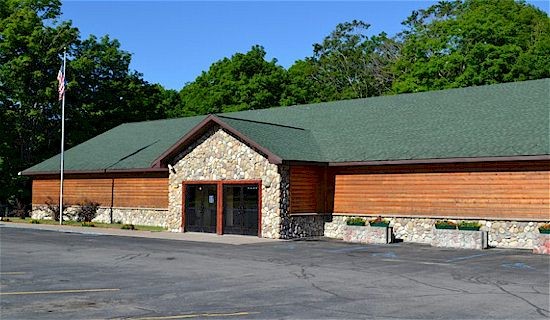 The history of Kewadin Casino is a long and storied one. The casino first opened its doors in 1994 and has been providing gamers with top-notch entertainment and gaming experiences ever since.
In its early days, the casino was much smaller than it is today, but it has grown to become one of the largest and most popular casinos in the state. With its many years of experience, Kewadin has become a go-to destination for gamers from all over Michigan.
It offers a wide variety of gaming options, from traditional slots and virtual table games to more modern electronic. There are multiple bars and restaurants on-site, as well as a full-service bar with craft beers, fine wines, and signature cocktails.
If you're looking for something unique or rewarding, there are plenty of exciting promotions, tournaments, and special events happening year-round.
Guest reviews for Kewadin Casino Hessel are generally positive. The casino offers a wide variety of gaming options, as well as plenty of restaurants and bars. Guests appreciate the casino's friendly atmosphere and excellent customer service.
Overall, Kewadin Casino is a great place to spend an evening with friends or family.
(Related reading: Michigan casinos)
Gaming
This casino offers over 131 slot machines, dozens of virtual table games, and electronic poker. The gaming floor is always busy yet comfortable and well-maintained.
In addition to traditional slots and table games, players can also enjoy progressive jackpots with huge payouts. For a more live gaming experience, the casino features both cash games and tournaments in a variety of poker styles, including Texas Hold'em and Omaha.
The casino also offers weekly bingo sessions, high-stakes tournaments, and more. There are plenty of opportunities to win big.
Table Games
This casino is proud to offer a variety of virtual table games for your enjoyment. Whether you're looking for the excitement of Blackjack or the thrill of Roulette, they have a game for you.
The virtual table games include Let it Ride Bonus, Ultimate Texas Hold'em, Blackjack, Craps and Roulette. If you're new to casino gaming or just looking for a change of pace, virtual table games are a great way to get in on the action.
It offers a variety of table game minimums depending on the type of game. For Blackjack and Roulette, you can play for as little as $5. Let it Ride Bonus and Ultimate Texas Hold'em require a minimum bet of $10, while Craps requires a $15 minimum bet.
Slots
This casino offers a wide variety of gaming options for visitors. The casino floor is home to over 131 slot machines, making it one of the largest casinos in the state. With so many choices, it can be difficult to decide which machines to play with.
To help make your decision easier, here are some of the most popular slot machines at Kewadin Hessel:
Mega Moolah: This progressive jackpot slot machine has become one of the most popular slots at Kewadin Casino Hessel. Mega Moolah features a four-tiered jackpot, with the top prize currently standing at over $1 million.
Wheel of Fortune: Another hugely popular slot machine, Wheel of Fortune offers visitors the chance to spin the wheel for a chance to win big prizes. There are also several bonus rounds where players can win even more money.
Cleopatra: One of the most popular themes in slots, Cleopatra takes players on a journey back to ancient Egypt. With its stunning graphics and catchy music, it's easy to see why this machine is so popular.
Buffalo: This classic slot machine features symbols of America's great plains, including buffalo, eagles, and rocks. Buffalo is a hugely popular slot machine at Kewadin Casino Hessel, thanks to its simple gameplay and big payouts.
Kewadin Casino's slot machine payback percentage is not publicly available. However, the casino is part of the Michigan Indian Gaming Regulatory Act and is required to maintain minimum payback percentages for all slot machines.
In general, you can expect a return rate of at least 85%, with some machines offering higher payouts than others.
Hotel/Resort
Although this casino does not have its own accommodations it does have Hessel Cabins located opposite the Hessel Marina. The cabins come in two sizes, one and two bedrooms. Each cabin comes with its own kitchen, bathroom, and living area.
The casino is also conveniently located close to many hotels and resorts for those who are looking for a more luxurious experience.
Furthermore, Kewadin Casino Hessel is a full-service entertainment destination. Guests can enjoy dining at the casino's fine dining restaurant, the Wildwood Steakhouse. The casino also offers an on-site sports bar and lounge with a wide selection of beer, wine, and cocktails.
The casino also features live music and concerts throughout the year, as well as a variety of other entertainment options. Additionally, guests can take advantage of the casino's gift shop and a full-service spa.
Kewadin Casino Hessel is also home to an on-site convenience store and gas station, making it easy to fuel up before hitting the road. Finally, the casino has an ATM and a shuttle service to take guests to nearby attractions.
Kewadin Casino Hessel is the perfect destination for those looking for Las Vegas-style gaming action, as well as all of the amenities necessary to make your stay comfortable and enjoyable.
Restaurants & Buffets
The Northern Nook Bar & Grille is the perfect place to grab a quick bite or enjoy a leisurely meal. The menu features a wide variety of items, including American classics, Mexican staples, and fresh seafood.
Whether you're in the mood for a burger or an enchilada, you're sure to find something to your liking at the Northern Nook. And be sure to save room for dessert. The pie selection changes daily, but favorites like apple and cherry are always available.
Pools
Unfortunately, Kewadin Casino Hessel does not have a pool on the property. However, guests can take advantage of the nearby beach and lake to cool off during the summer months.
The casino is also conveniently located close to many hotels and resorts that feature pools for their guests. So if you're looking for a refreshing dip in the pool after a long day of gambling, be sure to check out the nearby hotels and resorts.
Kewadin Casino Hessel, MI FAQ
Does Kewadin Casino Hessel Have A Sportsbook?
This casino does have a sportsbook. It is located in the bar area and is run by WynnBET.Sports betting is available on a variety of sports, including football, basketball, baseball, hockey, and more.
You can also place bets on events such as the Super Bowl and the World Series. In addition to traditional betting, WynnBET also offers live betting, which allows you to place bets on games as they are happening.
Is Poker Available At Kewadin Casino Hessel?
Yes, this casino offers a variety of poker games. You can choose from Texas Hold'em, Omaha and 7 Card Stud.
The casino also has regular tournaments and special events throughout the year. Whether you want to join in on the action or just watch, Kewadin is the perfect place for poker enthusiasts.
What Are The Age Requirements For Gambling At Kewadin Casino Hessel?
The legal gambling age at Kewadin Casino Hessel is 19. This means that anyone who is 19 years of age or older can gamble at the casino. However, if you are under the age of 19, you will not be able to gamble or even enter the casino floor.
So if you're planning on visiting Kewadin Casino, make sure you're of legal gambling age before entering the premises.
Does Kewadin Have An Online Casino?
This casino does not have an online casino, but they do offer a sportsbook where you can place bets on your favorite sports teams. The website is easy to navigate and offers a variety of different betting options. You can also find information on the casino's restaurant and amenities.
Is There An Kewadin Casino Hessel App?
While there is no Kewadin app, you can still enjoy all the same great gaming action by using the WynnBET app. The WynnBET app is available for both iOS and Android devices, and it offers a wide variety of casino games, including slots, table games, and video poker.
You can also take advantage of WynnBET's sports betting platform, which offers wagering on a variety of sporting events.
What Is The Dress Code At Kewadin Casino Hessel?
While there is no strict dress code, visitors are encouraged to dress neatly and avoid any clothing that is excessively casual or revealing. The goal is to create a comfortable and enjoyable environment for all visitors, so everyone is asked to respect the dress code.
Is There An Airport Shuttle Available From Kewadin Casino Hessel?
Yes, guests of Kewadin Hessel can take advantage of the airport shuttle service. The shuttle leaves from the casino once an hour and takes guests to Mackinac Island Airport for a fee.
The shuttle also offers to pick-up and drop-off services at select hotels in the area. So whether you're flying into or out of Mackinac Island, the Kewadin Casino shuttle is a convenient and economical way to get around.
What Is The Smoking Policy At Kewadin Hessel?
This casino is a Smoke-Free facility. This means that smoking is not allowed anywhere inside the casino, including the gaming floors, restaurants, and bars.
There are designated smoking areas outside the casino, so smokers will still be able to enjoy their time at Kewadin while respecting the rights of non-smokers.
What Is The Pet Policy At Kewadin Casino?
This casino does not allow pets on its premises. This is done to ensure the safety and comfort of all guests, as well as to protect the health and cleanliness of the casino. Service animals are allowed in certain areas, but must be under control at all times.
Is Wifi Available At Kewadin Hessel?
Yes, free Wifi is available throughout the casino. There are also charging stations located in select areas of the casino, so you can keep your devices powered up while you enjoy the games.
What Is The Cancellation Policy For Kewadin Casino Hessel?
As there is no hotel on the premises, Kewadin Casino Hessel does not have a cancellation policy.
However, if you need to cancel or reschedule your reservation at the casino, it is best to do so as soon as possible in order to avoid any fees.
Conclusion
Kewadin Casino Hessel is a great place to enjoy some of your favorite casino games and sports betting. With its wide range of amenities, convenient shuttle service, free Wifi, and smoke-free environment, it's the perfect destination for gamblers and Casinokee enthusiasts alike.
So if you're looking for an exciting casino experience, Kewadin Hessel is the place to be.