Kewadin Casino Manistique
Address: 5630 W, U.S. Rte 2, Manistique, MI 49854, USA
Phone Number: +1 906-341-5510
Website: https://www.kewadin.com/accommodations/manistique/
Hours: Kewadin Casino Manistique is open 24 hours a day, 7 days a week.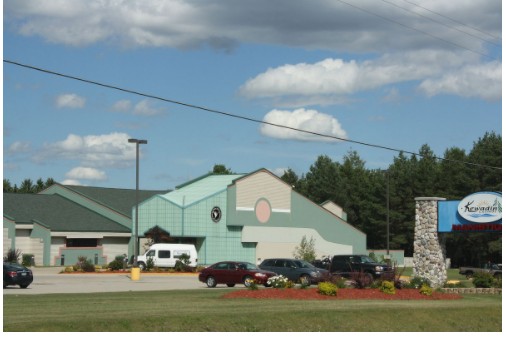 The Kewadin Manistique is a Native American casino located in the Upper Peninsula of Michigan. It is owned and operated by the Sault Ste. Marie Tribe of Chippewa Indians. The casino has been in operation since 1994.
It offers gaming options such as table games, slots, and a poker room. The casino also has a hotel, restaurant, and lounge on-site. The casino features live entertainment, including bands and DJs. There is also a gift shop, ATM, and cashier services.
It provides an exciting nightlife atmosphere with its slot machines, table games and poker room. For those looking for something more relaxed, there is a cozy lounge area to enjoy drinks or a meal.
The casino also offers special promotions, including cash prizes and discounts. All of these amenities make Kewadin the perfect destination for a night out or weekend getaway.
Whether you're looking to win big or just enjoy some quality time with friends and family, Kewadin Casino Manistique is the place to go.
Guest ratings for Kewadin Casino Manistique are generally positive, with guests rating the casino an average of 4 out of 5 stars. Many guests appreciate the fun and lively atmosphere, as well as the variety of games available.
Some guests do note that the casino can be quite loud, which may not be ideal for all visitors. Overall, Kewadin Casino Manistique is a popular destination for a night out or weekend getaway.
(Related reading: Michigan casinos)
Gaming
This casino offers a diverse range of gaming options including over 250 slots, table games and a poker room.
Table Games
This casino is loaded with fun table games for every type of player. For those that like to take a chance, there's Let it Ride Bonus and Ultimate Texas Hold'em.
Blackjack is a classic favorite for gamers of all generations; at Kewadin Casino Manistique, you can play the traditional 6-deck version, and there are also tables offering single-deck and double-deck games.
Craps is another classic casino game and Roulette gives players the excitement of seeing where their luck takes them. There are even virtual table games available so everyone can get in on the action.
Wherever your gaming skills take you, Kewadin offers something fun for everyone between the variety of traditional table games and virtual options.
It offers a variety of table game minimums, which depend on the particular game and day of the week.
Generally, the lowest available minimum is $5 for most games; however, some games may have higher minimums during peak times. Minimum wagers can change frequently so it's best to check with the casino before playing.
Slots
This casino offers a wide variety of slot machines for guests to enjoy. It is proud to have the latest state-of-the-art technology for all slot fans. Popular slot games include Slingo Reel Riches, 100 Ladies, More Heaven and Earth, and Overwhelming Winning Link Lock It Link.
There are also some classics such as Wheel of Fortune, Double Diamonds and 5 Times Pay. For those who like table games or video poker, Kewadin has them too.
Kewadin is always looking for new ways to make its guests happy with the regular updates to the slots section of its gaming portfolio.
Kewadin Casino has a wide range of slot machine payback percentages. The exact percentages vary from game to game, but generally the average payout is between 85% and 95%.
This means that for every dollar wagered on a particular slot machine, players can expect to receive an average of 85-95 cents back.
Hotel/Resort
Kewadin Casino Manistique offers a great selection of classic slot games, table games and video poker machines, making it the perfect place to enjoy a night out. While they do not have a hotel on-site, the friendly team makes it easy for travelers to plan their stay in the area.
They have partnered with many local hotels but two that stand out are, the Colonial Motel and Comfort Inn, both just minutes away from the casino. The Colonial Motel features fully furnished rooms with all the amenities you need for a comfortable stay.
The Comfort Inn also offers spacious guestrooms and options such as suites and whirlpool rooms. Both locations offer complimentary wireless internet access and other services like media checkout, so you can stay connected during your visit.
The casino features an onsite bar and lounge, with nightly entertainment, karaoke nights and live music regularly scheduled. Guests can also enjoy the 24-hour snack shop, which offers beverages and snacks at any hour.
The casino also features a full-service restaurant and bar, the Mariner's Cove Restaurant, which serves up classic American dishes with a modern twist. There are also gift shops and ATM machines available for guest convenience.
It also offers valet services, so visitors can park their cars in a safe and convenient location. Finally, all guests are given complimentary access to Kewadin's shuttle service, which can take them within a five-mile radius of the casino.
No matter where you choose to stay near Kewadin Manistique, you can rest assured knowing that nothing will come between you and an enjoyable vacation.
Restaurants & Buffets
If you're looking to grab a bite to eat while you're visiting Kewadin, then look no further than Mariner's Cove Restaurant. Whether it's lunch or dinner, this 60-seat restaurant is the perfect spot for your dining experience.
It offers full-service menus with both traditional and signature dishes available. Appetizers such as fried pickles and jalapeno poppers are sure to whet your appetite, while main entrees like fish tacos and patty melt provide delicious and filling meal options.
Plus, all of the restaurant's meals are smoke-free so you can enjoy your meal without any uncomfortable scents in the air. When it comes to dining near Manistique, Mariner's Cove Restaurant has something for everyone.
Pools
Unfortunately, this casino does not have a pool, but the local area is home to some great outdoor swimming options.
The nearby DNR Recreation Area offers visitors a chance to enjoy their own private beach and boat launch for those who want to take a dip in Lake Michigan.
Plus, the Mackinac Island State Park offers several beaches and swimming areas for visitors to cool off during the summer months.
Kewadin Casino Manistique, MI FAQ
Does Kewadin Casino Manistique Have A Sportsbook?
If you are looking to place a legal sports bet while visiting this casino you'll be happy to learn that they do have sportsbook options available.
Located in the Team Spirit Bar, visitors will find WynnBET Sports Betting Kiosks where bets can be placed on auto racing, baseball, basketball, boxing/MMA, football, golf, hockey and soccer events from around the world.
Kewadin Manistique has teamed up with WynnBET to provide access to their online wagering platform.
Is Poker Available At Kewadin Casino Manistique?
Yes, you can find poker tables available at this casino. There are a variety of different games and limits to choose from so everyone should be able to find the perfect game for them.
What Are The Age Requirements For Gambling At Kewadin Casino Manistique?
The minimum age for gambling at Kewadin Casino Manistique is 21 years old. To be allowed entrance into the casino, guests must be able to provide valid identification that shows their current age, such as a driver's license or passport.
Does Kewadin Manistique Have An Online Casino?
Yes, this casino does have an online casino. Guests can sign up for the online gaming platform from the comfort of their homes and play all of the same slots, table games and more that are available in person at the casino.
Additionally, there are multiple promotions and bonuses available to those who join.
Is There An Kewadin Casino Manistique App?
Yes, Kewadin Casino does have an app. The app allows guests to easily access their casino account and manage all of their gaming activities.
Additionally, the app offers exclusive bonuses for players who join. Players can also redeem rewards points, find upcoming promotions and events and more.
What Is The Dress Code At Kewadin?
The dress code at this casino is casual but neat. Guests must wear clothing that is clean and presentable, without any offensive language or graphics.
Shorts, jeans, t-shirts and comfortable shoes are all permitted. However, guests must refrain from wearing athletic wear such as jerseys and sweatsuits while in the casino.
Is There An Airport Shuttle Available From Kewadin Casino Manistique?
No, there is no airport shuttle available from this casino. However, the nearest airport is Sawyer International Airport located in Gwinn, MI and they do offer shuttles to certain locations throughout the area.
For those looking for a more convenient option, there are several car rental services available at the airport. Alternatively, you can take a taxi or ride-sharing service to get to and from the casino.
What Is The Smoking Policy At Kewadin Manistique?
This casino is smoke-free and does not allow smoking inside the building. There are designated outdoor areas for guests who wish to smoke.
What Is The Pet Policy At Kewadin Casino?
Unfortunately, pets are not allowed inside this casino Manistique. Service animals that are trained to perform tasks for individuals with disabilities are permitted to enter the building.
Is Wifi Available At Kewadin Manistique?
Yes, this casino does offer complimentary WiFi for guests. Guests can connect to the network by selecting "KewadinWifi" on their wireless device and following the prompts.
What Is The Cancellation Policy For Kewadin Casino Manistique?
As there is no hotel on-site, there is no cancellation policy for this casino. However, the Team Spirit Bar does require a minimum of 24-hour notice for any cancellations or changes in reservations.
Conclusion
In conclusion, Kewadin Casino Manistique is the perfect destination for those looking to try their luck at a variety of different casino games. From slots and table games to sports betting and poker, there are plenty of opportunities for fun.
Guests can also take advantage of the complimentary WiFi and other amenities available on-site. With its smoke-free policy, pet-free policy, and casual dress code, the casino is sure to be a pleasant experience for all.
Before you go, make sure to check out their online casino platform as well as their app for exclusive bonuses and promotions.