Leelanau Sands Casino Peshawbestown
Address: 2521 N West Bay Shore Dr, Peshawbestown, MI 49682
Phone Number: (231) 534-8100
Website: https://www.leelanausandscasino.com
Hours: Leelanau Sands Casino is open MON-WED: 10:00 am – 12:00 am, THUR-FRI: 10:00 am – 2:00 am, SAT: 10:00 am – 2:00 am, SUN: 10:00 am – 12:00 am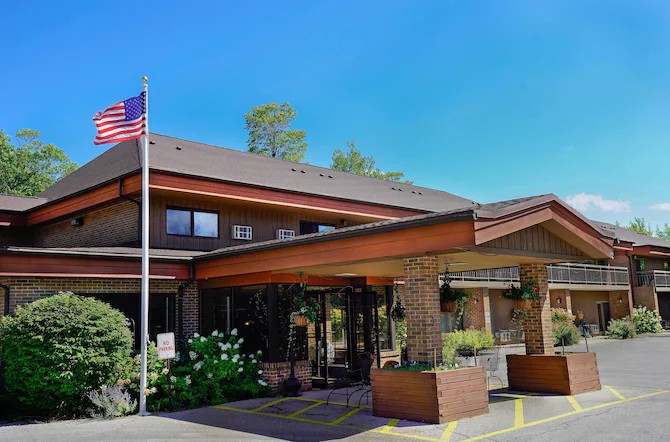 The Leelanau Sands is a Native American casino in Peshawbestown, Michigan. It is owned and operated by the Little Traverse Bay Bands of Odawa Indians.
The casino has 97,000 square feet (9,100 m2) of gaming space, 1,500 slot machines, 28 table games, and a poker room. It also has a hotel with many amenities on offer, as well as an RV park.
The casino offers a variety of slot machines, from classic to modern video slots. There are also table games such as blackjack and roulette. The poker room has regular tournaments and cash games.
The casino is located in the beautiful Leelanau Peninsula, near Lake Michigan. It is just minutes away from the Sleeping Bear Dunes National Lakeshore, one of the most popular attractions in the area. It's also close to Traverse City and other towns on the peninsula.
The casino offers special promotions and discounts throughout the year. They have a rewards program that can be used to redeem free play, gifts, meals, and more. The casino also hosts events such as live entertainment, comedy nights, and special holiday events.
Leelanau Sands Casino is a great place to visit if you're looking for exciting gaming and entertainment options in the area.
Guests rate the Leelanau Sands Casino 3.5 out of 5 stars on TripAdvisor. The casino has a 4.5 out of 5 rating on Google and a 4.4 out of 5 rating on Facebook.
Guests enjoy the casino's gaming options, friendly staff, and convenient location. However, some guests complain about the lack of table games. Overall, the Leelanau Sands is a popular destination for gaming and entertainment in Michigan.
(Related reading: Michigan casinos)
Gaming
This casino offers a variety of gaming options, including slot machines, table games, and a poker room. The slots range from classic to modern video machines.
Table Games
This casino offers a variety of table games for visitors to enjoy. Some of the most popular games offered include blackjack, craps, and roulette. Guests can also try their hand at Pai Gow Poker, three-card poker, or Ultimate Texas Hold'em.
For those looking for something a little different, the casino also offers Keno and Bingo. Whatever game you choose, you're sure to have a fun and exciting time at Leelanau Sands.
The minimum table game bet at Leelanau Sands depends on the game that you are playing. The most popular table games have a minimum bet of $5 and go up to $100.
For more specialty table games, such as Pai Gow Poker and Baccarat, the minimum bet is usually between $25 and $50.
Slots
This casino is one of the most popular casinos in Michigan. They offer a wide variety of slot machines, including some of the most popular ones in the state.
Some of their most popular slot machines include:
The Wheel of Fortune
The Mega Moolah
The Rainbow Riches
The House of Fun
The Zeus III
No matter what your budget is, you can find a machine that suits your needs at Leelanau Sands. They have a wide variety of machines, so you're sure to find one that you'll enjoy playing. If you're looking for a particular type of machine, they may even be able to help you find it.
The slot machine payback percentage at Leelanau Sands Casino is not publicly available. However, the Michigan Gaming Control Board requires all casinos to maintain a minimum of 80% on their slot machines.
This means that for every dollar you wager on a slot machine, you can expect to receive at least 80 cents back in winnings.
Hotel/Resort
At Leelanau Sands there are plenty of amenities to take advantage of during your stay. For those who want to be close to the action, the RV Park offers convenient access to the casino for just $25 a night.
If you're looking to relax and enjoy the beautiful Leelanau County scenery, the Lodge is one of the top hotels in the area, with comfortable accommodations and stunning views.
Hotel rooms come equipped with 37″ flat screen LCD TVs, complimentary wireless internet, in-room coffee makers, hair dryers, and air conditioning. Most rooms also have a patio or balcony. Eyaawing Museum & Cultural Center is just a 0.3-mile walk away.
Other property amenities include an outdoor deck with incredible views, free coffee/tea 24/7 in the lobby, and a free shuttle to the casino.
The cost of staying at Leelanau Sands Hotel depends on the type of room you choose and how long you stay.
RV Park rates start at $25 per night, while hotel rooms range from $80 to $450 per night, depending on the room type. Prices include all taxes and fees.
Check-in time at Leelanau Sands Hotel & RV Park is 4:00 pm
Check-out time at Leelanau Sands Hotel & RV Park is 11:00 am
Restaurants & Buffets
If you get hungry while enjoying the games at this casino, there's no need to go far for a bite to eat. Big Dex's Restaurant is conveniently located inside the casino and offers a variety of breakfast, lunch, and dinner options.
If you're looking for a quick drink, grab a seat at the bar. The bartenders are always friendly and happy to help and serve local beer, spirits, and beverages. So whether you're looking for a full meal or just a snack, Leelanau Sands has you covered.
Pools
Unfortunately, there is no pool at this casino. However, several hotels and resorts nearby offer swimming pools for visitors to use.
Whether you're looking for a place to cool off after a long gaming day or a relaxing spot to sit and soak up some sun, these nearby hotels can provide the perfect solution.
Leelanau Sands Casino Peshawbestown, MI FAQ
Does Leelanau Sands Casino Have A Sportsbook?
Yes, this casino does have a sportsbook. They partnered with Caesars Sportsbook to provide retail and mobile sports betting at Leelanau Sands. This means that you can place your bets at either location, using the Caesers Sportsbook app or in person at the casino.
So whether you're looking to bet on your favorite team or try your hand at some live sporting events, they have got you covered!
Is Poker Available At Leelanau Sands Casino?
Yes, poker is available at this casino. The casino offers a variety of different poker games, including Texas Hold 'em and Omaha. There are also a number of different tournaments that are held on a regular basis.
In addition, the casino offers a number of different promotions and bonuses for players who participate in poker games.
What Are The Age Requirements For Gambling At Leelanau Sands Casino?
The gambling age at this casino is 21. This means you must be at least 21 years of age to gamble at the casino or enter the casino floor. If you are under 21, you will be asked to leave the casino.
Does Leelanau Sands Have An Online Casino?
Yes, this casino does have an online casino. You can access it through the Ceasars sportsbook app. Through this app, you'll be able to place bets on a variety of casino games.
So whether you're looking to play slots, table games, or anything in between, you'll be able to do so from the comfort of your own home. Plus, with the Ceasars sportsbook app, you'll also be able to take advantage of special promotions and bonuses that are only available to online players.
So if you're looking for a convenient way to gamble at the Leelanau Sands, then the online casino is definitely worth checking out.
Is There An Leelanau Sands Casino App?
Yes, Ceasar's App is available for download on Android and iOS devices. This app provides users with quick access to the casino floor and all of its games, as well as special promotions and bonuses.
It also allows players to easily keep track of their loyalty points and redeem them for rewards.
What Is The Dress Code At Leelanau Sands?
The dress code at this casino is casual. However, it is recommended that you wear closed-toe shoes when visiting the casino as a safety precaution. Any type of clothing is acceptable, including shorts and t-shirts, but please be aware that some areas may require more formal attire.
Is There An Airport Shuttle Available From Leelanau Sands Hotel & Casino?
Yes, an airport shuttle from this casino to the Traverse City Airport is available. The shuttle runs on a regular schedule and can be booked through the casino's website or by calling the front desk. This shuttle service is provided as a courtesy to visitors and guests of the casino.
What Is The Smoking Policy At Leelanau Sands Casino?
This casino is non-smoking. A designated outdoor smoking area is available for smokers.
What Is The Pet Policy At Leelanau Sands?
This casino does not allow guests to bring pets inside the casino. However, service animals are welcome and must be registered with the front desk upon arrival.
Is Wifi Available At Leelanau Sands Casino?
Yes, free wifi is available at this casino. Guests can access this service by connecting to the casino's wifi network.
What Is The Cancellation Policy For Leelanau Sands Hotel & RV Park?
Guests must cancel their reservation at least 24 hours before the scheduled arrival time, or they will be charged a one-night room and tax fee. Please contact the front desk directly or visit the casino's website if you need to cancel your reservation.
Conclusion
Leelanau Sands Casino offers guests a variety of gaming and entertainment options. Guests will be able to find the perfect game for them, as well as take advantage of special promotions, bonuses, and more.
The casino also has an online casino that allows players to gamble from the comfort of their own homes. Plus, with free wifi and an airport shuttle, guests can easily stay connected and get to the casino.
With all of these great features, it's easy to see why Leelanau Sands is one of Michigan's premier gaming destinations. So if you're looking for a fun and exciting place to visit, make sure to check out the Leelanau Sands Casino.