MGM Grand Casino Detroit
Address: 1777 3rd Ave, Detroit, MI 48226
Phone Number: (877) 888-2121
Website: https://mgmgranddetroit.mgmresorts.com/en.html
Hours: MGM Grand Detroit is open 24 hours a day, 7 days a week.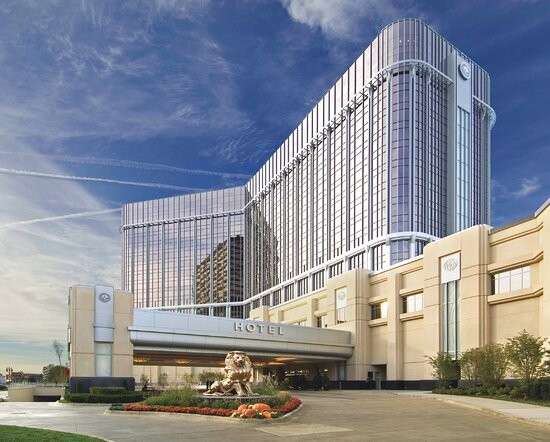 The MGM Grand was first opened in October 1999. It is a luxurious casino resort that offers its guests a variety of gaming options, as well as a wide range of dining and entertainment options.
The casino has over 2,500 slot machines and 120 table games and features several restaurants, including Wolfgang Puck's Spago Detroit. The resort also includes a wide variety of entertainment venues, from live music to comedy shows.
Guests can enjoy relaxing in the hotel's pool and spa or take advantage of Detroit's nearby attractions, including the Detroit Zoo and Motown Museum. Whether you're looking for a luxurious stay or just a night out with friends, it has something to offer you.
MGM Grand is sure to have something for everyone, from gambling to dining to entertainment. Visit today and experience the luxury of the MGM Grand.
The MGM Grand Casino has been rated 4.3 out of 5 by TripAdvisor. Guests love the variety of gaming options available, as well as the luxurious accommodations and amenities. The casino is also praised for its great customer service.
Whether you're looking for a night out on the town or a relaxing getaway, MGM Grand is a great choice.
(Related reading: Michigan casinos)
Gaming
This casino offers a variety of gaming options, from slots and table games to video poker.
Table Games
This casino offers a wide variety of table games that are sure to keep you entertained. Blackjack, Roulette, Craps, and Baccarat are just a few of the classics that you can try your luck at.
If you're looking for something a little different, they also offer Ultimate Texas Hold'em, Pai Gow Poker, and Three Card Poker. No matter your game of choice, you're sure to find it at MGM Grand Casino.
This casino offers different table game minimums depending on the day of the week. On Monday through Thursday, most games have a $10 minimum bet. On Friday and Saturday, the minimum bets range from $15 to $25, depending on the game.
Slots
Slots are a favorite at this casino. They're easy to play, and there are plenty of chances to win. The most popular slot machines include:
Wheel of Fortune: One of the most popular TV game shows is now a slot machine. The spinning wheel can land on a variety of prizes, including cash and free spins.
Gonzo's Quest: Join Gonzo on his quest for gold in this exciting video slot. Watch as he tumbles through the jungle, avoiding obstacles and collecting gold coins.
Starburst: A classic slot machine with simple yet addictive gameplay. Match the symbols across the reels and watch as they explode in a shower of color.
Mega Moolah: This progressive jackpot slot offers life-changing prizes. Spin the reels and watch as the jackpot grows with every spin.
The slot machine payback percentage is not released at MGM Grand Casino. The casino does not publicize any information about its payout percentages, but the average for Detroit is around 90%. This means that, on average, slot machines will pay out roughly $90 of every $100 wagered.
It's important to remember that these are just averages; individual machines may vary in their own payback rates.
Hotel/Resort
MGM Grand Detroit is more than just a casino- it's a luxurious destination that offers an immersive experience. From the moment you arrive, you'll be greeted by a dedicated hotel entrance and a private lobby.
Then, make your way to IMMERSE spa for a total sensory experience. If you're looking to stay active during your visit, head to the state-of-the-art Fitness Center or take a dip in the pool. And don't forget to check out Topgolf Swing Suite- a one-of-a-kind virtual golf experience.
When it's time to relax, retreat to the Concierge Level, where you'll find a private area designed exclusively for select hotel guests. Finally, take advantage of the convenient transportation options MGM Grand Detroit offers, including Uber.
With so much to offer, it's no wonder MGM Grand Detroit is one of the most popular destinations in Michigan.
The cost to stay at MGM Grand Hotel depends on several factors, including the type of room, time of year, and the number of guests. Generally speaking, you can expect to pay anywhere from $125-$250+ per night for a standard room.
For an upgraded suite or VIP package, the nightly rate can range from $350-$500+ per night. Special promotions and packages may be available at certain times of the year, so it's always a good idea to check the casino's website for discounts or deals before booking your stay.
Check-in time at MGM Grand Hotel is 4:00 pm
Check-out time at MGM Grand Hotel is 11:00 am
Restaurants & Buffets
This casino in Detroit is home to some of the best restaurants in the city. Whether you're looking for a fine dining experience or a quick bite on the go, they have something for everyone.
The D.PRIME Steakhouse is perfect for a special night out, offering a modern take on the classic steakhouse experience. For something a little more casual, Detroit Central Market is the new food hall with a fresh approach to fast-casual dining.
And if you're looking for a quick snack or coffee, they have The Roasted Bean and Breeze Dining Court, which offers reasonably priced great food. No matter what your appetite is, MGM Grand Casino has you covered.
Pools
MGM Grand pools offer a great way to relax. Enjoy the infinity-edge pool, surrounded by pools and cabanas, while you sip on delicious cocktails at the swim-up bar. Lounge chairs and daybeds are available for guests looking to soak up some sun during their stay.
MGM Grand Casino Detroit, MI FAQ
Does MGM Grand Casino Have A Sportsbook?
Yes, this Detroit casino offers betting through the BetMGM Sports Lounge. This service offers in-play betting on select games, meaning that you can place wagers on ongoing matches as they play out.
To access this service, simply visit a sports betting kiosk or the Sportsbook counter at the MGM Grand Detroit. WithBetMGM Sports, you can enjoy all the thrills of live sports betting from your home.
Is Poker Available At MGM Grand Casino?
Yes, poker is available at this casino. The casino offers a variety of poker games, including Texas Hold 'em, Omaha, and Seven Card Stud.
Several tournaments are held each week, with cash prizes and tournament points up for grabs. Whether you're a beginner or a seasoned pro, there's sure to be a game that's right for you.
What Are The Age Requirements For Gambling At MGM Grand Casino?
The legal gambling age at this casino is 21. However, there are other activities available for guests under 21, such as the Lion Habitat, pools, spas, and restaurants. Guests between the ages of 18-20 can also participate in gaming lessons.
While the casino has a strict policy regarding age requirements for gambling, they can still provide a fun and enjoyable experience for guests of all ages.
Does MGM Grand Have An Online Casino?
Yes, the MGM Grand has an online casino. You can play all of your favorite casino games any time of day or night. This includes slots, poker, blackjack, roulette, and video poker. You can also take advantage of special bonuses and promotions.
All you need is an internet connection, and you're good to go. So whether you're in the mood for some gambling fun or you're just looking for a way to pass the time, the MGM Grand Casino's online casino is the perfect place for you.
Is There An MGM Grand Casino App?
Yes, an MGM Grand Casino app is available for iOS and Android devices. This app allows you to stay up to date with all the latest promotions, events, and news from the casino. You can also use the app to access your account information and manage your gaming activities.
What Is The Dress Code At MGM Grand?
The dress code at this casino is smart casual. This means that guests should avoid overly revealing clothing, such as shorts and tank tops, and instead opt for more modest clothing items.
Men are asked to wear collared shirts and closed-toe shoes, while women are encouraged to dress in a tasteful manner.
Is There An Airport Shuttle Available From MGM Grand Casino?
This casino offers a complimentary airport shuttle service to and from Detroit Metropolitan Airport. The shuttle is available seven days a week and operates on a first-come, first-served basis.
Contact the casino's front desk to book your transportation to take advantage of this service. The shuttle can accommodate up to six passengers at a time.
What Is The Smoking Policy At MGM Grand?
The MGM Grand Casino is a smoke-free facility. Smoking is prohibited in all areas, including gaming floors and restaurants.
Designated smoking areas are available for guests who wish to smoke outside of the casino area. These smoking areas are equipped with ashtrays and other amenities to make your experience as comfortable as possible.
What Is The Pet Policy At MGM Grand?
The MGM Grand does not allow pets on the premises. Service animals are permitted, but all other animals must be left at home. If you have a service animal, please contact the casino directly for more information about its policies.
Is Wifi Available At MGM Grand Hotel & Casino?
Yes, free wifi is available to all its guests. You can access the internet anywhere in the casino by connecting to the "MGM Grand Casino" network. Enjoy browsing, streaming, and gaming without having to worry about data caps or slow speeds.
What Is The Cancellation Policy For MGM Grand Hotel?
MGM Grand Casino has a 24-hour cancellation policy. You must cancel your reservation at least 24 hours before your arrival date in order to receive a full refund.
If you do not cancel within the specified time frame, you will be charged for one night's stay plus applicable taxes and fees. Be sure to read the cancellation policy carefully before making your reservation.
Conclusion
The MGM Grand Casino is a premier entertainment destination for guests of all ages. Whether you're looking for gaming fun, a relaxing spa experience, or delicious dining, the casino has something for everyone.
With its online casino, app, and complimentary airport shuttle service, it's easy to enjoy all MGM Grand offers from the comfort of your home.