MotorCity Casino Hotel Detroit
Address: 2901 Grand River Ave, Detroit, MI 48201
Phone Number: (866) 782-9622
Website: https://www.motorcitycasino.com/
Hours: Motorcity Casino is open 24 hours a day, 7 days a week.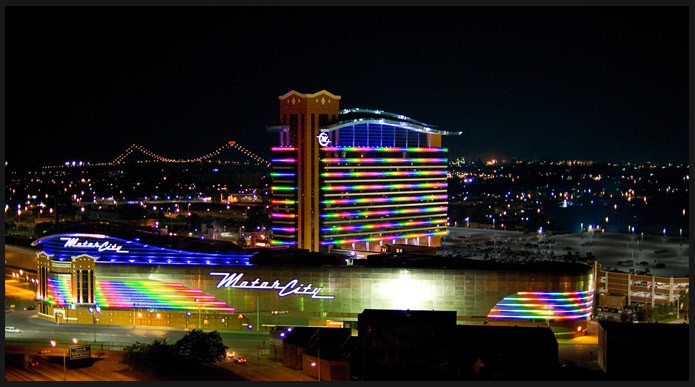 MotorCity Casino was founded in 1999. It is located in downtown Detroit, Michigan. The casino is owned and operated by the Ilitch organization.
The hotel offers luxury accommodations and a wide selection of gaming machines. The casino features over 3,500 slot machines and table games, including Blackjack, Poker and Craps, as well as a bingo hall.
Guests can also enjoy live entertainment at the venue's theater or take in some shopping at the adjacent retail area. It also offers a variety of dining options, including fine dining, casual restaurants and fast food outlets.
MotorCity is conveniently located near the Detroit Metro Airport and offers a complimentary shuttle service to the airport.
The hotel also offers a variety of amenities, including a fitness center and free Wi-Fi. MotorCity also provides free parking to all guests.
With its luxurious accommodations, gaming action and entertainment options, it is no wonder why MotorCity is one of the premier destinations in Detroit. Whether you're looking for a great night out or a relaxing stay, MotorCity Casino has something for everyone.
According to TripAdvisor, guests rate MotorCity Casino with an average of 4/5 stars. Many guests enjoy the luxurious accommodations and wide selection of gaming machines offered at the casino. Others appreciate the variety of dining options available on-site.
(Related reading: Michigan casinos)
Gaming
This casino offers a variety of gaming options, including Poker, Blackjack, Craps and slots. Poker players will enjoy the motor city poker room with its wide selection of tournaments and cash games. The casino also offers a bingo hall with multiple sessions each day.
Table Games
This casino offers a wide variety of table games to suit any taste. For those who prefer the classic casino experience, the casino offers blackjack, craps, and roulette.
For those looking for something a little different, the casino also offers three-card poker, Mississippi Stud, and Big Six Wheel. In addition, the casino offers speciality games such as Pai Gow Tiles and Sic Bo. No matter your game of choice, you're sure to find it at MotorCity.
The minimums for table games vary depending on which game you choose to play. Blackjack typically has the lowest minimums, with a typical minimum bet of $5-$10. Other popular table games, such as craps and roulette, usually have higher minimum bets of around $15 or more.
Slots
You're in luck if you're looking for MotorCity's most popular slot machines. Here are some of the most played machines at the casino:
Wheel of Fortune: One of the most iconic game show slots around, Wheel of Fortune is always a popular choice. Players have a chance to spin the wheel and win big prizes.
Buffalo: Another all-time classic, Buffalo is a fan favorite for its stampede bonus feature. Players can trigger the stampede bonus for a chance to win big payouts.
Cleopatra: This Egyptian-themed slot machine is a favorite among players. The game features wild scatters and free spins that can help you earn big winnings.
If you're looking for a fun and exciting gaming experience, be sure to check out these popular slots at this casino.
The MotorCity Casino slot machine payback percentage is not publicly available. However, according to the Michigan Gaming Control Board, all slot machines located in the state must have a minimum return of 83%, with some others offering up to 95%.
As such, it is likely that MotorCity Casinos slots offer payback percentages within this range.
Hotel/Resort
At MotorCity Hotel, they offer guests a variety of amenities to make their stay with them as enjoyable and comfortable as possible. In the 400 luxurious rooms, including 33 spacious suites, you'll find unrivaled elegance coupled with the latest technology and amenities.
They also have a state-of-the-art fitness center for guests who like to stay active while on vacation and a 13,000-square-foot spa for those who want to relax and rejuvenate.
And for guests who enjoy live entertainment, they have the Sound Board, an intimate and inviting theater space with incredible sightlines and state-of-the-art acoustics. So whatever you're looking for in a vacation destination, you'll find it here at MotorCity.
The cost for a stay at MotorCity Hotel varies depending on the length of your stay, the type of room and other add-ons. The current rates can be found on their website but typically range from around $99 to $499 per night.
They also offer special packages that include meals, drinks and tickets to entertainment shows, which can significantly reduce the cost of your stay.
So if you're looking for a great place to stay that offers luxury without breaking the bank, be sure to check out MotorCity Casino & Hotel.
Check-in time at MotorCity Hotel is 4:00 pm
Check-out time at MotorCity Hotel is 11:00 am
Restaurants & Buffets
MotorCity offers a variety of dining options to suit any taste. Stop by Grand River Deli & Burgers for a juicy burger or a hearty sandwich for a casual meal. If you're craving something sweet, Sweet Ride has you covered with fresh-baked pastries and cakes.
For a more upscale experience, Assembly Line Buffet features a diverse selection of international cuisine, while The Lodge Diner offers classic American breakfast fare. No matter what you're in the mood for, MotorCity has a restaurant to match your appetite.
Pools
Unfortunately, MotorCity does not have a pool or hot tub on-site. However, there are several nearby hotels with pools and hot tubs that guests can take advantage of during their stay.
The MGM Grand Detroit is a short drive away and features an indoor pool and outdoor sundeck, while the Detroit Marriott at the Renaissance Center has an indoor pool and a hot tub.
So if you're looking for a place to take a dip or soak in the hot tub after a long day, be sure to check out these nearby hotels during your stay.
MotorCity Casino Hotel Detroit, MI FAQ
Does MotorCity Casino Have A Sportsbook?
Yes, this casino does have a sportsbook. The FanDuel Sportsbook at MotorCity is a great place to catch all the action of your favorite sporting events.
The FanDuel Sportsbook at this casino is one of the best places to catch all the action. With eight betting windows, 67 HD TVs, a sports ticker, and 54 self-service IGT PlaySports betting kiosks, you'll never miss out on any of the fun.
Is Poker Available At MotorCity Casino?
Yes, poker is available at this casino. The Poker Room at MotorCity is home to some of the region's best cash games and tournaments.
The room features 17 tables with a wide variety of games, including Hold'em, Omaha, and Seven-Card Stud. Plus, their staff are friendly and knowledgeable, making the Poker Room at MotorCity a great place to play.
What Are The Age Requirements For Gambling At MotorCity Casino?
At this casino, the legal gambling age is 21. This means that you must be 21 years of age or older to gamble at the casino, whether you are playing slot machines, table games, or placing bets in the sportsbook.
If you are under the age of 21 and are caught gambling at MotorCity, you will be asked to leave the premises.
Does MotorCity Casino Have An Online Casino?
Yes, this casino has an online casino. You can access it through their website and play a variety of casino games, including slots, table games, and more. The online casino is available 24/7 and offers a safe and secure place to play.
You can also take advantage of special promotions and bonuses when you play at the online casino. So if you're looking for a fun and convenient way to gamble, be sure to check out MotorCity online casino.
Is There An MotorCity Casino App?
Yes, a MotorCity Casino app is available for Android and iOS devices. The app allows you to access the online casino from anywhere, anytime. You can also use the app to check in on promotions and special offers, get access to exclusive rewards and bonuses, and more.
What Is The Dress Code At MotorCity?
At this casino, the dress code is casual. Guests are expected to wear appropriate attire while on the casino and hotel premises. Shorts, tank tops, and flip-flops are allowed in most areas of the property.
Is There An Airport Shuttle Available From MotorCity Casino?
Yes, this casino offers an airport shuttle service to Detroit Metro Airport. The shuttle picks up passengers from the hotel lobby every 30 minutes and runs daily between 6:30 am and 11:30 pm. There is a $15 fee for this service, which must be paid in cash at the time of pickup.
What Is The Smoking Policy At MotorCity Casino?
At this casino, smoking is only allowed in designated areas. This includes the smoking terrace located outside of the casino and designated smoking areas on the gaming floor.
Non-smoking guests are asked to use caution when entering these areas as secondhand smoke may still be present. It is also important to note that vaping is not permitted anywhere on the property.
What Is The Pet Policy At MotorCity Casino?
No, pets are not allowed at this casino. This policy applies to both the hotel and gaming areas of MotorCity. Service animals, however, are welcome and must be kept on a leash or in a carrier at all times.
Is Wifi Available At MotorCity Hotel & Casino?
Yes, free wifi is available throughout the property. Guests can connect to the MotorCity guest network for access to the internet. This service is provided complimentary and does not require a password for the connection.
What Is The Cancellation Policy For MotorCity Hotel?
The cancellation policy for this hotel is as follows: reservations must be cancelled at least 72 hours before the arrival date to receive a full refund. If cancellations are made less than 72 hours prior to the arrival date, guests will still be charged one night's stay plus tax.
All cancellation requests must be made directly with the hotel. Additionally, any reservation made through a third-party website must also be cancelled with that website as well.
Conclusion
MotorCity Hotel & Casino offers a great experience for gamblers of all ages. With an online casino, app, airport shuttle service, and more, you can have a fun and convenient time gambling at MotorCity.
It's important to remember the legal age requirement for gambling as well as the dress code, pet policy, smoking policy, and wifi availability.
Additionally, you should be aware of the cancellation policy before making any reservations. With all this information in mind, you'll have a great time gambling at MotorCity.