Northern Waters Casino Resort Watersmeet
Address: N5384 US-45, Watersmeet, MI 49969
Phone Number: (906) 358-4226
Website: https://www.lvdcasino.com/
Hours: Thursday8AM–2AM, Friday 8AM–12AM, SaturdayOpen 24 hours, Sunday 8AM–2AM, Monday 8AM–2AM, Tuesday 8AM–2AM, Wednesday 8AM–2AM.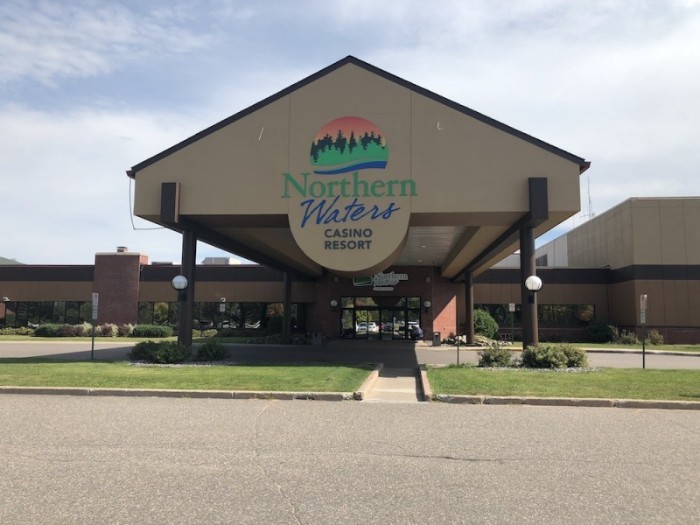 Northern Waters is a resort and casino located in Watersmeet, Michigan. The casino has been in operation since 2004. It is owned and operated by the Lac Vieux Desert Band of Lake Superior Chippewa Indians.
The casino has over 600 slot machines, as well as blackjack, craps, roulette, and poker tables. They have regular promotions and giveaways, as well as tournaments and special events.
It is a great destination for those who want to experience the excitement of gaming and entertainment. Whether you're looking for a relaxing weekend getaway or an exciting night out, Northern Waters Resort has something for everyone.
Guests rate Northern Waters Casino, MI highly. It offers a wide range of gaming and entertainment options, as well as a number of amenities. It's a great destination for those who want to have a good time.
(Related reading: Michigan casinos)
Gaming
This casino offers a variety of gaming options, including slots, video poker, blackjack, roulette, and more. There are also tournaments and special events.
Table Games
This casinooffers a variety of table games for visitors to enjoy. Blackjack, Roulette, and Craps are just a few of the options available. The casino also offers a number of different poker games, including Texas Hold 'Em and Omaha.
Visitors can also try their hand at Three Card Poker or Let it Ride. For those looking for something a little different, Northern Waters also offers Pai Gow and War.
The casino offers minimums of $5 on most table games. Some games, such as blackjack and roulette, may have higher minimums depending on the day and time.
Slots
If you're looking for excitement, you'll find it at this casino. They've got all the latest and greatest slot machines, including a wide variety of penny slots. Whether you're a high roller or just looking to have some fun, they've got a slot machine for you.
Here are just a few of the popular machines you'll find at this casino:
Wheel of Fortune: One of the most popular slots of all time, Wheel of Fortune is a spinning wheel game with a jackpot that grows each time it's hit.
Mega Moolah: This African-themed slot machine is known for its huge jackpots, which can reach over $1 million.
Cleopatra: A classic Egyptian-themed slot, Cleopatra is perfect for anyone who loves adventure.
Buffalo: Another popular slot machine, Buffalo features symbols of the American West, including buffalo, eagles, and wolves.
The slot machine payback percentage at Northern Waters is not publicly available. However, the casino is known for offering generous payouts and bonuses on its slot machines.
In addition, they often offer promotions and special events that can increase your chances of winning big.
Hotel/Resort
The Dancing Eagles Hotel at Northern Waters is a great place to stay for a night or a few. The hotel has 132 luxurious rooms and suites, each with a cozy fireplace and private whirlpool. The hotel also has an indoor pool, sauna, and whirlpool for guests to enjoy.
The Birch Tree Gift Shop is located in the lobby of the hotel, and there is also a Convenience Mart and gas station on site. RV parking is available with electrical and water hookups.
Rollaway beds are available by reservation for an additional $5.00 per night, and cribs are available at no charge. A $10.00 charge will be applied per person for breakfast in the Eagles' Nest Restaurant.
A night at this casino starts at $99.00 for a standard room and goes up to $249.00 for a suite. Prices vary depending on the day of the week and season. Taxes are not included in the price and must be paid separately when checking out. A valid photo ID is required at check-in.
Check-in time at Northern Waters Hotel is before 10:00 pm
Check-out time at Northern Waters Hotel is 11:00 am
Restaurants & Buffets
Northern Waters Café is your one-stop shop for all your food needs! They have a savory and sweet menu that will tantalize your taste buds, as well as a Fresh menu for those looking for healthier options.
They Proudly Serve Starbucks, so you can get your caffeine fix, and it also have fresh baked bakery items, hand-crafted grinders and wraps, and Fresh made salads. For those on the go, they offer 14" pizzas and cheesy breadsticks that can be ordered for dine in or carry out.
Pools
Northern Waters pools are open from Memorial Day Weekend until Labor Day. The resort offers two separate pools: an indoor pool and hot tub in the hotel, and an outdoor pool with a sun deck for soaking up some rays. Both pools are heated year-round for your comfort.
Northern Waters Casino Resort Watersmeet, MI FAQ
Does Northern Waters Casino Have A Sportsbook?
This casino does have a sportsbook. You can find it on the main casino floor. It's a great place to watch the game and place your bets. The staff is friendly and knowledgeable, and they're always happy to help you with your bets.
There are plenty of TVs to watch the game, and the atmosphere is always electric. So whether you're a casual fan or a die-hard gambler, you'll definitely enjoy betting at Northern Waters Casino.
Is Poker Available At Northern Waters Casino?
Yes, this casino does have a poker room. It is located on the main casino floor and offers both Texas Hold'em and Omaha games. They also offer daily tournaments with buy-ins ranging from $10 to $100.
The poker room at Northern Waters has plenty of comfortable seating and friendly staff that are always happy to help. So if you're looking to test your skills and win big, then Northern Waters is definitely the place to go.
What Are The Age Requirements For Gambling At Northern Waters Casino?
At this casino, you must be 21 years of age or older to gamble. This is because gambling is considered a form of adult entertainment and only those who are of legal age can participate.
There are some exceptions to this rule, however. For example, if you are accompanies by a parent or guardian who is over the age of 21, you may be able to gamble as well.
Does Northern Waters Casino Have An Online Casino?
Yes. You can now bet online through Northern Waters Casino. They have partnered with PointsBet, an Australian company that specializes in online betting. With this partnership, you can now access an online casino through the Northern Waters website.
This is a great option for those who want to gamble but may not be able to make it to the physical location. The process is simple and easy to use, and you can even set up a account so that you can track your progress and winnings.
Is There An Northern Waters Casino App?
There is a PointsBet app that is available in both the Apple App Store and the Google Play Store. This app allows users to bet on sports games, casino games, and live horse races. There is also a section of the app that is dedicated to helping users find the best odds for their bets.
The PointsBet app is a great way for people to gamble responsibly and have a lot of fun while doing so.
What Is The Dress Code At Northern Waters Casino?
The dress code at this casino is casual. Shorts, jeans, and collared shirts are acceptable for both men and women. Hats, however, are not allowed in the casino area unless it's a special event or promotion.
Is There An Airport Shuttle Available From Northern Waters Casino?
Yes. This casino does offer an airport shuttle service for guests who want to get to and from the casino without having to drive themselves. The shuttle can take you from the hotel to the airport and back, and is available 24 hours a day, 7 days a week.
The cost of this service is $20 per person each way, and you must book your ride in advance. You can find more information about the airport shuttle service on the Northern Waters Casino website.
What Is The Smoking Policy At Northern Waters Casino?
Smoking is not permitted in any part of the casino. This includes all gaming areas, restaurants, and bars. There are designated smoking areas outside of the main building that can be accessed by guests who need to smoke.
What Is The Pet Policy At Northern Waters?
Unfortunately, pets are not allowed in the casino. This policy is in place for the safety and comfort of all guests, as well as to ensure that the casino remains clean and sanitary.
If you need a pet-friendly casino then there are plenty of other options available to you in the area. Many casinos allow smaller animals such as cats and dogs, so be sure to check out the pet policy at any potential casino before booking your stay.
Is Wifi Available At Northern Waters Hotel & Casino?
Yes, there is free wifi available at this casino. This can be accessed from any part of the main building and is a great way to stay connected while you're enjoying your time at Northern Waters.
What Is The Cancellation Policy For Northern Waters Hotel?
The cancellation policy for this casino is as follows: if you cancel your booking within 14 days of the date of arrival, then you will be charged a cancellation fee. If you cancel after that period, then no fee will be charged.
Conclusion
Northern Waters Casino is a great place to visit for those looking to gamble. There are plenty of gaming options available, as well as other amenities such as an online casino, app, and airport shuttle service.
They also have a strict dress code and smoking policy in order to ensure that everyone has a comfortable and safe experience. Additionally, wifi is available and there is a cancellation policy in place for those who need it.
If you're looking for a great casino experience, then Northern Waters is definitely worth checking out.