Odawa Casino Resort Petoskey
Address: 1760 Lears Rd, Petoskey, MI 49770, USA
Phone Number: +1 877-442-6464
Website: https://www.odawacasino.com/
Hours: Tuesday 9am–12am, Wednesday 9am–12am, Thursday 9am–12am, Friday 9am–2am, Saturday 9am–2am, Sunday 9am–12am, Monday 9am–12am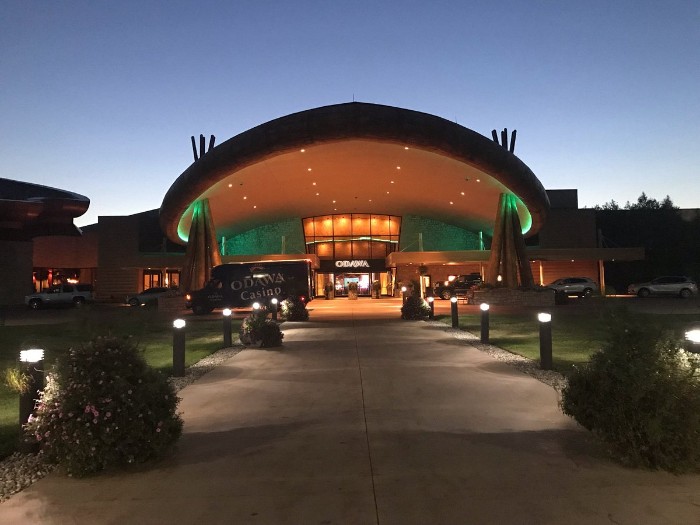 The Odawa Casino Resort in Petoskey, Michigan, was first established in 1995 as a small bingo hall. The casino has since expanded to include over 200 slot machines and various table games. The resort also features a hotel, spa, and several restaurants.
The gaming floor at Odawa Casino is the largest in the region and features a variety of classic slots and video poker machines. There are also over 50 table games available, including blackjack, craps, roulette, and four-card poker.
For added excitement, guests can try their luck on the high-limit slot machines or enjoy an evening of bingo.
In addition to gaming, Odawa offers a variety of entertainment options, including comedy shows and live musical performances. The resort also hosts a variety of special events throughout the year, including tournaments and promotions.
Guests can also take advantage of the on-site restaurants, which offer both fine dining and quick-service options.
Whether you're looking for a night of gaming or simply want to relax and enjoy some great entertainment, it has something for everyone. With its expansive gaming floor and variety of amenities, it's the perfect place to spend an unforgettable evening in Michigan.
Odawa Resort Petoskey is a popular casino and resort in Michigan. Guests who visit the property generally enjoy their experience, as evidenced by the casino's 4/5 rating on TripAdvisor.com.
Guests appreciate the wide variety of gaming options available, as well as the many amenities offered by the resort.
(Related reading: Michigan casinos)
Gaming
This casino offers guests over 200 slot machines, as well as a variety of table games such as blackjack, craps, roulette, and four-card poker. There is also a high-limit slots area for those who want to raise the stakes.
Table Games
This casino offers a variety of exciting table games that are sure to keep every visitor entertained. There are dozens of games to choose from, including classics such as Blackjack and Spanish 21, as well as unique games like Pai Gow Poker.
For those who like a little strategic thinking, the resort also offers Texas Hold'em, which allows visitors to play with other guests from around the world. For craps enthusiasts, there's the classic game of Craps featuring Vegas-style rules and high-stakes action.
If your lucky streak seems to extend further than luck itself, make sure to take a seat for Three Card Rummy or Let It Ride. These games require skill and strategy in addition to luck for optimal winning potential.
Whether you're looking for an adrenaline rush or casual fun at the tables, Odawa Resort has something for everyone when it comes to thrilling table games.
The table game minimums at Odawa Casino vary according to the game being played. For example, blackjack and roulette both have a $5 minimum bet, while Texas Hold'em can range from a $2 to $10 minimum.
Craps tables usually start with a $3 minimum wager and Let It Ride has a $2 minimum. For those looking to increase their stakes, the high-limit table games have minimum bets of $25 up to $100.
Slots
For those looking for a thrilling gambling experience, this casino is the place to be. Not only does it offer some of the latest slot machines on the market, but there's something for every taste. Some of its most popular slot machines include China Shores, All Aboard, and Mayan Chief.
Each one offers a unique gaming experience with different themes, graphics, and bonus features. For example, China Shores has an Oriental theme with a captivating soundtrack, while All Aboard takes players on a wild ride full of thrills and surprises.
Similarly, Mayan Chief brings ancient civilization back to life with visually stunning animation and special features like free spins – making it all the more fun.
No matter which game you choose to play at Odawa Resort – you're sure to have an unforgettable time. And if Lady Luck smiles at you – then who knows? You might just come away as a winner.
The slot machine payback percentages at Odawa Casino are set by the Michigan Gaming Control Board. The minimum legal payback percentage for most of their machines is 83%. This applies to all types of games including video poker, as well as slots and progressive jackpots.
Odawa also offers a variety of promotions and giveaways, where guests can win additional prizes or rewards. These promotions often include higher payback percentages on select machines, giving players an even greater chance of winning big.
Hotel/Resort
The Odawa Hotel is a great destination for anyone looking for an escape in northern Michigan. We are conveniently located one mile from the Odawa and offer a complimentary shuttle service to take you between the two.
With spacious, well-appointed rooms and suites, its goal is to make sure all of its guests feel comfortable and at home. The hotel is a smoke-free establishment but we do have designated outdoor smoking areas for their convenience.
In addition, they offer complimentary RV parking on-site to those travelling with RVs that has plenty of room for travelers without offering electrical hookups or waste disposal. At Odawa Hotel, your stay is always about comfort and convenience.
It also offers a variety of amenities to make guests' stays enjoyable and comfortable. These include an on-site restaurant with both bar and grill options, an indoor swimming pool, Internet access, and complimentary shuttle service to the casino for hotel guests.
From its great amenities to its helpful staff, it's easy to feel appreciated at this casino.
The cost of staying at Odawa Resort in Michigan depends on the type of room you choose. Standard rooms start at $89 per night plus taxes and fees, while deluxe rooms begin at $99 per night plus taxes and fees.
There are also a variety of suites available, including King Suites that can accommodate up to four people, and Luxury Suites that range from $189 to $299 per night plus taxes and fees.
Check-in time at Odawa Hotel is 4:00 pm
Check-out time at Odawa Hotel is 11:00 am
Restaurants & Buffets
Looking for a delicious meal at Odawa in Michigan? Then you won't want to miss Sage. This eatery serves up tasty dishes of seasonal, locally-sourced ingredients in a modern and relaxed atmosphere.
From classic comfort food like macaroni and cheese to signature dishes like pan-roasted walleye and oven-roasted pork shank, there's something for everyone. And don't forget to save room for dessert.
Another great restaurant is Copper Cafe. This contemporary bistro offers all your brunch favorites, from pancakes and French toast to omelettes and breakfast burritos.
They also serve lunch and dinner items such as sandwiches, burgers, salads, pasta dishes, and even vegan options. So whether you're looking for a quick bite or a five-star meal, the restaurants at Odawa have you covered. Bon Appétit!
Pools
The indoor pool is heated and open year-round, as well as a beautiful outdoor pool that's perfect for soaking up the sun during the summer months. Both pools have plenty of lounge chairs available and even offer cabana rentals so you can relax in ultimate luxury.
The pool area also includes a hot tub, several fire pits, and a snack bar for guests to enjoy. So go ahead and take a dip.
Odawa Casino Resort Petoskey, MI FAQ
Does Odawa Casino Have A Sportsbook?
Yes, this casino does indeed offer a sportsbook. The casino is located in Petoskey, Michigan, and it offers an expansive list of betting options for sports fans.
Football, baseball, hockey, basketball, auto racing, golf – you name it and you're likely to find a bet that fits your interests. Not only that, but the sportsbook also provides live lines on classic and emerging games from around the world.
Is Poker Available At Odawa Casino?
Yes, Odawa has an extensive poker room that offers a wide range of games and stakes. Whether you're a beginner or an experienced player, you can find the perfect game for your skill level.
What Are The Age Requirements For Gambling At Odawa Casino?
The age requirement for gambling at this casino is 19 years old. This is applicable to all forms of electronic gaming, table games and poker, regardless of whether betting actual money or playing any game at no charge.
In order to take part in any of these activities, Odawa requires customers to show a valid government-issued photo ID upon entry.
Does Odawa Have An Online Casino?
This casino offers both classic and new games available for play right over the internet. You can log into your account anytime you want to play slots or try your luck at blackjack or video poker without having to leave your house.
And with mobile apps available, it couldn't be easier to stay connected to all of your favorite gaming experiences wherever you are.
Is There An Odawa Casino App?
Yes, there is an Odawa Casino App available for both iOS and Android devices. Both apps are free to download and offer a wide range of features that let you connect with your favorite games from anywhere.
The app also allows you to check hotel rates, book a room, view loyalty points, buy tickets to events and more.
What Is The Dress Code At Odawa Casino?
The dress code at this casino is relaxed. Guests are encouraged to wear comfortable, casual outfits such as jeans, t-shirts, and sneakers. However, please keep in mind that there are certain areas of the casino where more formal attire may be required.
Is There An Airport Shuttle Available From Odawa Casino?
Yes, this casino offers a complimentary shuttle service to and from the Pellston Regional Airport. The shuttle runs daily from 8 a.m. – 9 p.m., and reservations must be made at least 24 hours in advance.
What Is The Smoking Policy At Odawa Casino?
The smoking policy at this casino is in line with the Michigan Clean Indoor Air Act. Smoking is not permitted anywhere inside the casino, and while vaping is allowed, all e-cigarettes must be used outside of the building.
Smoking areas have been designated on both levels of the casino for those who wish to do so.
What Is The Pet Policy At Odawa Casino?
Unfortunately, this casino does not allow pets on its premises. The only exception to this rule is for service animals that are specifically trained to help guests with disabilities. All service animals must be accompanied by their owner at all times.
Is Wifi Available At Odawa Hotel & Casino?
Yes, this casino offers free wifi for its guests. Guests simply need to select the "OdawaWifi" network connection in order to access the internet throughout their stay.
What Is The Cancellation Policy For Odawa Hotel?
The Odawa Casino Hotel requires that all reservations be cancelled at least 48 hours prior to the scheduled arrival date. Cancellations made after this time will incur a fee equal to one night's stay.
Conclusion
Odawa is a great place to spend time with friends, family and fellow gamblers. Whether you're looking for slots, table games, poker or just a good time, there's something for everyone at Odawa Casino.
With complimentary airport shuttles and a relaxed dress code, it's easy to enjoy all this casino has to offer. Plus, with their mobile app and free wifi, you can stay connected anytime, anywhere.
So if you're looking for a fun and exciting gambling experience, Odawa Casino is the place for you.