Ojibwa Casino Resort Baraga
Address: 16449 Michigan Ave, Baraga, MI 49908
Phone number: +1 906-353-6333
Website: https://www.ojibwacasino.com
Hours: Ojibwa Casino Resort is open Monday 7 am–2:30 am, Tuesday 7 am–2:30 am, Wednesday 7am–2:30 am, Thursday 7 am–2:30 am, Friday 7 am–2:30 am, Saturday 7 am–2:30 am and
Sunday 7 am–2:30 am.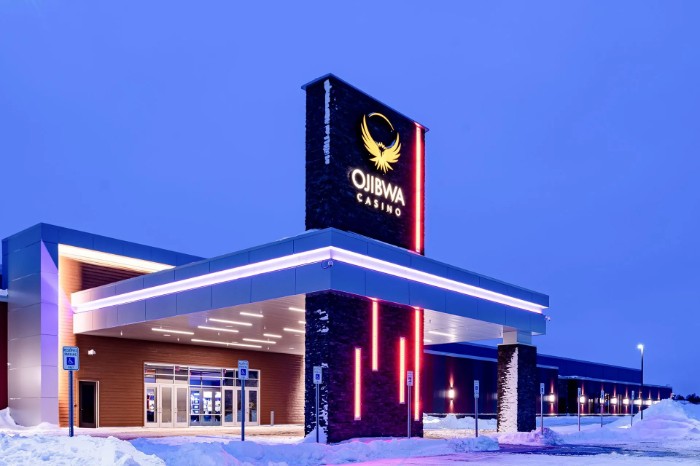 The Ojibwa is a Native American casino and hotel located in Baraga, Michigan. It is owned and operated by the Ojibwa Nation of Chippewa Indians and was opened in 1994. . The casino has nearly 300 slot machines and several table games.
It also has a hotel with 40 rooms and two renovated suites, RV accommodations, one restaurant, two bars, and a lounge. The casino is committed to providing its guests with a safe, enjoyable, and rewarding experience.
The Ojibwa Casino is rated 3.5 out of 5 on TripAdvisor. Guests who have visited the casino generally enjoy the gaming options, restaurants, and bars available on site.
However, some guests complain about the lack of a dedicated parking lot and small rooms at the hotel.
(Related reading: Michigan casinos)
Gaming
This casino offers nearly 300 slot machines and several table games. Popular table games include blackjack, roulette, and craps.
Table Games
This casino offers a wide variety of table games for guests to enjoy. If you're looking for classic casino games, there's 6-Deck Blackjack and 2-Deck Pitch.
Let It Ride is great if you're new to playing cards, as the basics are easy to learn while still providing plenty of opportunities to win. Roulette and Craps are also available if you're looking for a more fast-paced gaming experience.
Whichever game you choose, the friendly dealers will be happy to provide instruction and help get you started. Of course, all tables are thoroughly sanitized after each use so you can have fun with peace of mind knowing that everything is safe and clean.
The minimum bets for table games at Ojibwa Casino range between $5–$25, depending on the type of game you're playing.
Slots
This casino has nearly 300 slot machines for guests to choose from. They also offer a wide variety of progressive jackpots and bonus games, so you'll have plenty of chances to win big.
The staff is always willing to help if you're having trouble finding your favorite game or don't know how to play a game, so don't be afraid to ask for assistance.
Popular slot machine games at Ojibwa Casino include:
Wheel of Fortune
Double Diamonds
Red Hot 7s
They also offer a large selection of video slots with themes ranging from fantasy to sports, so there's something for everyone. If you're looking for the latest releases, they have those too.
The payback percentage for slot machines at Ojibwa Casino Resort is not publicly available. However, the average payback percentage in Michigan is 80%.
Hotel/Resort
The Ojibwa Resort has a 40-room hotel with two luxurious renovated suites. The rooms are comfortable and feature amenities such as cable television, free WiFi, refrigerators, a microwave, and much more.
The resort offers RV accommodations with full hookups for larger groups or those looking for a longer stay.
The resort has one on-site dining option, and there are also two bars and a lounge available for guests to enjoy. In addition, the resort offers a variety of events throughout the year, such as live music and other entertainment.
Some of the amenities included in the resort are:
40 rooms
2 renovated suites
RV accommodations
Sauna
Indoor pool with whirlpool
Banquet and convention facilities
Live entertainment
The cost to stay at Ojibwa hotel depends on the type of room you choose. Rooms generally range from $75–$250 per night, with suites costing more. Guests should check with the hotel directly for current pricing and availability.
Check-in time at Ojibwa Casino Resort is 3:00 pm
Check-out time at Ojibwa Casino Resort is 11:00 am
Restaurants & Buffets
If you're looking for a great place to grab a bite and stay entertained, look no further than Ojibwa Casino Resort Baraga! It is located in Baraga, Michigan, and offers visitors two on-site restaurants and entertainment venues: The Pressbox Bar & Grill and two bars.
The Pressbox is a casual dining spot perfect for groups or a night out with friends. It features made-from-scratch recipes like crispy burgers and elephant ears and serves lunch and dinner daily.
The two bars include the full-service Uptown Taproom, which has an impressive selection of craft beers on tap as well as pub food like wings and pizza, plus the Red Sea Bar, which serves up live music every weekend along with ice-cold speciality drinks.
The Ojibwa Casino does not currently have a buffet, but a new venue will be opening soon to replace Lucky 7's.
Pools
This Casino has an indoor pool and whirlpool that are open year-round. The pool is heated and features a splash pad area for kids to enjoy.
The resort also offers a sauna and steam room for guests to utilize during their stay. In addition, there is an outdoor patio area with tables and chairs, perfect for enjoying the beautiful Michigan weather.
Ojibwa Casino Resort Baraga, MI FAQ
Does Ojibwa Casino Resort Have A Sportsbook?
No, Ojibwa Casino Resort does not have a sportsbook. But they do have a wide variety of slot machines and other gaming options such as blackjack, roulette, and more.
Is Poker Available At Ojibwa Casino?
There are video poker machines available at this casino. There is also a table game for Let it Ride, which is a popular poker variant, and there are tournaments held for it.
What Are The Age Requirements For Gambling At Ojibwa Casino?
The legal gambling age at Ojibwa Casino Resort is 21 years of age. Guests must have a valid ID to enter the casino and participate in any gaming or wagering activities.
Does Ojibwa Have An Online Casino?
No, this casino does not have an online casino. However, patrons can participate in the Michigan Lottery's iLottery games and win real money. It is also possible to use the PlayOLG app to place wagers on a variety of casino games.
Is There An Ojibwa Casino App?
No, there is currently no Ojibwa Casino app at this time. However, you can use the PlayOLG app to access a variety of games.
What Is The Dress Code At Ojibwa Casino?
There is no dress code at this casino. However, guests should avoid wearing items that could be deemed offensive or disruptive to the other guests and staff.
Is There An Airport Shuttle Available From Ojibwa Casino Hotel?
There is a free shuttle service from Ojibwa Casino to Keweenaw Bay Airport. The shuttle runs regularly and can be requested by calling the hotel directly.
What Is The Smoking Policy At Ojibwa Casino Resort?
This casino is a smoke-free facility. Smoking is not allowed in any of the public areas, including the casino, hotel, and restaurants.
What Is The Pet Policy At Ojibwa Casino?
This casino does not allow pets in the hotel, RV site, or any of the public areas. Guests are welcome to bring service animals with them, but all other pets must be left at home.
Is Wifi Available At Ojibwa Casino Resort?
Yes, free wifi is available throughout the resort. All guests need to do is connect to the Ojibwa Casino Resort wifi network and enter their room number.
What Is The Cancellation Policy For Ojibwa Hotel?
Cancellation policies may vary depending on the type of reservation. For most reservations, guests must cancel at least 24 hours before the scheduled arrival date in order to avoid any charges or fees.
Conclusion
Ojibwa Casino is a great place to stay for anyone hoping to enjoy some gaming, dining and entertainment. The casino offers an impressive selection of games, two on-site restaurants, two bars, and even an indoor pool and whirlpool.
It is sure to provide guests with a memorable experience with free wifi and a free shuttle service to the airport. Guests should be aware of the age requirement for gambling, dress code, smoking policy, pet policy and cancellation policy prior to making their reservation.
With its many amenities, Ojibwa Casino Resort is an ideal destination for a night out or weekend getaway.