Fortune Bay Resort Casino Tower
Address: 1430 Bois Forte Rd, Tower, MN 55790, USA
Phone Number: +1 218-753-6400
Website: https://fortunebay.com/
Hours: Fortune Bay Casino is open 24 hours a day, 7 days a week.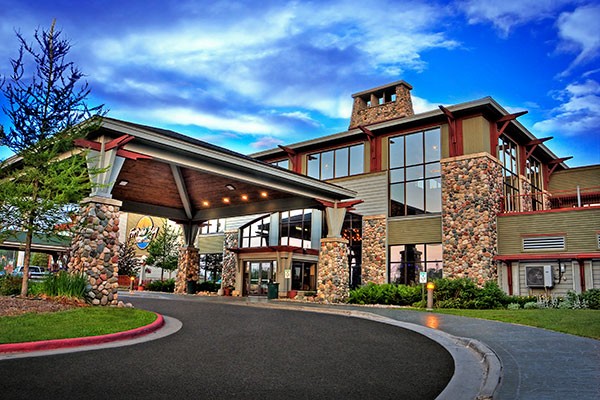 The Fortune Bay Resort Casino, located in Tower, Minnesota, is a hotel and casino that has been in operation since 1997. The casino offers over 500 slot machines, blackjack, poker, and other table games. The resort also has a hotel with over 178 rooms, an RV park, and several restaurants.
The resort offers a variety of amenities to its guests, including an indoor and outdoor pool, spa services, a fitness center, and more. The casino also hosts live entertainment events throughout the year.
Fortune Bay Resort is the perfect destination for fun-seekers looking to relax and enjoy some gaming action. Whether you're interested in trying your luck at blackjack or poker, playing the slots, or enjoying a relaxing spa treatment, there is something for everyone.
According to TripAdvisor, guests rate the Fortune Bay Resort Casino 4 out of 5 stars. Guests compliment the casino for its fun atmosphere and variety of gaming options while noting that the resort could use some improvement in terms of its customer service.
Overall, guests report having a positive experience at Fortune Bay Resort Casino.
(Related reading: Minnesota casinos)
Gaming
This casino offers over 500 slot machines, blackjack, poker, and other table games. Bingo is also available on select days.
Table Games
This casino is a great destination for those looking to enjoy thrilling traditional casino table games. From the fan-favorite Blackjack and Craps to Roulette and more obscure options like Mississippi Stud and 3-Card Poker, they offer something for everyone.
Whether you feel the pull towards the heart-pumping action of High-stakes Blackjack or want to try your hand at some low-stakes Texas Hold'em, there's always something new to explore when you visit Fortune Bay.
Each game has an experienced dealer ready to help as well as accompanying staff members that are attentive and willing to assist with any questions you have. There's even a daily tournament schedule where guests can join tables with larger pots and cash prizes.
The minimum bet for most table games at Fortune Bay Resort is $5. Slots and Video Poker have an even lower minimum of just $1.
Where the maximum bets vary depending on the game, with many ranging from $100 to $1,000. There are some high-limit tables available for guests who wish to bet higher.
Slots
This casino offers an array of thrilling slot machines that will leave you coming back for more. You can find favorites like Wheel of Fortune: Triple Action Frenzy and Buffalo Gold Revolution.
The casino also offers the Game King series of video poker, with 10 different varieties to choose from such as Double Bonus Poker and Spin Poker Deluxe.
All the slot machines at Fortune Bay take bills and also offer ticket-in/ticket-out capabilities which allow players to take a charge ticket from one machine to another without having to cash out.
If you're looking for a unique experience, be sure to check out their Avatar slots or Choo Choo Cash Tapper – both of which feature cutting-edge technology with amazing graphics and sound effects.
The payback percentage at Fortune Bay Casino is not publicly available. However, Minnesota legal slot machines are required to have a minimum payback of eighty percent.
The casino also offers progressive jackpots on many of its slots which can reach life-changing amounts if they hit.
Hotel/Resort
Fortune Bay Resort offers over 178 rooms with stunning views of the surrounding area. Guests can choose from a variety of room types, including deluxe king and double queen suites.
The resort also has an RV park, indoor/outdoor pool, fitness center, marina, golf course and spa services. Additionally, they offer several restaurants ranging from casual to fine dining.
The resort is open year-round and hosts weekly events, tournaments, and other activities throughout the year. There are several golf courses nearby as well as a variety of outdoor activities including fishing, boating, hiking, and more.
Fortune Bay Resort Casino is an exciting place to visit for those looking for a fun and entertaining experience.
The cost of a stay at Fortune Bay Hotel depends on the type of room, date, and length of your stay. Room rates start at $179 per night (plus taxes), with discounted rates available for extended stays.
Additional fees may apply depending on the type of room you choose and other services such as pet fees or parking. Fortune Bay Resort Casino also offers a variety of packages, including golf packages and spa packages. These can help save you money on your stay.
Check-in time at Fortune Bay Hotel is 3:00 pm
Check-out time at Fortune Bay Hotel is 11:00 am
Restaurants & Buffets
For those looking to get a taste of the finer things while visiting Fortune Bay, there are several restaurants to choose from. Start your evening off right at Sunset Steakhouse, where you can enjoy a sophisticated dining experience full of flavor and innovation.
Prepared with only the freshest ingredients and served by an attentive staff, their steaks and seafood will satisfy any appetite. For something more casual yet equally delicious, Gold Mine Grill has an extensive menu featuring comfort food favorites perfect for sharing with friends or family.
Or if you're just in the mood for a drink and some light chatting, head over to North Star Bar for classic cocktails, wines, beers, and tasty bar eats like chips and dip or loaded nachos.
With such a variety of options in one place, there's sure to be something for everyone at every corner of Fortune Bay.
Pools
This casino offers an outdoor pool and indoor spa, providing hours of fun and relaxation in the summer months.
The outdoor pool features a large patio area with umbrellas, lounge chairs, tables, and cabanas. The indoor spa is heated year-round to provide guests with a comfortable way to escape the cold Minnesota winter.
Additionally, the fitness center at Fortune Bay offers a variety of exercise equipment and classes to help keep you active.
So whether you're looking for some fun in the sun or just want to relax and unwind, the pool and spa area are sure to provide you with an enjoyable stay.
Fortune Bay Resort Casino Tower, MN FAQ
Does Fortune Bay Casino Have A Sportsbook?
Unfortunately, the casino does not offer sports betting at this time. However, if you're looking for an exciting night of gaming and entertainment, Fortune Bay has much to offer.
Their slots, live table games such as blackjack and roulette, plus video poker provide hours of fun for everyone from casual gamers to avid gamblers.
Is Poker Available At Fortune Bay Casino?
Yes, this casino offers a variety of live poker tables, with games such as Texas Hold'em and Omaha available.
Players can also take advantage of daily tournaments in the Poker Room and practice their skills at no cost in the Social Gaming Area.
Whether you're a newbie or an experienced pro, Fortune Bay has something for every skill level.
What Are The Age Requirements For Gambling At Fortune Bay Resort?
The minimum legal requirement is 21 years old. Guests must show either a valid driver's license or non-driver state ID that proves they are at or over 21 years of age in order to play any game or bet any amount of money in the casino.
Does Fortune Bay Have An Online Casino?
Unfortunately, Fortune Bay does not have an online casino at this time. However, the resort offers a wide selection of games and amenities available on-site for guests to enjoy.
From slots and table games to live entertainment, there's something for everyone at Fortune Bay Resort. So don't miss out on your chance to have a great time.
Is There An Fortune Bay Casino App?
No, Fortune Bay does not have an app at this time. However, there are plenty of other ways to stay informed and access all the hotel has to offer.
Visit the resort website for up-to-date information on promotions, packages, hotels, restaurants, spa services, golf packages, and more. You can also sign up for their email list to receive notifications about the latest news and offers.
What Is The Dress Code At Fortune Bay?
The dress code at this casino is casual, comfortable attire. No special attire is required for casino floor games or restaurant areas. However, some restaurants may require more formal attire. It's best to check with each individual establishment before making your reservation.
Is There An Airport Shuttle Available From Fortune Bay Resort?
Yes, there is. The resort offers an airport shuttle for those who are flying in and out of the Minneapolis-St. Paul International Airport. A reservation is required in advance and the service runs from 7:00 am to 11:00 pm daily.
Be sure to inquire about the details of this shuttle when booking your stay at Fortune Bay Resort.
What Is The Smoking Policy At Fortune Bay Hotel & Casino?
The casino floor and all hotel guest rooms are non-smoking. An outdoor smoking area is available on the property for those who wish to smoke. No other smoking is allowed inside the casino or hotel and guests must follow this policy while they are on the premises.
What Is The Pet Policy At Fortune Bay Casino?
Fortune Bay does not allow pets on the property. However, service animals are welcome and must remain with their owners at all times. For more information about pet policies at Fortune Bay, please contact the hotel directly.
Is Wifi Available At Fortune Bay Resort Casino?
Yes, the resort provides free WiFi throughout the property for all guests. Make sure to inquire about the login details when checking in and enjoy complimentary access during your stay.
What Is The Cancellation Policy For Fortune Bay Hotel?
Cancellation policies at this resort vary depending on who you book your accommodations with. For more information, please contact the hotel directly to review their policies prior to making a reservation.
Conclusion
Fortune Bay Casino is a great destination for anyone looking to enjoy a weekend getaway or an extended vacation. With plenty of gaming options, live entertainment, and all kinds of amenities, you're sure to have an unforgettable experience.
Make sure to check out their website and social media pages for the latest news and promotions before planning your visit.