Grand Casino Hinckley
Address: 777 Lady Luck Dr, Hinckley, MN 55037
Phone number: +1 320-384-7771
Website: https://grandcasinomn.com/
Hours: This casino is open 24 hours a day 7 days a week.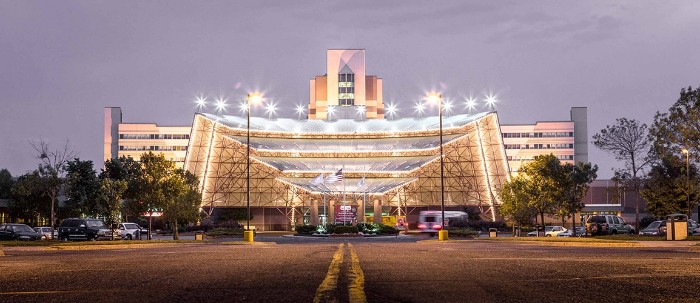 The Grand Casino is located in Hinckley, Minnesota. The casino is open 24 hours a day and seven days a week. It features over 1,900 slot machines and a selection of table games.
There is also an on-site hotel with over 500 rooms and suites, as well as eight restaurants and two bars. The casino also offers a variety of entertainment, including live music and comedy shows.
The Grand Casino has something for everyone. Guests can take part in Bingo games, play the slots or try their luck at table games. The casino offers a range of promotions, including cash prizes and giveaways.
There is also an arcade for kids, a golf course for avid golfers, and a luxurious spa for those who want to relax. There is also a gift shop, RV parking, and two alternative hotels that are just a stone's throw away.
Guest reviews for the Grand Casino Hinckley are generally positive. Guests appreciate the wide variety of gaming options and the variety of entertainment available. The casino is clean and well-maintained, and the staff is friendly and helpful.
(Related reading: Minnesota casinos)
Gaming
This casino offers over 1,900 slot machines and a variety of table games that are sure to capture your interest. There are also loads of great promotions for those who want to try their luck and potentially win big.
Table Games
This casino is great for a fun and exciting night out. Not only do they have slot machines, video poker games, and live poker rooms – they also feature some fantastic gaming tables.
The casino is well known for its blackjack games, allowing players to enjoy high-stakes gambling with thrilling elements of strategy and luck. If you're not into table games, they also offer bingo cards as well as pull tabs – an interesting twist on the traditional paper lottery game.
Whether you're looking for a lengthy session at the table or just trying to get your feet wet with an over-the-counter game – this casino has something for everyone. Getting bored isn't an option when you visit this marvelous casino resort.
This casino offers a variety of table game minimums, ranging from $1 up to $50. Blackjack games tend to have the highest minimums at around $10 per player.
Slots
There is something for everyone with these slot machines, and slots start from as little as one cent per spin. With the opportunity to win big on almost every machine, you're in for a wild ride.
Some of the most popular slot machines at this casino are:
Buffalo Link
Buffalo Gold Revolution
Dollar Storm
Lightning Link
Aristocrat Legends
Super Jackpot Deluxe
Dragon Cash
Cash Cano
This casino has not made its payback percentage publicly available. However, it has been documented that the state of Minnesota tends to have a payback percentage between 80% and 95%. Therefore, you should have a good idea of what to expect during your visit.
Hotel/Resort
This casino resort features a hotel with over 500 rooms and suites. The hotel includes various amenities, such as free Wi-Fi, an outdoor pool, a fitness center, and a spa. There are also eight restaurants and two bars for guests to enjoy.
The rooms range from standard guestrooms to luxurious suites that offer separate living areas, fireplaces, and balconies. Plus, the hotel is only a short drive away from several local attractions.
If you don't want to leave your furry friend behind, the casino hotel also offers complimentary pet boarding for all of its guests. That way, you know your best friend is safe, and well looked after while you're relaxing and gambling.
For those who are traveling in an RV, there is plenty of RV parking available and the fact that you can choose to stay in off-site cabins or a smaller off-site hotel if you don't feel like staying in the casino resort.
Some of the amenities you can expect to find at the casino and hotel include:
Hundreds of spacious rooms
Luxurious suites
Off-site hotel
Off-site cabins
RV parking
Restaurants and bars
Complimentary pet boarding
Golfing
Arcade
Indoor pool
Fitness center
Spa
Business center
Event spaces
Live entertainment
Gift shop
Promotions
The cost of a hotel room at Grand Casino Hinckley depends on the type of room you are looking for. They range from standard rooms to luxurious suites, with prices starting at around $90 per night and going up to over $250 per night.
The time of year can also impact the price of your room, which is why it is best to book in advance and keep an eye out for the best deals.
Check-in time at Grand Casino Hotel is 4:00 pm
Check-out time at Grand Casino Hotel is 11:00 am
Restaurants & Buffets
The casino is well known for its abundance of dining options, ranging from daily favorites at Stories Diner to delicious desserts at Sweet Spot.
Located right on the casino floor, stories diner is an evening restaurant decorated in classic art deco style that serves delicious plate lunches, soups and salads, sandwiches, and burgers.
Grand Provisions is a modern grocery store-style eatery with breakfast options, fresh coffee drinks, deli sandwiches and salads, pizza cooked-to-order, and bakery items ready to go.
For something unique and exciting, visit Rival House Sports Bar & Eatery for local American favorites including wings, sliders, and specialty burgers. The Grille House offers casual lunch and dinner food that can accommodate everyone's tastes, from Angus burgers to fried chicken baskets.
The exquisite Winds Steakhouse also offers the area's finest steaks paired with an extensive wine list. If you're craving sweet treats, be sure to stop by Sweet Spot featuring irresistible recipes made fresh daily, like mini donuts and fun dessert beverages such as milkshakes.
Round out your visit with some freshly brewed coffee or espresso at Corner Bean while sharing snacks like croissants or donuts with your friends.
Silver Sevens features top-shelf spirits that make excellent accompaniments to their homemade tapas dishes like hummus or grilled street tacos.
Finally, experience a 411 craft bar offering 20 beers on tap plus signature craft cocktails made with locally distilled liquors.
Pools
This casino is the perfect destination for a relaxing getaway. With their new indoor pool and raised whirlpool, guests can enjoy a refreshing dip and swim in pristine waters.
The newly renovated spa takes relaxation to an altogether new level; it offers an exquisite array of treatments designed to restore both body and mind. It also features invigorating steam rooms, saunas, and facial treatments performed by professional aestheticians.
There are two outdoor pools on the property: one with a cascading waterfall and one with a built-in hot tub. In addition, guests can take advantage of poolside entertainment such as live music, drinks specials, tournaments, and more during the summer months.
Grand Casino Hinckley, MN FAQ
Does Grand Casino Have A Sportsbook?
The casino offers plenty of exciting table games, slots, and live entertainment for those looking for a night out after work, but one thing it does not offer is a sportsbook.
For some players, this may be something of a disappointment – after all, having the opportunity to place bets on professional sporting events adds another layer of excitement to any outing.
Unfortunately, no such sportsbooks are available at this casino due to the strict laws on sports betting in the state of Minnesota.
Is Poker Available At Grand Casino Hinckley?
When planning a visit to this casino, guests who enjoy the game of poker should be aware that there is no poker room offered on the property.
Unfortunately, Texas Hold'em, Omaha, and Seven Card Stud are not available. Instead, Grand Casino Hinckley has created an exciting gaming atmosphere with plenty of other games, from classic slot machines to blackjack tables and roulette wheels.
If you're looking for a great night of entertainment and gambling fun without the game of poker, you won't be disappointed.
What Are The Age Requirements For Gambling At Grand Casino?
All guests must be 21 or older to participate in any casino game or activity, regardless of their state or county of residence. Identification cards are required for all adults at sign-in, and individuals must present a valid photo I.D. in order to enter the floor and play any games.
It could be your driver's license, state ID card, passport, U.S. military I.D., international driver's license, Native American tribal photo ID, or similar state-issued identifications recognized by Grand Casino Hinckley's security staff.
Does Grand Casino Have An Online Casino?
At this time, the casino does not offer any digital gambling platform. The company has shown no indication of plans to introduce an online version of their casino in the near future either.
Despite this, Grand Casino Hinckley remains one of the top spots for gaming in the area, offering plenty of activities for casino lovers to enjoy. Whether you're just looking for some fun or trying your luck on Lady Luck's wheel, you'll find something to keep you entertained.
Is There A Grand Casino App?
With the growing popularity of casino apps, this casino has developed its own app. While this might lead many to assume that it is meant for gambling, it is only limited to informational and promotional uses.
The app provides users with convenient access to a range of information, including gaming tips and rules, details on upcoming events such as concerts and shows, special offers, upcoming events at the resort such as tournaments or pool parties, and venue maps.
Additionally, users can receive news about new game releases from within the app. Customers have reported being pleased with how easy the app is to navigate and use due to its intuitive design.
So even though gambling isn't available through the app, it still features plenty of helpful functionalities for consumers who visit the casino in person.
What Is The Dress Code At Grand Casino Hinckley?
While the casino does not have a formal dress code, it is important to note that all guests should look their best when visiting the facility. Appropriate attire for both men and women includes collared shirts, slacks or nice jeans (no holes), and closed-toed shoes.
It is also recommended that guests avoid wearing any offensive or inappropriate clothing and keep their attire neat and presentable.
Is There An Airport Shuttle Available From Grand Casino?
Yes, the casino does provide a complimentary shuttle service for guests arriving by air. The shuttle service is available from Minneapolis-St. Paul International Airport runs on a daily basis.
Please note that this service requires advance reservation, so contact the casino directly for more information.
What Is The Smoking Policy At Grand Casino Hinckley?
The casino follows a strict no-smoking policy that applies to all areas of the casino, including the gaming floor, hotel rooms, and restaurants.
Smokers are allowed to use designated smoking areas outside the facility to enjoy their cigarettes or cigars. These areas provide benches and ashtrays for convenience, but patrons should be aware that smoking is not allowed inside the casino or hotel.
The casino also asks that all guests refrain from using vaporizers, e-cigarettes and other smokeless devices while in the facility for the comfort of other visitors.
What Is The Pet Policy At Grand Casino?
The casino does not allow pets on the premises, except for service animals trained to assist individuals with disabilities.
All visitors who intend to bring a service animal must register it in advance and provide proof of its training and vaccinations. The hotel provides free pet boarding to all guests depending on the time of year.
Is Wifi Available At Grand Casino Hinckley?
Yes, the casino offers free Wi-Fi to all guests inside and outside the facility. The connection is fast and reliable and can be accessed with a valid room key or by simply entering your name and contact info at one of the numerous kiosks located throughout the resort.
What Is The Cancellation Policy For Grand Casino Hotel?
The casino offers a flexible cancellation policy depending on the type of room and time of year. All cancellations must be made at least 24 hours prior to arrival, or the guest will be charged for one night's stay.
For more information, please contact the hotel directly, as they may have different policies in place during special events and holidays.
Conclusion
Grand Casino Hinckley is a great destination for gaming, entertainment, and relaxation. The casino offers plenty of amenities, including free Wi-Fi, complimentary shuttles from the airport, and a strict no-smoking policy.
They also provide an app with helpful information about upcoming events and special offers.
Guests should be aware of the dress code, pet policy, and cancellation policies before booking their stay. With these details in mind, visitors will have an enjoyable experience at Grand Casino Hinckley.