Grand Casino Mille Lacs Onamia
Address: 777 Grand Ave, Onamia, MN 56359
Phone number: +1 320-532-7777
Website: https://grandcasinomn.com/
Hours: This casino is open 24 hours a day 7 days a week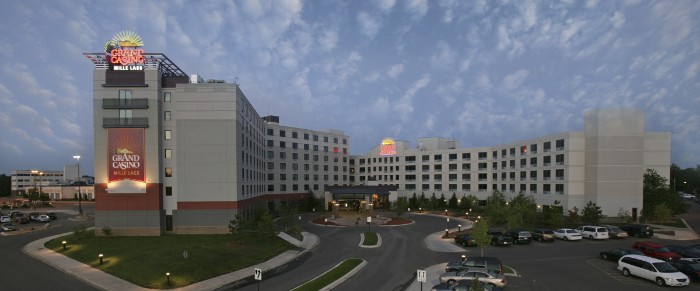 The Grand Casino Mille Lacs is a casino located in the city of Onamia, Minnesota. The casino has been operating since 1991 and is open 24 hours a day, 7 days a week. It is owned and operated by the Mille Lacs Band of Ojibwe Indians.
It boasts a wide variety of gaming options, including slots, table games, and poker. The casino also offers live entertainment on select nights and several dining options ranging from casual to upscale.
The Grand Mille Lacs features over 1,800 slot machines and several table games. Poker enthusiasts will find an 8-table poker room with a variety of tournaments and cash games likely to appeal to all skill levels.
According to TripAdvisor, guests rate the Grand Casino Mille Lacs in Onamia an average of 4 out of 5 stars. Many guests praised the casino's variety of gaming options, while others enjoy the live entertainment and dining options available on-site.
(Related reading: Minnesota casinos)
Gaming
This casino offers over 1,800 slot machines and several table games. There is something for everyone to enjoy, and the spacious casino floor provides plenty of room to explore.
Table Games
This casino offers guests a wide range of exciting table games to choose from. Feel the rush of playing live poker to see if you can will them all.
Guests who enjoy card counting can try their luck at Blackjack. On the casino floor, you'll find three different variations—$3, $5, and $10 units. Meanwhile, Pull Tabs offer immediate cash prizes when three or more symbols match.
For a game of chance with fun prizes and no entry fee, you can play Bingo in the centrally located Tribal Room. It offers a wide variety of table game minimums, ranging from $2 all the way up to $100 and even higher.
Slots
Those seeking thrills and great payouts will have a lot of fun at this casino. There are loads of machines to choose from, and every gamer will find something they love.
Some of the most popular slot games available at the casino are:
Buffalo Link
Buffalo Gold Revolution
Dollar Storm
Lightning Link
Aristocrat Legends
Super Jackpot Deluxe
Dragon Cash
Cash Cano
The payback percentages for this casino have not been made publicly available. However, the state of Minnesota has made it clear that the payback percentage for the state is between 80% and 95% – giving you a good idea of what to expect when you play.
Hotel/Resort
There are two hotels to choose from. The Mille Lacs has 494 rooms, while Eddy's Resort offers 64 rooms. Both offer great amenities such as indoor pools, hot tubs, fitness centers, full-service spas, and more. Both also offer complimentary Wi-Fi access.
The Mille Lacs offers state-of-the-art facilities, including an oversized pool, a four-screen movie theatre, and complimentary pet boarding for guests. Rooms range from standard rooms to suites.
Eddy's Resort offers a selection of spacious rooms that range from standard rooms to suites and cabins. It also offers delicious dining, the chance to fish on the water, and an arcade.
RV parking is also available for those traveling up in motorhomes, and you will find that that hotel and casino offer an array of amenities to make your stay more enjoyable.
Some of the amenities included at the casino and resort are:
Spacious rooms and suites
RV parking
Restaurants and bars
Indoor pool
Jacuuzi
Fitness center
Movie theatre
Arcade
Live entertainment
Pet boarding
Retail shopping
Promotions
The cost of staying at Grand Casino Mille Lacs depends on the size of the room and how long you plan to stay. Generally, standard rooms start at around $75 per night, while suites can range up to $400 per night. Prices may differ depending on the day or season.
Check-in time at Grand Casino is 4:00 pm
Check-out time at Grand Casino is 11:00 am
Restaurants & Buffets
This casino has a selection of restaurants to suit every taste. Whether you're looking for classic comfort food, freshly made ice cream, or four-star dining, there are several dishes and delights to be found here.
1591 Kitchen is perhaps the most renowned restaurant in the area with its fresh ingredients, rich flavors, and creative dishes. For a change of pace, Plums serves up smoothies and sushi as well as light snacks in a cozy atmosphere.
If you're feeling adventurous, Grand Cup & Cone offers homemade ice cream with a variety of artisan flavors and toppings alongside mini-golf and arcade games. For nighttime entertainment, the Up North Bar plays live music while offering pizza and pub favorites.
Lastly, if you're wanting something unique B3 presents modern cuisine served in a casual environment. Regardless of what your flavor may be, there's something for everyone at Grand Casino Mille Lacs! ​
Pools
The indoor pool has a temperature-controlled atmosphere where visitors can take a refreshing swim or let the waves of relaxation wash away their daily stress.
If a hot tub is more appealing, the jacuzzi is the perfect place to relax further with its bubbly jets and endless warmth. For those who are looking for more active fun, the fitness center offers life-enhancing exercises that can help everyone look and feel their best.
Grand Casino Mille Lacs Onamia, MN FAQ
Does Grand Casino Mille Lacs Have A Sportsbook?
This casino has a lot to offer, but it does not have a sportsbook. Unfortunately for the sports fans among Grand Casino Mille Lacs patrons, there are no opportunities to bet on sporting events or make any other type of wagers based on the outcomes of athletic competitions here.
Of course, visitors can still enjoy live sports broadcasts on the many TVs located throughout the casino and play simulated betting games through video gambling machines, but they won't find anything resembling a full-fledged sportsbook in this particular gambling establishment.
Is Poker Available At Grand Casino Mille Lacs?
If you're looking for a fun and exciting way to kick off your night at this casino, then look no further than poker.
The casino boasts a notable selection of table games and slots, but poker is what brings the crowds in droves. Whether you're a novice or a veteran player, there's something for everyone here, from classic poker to blackjack.
With friendly dealers setting the bar high for dedicated customer service and helpful staff available to answer any questions you may have regarding tournament play or specific house rules applicable to your table, there's no doubt that this casino has earned its reputation as one of Minnesota's premier gaming destinations.
What Are The Age Requirements For Gambling At Grand Casino?
This casino upholds a strict age policy for gambling activities. In order to play at their facility, all gamblers must be at least 21 years of age. This policy is firmly enforced, and anyone who does not meet the minimum age requirement will be refused entry.
Furthermore, any person under the age of 18 must be accompanied by an adult (over 21) if they wish to enter the casino, though they are only allowed access up to the lobby area.
Does Grand Casino Mille Lacs Have An Online Casino?
Despite the rich selection of games available within the physical casino, this location does not have an online casino presence.
While residents of states that permit online gaming can find many online casino simulations run by other gaming institutions, the casino has yet to make its virtual debut.
This could be due to the fact that Minnesota has more stringent regulations surrounding virtual gambling than many of the neighboring states, or it could simply indicate the safety and enjoyment associated with standing next to fellow players in person.
Is There An Grand Casino Mille Lacs, MN App?
This casino has made it even easier to get in on the action – with its very own mobile app.
With the Grand Casino Mille Lacs app, you can access all the information you need anytime and anywhere. You can even purchase rewards and book your favorite luxury suites directly from your phone or tablet.
Plus, you can stay updated with special events and direct notifications from Grand Casino.
What Is The Dress Code At Grand Casino?
The dress code at this casino is casual and comfortable. Patrons should avoid wearing excessively revealing clothing or items that are overly scruffy, torn, or otherwise unclean.
The casino strives to maintain a pleasant ambiance for all guests so you can enjoy your visit without having to worry about what others might think.
In general, the dress code should be treated like any other public place – dress appropriately, and you'll fit right in.
Is There An Airport Shuttle Available From Grand Casino Mille Lacs?
Yes, the casino offers an airport shuttle service for guests. The shuttle is available seven days a week and can pick up passengers at the Minneapolis-St Paul International Airport (MSP) and other local airports in the area.
Guests are kindly asked to make their reservations ahead of time, as the shuttle operates on a first-come, first-serve basis.
What Is The Smoking Policy At Grand Casino?
The casino follows a strict no-smoking policy. Both cigarette and cigar smoking is prohibited throughout the premises, including both indoor and outdoor gaming areas.
In addition, all forms of vaping or e-cigarette use are also strictly forbidden in this environment. Patrons must always adhere to these rules for their own safety and that of other guests.
What Is The Pet Policy At Grand Casino Mille Lacs?
Unfortunately, pets are not allowed on the premises. The casino does not permit any animals in their facility – with the exception of service animals that have been properly trained to assist the disabled.
All other animals must be left at home or in a pet-sitting facility outside of the casino.
Is Wifi Available At Grand Casino Mille Lacs?
Yes, this casino offers free wifi access to all of its guests. The casino's wifi network is available throughout the premises, including both gaming areas and restaurants.
Guests can easily connect to the wifi using their devices and enjoy a fast connection for browsing social media or streaming online content.
What Is The Cancellation Policy For Grand Casino Mille Lacs Hotel?
The casino has a 24-hour cancellation policy for reservations. If you need to cancel or change your reservation, it must be done at least 24 hours prior to the start of your scheduled visit in order to avoid any charges.
All cancellations must be made via phone or email with the relevant department.
Conclusion
Grand Casino Mille Lacs is a great place to experience the thrill of gambling and take advantage of all the amenities that this casino has to offer.
The casino follows strict regulations on dress code, smoking policy, pet policy, and more – so you can feel safe knowing that your visit will be as enjoyable as possible. Plus, with their own mobile app and free wifi access, you can stay connected anytime and anywhere.