Jackpot Junction Casino Hotel Morton
Address: 39375 County Rd 24, Morton, MN 56270
Phone number: +1 800-946-2274
Website: https://www.jackpotjunction.com/
Hours: The casino's opening hours vary throughout the week. Saturday 8 am–4 am, Sunday 8 am–1 am, Monday 8 am–1 am, Tuesday 8 am–1 am, Wednesday 8 am–1 am, Thursday 8 am–1 am and Friday 8 am–4 am.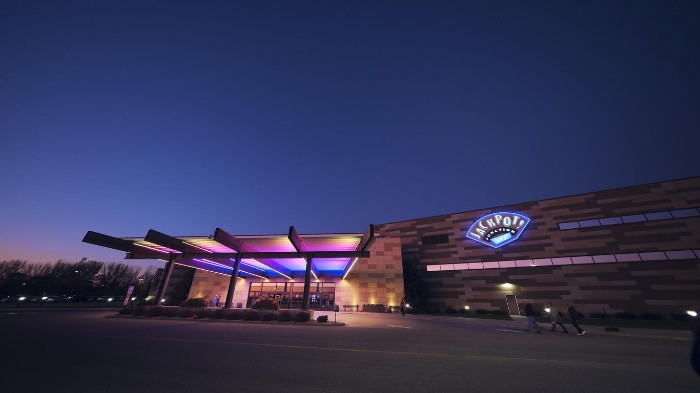 The Jackpot Junction Casino Hotel was first opened in 1984. It is located in Morton, Minnesota, and has over 1,200 slot machines and table games. The casino is open at 8 am every day and closes between 1 am and 4 am, depending on the day of the week.
At the Jackpot Junction, you can enjoy all types of gaming, including slots and table games such as blackjack, three-card poker, and Ultimate Texas Hold'Em.
The casino also offers a variety of live entertainment, from DJs on Friday and Saturday nights to live music acts on occasion. There is also a golf course that guests are free to visit if they want to relax on the green.
The hotel has 379 rooms and features a number of amenities, such as an indoor pool, an arcade, a fitness center, and a business center. There are also six restaurants on-site for your convenience and one bar for when you fancy a cocktail or strong drink.
The Jackpot Junction Casino has an average rating of 3.8 out of 5 on TripAdvisor. Guests say that the casino offers a great gaming experience with plenty of options for table games and slots. They also appreciate the variety of live entertainment that is available on-site.
(Related reading: Minnesota casinos)
Gaming
This casino offers a variety of gaming options, from slots to table games. The casino features over 1,200 slot machines and a range of table games, including blackjack and Ultimate Texas Hold'em.
Table Games
This casino offers a diverse selection of table games for every type of gambler. Whether you like the classic game of 21 or are feeling adventurous and want to try something new, you'll find something that fits your style.
Ultimate Texas Hold'Em is a fun and fast-paced poker game where players can bet against each other and the dealer; Three Card Poker is a poker variation with quick rounds and easy-to-follow betting patterns; Blackjack is the classic casino card game played against the dealer.
Blackjack + 3 Card Poker combines two great games in one for twice the entertainment; Free Bet Blackjack adds a side wager to traditional blackjack gameplay; TriLux is an exciting new game with several different bet options that create multiple ways to win.
The minimums at Jackpot Junction Casino Hotel, Morton vary depending on the game and table. The minimum bet for blackjack is usually $10, while the minimum bet for Ultimate Texas Hold'Em is usually $5.
Slots
If you're seeking a rush and some high-stakes games on the slots, this is the place to be. This casino has a variety of slot machines to choose from.
Popular games include:
Fortune Rooster
Star Goddess
Hot Hit
Sweet Tweet
Spartacus
The payback percentage for this casino has not been made publicly available. However, the state of Minnesota has a payback percentage that stands between 80% and 95%, giving you a good idea of how much you can expect to win back.
Hotel/Resort
The Jackpot Junction Hotel has 379 rooms with plenty of amenities. Additionally, there is an RV park for those visiting their motorhomes.
Each room features a cable TV, high-speed internet access, a refrigerator and microwave (in select rooms), and complimentary toiletries.
Some of the room types include:
Deluxe King: King bed, spacious room, and amenities.
VIP Suites: Master bedroom, living space, and amenities.
Poolside Suites: Master bedroom, living space, two Queen beds, amenities, and a pool view.
Jacuzzi Suites: Master bedroom, living space, King bed, Jacuzzi, and amenities.
The hotel also features an indoor pool, arcade game room, fitness center, and business center for the convenience of its guests.
The hotel also features six restaurants for you to enjoy, including a buffet and steakhouse. There is also one bar on-site for when you fancy a strong drink or cocktail.
Some of the amenities provided by the hotel and casino include:
379 luxurious rooms and suites
RV parking
Restaurants and bar
Golf
Indoor pool
Kiddie pool
Hot tub
Sauna
Arcade
Fitness center
Business center
Live entertainment
Event spaces
Gift shop
Rewards club
The cost of lodging at this hotel varies depending on the date and room type. Prices start from $60 for standard rooms and between $179 to $269 for suites.
You will find that the prices vary according to the day of the week and time of year, and it should be noted that the hotel takes bookings no sooner than 8 months in advance.
Check-in time at Jackpot Junction is 4:00 pm
Check-out time at Jackpot Junction is 11:00 am
Restaurants & Buffets
This casino offers a wide range of restaurants and eateries, from fast food to fine dining. For a casual lunch or dinner, try the Dacotah Dining restaurant, offering homestyle entrees served with locally-sourced ingredients.
The Circle Bar is your go-to spot for drinks and tapas; it also features sideshows and live entertainment.
Those looking for a quick bite to eat can drop by Caribou Coffee, while the Players Lounge has an inviting bar area to enjoy snacks and watch all the action happening on the gambling floor.
When you're in a hurry, visit 2Go Food Express for everyday food classics: fast Grilled deli sandwiches, scooped salads, hot burritos, and more.
For an exquisite experience of local cuisine, check out the upscale Wabasha Creek Restaurant, where you will find scrumptious items on their regularly-changing menu prepared with local ingredients.
Finally, head to The Full Deck for breakfast before starting your day in the casino or after enjoying the nightlife; they have amazing plates and special coffees to please everyone's palate.
Buffet Prices
This casino is a prime destination for casino enthusiasts and an excellent place to get a great meal. Every Sunday, Dacotah Restaurant offers a scrumptious buffet that gives guests the opportunity to enjoy a wide variety of classic American dishes.
Beginning at 7 am until 11 am, hungry diners can find all their favorite breakfast foods for just $12.95. Later in the day, from 11 am until 3 pm, an expansive brunch buffet can be enjoyed for only $20.
Guests will love the various salads, pasta, and slow-cooked meats available at these buffets; plus, you can even sample some of the restaurant's signature seafood dishes for an extra charge.
Pools
The indoor pool is large enough to easily accommodate a wide range of water enthusiasts, while the accompanying kiddie pool and hot tub provide a safe haven for younger guests looking to splash around.
For those that want to kick back and get away from the hustle and bustle of the casino floor, the sauna is perfect for winding down after a long day.  
Whether you're looking for an invigorating swim, or some restorative R&R by the warm, bubbling waters, your visit will be nothing short of extraordinary.
Jackpot Junction Casino Hotel Morton, MN FAQ
Does Jackpot Junction Casino Have A Sportsbook?
Despite its wide variety of offerings, a sportsbook is one thing you won't find at this casino.
While other casinos throughout the United States offer customers the opportunity to bet on sporting events, Minnesota has banned most sports betting. That said, there are still plenty of reasons to make the trip to this amazing casino and hotel. 
Is Poker Available At Jackpot Junction Casino?
This casino is the perfect place for a night of entertainment and fun. One of the most popular attractions here is the extensive gaming selection.
You'll find poker tables, video slots, bingo halls, electronic blackjack machines and other games. For those who love poker, the casino has multiple tables with weekly tournaments held monthly.
With comfortable chairs, knowledgeable dealers, and exciting games to play – the experience can't be beaten.
What Are The Age Requirements For Gambling At Jackpot Junction Casino?
It's important to know the age requirements before you go. According to Minnesota state law, individuals must be at least 21 years of age to gamble in any establishment.
This applies not only to playing table games but also to using gaming machines such as slot machines or video poker. Additionally, a valid photo ID is required at all times when visiting the casino.
Does Jackpot Junction Have An Online Casino?
Unfortunately, this casino does not have an online casino. While this may come as a disappointment to some people who enjoy the convenience of being able to access their favorite game from home or on the go.
It is worth noting that this well-established casino has been providing traditional land-based gambling services for over 30 years. 
Is There A Jackpot Junction Casino App?
Planning a trip to this is now easier than ever. While Jackpot Junction doesn't have an official app for smartphones and tablets, its website is optimized for mobile devices so users can access all of the information they'll need on the go.
From helpful details about their award-winning casino to event dates and times, guests can learn all about what this hotel and casino offer from their mobile device's convenience.
What Is The Dress Code At Jackpot Junction Casino Morton?
The dress code at this casino is intended to be comfortable and appropriate. Casual attire, including jeans, casual tops, T-shirts, and sneakers, are all acceptable. However, visitors should avoid clothes that may be offensive or otherwise inappropriate.
Additionally, guests should refrain from wearing clothing with any gambling logo.
Is There An Airport Shuttle Available From Jackpot Junction Casino and Hotel?
Yes, the casino does provide an airport shuttle service for guests. The shuttle runs to and from Minneapolis-St.
Paul International Airport, as well as other locales in the area, with advance notice. Guests can schedule their ride when they make their reservation or contact the hotel directly.
What Is The Smoking Policy At Jackpot Junction Casino & Hotel?
The casino and hotel have a strict no-smoking policy. Smoking is prohibited within the casino and hotel premises.
Guests wishing to smoke can do so in designated outdoor areas, which are not connected to the casino floor or any of its gaming machines. Additionally, guests must bring their own supplies, such as ashtrays and lighters.
What Is The Pet Policy At Jackpot Junction?
Pets are not allowed inside the casino or hotel. The casino does, however, provide pet-sitting services for guests who wish to travel with their furry friends.
The service is available for a fee and is subject to availability. Guests should inquire about pet-sitting services when booking their stay at the hotel.  
Is Wifi Available At Jackpot Junction, Morton?
Yes, the hotel offers free Wi-Fi to all of its guests. The network is secure and can be accessed from anywhere in the building.
Guests should contact the front desk if they need assistance connecting to the Wi-FI or for any other technical support during their stay. The casino also offers a business center with computers and other related services.
Guests can use the business center to access the internet, make copies, fax documents, and more. The business center is available for a fee.
What Is The Cancellation Policy For Jackpot Junction Hotel?
The cancellation policy for Jackpot Junction Casino Hotel, Morton, is as follows: guests must cancel their reservation at least 24 hours prior to their check-in date in order to receive a full refund.
For cancellations made within 24 hours of check-in, the hotel reserves the right to charge one night's rate plus tax. Failure to show up or provide notice of cancellation will result in a non-refundable charge for the entire stay. Additional fees may apply for special events and packages.
Conclusion
Jackpot Junction Casino offers guests a luxurious experience with its award-winning casino and exceptional amenities. With an airport shuttle, pet-sitting services, free Wi-Fi, and more, this hotel is sure to provide an unforgettable stay.
Before making their reservations, guests should be aware of the dress code, smoking policy, and cancellation policy. With just a few simple steps, guests can be well on their way to enjoying all that Jackpot Junction has to offer!
The casino also offers 24-hour customer service and a variety of dining options, ensuring that visitors will have everything they need on the go. Whether it's a fun night of gaming or just a relaxing getaway, Jackpot Junction Casino Hotel, Morton, has something for everyone.