Little Six Casino Prior Lake
Address: 2450 Sioux Trail NW, Prior Lake, MN 55372
Phone number: +1 952-403-5525
Website: https://littlesixcasino.com/
Hours: This casino is open 24 hours a day 7 days a week.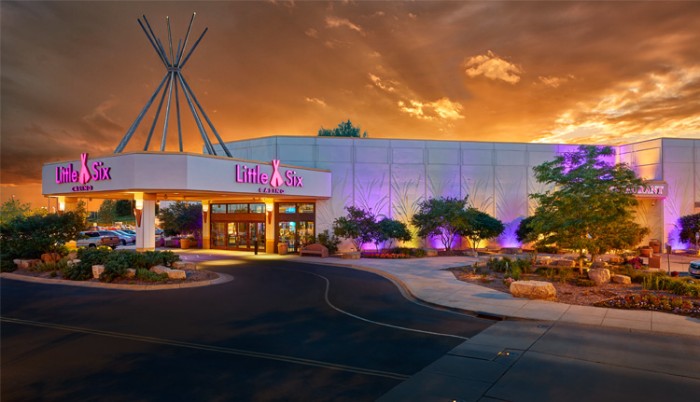 The Little Six, located in Prior Lake, Minnesota, is a Native American casino that has been in operation since 1982. The casino is owned and operated by the Shakopee Mdewakanton Sioux Community and offers various gaming options.
It has a variety of different games and entertainment options for guests. One of the most popular attractions is their slot machines, which feature a wide selection of classic and modern titles. The casino also offers blackjack.
The casino also has a restaurant offering a variety of American, Italian, and Mexican cuisine. The casino also has a bar that serves beer, wine, and cocktail drinks.
Guests rate the Little Six Casino with 4.5 out of 5 stars on average. Gamblers say that the casino offers a wide variety of games and entertainment, along with the friendly staff. Visitors also rave about the on-site hotel and restaurant.
(Related reading: Minnesota casinos)
Gaming
This casino offers over 800 slot machines and blackjack, creating a comfortable and friendly atmosphere for those who want to have a little fun.
Table Games
This casino is an ideal place to experience the thrill of casino gaming. Not only does it offer a variety of slots it also has a table game that players of all skill levels can enjoy.
For traditionalists, blackjack is one of the oldest and most popular casino games. Featuring easy-to-learn rules, this game has earned its reputation as one of the most exciting card games around.
Players are dealt two cards facing up and take turns trying to get as close to 21 as possible without going over or being "bust".
Despite its simplicity, blackjack is still full of strategic depth and can be enjoyed by gamblers of all backgrounds.
The minimum bets range from $5-25 on the blackjack table, which is subject to change according to the day of the week and the time.
Slots
Home to the loosest slot machines in Minnesota, everyone is a winner here. If you're looking for a good time and plenty of fun, this is the place to be.
The casino offers a vast selection of slots. Players can enjoy popular slot machines such as:
Buffalo Chief
Rich Little Piggies
Super Dragon
Super Buffalo
The payback percentage at this casino is 95% – making it the highest payback rate in Minnesota. There's a reason this casino is so popular, and it's because everyone knows that it's where the loosest slots are. It's a trait that Little Six is very proud of.
Hotel/Resort
There is no hotel available at this casino. However, there are plenty of options nearby. This includes:
The Hampton Inn
Baymont by Wyndham Shakopee
AmericInn by Wyndham Shak
Some of the amenities offered by the casino include:
Restaurant
Bar
Loose slots
Promotions
Parking
Restaurants & Buffets
This casino is a great destination for anyone looking to enjoy some delicious food and libations. The casino's restaurant serves up a variety of gourmet dishes, from seafood to steak and everything in between.
If you're feeling like something lighter, there are also plenty of salads, sandwiches, and appetizers available. The casino also features a great bar with a delicious array of drinks to choose from.
Whatever your preference may be, this casino has a variety of tasty options that will satisfy any appetite.
Pools
There is no pool available at this casino, but the nearby hotels have pool access for guests staying with them.
Little Six Casino Prior Lake Prior Lake, MN FAQ
Does Little Six Casino Have A Sportsbook?
One type of game that guests are unlikely to find is sports betting. Unlike a growing number of casinos across America, this casino does not currently host a sportsbook or offer any sports betting options.
This is largely due to Minnesota's current laws on gambling, which only allow wagers on horse racing inter-track as well as at two parimutuel racetracks in the area.
Is Poker Available At Little Six Casino, Prior Lake?
Though they don't offer poker, they do have the classic casino staple blackjack. Players will find a wide selection of tables with varying buy-ins to choose from.
From beginner-level tables to high-stakes offerings, you will definitely find something that fits your budget and skill level here. Even if you're a casual player looking for some fun and friendly competition, you'll still feel right at home.
The dealers are all welcoming and knowledgeable, always ready to help out new players with the rules or strategies.
What Are The Age Requirements For Gambling At Little Six Casino?
As is the case with most casinos, all players must be 21 years or older in order to play at this casino. This requirement applies even if you are accompanied by an adult; under no circumstances can anyone under 21 enter the casino gaming area.
All guests who appear to be 21 years of age or younger are required to show a valid ID before being granted entrance.
Does Little Six Have An Online Casino?
Players interested in gambling online may be pleased to hear that Little Six Casino also offers an online casino. With access to thousands of competitive and fun slots, table games, video poker, and more, players can spin their way to big wins wherever they are.
The online casino also features top-tier promotions such as daily bonus spins, leaderboards with incredible cash prizes, and plenty of tournaments for those who like a bit of competition in their gaming.
Is There A Little Six Casino App?
Those visiting the casino in Minnesota will be glad to know that there is now a convenient app to make their experience smoother. Thanks to this, users can access all the games and amenities offered at the casino from wherever they are.
The app brings with it a range of features, such as real-time notifications for when your favorite game is about to start at the casino, exclusive discounts, and even direct access to the customer service team.
What Is The Dress Code At Little Six Casino?
The dress code at Little Six Casino is business casual. Jeans and sneakers are allowed, but please refrain from wearing any clothing with profanity or offensive graphics.
It's also important to note that this casino does not permit masks or costumes of any kind in the gaming area. All guests should ensure they're properly dressed before entering the casino.
Is There An Airport Shuttle Available From Little Six Casino Prior Lake?
The casino does not offer its own airport shuttle. However, there are many nearby hotels that do.
Guests should be sure to check with their hotel of choice in advance to find out if they can arrange a shuttle service. It's also worth noting that Minneapolis-St. Paul International Airport (MSP) is just a 40-minute drive away, offering guests convenient access to the casino.
What Is The Smoking Policy At Little Six Casino?
Little Six Casino is a 100% smoke-free facility. This means that all guests must leave the casino to smoke cigarettes, cigars, vape, or any other tobacco product.
The only exception to this rule is an outdoor patio area on the premises where smoking and vaping are allowed. Guests should be sure to follow the posted signs and regulations in the patio area.
What Is The Pet Policy At Little Six?
The casino welcomes pets on the premises as long as they are properly handled and leashed at all times. The casino also requests that owners clean up after their pets too.
In addition to this, guests should note that pets are not allowed in the gaming area or any of the restaurants and bars within the property. Guests may bring their pets for a stroll in the parking lot but must ensure that they remain leashed and under control at all times.
Is Wifi Available At Little Six Casino?
Yes, the casino offers free wifi for all guests who need it. Guests should look out for signs around the property indicating where they can access this service and how to connect.
The wifi is subject to availability and may be affected by external factors such as weather conditions or staff maintenance. However, the team at Little Six Casino will do their best to keep the wifi running smoothly.
What Is The Cancellation Policy For Little Six?
There are no active cancellation policies at the casino.
Conclusion
Little Six Casino is a great place for those looking to enjoy gaming and entertainment. With plenty of games, amenities, and services on offer, plus the convenience of an app and access to free wifi, it's easy to see why so many guests are happy to spend time at this vibrant casino.
The dress code should be kept in mind, and all guests should follow the smoking and pet policies to ensure a pleasant experience. Finally, visitors should note that Little Six Casino has no active cancellation policies.
That said, guests should feel free to enjoy their time at Little Six Casino. Its convenient location and range of features make it the perfect place for a great night out.