Mystic Lake Casino Hotel Prior Lake
Address: 2400 Mystic Lake Blvd NW, Prior Lake, MN 55372
Phone number: +1 800-262-7799
Website: https://mysticlake.com/
Hours: This casino is open 24 hours a day 7 days a week.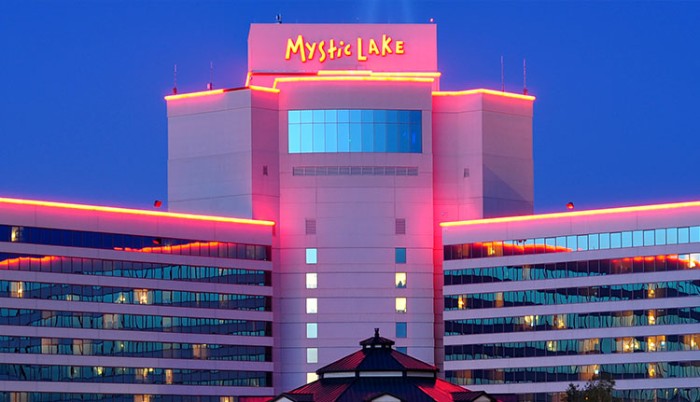 The Mystic Lake Casino Hotel is located in Prior Lake, Minnesota. The casino is open 24 hours a day, seven days a week, and has over 4,000 slot machines and multiple table games. The casino is also home to a luxury hotel, several restaurants, and a large concert venue.
Mystic Lake also offers a variety of entertainment activities, such as comedy shows, DJs, trivia nights, and more. The resort is home to a number of luxurious amenities for its guests to enjoy.
The hotel features several 766 luxurious rooms and suites with views overlooking the lake and surrounding area. Guests can also take advantage of the on-site spa, fitness center, golf course, and pool.
The casino offers a variety of dining options, from casual to fine dining. Guests can choose from delicious restaurants, including Mystic Steakhouse, The Promenade, The Meadows, and more.
Additionally, for those looking for a quick bite or snack on the go, there are a variety of food court options available as well as three bars to quench your thirst.
Guest reviews for the Mystic Lake Casino Hotel are generally positive, with an average rating of 4 out of 5 stars on TripAdvisor.
Guests praise the hotel's beautiful location, luxurious amenities, and variety of dining options. Some guests noted that the casino can be quite loud, but overall most guests enjoyed their stay.
(Related reading: Minnesota casinos)
Gaming
This casino offers a wide variety of gaming options, with more than 4,000 slots and many different electronic table games. It also offers some fantastic promotions.
Table Games
Mystic Lake is the perfect place for anyone looking for thrilling table games! Whether a seasoned card shark or someone who's just starting out, epic action awaits at the tables.
There are plenty of exciting options for classic card fans to choose from, beginning with blackjack. Guests can enjoy popular variations like double down, progressive blackjack, and more traditional spins on the game.
If that's not enough excitement, one can take their luck to the next level with video craps or baccarat.
Video big six wheels provide an opportunity to get involved right away without needing to know the rules or strategies – simply spin the wheel and watch your fortune.
Lastly, the casino also has several versions of video roulette and video blackjack, bringing all the thrill of the casino right to your fingertips.
The table game minimums at the casino vary depending on the game. Generally speaking, the minimums are as low as $1, but they are subject to change according to whether it's a live or electronic table game as well as the time of day.
Slots
Those who are seeking state-of-the-art and exciting slot machine experiences will find everything they need at this casino.
Mystic Lake Casino Hotel offers a wide variety of slots, including:
Three-reel
Five-reel
Wheel Of Fortune
Lightning Cash
88 Fortunes
Buffalo Grand
The payback percentage for this casino has not been made available to the public. However, the state of Minnesota notes that the payback percentage for the state is between 80% and 95%, which should give you a good idea of what to expect.
Hotel/Resort
Mystic Lake is home to a luxurious hotel and resort, offering everything guests need for a relaxing stay. The hotel rooms are well-appointed with high-end furnishings, plush bedding, satellite television, and complimentary internet access.
The suites are even more luxuriously appointed and come with separate living spaces. Some of the room types available are:
Promenade Tower: Upscale guestrooms with residential layouts and golf course views.
Lobby Towers: Large beds, bay windows, and incredible views.
Suites: Expansive living and sleeping areas, sweeping views, and oversized bathrooms.
The resort's amenities include a full-service spa, fitness center, and golf course. The pool area features an indoor pool with cabanas on the poolside so that you can relax. In addition, there are plenty of dining options available on-site, ranging from fine dining to casual fare.
Some of the amenities offered at the casino resort include:
766 luxurious rooms and suites
RV parking
Restaurants and bars
Spa
Fitness center
Indoor pool
Golf course
Live entertainment
Concerts
Private events
Promotions
The cost of a stay at Mystic Lake Hotel varies depending on the type of room and the season. Rates start from $139 per night for standard rooms, while suites can cost up to $799 per night or more, depending on the time of year.
Check-in time at Mystic Lake Hotel is 4:00 pm
Check-out time at Mystic Lake Hotel is 11:00 am
Restaurants & Buffets
This location has plenty of amazing restaurants and dining options for guests to choose from. If you're looking for a fantastic steak dinner, you can't go wrong with their signature Mystic Steakhouse.
Or, if you're craving something more casual, the Minnehaha Café is perfect for burgers and wings. Sweet Temptations features classic desserts like cakes, donuts, and pies, and The Meadows Bar & Grille is great for a hearty breakfast or lunch.
Gambler's Grille serves up tempting compositions of seafood and steak with soups and salads, while the Fusion Noodle Bar offers Asian-inspired dishes with noodles, dumplings, and rice bowls.
For lighter options, visit the Mystic Deli or Caribou Coffee. You can also stop in at Drinx Bar, with its wide range of cocktails, or The Lobby Lounge, where you can relax with a glass of wine.
Last but not least, at The Promenade Bar, you can grab drinks before heading into the casino. No matter what kind of cuisine you're looking for, this casino has literally everything and more. ​​​​​
Buffet Prices
The casino hotel offers an expansive, all-you-can-eat buffet with a mouth-watering variety of dishes.
For $33 per person, you can fill up at the extensive buffet with its varied selection of entrees and sides, including favorite comfort foods like mashed potatoes and gravy to signature dishes like Italian lasagna and curries. The buffet also has irresistible desserts to round off your meal.
From succulent cakes to decadent chocolates, there is something for everyone's sweet tooth. They offer a wide range of beverages, both alcoholic and non-alcoholic, to choose from as well.
Pools
The hotel offers an excellent way to enjoy the water. The indoor pool is perfect for relaxing year-round and features poolside cabanas for kicking back and relaxing for a few hours.
For those seeking the ultimate relaxation experience, there is a spa that's ideal for relieving muscle tension and rejuvenating the senses.
Mystic Lake Casino Hotel Prior Lake, MN FAQ
Does Mystic Lake Casino Have A Sportsbook?
Those hoping to bet on sports or engage in any sports gambling activities while at the Mystic Lake property will be disappointed, as it is illegal in Minnesota. That being said, you can still enjoy all the other amenities that Mystic Lake offers without the worry of breaking any laws.
Is Poker Available At Mystic Lake Casino?
With slots, table games, bingo, and a large events center, it offers plenty of ways for visitors to have fun. While the casino does not offer poker at its casino tables, it does offer some exciting alternative choices.
One of these is blackjack — an American variant of the classic card game. In this version, players are dealt two cards each and try to beat the dealer by creating hands that total as close to 21 without going over.
Blackjack is a great way to experience all the thrill of poker-style gaming in an exhilarating and safe environment.
What Are The Age Requirements For Gambling At Mystic Lake?
It's important to note that certain age restrictions apply when gambling at this casino. According to Minnesota law, all visitors must be 21 years or older to enter the casino floor and play the table games or slot machines.
Anyone under 21 will be asked to leave any areas where gaming activity is taking place, and anyone accompanying them may also be asked to leave. Additionally, all patrons must provide valid identification showing their birth date upon entering the casino floor.
Does Mystic Lake Have An Online Casino?
The casino's guests can now get all their favorite gaming experiences without leaving home. Not only do they offer a selection of traditional slots and table games such as blackjack and roulette, but they also have several bingo products to choose from.
On top of all that, their website allows players to easily manage their accounts from anywhere with an internet connection.
Is There An Mystic Lake App?
The casino has an app available for your smartphone or mobile device. With the app, you can easily plan your visit to the casino.
From purchasing tickets for events to making dinner reservations at one of the many restaurants inside the venue, everything can be done with a tap of your finger from anywhere.
Not only that, but you'll be able to keep up with all of the latest promotions and offers that are happening at Mystic Lake Casino Hotel, MN. Plus, a loyalty program is featured through the app so that you can turn every visit into rewards like discounts on food and hotel stays.
Finally, you can also access valuable information about upcoming entertainment acts found on-site so that you can never miss out on an event.
What Is The Dress Code At Mystic Lake Casino?
The dress code is generally casual or business casual at the casino and hotel. Shorts, jeans, sneakers, and comfortable clothing are all acceptable.
Of course, visitors should keep in mind that certain areas may have stricter requirements — for example, the hotel's bar and lounge typically has a more upscale attire requirement. It is also important to note that the casino may ask guests to leave if their attire is deemed inappropriate.
Is There An Airport Shuttle Available From Mystic Lake?
The casino does not offer an airport shuttle service. However, a hotel shuttle can be used to travel between the Mystic Lake Casino Hotel and the nearby Mall of America.
For those who wish to get to the airport, they may either take a taxi or arrange for a private car service to bring them there.
What Is The Smoking Policy At Mystic Lake?
The casino and the hotel are both nonsmoking. All guests must exit the building to smoke, and there are designated areas available for this purpose.
In addition, all rooms in the hotel are non-smoking as well so that guests can enjoy a refreshing stay without having to worry about secondhand smoke or unpleasant odors.
What Is The Pet Policy At Mystic Lake Casino and Hotel?
Pets are not allowed in the casino or hotel. Service animals are, however, welcome throughout the property. For those who wish to bring their pet with them, a nearby kennel can be used for boarding.
Is Wifi Available At Mystic Lake?
Yes, the casino offers complimentary wifi to all its guests. Additionally, high-speed internet access is available in all hotel rooms free of charge.
What Is The Cancellation Policy For Mystic Lake Hotel?
If you need to cancel your reservation, you must do so at least 24 hours before the scheduled check-in. If a reservation is not canceled within this time frame, then the full cost of the room will be charged.
Additionally, it should be noted that some special events and promotions may have their own cancellation policy, so please make sure to read all information carefully before making a reservation.
Conclusion
Mystic Lake Casino & Hotel is the perfect place to enjoy a night out with friends or family. With its wide selection of games, convenient app, and comfortable accommodations, it's sure to be an experience you won't forget.
Above all else, always remember to check the casino's policies on dress code, smoking, pets, and wifi so that you can have a pleasant and enjoyable stay. Make sure to also read up on the cancellation policy before booking any rooms.