Northern Lights Casino Walker
Address: 6800 Y Frontage Rd NW, Walker, MN 56484
Phone number: +1 844-554-2646
Website: https://www.northernlightscasino.com/
Hours: This casino is open 24 hours a day 7 days a week.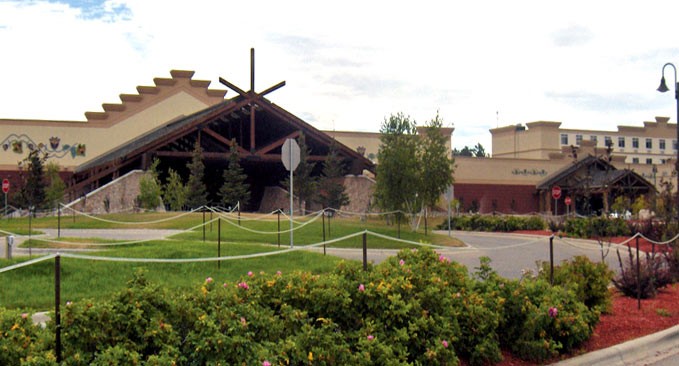 The Northern Lights Casino was first established in 2001. It is a popular casino located in Walker, Minnesota, and is open 24/7. The casino has over 300 slot machines, as well as table games and a poker room.
The casino also has great places to dine, with options for everyone. The casino's signature restaurant is the Northstar Restaurant which serves classic dishes with a twist. On Friday and Saturday, you can take a trip to the Dancing Fire if you fancy something a little different.
It also offers a variety of entertainment options and special events. Live music is provided in the lounge area, and the casino often hosts big-name performers for special shows.
The Northern Lights Casino has good reviews on Google with a 3.9 out of 5-star rating. Most customers are pleased with the service and recommend it to anyone looking for an enjoyable time.
(Related reading: Minnesota casinos)
Gaming
This casino offers a range of gaming options, including slots, table games, and a poker room. It also has bingo and video keno for those who prefer a more casual game.
Table Games
This casino is one of the best spots to enjoy a great range of table games. Whether you're a first-time player or an experienced card shark, there's sure to be something here to challenge and entertain you.
For first-timers, Blackjack is an excellent place to start, as it's far simpler than Poker yet still has plenty of fantastic moments of strategy and excitement.
For those with a bit more experience, Poker is a classic choice – its many variations offer different levels of difficulty as well as a huge potential for payouts at the end of the game.
Table game minimums at this casino vary depending on the time of day and popularity of the game. Generally speaking, most table games have a minimum bet of $5 or less.
Slots
With some machines having jackpots at high as $500,000, this casino is the place to be if you're looking for a rush and a few high-stakes slots games.
The casino offers an extensive range of slots, with games from the latest software providers. Popular titles include:
Super Jackpot Party
Cleopatra
Wolf Run
The payback percentage for this casino has not been made publicly available. However, the state of Minnesota has a payback percentage that ranges from 80% to 95%, which should give you a good idea of what to expect.
Hotel/Resort
This casino has a spacious hotel with 116 rooms and suites, each featuring modern amenities and comfortable beds.
Some of the room types available are:
Standard Room: 2 Queen beds or one King bed.
Jacuzzi Suite: King bed and Jacuzzi/whirlpool.
2-Room Suite: King bed, dining space, kitchen area, Jacuzzi/whirlpool, sleeper sofa.
The hotel also offers a comfortable pool area as well as a hot tub, and the suites often have a Jacuzzi or whirlpool available for guests.
Additionally, there is RV registration available so that you can take advantage of the ample parking on offer for those traveling to the casino in motor homes.
Some of the amenities provided by the hotel and casino are:
116 comfortable rooms
Spacious suites
Restaurants
Buffet
Indoor pool
Hot tub/Jacuzzi
Live entertainment
Tournaments and promotions
The cost to stay at this casino depends on the type of room you choose and how long your stay is. Generally speaking, a standard room starts from $95 per night while suites start from $149. Prices can vary depending on availability and special offers.
Check-in time at Northern Lights Hotel is 3:00 pm
Check-out time at Northern Lights Hotel is 11:00 am
Restaurants & Buffets
This is the place to be if you're looking for a delicious meal and a good time. The casino has two amazing restaurants, both guaranteed to tantalize your taste buds.
Northstar Restaurant offers an extensive menu of classic comfort food, from gourmet hamburgers to tasty fish tacos. However, if you're in the mood for something a little more lively, head over to Dancing Fire.
This modern American grill serves up absolutely delightful treats every Friday and Saturday. So no matter what type of cuisine you're craving, Northern Lights Casino has an option that's sure to please.
Buffet Prices
When you're looking for a great place to eat, look no further than this casino. With an amazing selection of all-you-can-eat buffets, there's something for everyone.
On Monday nights, come into the casino and enjoy delicious fried shrimp for only $21.95. If seafood isn't your favorite, head back on Wednesday to feast on fall-off-the-bone BBQ ribs for just $22.95.
But if you really want to splurge, come back on Thursday night for our all-you-can-eat snow crab legs: an amazing culinary experience for only $60.
Pools
This casino offers guests an array of swimming experiences that are truly unique. With two different pools – an indoor pool and a hot tub – visitors can choose the best way to enjoy themselves.
The indoor pool is perfect for those who want to take a leisurely swim in a calm atmosphere; it's heated, so you won't be forced to endure frigid temperatures while swimming.
With its high ceilings, the pool offers plenty of open space, allowing swimmers to kick their legs freely and have fun.
The hot tub captures spring-like temperatures all year round for adults looking for some relaxation. Both pools provide unbeatable views of breathtaking Northern Minnesota nature.
Northern Lights Casino Walker, MN FAQ
Does Northern Lights Casino Have A Sportsbook?
Unfortunately, this casino doesn't offer sports betting at this time due to it not being legal in the state of Minnesota.
This means that while you can enjoy the rush of slot machines and table games, you won't be able to place a bet on the next big game legally at this casino.
Is Poker Available At Northern Lights Casino?
If you're looking for an exciting game of poker, then look no further than here. This casino offers a variety of poker games along with the popular variant of blackjack.
On any given day, you'll find tables full of fellow card players ready to take on the next challenge. Whether you prefer cash games or tournaments, there's something for everyone at this casino.
With several different table sizes available, you can choose from one-on-one matches to full ten-player tables.
What Are The Age Requirements For Gambling At Northern Lights Casino?
The casino has established a minimum age for gambling on the premises. All individuals wishing to participate in any gaming activities, including but not limited to placing wagers or playing machines, must be 21 years of age or older.
Valid government-issued photo identification, such as a driver's license or passport, is required at all times in order to verify your identity and age.
Does Northern Lights Have An Online Casino?
This location has an online casino that is as fun and entertaining as a regular casino. This virtual version of the casino makes it easier for people to take part in some real gaming action.
Players can choose from a wide selection of slots, table games, video poker, and more. The online version also offers the same bonuses you get when playing at the casino in Minnesota, including loyalty points and other rewards.
Additionally, you can play any time of day or night with no opening or closing times — perfect for players who like to game outside usual hours.
Is There Northern Lights Casino App?
If you're looking for a convenient way to experience the thrill of this location, then look no further than the casino's official app. Available on iOS and Android devices, this easy-to-use app brings together all the excitement and ease of play that you would expect from a state-of-the-art casino.
Through the app, players can access their favorite slots, table games, sports betting, bingo and more – with just a few clicks. Since the casino is constantly adding new game titles, so does its online counterpart.
To ensure you never miss out on any of the great promotions or deals offered at the casino, simply check in with the app each week to be sure to stay up to date.
What Is The Dress Code At Northern Lights?
The dress code at this casino is casual and comfortable. Guests are encouraged to wear clothing that allows for easy movement and won't restrict their time on the casino floor.
This means avoiding extremely baggy clothing or bare feet and refraining from wearing any hats or hoods to maintain a safe environment for all guests.
Furthermore, any items that are considered to be disruptive in a public setting (e.g., horns or noisemakers) are strictly prohibited from the casino floor.
Is There An Airport Shuttle Available From Northern Lights Casino?
Yes, this casino offers a free airport shuttle service to and from Minneapolis-St. Paul International Airport. The shuttle runs daily between the hours of 8 am and 10 pm, seven days a week.
Guests can sign up for the service at the front desk or online before their arrival date. Upon completion of registration, guests will receive a confirmation code and instructions on where to meet the shuttle.
What Is The Smoking Policy At Northern Lights Casino?
In accordance with Minnesota state law, the casino is a completely smoke-free facility. This includes electronic cigarettes or vaping devices of any kind.
Any guests found violating this policy will be asked to leave the premises and may be subject to additional fines and penalties depending on the circumstances. Smoking is allowed in designated areas outside of the building.
What Is The Pet Policy At Northern Lights?
Pets are not allowed on the premises at this casino. The only exception to this rule is service animals, which must be certified and have all the necessary paperwork to ensure a safe and enjoyable experience for all guests.
It is the responsibility of the pet owner to provide any additional documentation or information required by the casino staff. Failure to do so may result in guests being asked to leave the premises.
Is Wifi Available At Northern Lights Hotel & Casino?
Yes, the casino offers complimentary WiFi to all guests. Guests can access the internet by connecting to the 'NorthernLightsCasino' network using their personal devices.
The WiFi connection is secure and available 24 hours a day, seven days a week. Guests are welcome to use it for gaming or other online activities as needed during their stay.
What Is The Cancellation Policy For Northern Lights Hotel?
The hotel offers a 24-hour cancellation policy. This means that guests who make reservations must cancel their reservation at least 24 hours prior to their arrival date in order to avoid being charged for the full amount of their stay.
Please contact the casino directly if you need to cancel your reservation within that period. In the event of a no-show, the reservation amount will be charged to the guest's credit card.
Conclusion
Northern Lights Casino is an excellent choice for those looking to enjoy a night of gaming and entertainment. With its smoke-free environment, free WiFi access, and free airport shuttle service, this casino has everything you need for a fun and memorable experience.
Be sure to review the dress code, pet policy, cancellation policy and other important details before booking your stay to ensure an enjoyable experience.