Prairie's Edge Casino Resort Granite Falls
Address: 5616 Prairies Edge Ln, Granite Falls, MN 56241
Phone number: +1 320-564-2121
Website: http://www.prairiesedgecasino.com/
Hours: This casino is open 24 hours a day 7 days a week.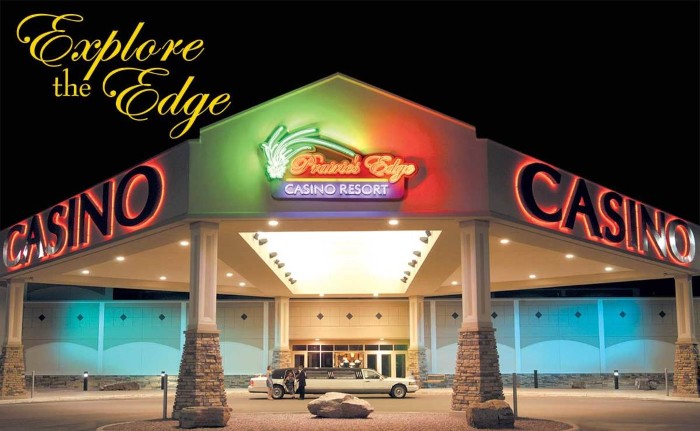 The Prairie's Edge is a casino located in Granite Falls. The casino is open 24 hours a day and 7 days a week. It first opened in 2003.
The casino offers a variety of gaming options, including slot machines, table games, video poker machines, and more. The Prairie's Edge also has an onsite hotel and RV site with accommodations ranging from standard rooms to luxurious suites.
The casino's entertainment center hosts live performances featuring local artists as well as nationally touring acts. Additionally, the casino has several restaurants and bars for guests to enjoy.
It also offers an event center which is an impressive 20,000 square feet in size and is the perfect setting for conferences, weddings, reunions, business meetings, and more.
The Prairie's Edge Casino Resort has a 4 out of 5-star rating on Google. Most guests who have visited the casino have had a positive experience.
(Related reading: Minnesota casinos)
Gaming
This casino offers a variety of gaming options, including over 1,000 slot machines, table games, video poker machines, and more. There's something for everyone on the casino floor.
Table Games
This casino is a great destination for those looking to have some gaming fun. At the casino resort, visitors will find a wide selection of table games such as Live Blackjack, Ultimate Texas Hold'Em, Three Card Poker, and Virtual Roulette Evolution.
Those looking to try something new might want to check out the Virtual Blackjack offered by Prairie's Edge Casino Resort. The virtual version of the classic game gives players an opportunity to play from their own homes and enjoy the same kind of thrills as a real casino floor experience.
In addition to these table games, the resort also offers slot machines and video poker machines for those looking for more conventional forms of gambling entertainment.
The minimum for table games at this casino start at $10 every day. This means you don't have to worry about fluctuating minimums that vary according to the day or time.
Slots
If you're looking for some high-stakes slots and a bit of excitement, this casino has everything you could want to be wrapped in one neat little package. There is a wide variety of slot machines available, and some of the most popular games include:
Wheel of Fortune
Quick Hit Platinum
Double Diamond Deluxe
The payback percentage for this casino is not publicly available. However, the state of Minnesota has a payback percentage between 80% and 95%, which should help to give you a good estimate.
Hotel/Resort
The casino also offers an onsite hotel and RV site. The hotel rooms range from standard to luxurious suites. Guests can enjoy amenities such as complimentary continental breakfast and free Wi-Fi access.
There are 160 rooms and suites, including six whirlpool suites, two suites overlooking the river valley, and four poolside rooms.
The resort also has an indoor pool, wading pool, hot tub, sauna, and fitness center for those looking for some fun in the sun during their stay. For guests on business, there is an excellent business center, and you will also find ample parking on the RV site for those with motorhomes.
Some of the amenities included at the resort are:
Luxurious rooms and suites
Private lounges
RV parking
Restaurants
Indoor pool
Wading pool
Sauna
Hot tub
Fitness center
Business center
Live entertainment
Weddings and conventions
Reward programme
The cost of staying at Prairie's Edge Hotel depends on the type of room or suite you choose. Standard rooms start at $95 per night, while luxurious suites can be as much as $204 per night.
There are also discounted rates available for RV sites, and various packages may be available to save money during your stay.
Check-in time at Prairie's Edge Hotel is 3:00 pm
Check-out time at Prairie's Edge Hotel is 11:00 am
Restaurants & Buffets
If you're looking to enjoy a night of fine dining, this casino and hotel is the place to go. There are plenty of options to satisfy your appetite and quench your thirst.
Start with the Meadows Restaurant, where you will find delicious steak and seafood entrees as well as a wide variety of appetizers and desserts. For something more casual, visit the Firefly Lounge for an assortment of classic pub fare and craft beers on tap.
The Wotapi Deli is perfect for guests who prefer lighter fare or grab-and-go items like salads and sandwiches.
The Prairie Tap House is the place to be if you're after a more lively atmosphere with signature cocktails, appetizers, and shareable alongside 16 rotating taps featuring craft beer from local breweries.
At night, head to the Sunset Lounge for special drinks and entertainment — next door to Meadows Restaurant.
Pools
Prairies Edge offers visitors relaxation and entertainment for all ages. For those looking to just kick back and relax, there is a heated indoor pool with a separate wading pool for younger guests.
After a dip in the pool, soothe tired muscles in either the indoor spa or warm Jacuzzi. The sauna is perfect for those wanting to enjoy sweat therapy while taking in the views of the casino floor below through the windows that surround it.
Guests can also take advantage of their on-site fitness center equipped with top-of-the-line exercise machines, so you never need to miss a workout even while you're on vacation.
Prairie's Edge Casino Resort Granite Falls, MN FAQ
Does Prairie's Edge Casino Have A Sportsbook?
Although this casino offers a full suite of casino activities such as slot machines, table games, and poker rooms, they do not currently have a sportsbook.
Unfortunately, for sports fans looking to place bets on their favorite teams, that means that Prairie's Edge Casino Resort does not offer any sports betting option at this time.
Is Poker Available At Prairie's Edge Casino?
This casino has you covered if you're looking to get your poker fix. This esteemed casino offers a variety of classic poker games and several exciting gaming variants, such as Texas Hold'em and blackjack.
The atmosphere here is perfect for any level of player – from beginner to expert – with table limits ranging from pennies to double digits. Professional staff is always happy to help explain the rules or give advice on playing strategies.
Plus, there's always the option for progressive tournaments with big cash prizes and bonus rewards.
What Are The Age Requirements For Gambling At Prairie's Edge Casino Resort?
At this casino, the legal gambling age is 21. This includes all forms of gambling, such as slots, keno, bingo, blackjack, roulette, craps, and poker.
In addition to the age requirement for participation in gambling activities, visitors to Prairie's Edge Casino Resort may be asked for identification by casino staff or security personnel if they appear to be under 21 years old.
It is important for visitors to bring a valid state-issued ID, such as a driver's license or passport, in order to prove their age.
Does Prairie's Edge Have An Online Casino?
Offering virtual roulette and virtual blackjack, the casino provides a great opportunity to play your favorite casino games while staying safe and socially distanced.
The online version of these classic casino games offers a realistic experience complete with different boards, rules, and payouts – just like at an in-person casino. Prairie's Edge also has a selection of other online games, such as slots, video poker, and keno.
Each game also has helpful information that can be accessed at any time, so there's no risk of getting lost in the rules or missing out on putting extra cash in your pocket.
Is There A Prairie's Edge Casino App?
There is currently no official app associated with this casino. Thankfully, that doesn't mean you need to miss out on all the action. You can still keep up with any changes or news directly from their website.
They also have a Facebook page where they post updates on new games and other special offers. Additionally, they'll always email patrons about upcoming events if requested.
While the lack of the app can seem like a disappointment at first, there are still plenty of ways to stay involved.
What Is The Dress Code At Prairie's Edge?
At this casino, there is no formal dress code. Guests are expected to adhere to smart-casual attire and should refrain from wearing any clothing that includes offensive language or graphic images.
Shirts and shoes are required at all times, and headwear is not allowed inside the casino. Visitors may also be asked by security or casino staff to change their clothing if deemed inappropriate for the environment.
It is also important to keep in mind that during special events, a more formal dress code may be enforced.
Is There An Airport Shuttle Available From Prairie's Edge Resort?
At this time, the casino does not provide an airport shuttle service. However, a few options are available for transportation to and from the casino, including taxi and limousine services.
For those traveling from a greater distance, the casino does offer packages that include room and transportation options. Contact Prairie's Edge Casino Resort directly for more information on any of these services.
What Is The Smoking Policy At Prairie's Edge Casino Resort?
The resort has a strict no-smoking policy. This includes all areas of the casino, including gaming floors, dining areas, and restrooms.
Visitors are allowed to smoke outside in designated smoking areas provided by the resort. All guests entering the casino must pass through a security checkpoint where they will be asked to put out any cigarettes.
What Is The Pet Policy At Prairie's Edge Resort?
Currently, the resort does not allow pets inside the casino. However, service animals are welcome and may accompany guests into all areas of the resort, including the hotel.
Is Wifi Available At Prairie's Edge Hotel & Casino?
Yes, free Wi-Fi is available throughout the entire casino and resort. Guests can access the internet by connecting to the resort's wireless network.
For added convenience, guests can also use their own personal devices to take advantage of on-site amenities such as downloading new apps and playing games.
What Is The Cancellation Policy For Prairie's Edge Resort?
This resort offers a 48-hour cancellation policy for all reservations. If you need to cancel your reservation within the designated time frame, you will receive a full refund.
If you choose to cancel after the 48-hour period has passed, you may be subject to additional fees or charges.
Conclusion
Prairie's Edge Casino is a great destination for those looking to enjoy some gaming and entertainment. The resort offers all the amenities you need to have an enjoyable experience, as well as helpful staff always available to assist.
From their wide selection of casino games to their comfortable accommodations, Prairie's Edge Casino Resort has something for everyone. And with their online presence, you can stay up to date on any news or special offers right from the comfort of your home.