Running Aces Harness Park Columbus
Address: 15201 Running Aces Blvd, Columbus, MN 55025
Phone number: +1 651-925-4600
Website: https://runaces.com/
Hours: This casino is open 24 hours a day 7 days a week.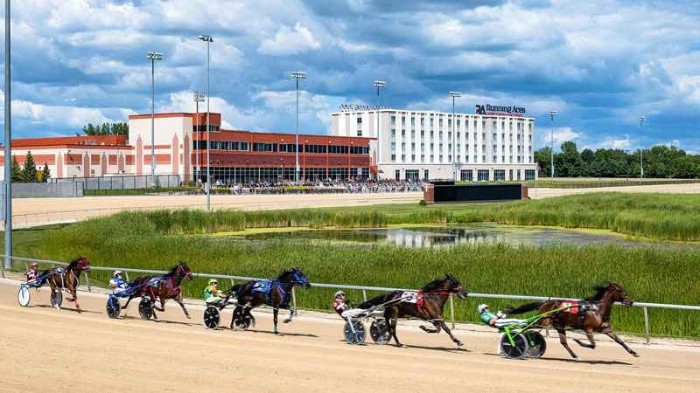 Running Aces Harness Park is a casino and live racetrack that has been open for business since 2008. It is located in Columbus and is open 24 hours a day, 7 days a week.
The casino offers a variety of gaming options, including harness racing, poker, blackjack, and more. The casino also features a restaurant, bar, and live entertainment.
It strives to provide its guests with the best possible service possible by offering top-notch customer service, great food from its onsite restaurant, and a wide variety of entertainment options throughout the year.
Guest satisfaction ratings for Running Aces Harness Park are generally positive. Most guests report that they had a great time at the casino and enjoyed the variety of gaming options available. They also appreciate the excellent customer service provided by the staff.
(Related reading: Minnesota casinos)
Gaming
This casino offers a variety of gaming options, including harness racing, poker, blackjack, and more. There are also a variety of slots available for those who prefer to play the one-armed bandits.
Table Games
This casino is the perfect spot to enjoy a fun night out playing table games. With several different options to choose from, everyone can find something that's just right for them.
Rise to the challenge of Mississippi Stud and try your luck with up to three hands at once in 3 Card. Take your gaming experience up a notch with 4 Card and Ultimate Texas Hold'em.
Blazing 7's Blackjack and I love Suits could be just what you're after if you're looking for some added excitement. For those seeking high-stakes action, check out High Limit Blazing 7's for the ultimate challenge.
Poker is also on offer, and plenty of tournaments are available every day for this game and all the other table games at the casino.
Whatever gambling game captures your attention, Running Aces has something for everyone – offering a huge range of table games with absolutely massive prizes available.
Running Aces table game minimums vary depending on the type of game being played. For most table games, the minimum bet is $2 per hand. In some cases, higher limits may be available upon request.
Slots
There are currently no slot machines available at this location.
Hotel/Resort
The casino is home to a deluxe hotel with over 180 beautifully appointed rooms. Guests can enjoy a range of recreational activities, such as an indoor pool and spa, a fitness center, and unforgettable live entertainment.
Some of the available room types are:
2 Queen Standard: Two Queen beds, option for a view of the track or no view.
Executive King (Track View): King bed, view of the track.
Suite (Track View): King bed, living space, view of the track.
Executive King with Bar: King bed, a wet bar, living space, and no track view.
Guests can enjoy a limited breakfast menu when staying at the hotel, room service, guest laundry, and a comfortable hotel bar.
Some of the amenities that can be found at the casino and hotel are:
Spacious rooms
Views of the track
Harness racing
Restaurant and bar
Indoor pool
Fitness center
Business center
Live entertainment
Private patio with fire pit
The cost of staying at the hotel varies depending on the type of room and the number of nights that you stay. Prices start at $98, and you will find that there are generous discounts for those who are part of the Running Aces loyalty program.
Check-in time at Running Aces Hotel is 4:00 pm
Check-out time at Running Aces Hotel is 11:00 am
Restaurants & Buffets
If you are looking for a good meal at the casino, they have the perfect place for you to satiate your hunger. The casino itself boasts one restaurant that serves a wide array of food and drinks—the perfect spot to stop after a long day at the harness races.
Their menu literally has something for everyone, with delectable dishes ranging from burgers and steak to tacos, sandwiches, and traditional American fare. Plus, they offer a lively bar scene so you can pair your meal with signature cocktails or beer from local microbreweries.
Additionally, there are several fast-food restaurants nearby as well if you want something quick or want to grab some treats for later.
Pools
When staying at the Running Aces hotel, guests can take advantage of the one indoor pool available. The pool is a great spot to relax and have some fun in between activities.
Whether you are looking to do laps or cool off, the sheltered space provides a comfortable experience year-round. There is also plenty of room for aqua aerobics and water sports.
The pool is exclusively for use by hotel guests and is not available to those visiting the tracks or the casino for the day.
Running Aces Harness Park Columbus, MN FAQ
Does Running Aces Harness Park Have A Sportsbook?
If you are looking for a sportsbook experience at this casino, you'll be pleased to know that this popular destination offers customers the ability to place wagers on many different types of live horse racing.
Whether your favorite sport is trotting or pacing, this 5/8-mile racetrack has it all. The entrance fee for these races is dependent upon the day and event.
One can make four types of bets – Win, Place, Show and Quinella/Exacta – as well as boxed specials.
Is Poker Available At Running Aces Casino?
This Casino is a great place to go for a fun night out playing poker. The casino has an impressive lineup of both traditional and contemporary poker variants to choose from, which means that all types of players can find something they will enjoy playing.
Poker options are available daily, with some big-money tournaments taking place on weekends and even bigger tournaments being held each month. For those looking to play in tournaments, there's no need to worry about table availability – everyone can get in on the action.
What Are The Age Requirements For Gambling At Running Aces?
The legal age for gambling at this casino is 21. This applies to all forms of gambling, from casino gaming to video lottery terminals and sports betting.
Gambling in any form with electronic real-money games also has an age restriction of 21.
It is also important to note that players may have to show a valid photo ID or other identification before they can start playing at the establishment.
Does Running Aces Harness Park Have An Online Casino?
Despite the fact that the park offers plenty of exciting gambling opportunities on-site, unfortunately, it does not feature an online version of its casino.
This means that those who wish to try their luck at blackjack or poker must travel to the facility to participate in these activities. However, while it might not be as convenient as playing from home, playing at this casino is definitely worth it.
The atmosphere is filled with excitement, and all the games are certified for fairness by independent auditors.
Is There A Running Aces App?
Unfortunately, at this time, there's no official app for iPhone or Android. However, there are still ways you can keep up with events and activities at the park without having to download an app.
The Running Aces website offers real-time updates on race schedules and simulcast events, as well as exclusive promotions and discounts on tickets. Additionally, you can follow their social media accounts on Facebook, Twitter, and Instagram to stay up-to-date with current happenings at the track.
Even without having your own mobile app, you'll still be able to access all of the information about the casino that you need when you need it.
What Is The Dress Code At Running Aces Harness Park?
The dress code at this casino is casual. Although some patrons may choose to dress up for an evening out, it's not necessary.
The casino has a strict policy against clothing or accessories that could be considered offensive or disrespectful. This includes items with obscene language or graphic images and clothing that could be seen as derogatory towards any group of people.
Is There An Airport Shuttle Available From Running Aces Casino and Hotel?
The casino provides a convenient and cost-effective shuttle service to Minneapolis-St. Paul International Airport (MSP) with prices starting at less than $140.
This service is available 24 hours a day, 7 days a week, for both arrivals and departures. It can be booked using the casino's website or by calling the customer service line.
What Is The Smoking Policy At Running Aces Casino?
The casino has a strict no-smoking policy that applies to all areas of the facility, including gaming tables and hallways.
Electronic cigarettes are also not allowed inside the casino, though they can be used in designated outdoor smoking areas. Additionally, those visiting with children must keep them away from any smoking areas at the park.
What Is The Pet Policy At Running Aces Harness Park?
The casino does not allow animals on the premises, with the exception of service animals. Those wishing to bring a service animal must make special arrangements with the management before they can enter the casino.
Is Wifi Available At Running Aces Harness Park Casino and Hotel?
Yes, free wifi is available throughout the entire facility. This is a great feature for those who need to stay connected while they are at the casino.
Additionally, there are several charging stations located around the casino where guests can charge their phones or other devices.
What Is The Cancellation Policy For Running Aces Hotel?
If you need to cancel a reservation at Running Aces Harness Park, MN, you can do so without penalty up to 24 hours before your scheduled check-in time.
Cancellations made within 24 hours of the scheduled arrival will be charged for one night's stay and all other prepaid charges. Any cancellations after this time period may be subject to additional fees or penalties, depending on the individual hotel's policy.
Conclusion
Running Aces Harness Park is a great place to go for some fun and entertainment. With its wide array of exciting games, comfortable accommodations, and convenient shuttle services, it's easy to see why this casino has become so popular.
Whether you're looking for a night out on the town or an evening of relaxation, Running Aces Harness Park has something for everyone. Be sure to check out the website and social media accounts for up-to-date information about events and promotions at the casino.
Don't forget to read up on their dress code, smoking policy, pet policy, wifi access, and cancellation policies before you go.