Seven Clans Casino Red Lake
Address: 10200 MN-89, Red Lake, MN 56671
Phone number: +1 888-679-2501
Website: https://www.sevenclanscasino.com/casino/red-lake/
Hours: The opening hours for the Seven Clans Casino Red Lake are: Friday 8 am–4 am, Saturday 8 am–4 am, Sunday 8 am–4 am, Monday 8 am–2 am, Tuesday 8 am–2 am, Wednesday 8 am–2 am and Thursday 8 am–4 am.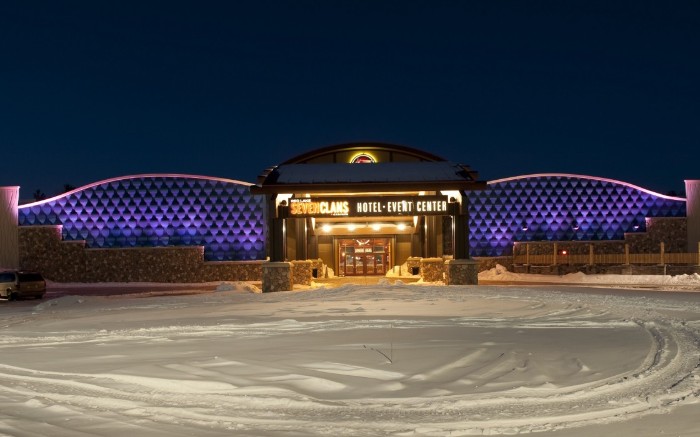 The Seven Clans Casino Red Lake was first established in 2009. It is owned and operated by the Red Lake Band of Chippewa Indians, a federally recognized tribe of Chippewa Indians. The casino has over 300 slot machines, as well as a hotel with 40 rooms and an RV park.
The casino also provides a variety of entertainment options, including live music and comedy shows. Plus, the casino offers two restaurants for visitors to enjoy. It might be small, but it offers a personal atmosphere that will keep you coming back for more.
Guests rate the casino highly. It has a 3.8 out of 5-star rating on Google Reviews, and guests often comment on the great selection of games and the fun atmosphere.
Additionally, guests also praise the friendly and helpful staff, noting that they go above and beyond to make sure everyone who comes to visit has a great time.
(Related reading: Minnesota casinos)
Gaming
This casino offers a variety of gaming options, including slots, video keno, and video poker. The slot machines range from a nickel to dollar games in a variety of themes.
Table Games
Currently, this casino does not offer any table games.
Slots
For guests seeking high-paying slots and an opportunity for excitement, this casino has over 300 slot machines to choose from that are sure to pique your interest. Some of the most popular slot machines here include:
Double Diamond
Triple Stars
Wheel of Fortune
Hot Shot Progressive
Wild Cherry
Quick Hits Platinum
The payback percentage for slot machines at this casino is not publicly available. However, the payback percentage for the state of Minnesota tends to be between 80% and 95%, which should give you a good idea of what to expect.
Hotel/Resort
The Seven Clans Red Lake has a 40-room hotel with luxurious suites in addition to RV parking. The hotel rooms are large, clean, and equipped with modern amenities like flat-screen TVs, mini-fridges, and more.
The hotel was renovated and reopened in March 2022, which means it boasts entirely new decor. The room types include:
Standard Suite: Two Queen beds and amenities.
Standard Deluxe Suite: Two Queen beds, hideaway bed, balcony, and amenities.
Deluxe Fireplace Suite: Two Queen beds, futon, outdoor space, fireplace, and amenities.
Executive Suite: King bed, walk-out patio, fireplace, and amenities.
Chairman's Suite: King bed, walk-out patio, fireplace, dining area, and amenities.
Some of the amenities included at the resort are:
40 newly renovated rooms
RV parking
Restaurants
Indoor pool
Hot tub
Meeting rooms
Live entertainment
Banquets and weddings
Gift shop
The rates for rooms vary, depending on the time of year and availability. On average, you can expect prices to start from as low as $40 per night, but suites will tend to cost more. Prices may be higher during peak times or special events.
Check-in time at Seven Clans Red Lake Hotel is 3:00 pm
Check-out time at Seven Clans Red Lake Hotel is 11:00 am
Restaurants & Buffets
Whether you're looking for a casual bite during the day or a social atmosphere with friends at night, this casino offers an array of delectable selections.
For quick eats and fresh snacks during your gaming session, grab grub from the Snack Bar – from classic American favorites to Mexican cuisine, you can satisfy any craving in minutes. If you're after a more gourmet experience, head to The Warrior's Grill for lunch and dinner.
From juicy steaks to roasted chicken dishes here you can indulge in elevated plates crafted with market-fresh ingredients.
Pools
This casino not only offers a plethora of exciting gaming opportunities but also provides a variety of recreational activities. Two of the most popular among these are the indoor pool and hot tub located at the hotel.
During the summer months, locals and visitors alike can enjoy swimming laps in their heated outdoor Olympic-style pool or relaxing in their bubbling hot tub that is always maintained at a warm, safe temperature.
Seven Clans Casino Red Lake, MN FAQ
Does Seven Clans Casino Red Lake Have A Sportsbook?
This casino may be renowned for its gaming but it does not offer a sportsbook. Customers who are interested in betting on sports events will have to look elsewhere.
For those looking for a different kind of wagering experience, there are plenty of other options available in the area including mobile betting apps and online sportsbooks that are capable of satisfying all forms of bettors' needs with competitive odds and convenience.
Is Poker Available At Seven Clans Casino?
This casino may not have poker as a formal table game, but it offers plenty of exciting gaming options for visitors. Those who are looking for the thrill of poker can still find something to enjoy at the casino.
Video poker machines are available on the game floor, offering all the excitement that card-based games bring without having to worry about face-to-face interaction with other players.
What Are The Age Requirements For Gambling At Seven Clans Casino?
For those looking to try their luck at this casino, one important rule must be followed before placing a bet – you must be 21 years of age or older.
While many states have lowered the legal gambling age to 18, Minnesota still requires anyone wanting to participate in games of chance or skill at casinos to satisfy the minimum age requirement of 21.
As such, individuals who are under the age of 21 are prohibited from entering into any gaming activities or contests offered by the casino. Furthermore, valid government-issued photo identification is required for admittance, and at any point during your visit, you may be asked to provide proof of age.
Does Seven Clans Casino Red Lake Have An Online Casino?
Unfortunately, this casino does not have an online casino option. Players interested in enjoying the experience will have to visit real-life locations and make use of their excellent services.
Nonetheless, those who do go in person are sure to be overwhelmed by the quality of their gaming experiences.
Is There A Seven Clans Casino App?
Unfortunately, while this casino is committed to providing an exceptional gaming experience, they currently do not have an app available in the Apple or Android stores.
However, they provide services on their website that make it easier than ever to stay up-to-date with their special events, current promotions, and daily jackpot amounts. In addition, you can join their email list to receive exclusive offers that you won't find anywhere else.
The casino offers a text message service for customers who want to receive news about events happening at the casino.
What Is The Dress Code At Seven Clans Red Lake?
The dress code at this casino is casual, neat attire. Shirts and shoes must be worn at all times while in the casino. Additionally, those looking to dine at their signature restaurant are required to dress in business casual apparel.
This includes collared shirts, slacks or jeans, and closed-toe shoes for men; and dresses, skirts, or pantsuits for women. No tank tops or flip-flops are allowed in the restaurant.
Is There An Airport Shuttle Available From Seven Clans Casino Red Lake?
This casino does not offer an airport shuttle service. While there is no direct bus or shuttle to the casino from the nearest airport, many car rental companies near the airport can get you to your destination safely and safely.
What Is The Smoking Policy At Seven Clans?
This casino follows a strict no-smoking policy. This means that smoking is prohibited in all areas of the casino, including the gaming floor, restaurants, and bars.
E-cigarettes and vaporizers are also not allowed on the premises. The casino does provide designated smoking areas for those who wish to smoke outdoors on the property.
These areas are marked with signs and are located at the designated entrances of the casino. Guests must remain within these designated smoking areas while smoking.
What Is The Pet Policy At Seven Clans Casino and Hotel?
Unfortunately, this casino does not allow pets on the premises. Service animals are allowed, but all other animals must remain at home while you're visiting the casino.
In order to accommodate customers with service animals, special accommodations may be requested in advance.
Is Wifi Available At Seven Clans Hotel & Casino?
Yes, this casino does provide free wifi for guests. To connect to the network, simply select "Seven Clans Casino Red Lake" from your list of available networks on your device and enter the password provided at check-in.
Once connected, you can enjoy unlimited access to the internet during your stay.
What Is The Cancellation Policy For Seven Clans Hotel?
The cancellation policy for this casino depends on the type of reservation. For reservations made directly through the casino, cancellations must be received no later than 24 hours before your arrival date to receive a full refund.
For third-party reservations, customers should refer to their confirmation email or contact the hotel directly for more information about the cancellation policy.
Conclusion
Seven Clans Casino Red Lake is a great option for gaming and entertainment. With their wide variety of slots, table games, and other amenities, guests are sure to enjoy an unforgettable experience at this casino.
The dress code is casual and neat attire, and smoking is not allowed on the premises. However, they do have designated smoking areas outside. Pets are not allowed, but service animals can be accommodated with prior notice. Wifi is available for all guests, and the cancellation policy depends on the type of reservation made.
With so much to offer, Seven Clans is a great choice for your next gaming getaway.