Seven Clans Casino Thief River Falls
Address: 20595 Center St E, Thief River Falls, MN 56701
Phone number: +1 800-881-0712
Website: https://www.sevenclanscasino.com/
Hours: The Seven Clans Casino in Thief River Falls is open 24 hours a day 7 days a week.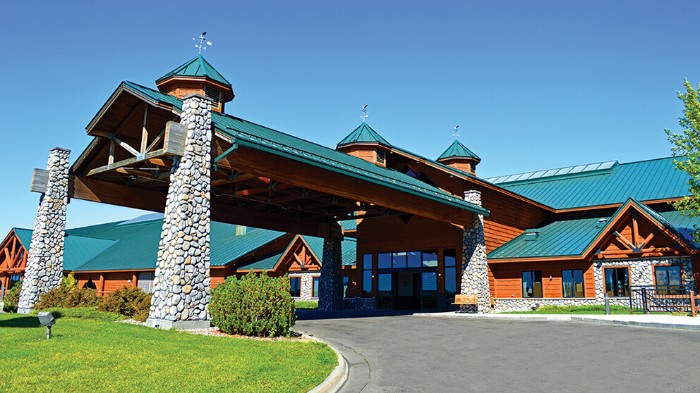 The Seven Clans Casino in Thief River Falls, Minnesota, has a long and interesting history. It was founded in 1994 as the Shooting Star Casino and was the first casino in the state of Minnesota.
In 2006, it was acquired by the Seven Clans Casino group, which is a Native American tribe based out of Oklahoma. The casino underwent a major renovation in 2007, which doubled its size.
It is now one of the largest casinos in the state, with over 100,000 square feet of gaming space and a 40,000 square-foot water park, in addition to a spacious hotel and live events.
The Seven Clans is a popular casino, and guests generally rate it positively. It has a wide variety of gaming options, as well as a variety of restaurants and other amenities.
(Related reading: Minnesota casinos)
Gaming
This casino offers over 650 of the latest slots, video keno, and video poker games. Additionally, they also provide the classic table game blackjack if you want to try your luck.
Table Games
The casino offers players access to one of the most popular table games: Blackjack. It combines chance with strategy and can be played in various formats. At Seven Clans, guests can participate in four-hour blackjack tournaments or in traditional hands of play.
Players will find plenty of tables to choose from, with many low-stakes games available that are perfect for those on a budget.
The table game minimums and limits vary depending on the day and time you choose to play. During peak hours, such as weekends, holidays, or special events, you can expect higher minimums than during off-hours.
Slots
The casino offers a wide selection of slots, from classic three-reel games to the latest video and progressive slot machines. Popular titles include:
Wheel of Fortune
Triple Red Hot 7s
Buffalo Gold Revolution
Lightning Link
Dragon Link
Zeus III
Money Rain Deluxe
The Seven Clans Casino payback percentage is not publicly available. However, the payback percentage for the state of Minnesota is between 80% and 95%.
Hotel/Resort
The casino also offers a hotel and resort, which are great for those who want to stay in the area or enjoy a night away. The resort has spacious rooms, including suites, as well as outdoor pools and hot tubs.
Room types include:
Standard Suite: Two Queen beds with sleeper sofa or one King bed with sleeper sofa.
Fireplace Suite: Two Queen beds with a sofa or one King bed with a sofa. Programmable fireplace.
Two on-site restaurants give you a little variety during your stay. Additionally, the casino is home to a 40,000-square-foot water park and plenty of live events to keep you entertained.
Some of the amenities included in the resort are:
Waterpark
Arcade
Events
Parties
Restaurants
Luxurious rooms
Gift shop
The cost of a room at the Seven Clans Casino Thief River Falls, MN, varies depending on the time of year and availability. Prices start from as little as $34.95 per night and will be more expensive without special offers and if you want a suite.
Check-in time at Seven Clans Hotel is 3:00 pm
Check-out time at Seven Clans Hotel is 11:00 am
Restaurants & Buffets
Visitors to Seven Clans Casino Thief River Falls, MN, are in for a gastronomic treat. Located within the casino complex, the River Road Cafe serves up all-American favorites, from tacos and burgers to steak and seafood.
Both indoor seating and outdoor patio dining are available, with options for takeout. The Triple Sevens Walk-Up Eatery is also on-site with street-style favorites like hot wings, pizza, and traditional combinations such as spaghetti, meatballs, or Europa chicken.
For groups looking to dine together, nationwide chain restaurants can be found just a few blocks away from the casino
Pools
If you're looking for an exciting and truly immersive experience, you won't miss Seven Clans. Not only does the casino offer guests a chance to try their luck at countless gaming options, but it also boasts a stunning 40,000-square-foot water park that everyone is invited to enjoy.
The expansive facility consists of multiple pools, slides, and a lazy river, all connected by an aquatic playground.
Families can relax in the enormous heated leisure pool or take turns zooming down the corkscrew slide for hours of nonstop entertainment. Kids of all ages will be sure to love exploring the wading pool with multiple rainfall features and geysers.
Both visitors and hotel guests alike can spend the day galivanting around this impressive waterpark oasis or enjoy much-needed rest and relaxation as they unwind among views of breathtaking scenery. There's even an arcade and a snack bar available all day.
Seven Clans Casino Thief River Falls, MN FAQ
Does Seven Clans Casino Have A Sportsbook?
This casino might not have a sportsbook, but it still has plenty of exciting gaming and entertainment options. Visitors can find live music acts throughout the week and a fun-filled waterpark to cool off during the summer months.
Is Poker Available At Seven Clans Casino?
For those looking to try their luck with a more classic game, this casino also offers card gaming, such as blackjack, a popular poker variant. There is also the option to play video poker if you aren't quite feeling blackjack.
What Are The Age Requirements For Gambling At Seven Clans Casino Thief River Falls?
Gambling at this casino is strictly limited to visitors who are at least 21 years old. This rule applies no matter what type of gambling activity you plan to partake in.
This rule also applies to the casino's video poker machines. Identification verification is required for entry, so ensure you bring your driver's license or another form of picture identification proving you are 21 or older.
Does Seven Clans Have An Online Casino?
The company currently operates six locations spread across five states, offering guests a wide array of fun and exciting gaming experiences.
While their terrestrial casinos provide plenty of entertainment opportunities, Seven Clans does not have an online casino counterpart.
The primary reasons for this are legal ones; the owner state governments tightly regulate gambling activities in the US and do not currently allow any type of virtual casino operation within their borders.
Is There An Seven Clans Casino Thief River Falls App?
For those who prefer the convenience of playing from their mobile device or laptop rather than visiting the casino in person, there is, unfortunately, no app at this time.
The resort provides an up-to-date website with useful information on current promotions and highlights via its blog page, but players looking for a more immersive experience must still travel to the casino to play any of its array of machines or table games.
What Is The Dress Code At Seven Clans Casino Thief River Falls?
The casino itself on being a comfortable and welcoming environment for everyone who visits. The casino has adopted a casual dress code as part of that commitment.
Guests who are visiting the casino are encouraged to wear whatever clothing makes them feel comfortable and relaxed. There is no need for anyone to worry about putting together an overly formal outfit for their gaming experience.
However, the casino has specific guidelines to ensure all guests feel welcome and respected. Footwear must be closed-toe shoes, hats may not be worn indoors, clothing should not display offensive language or symbols, and beachwear is not allowed in the casino areas.
Is There An Airport Shuttle Available From Seven Clans Casino Thief River Falls?
No, there is not an airport shuttle available from this casino. Guests will have to arrange their own transportation from the nearest airport or bus station.
The closest airports to Seven Clans Casino Thief River Falls are Grand Forks International Airport (GFK) and Bemidji Regional Airport (BJI), both located about 180 miles away.
What Is The Smoking Policy At Seven Clans Casino?
The casino has a strict no-smoking policy, which includes all indoor areas.
The casino does have designated smoking areas near the entrances and exits of certain buildings, such as the hotel's lobby area. These areas are clearly marked with signs, and there is also signage to remind guests not to smoke in any public spaces throughout the resort.
What Is The Pet Policy At Seven Clans Casino?
The resort does not allow pets on the premises except for service animals registered and trained to help people with disabilities.
Guests may bring their service animal inside the casino, but they must inform staff upon check-in to make appropriate accommodations. All non-service animals must remain outside of the casino and all other areas of the resort.
Is Wifi Available At Seven Clans Casino Thief River Falls?
Yes, the resort offers complimentary WiFi throughout its various areas. This includes the casino floor and hotel rooms.
The wifi service is password protected; guests must enter their room number or a code provided by staff to connect. Guests should also note that additional data charges may be depending on their phone carrier's service plan.
What Is The Cancellation Policy For Seven Clans Casino?
The resort has a 24-hour cancellation policy, in which guests must cancel their reservation before 4 pm on the day prior to their scheduled arrival.
In the event that the booking is made within the 24-hour window, guests will be refunded for any payments they have already made and charged a processing fee.
Conclusion
Seven Clans Casino is a great destination for anyone looking to get away from it all and enjoy the thrills of casino gaming.
With an up-to-date website, casual dress code, no smoking policy, and complimentary wifi service, guests can rest assured that their stay will be as comfortable and enjoyable as possible.
Additionally, the resort's 24-hour cancellation policy ensures that travelers can easily change their plans if needed.
Overall, Seven Clans Casino Thief River Falls is the perfect getaway spot for gamers of all types. Whether it be slots, table games, or a night out on the town, the casino has something to offer everyone who visits.