Seven Clans Casino Warroad
Address: 34966 605th Ave, Warroad, MN 56763
Phone number: +1 218-386-3381
Website: https://www.sevenclanscasino.com/casino/warroad/
Hours: The Seven Clans Casino is open 24 hours a day 7 days a week.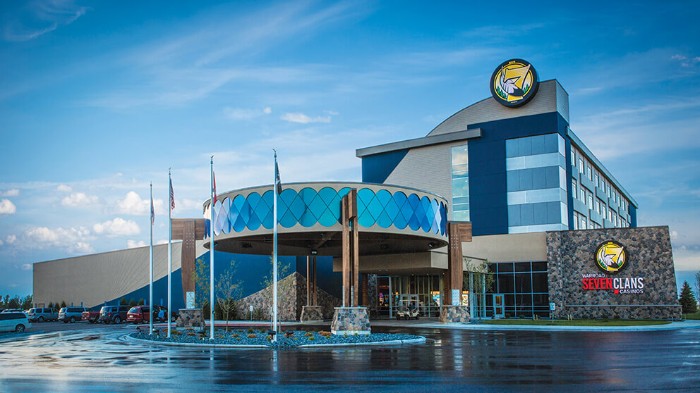 The Seven Clans Casino Warroad has a rich history dating back to its opening in 1996. The casino became the first of the franchise to be able to sell alcohol in 2019, and it remains the sole location that's able to do so.
Today, the casino is one of the most popular casinos in Minnesota, thanks to its wide variety of games, luxurious spa, and a spacious 60-room hotel.
In addition to its gaming options, visitors can also enjoy a variety of delicious dining options at one of the three restaurants available to guests.
The Seven Clans is a highly-rated casino in Minnesota. Guests give it high marks for its great selection of games, ample parking, and friendly staff.
(Related reading: Minnesota casinos)
Gaming
The casino is home to over 580 slot machines, as well as video keno and video poker. It also provides access to blackjack and live poker as table games.
Table Games
For those looking for an exciting night at the casino, they have a good variety of table games to choose from. Enjoy the classic game of Blackjack, where you can test your luck against the house and see if you can get as close as possible to 21 without going over.
For true card sharks, there is poker played with real-life dealers so you can test your skills against other players and feel that rush of excitement when your hand wins the pot.
From Thursday-Sunday there are several different live poker tournaments that you can take part in, each of which has fantastic prizes that you won't want to miss out on.
The minimum bet for table games is $10. However, some of the more popular tables may have higher minimums depending on demand and availability.
Slots
With over 580 slot machines, guests at the casino will be spoiled for choice. Popular slot machines at the Seven Clans Casino include:
Cleopatra
Wheel of Fortune
Quick Hits Platinum
Fruit Frenzy
These classic slots are sure to give players a great experience when trying their luck on them. The casino also features some of the newest and most popular video slots for players to enjoy.
The payback percentages for slot machines at the casino are not publicly available. However, the payback percentage for the state of Minnesota tends to be between 80% and 95%.
Hotel/Resort
The casino features a 60-room hotel and resort. Guests can enjoy their stay in one of the luxurious rooms available, which feature flat-screen televisions, air conditioning, and complimentary Wi-Fi.
Room types include:
Double Queen Room: Two Queen beds and amenities.
King Room: One King bed, sleeper sofa, and amenities.
Lake View Suite: One King bed, sleeper sofa, amenities, and balcony with lake view.
The resort also offers a spa, sauna, and jacuzzi for visitors to relax in as well as a sit-in pool. Guests can dine in one of the three restaurants on-site or take advantage of the bar and lounge.
Additionally, RV and truck parking is available for those who wish to travel in their motorhomes to visit the casino.
Some of the amenities included at the hotel and casino are:
60 spacious rooms (plus suites)
Spa
Jacuzzi
Sauna
Sit-in pool
Restaurants
Banquets, events, and weddings
Live entertainment
RV and truck parking
Gift shop
Room rates vary but generally start at around $34.95 a night when using the special offers on the website. If you decide to stay in a suite or during peak season, you can expect to pay more.
Check-in time at Seven Clans Warroad Hotel is 3:00 pm
Check-out time at Seven Clans Warroad Hotel is 11:00 am
Restaurants & Buffets
The casino has an abundance of delicious dining options sure to satisfy any craving. The Willows offers casual upscale American fare with local ingredients and a stunning view of the lake.
If you're looking for something a bit more lighthearted and wallet-friendly, Cattail Cafe is ideal – featured on the food network's Diners Drive-Ins and Dives, this cafe serves unpretentious classic dishes with a generous side of southern hospitality.
Finally, for late-night revellers looking for a place to grab a bite after a night on the town, The Sand Bar at Seven Clans has you covered with homemade pub grub and 25 beers on tap.
Pools
They offer two pools – one sit-in pool and one jacuzzi – both of which provide a soothing and relaxing atmosphere. In addition, guests can take advantage of their sauna and spa amenities.
The sauna creates an intense and reviving experience, while the spa offers various types of massage and beauty treatments, perfect for those looking to give their bodies some well-deserved attention.
Seven Clans Casino Warroad, MN FAQ
Does Seven Clans Casino Have A Sportsbook?
Sadly, this casino does not feature a sportsbook. This means that visitors will not be able to place bets on the outcomes of sporting events such as football, basketball, or baseball games.
However, there are still plenty of opportunities for fun and entertainment at the casino.
Is Poker Available At Seven Clans Casino Warroad?
Yes, there is live poker and blackjack at the casino. The poker room at the casino provides plenty of options for both casual and avid players since they have a full range of live poker and blackjack tables.
You'll find tournaments from Thursday through Sunday, special events, contests, exclusive Jackpots, and unbeatable promotions throughout the year.
What Are The Age Requirements For Gambling At Seven Clans Casino?
At the casino, the legal age for gambling is 21. If you plan to visit the casino, you must be of legal age as determined by state and federal law.
The casino does not accept or offer gaming services for anyone under the age of 21, regardless if accompanied by an adult. Identification will be required upon entry to verify that you are at least 21 years of age.
Casino staff may ask guests to produce valid identification throughout their time on the premises for added security and peace of mind. This requirement applies to all areas of the casino, including video gaming terminals and online games.
Does Seven Clans Have An Online Casino?
This casino does not have an online casino. If you are looking for the thrills of traditional gambling at the Warroad location, you will need to visit in person.
While there are plans for a casino expansion at the Warroad location, it is not yet clear if these plans also include branching out into online gambling.
Is There A Seven Clans Casino App?
For those looking to access all of the casino's gaming and entertainment services, an app is not (yet) available.
While the online world at 7clanscasino.com provides a wealth of information with clickable links to learn more about events, promotions, and offerings taking place weekly, the only way to enjoy the multitude of activities available at the casino is in person.
What Is The Dress Code At Seven Clans Casino?
The dress code at the casino is fairly relaxed. While guests are welcome to wear whatever they feel comfortable in, it is recommended that they keep their attire neat and clean as a courtesy to other guests.
Generally accepted clothing items include collared shirts or t-shirts without offensive messages, jeans, shorts, and closed-toe shoes. Caps and sunglasses are allowed in the casino. However, hats and hoods must be removed when entering any of the restaurants or bars.
For special events, it is recommended that guests dress to impress as per the event's specific requirements.
Is There An Airport Shuttle Available From Seven Clans Casino Warroad?
Yes, the casino offers a shuttle service for guests traveling from Minneapolis/St. Paul International Airport (MSP).
The shuttle is available with advance reservation only and runs from 8 am to 11 pm seven days a week. The airport shuttle costs $50.00 each way and includes luggage assistance.
What Is The Smoking Policy At Seven Clans Casino?
The casino is a smoke-free facility. Smoking and/or vaping (including the use of e-cigarettes) are not allowed anywhere within the casino or its outdoor areas.
Designated smoking areas are available outside the main entrance and at each end of the parking lot for guests who wish to smoke during their visit. All guests must use these designated areas if they wish to smoke.
The casino also has a state-of-the-art air filtration system to ensure a safe, comfortable and healthy environment for all its guests.
What Is The Pet Policy At Seven Clans?
The casino does not allow pets inside the hotel or on the casino floor, except for service animals. For guests who are travelling with pets, pet-friendly accommodations can be found nearby in Warroad.
Is Wifi Available At Seven Clans Hotel & Casino Warroad?
Yes, free wifi is available throughout the casino and hotel. Guests can connect to the "Seven Clans Casino Warroad" network after agreeing to the terms and conditions of use.
The wifi is provided as a convenience for guests and should not be used for illegal activities such as downloading copyrighted material or accessing secure private networks.
What Is The Cancellation Policy For Seven Clans Hotel Warroad?
Cancellations must be made at least one day prior to the arrival date in order to avoid being charged a cancellation fee. Guests can cancel their reservation online, via phone, or by email.
For special events and promotions, please contact the casino directly, as cancellation policies may differ depending on the event or offer.
Conclusion
Seven Clans Casino Warroad provides an exciting entertainment experience for guests of all ages. From the lively casino floor to the luxurious hotel and delicious dining options, there's something for everyone at this vibrant destination.
Be sure to take advantage of the many amenities available, including complimentary wifi and a state-of-the-art air filtration system, as well as the pet-friendly accommodations available nearby. Don't forget to check out their special events and promotions for even more fun!
​​