Shooting Star Casino Mahnomen
Address: 777 S Casino Rd, Mahnomen, MN 56557
Phone number: +1 800-453-7827
Website: https://www.starcasino.com/
Hours: This casino is open 24 hours a day 7 days a week.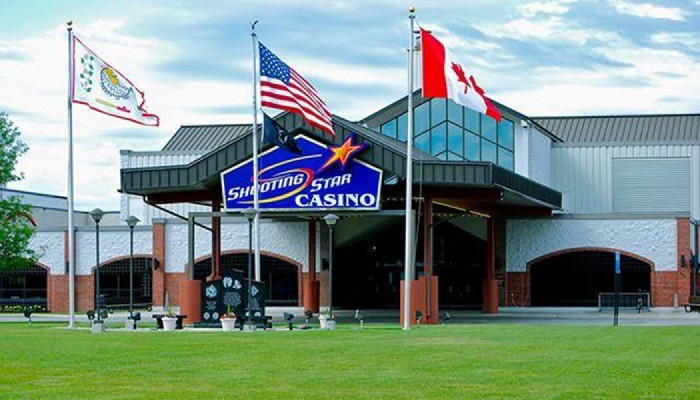 The Shooting Star Casino, located in Mahnomen, Minnesota, is a Native American casino that has been in operation since 2016.
The casino is open 24 hours a day and offers a variety of gaming options, including slots, table games, and poker. The casino also has a hotel, spa, and several restaurants.
The casino offers great promotions, special events, and shows year-round. Guests can enjoy live music and entertainment in the Shooting Star Event Center or relax by the pool in the hotel.
Food selections range from award-winning buffets to full-service restaurants with handcrafted cocktails.
Shooting Star Casino also offers a variety of gaming options for all skill levels. There are over 1,100 slot machines and a variety of table games, including Blackjack, Ultimate Texas Hold 'em, and poker.
The guests who have visited the Shooting Star Casino have rated it 3.8 out of 5 stars. The guests appreciate the variety of gaming options available, as well as the promotions and special events.
(Related reading: Minnesota casinos)
Gaming
This casino offers 1,100 slots and a variety of table games, offering guests an opportunity to play their favorite game. The casino also offers a selection of Poker tournaments with fantastic jackpots.
Table Games
If you're looking for an exciting gaming experience, look no further than this casino. With a wide variety of table games to choose from, patrons can try their hand at the casino's selection of classic favorites like Ultimate Texas Hold'em, Tri-Lux Blackjack, and Multi-Link progressive.
Additionally, those who prefer a more high-stakes strategy game can opt for Blazing 7's Progressive and Casino Poker – both of which offer the potential for big wins.
When you need something more casual, consider a trip to the casino's traditional bingo hall to enjoy interactive rounds of Casino Bingo, whether you're an experienced player or just looking for some light-hearted fun.
At Shooting Star Casino, the table games have a low minimum bet of $5 and a maximum bet of up to $500. This makes it easy for players to find their perfect game.
Slots
With more than 1,100 slot machines at this casino, it can be tough to choose just one to play. Popular slot machine titles to consider include:
$tinkin' Rich
3/5/10 Poker
5 Dragons Gold
88 Fortunes
Action Cash
American Original Gold Suite
Ancient Dragon
Athena Unleashed
The slot machine payback percentage at this casino has not been made publicly available. However, the payback percentage for the state of Minnesota is between 80% and 95%, which should give you a good idea of what you can make back.
Hotel/Resort
The Shooting Star Casino Hotel offers a variety of amenities for guests, including an indoor pool, a fitness center, and a spa. There is ample parking in the on-site RV park for those traveling in an RV.
The hotel also offers several restaurants and bars, as well as live entertainment in the casino's event center and a comfortable lounge.
The hotel rooms feature comfortable beds with plenty of pillows, complimentary Wi-Fi access, and flat-screen TVs.
Room types include:
Standard Single Queen: Queen bed, no smoking, and amenities.
Standard Double Queen: Two Queen beds, no smoking, and amenities.
Standard Double Queen (Pet Friendly): Two Queen beds, no smoking, and amenities.
ADA King with Shower or Tub: King bed, no smoking, shower or tub, and amenities.
Guests will also be able to enjoy complimentary access to the pool and fitness center and can go to the spa if they feel like relaxing a little. There is also a hot tub if you want to spend time getting warm.
Some of the amenities included at the resort are:
386 deluxe rooms
24 elegant suites
RV park
Restaurants
Buffet
Live entertainment
Entertainment lounge
Indoor pool
Hot tub
Spa
Fitness center
Weddings and events
Tours
Gift shops
The cost of a stay at Shooting Star Casino depends on the type of room you are looking for and the length of your stay. Prices start from $90 per night for standard rooms and increase for the larger rooms and the suites.
Check-in time at Shooting Star Hotel is 4:00 pm
Check-out time at Shooting Star Hotel is 11:00 am
Restaurants & Buffets
If you're looking for a great meal or something cold to drink, this casino has some of the best spots. 2ONE8 is the perfect spot for a relaxing breakfast or lunch from their exclusive two-course menu.
If you're in the mood for some smoked meats, SMOKE BBQ & BREW has plenty of delicious options to whet your appetite, with rustic sides and sauces to complement any selection.
For something on the more traditional side, MINO WIISINI offers a full dinner menu of classic comfort food and delectable desserts.
Lastly, for an after-hours beverage, there's STARMART LIQUORS and STARMART C-STORE – both fully stocked with drinks as well as snacks to keep you going until early morning.
Buffet Prices
If you're looking for delicious, quality food at an affordable price, look no further than the buffet at this casino. On Fridays, they offer a dinner buffet starting at 5 pm through 9 pm that is sure to tantalize your taste buds.
Included are steak with burgundy mushrooms and whiskey onions, shrimp, broasted chicken, lemon caper cod, and other delightful traditional dishes – all for only 24.99.
On Saturday, you can enjoy their breakfast buffet from 8 am-12 pm featuring scrambled eggs, omelets, hash brown bake, hash browns, sausage, ham, french toast sticks, and biscuits & gravy – just 13.99.
Then on Saturday evening, come back for the Prime Rib night with a choice cut served with all the fixin's plus other traditional favorites – once again for only 24.99.
Lastly comes Sunday Brunch from 9 am-2 pm, where you can savor your favorite breakfast specialties along with broasted chicken as well as other classic dishes – all at 17.99.
Pools
The hotel has a number of amenities to make every stay enjoyable, one of these being the indoor pool and hot tub available to guests.
Whether you're looking for some leisurely swimming or a bit of exercise, the resort has something for everyone. The fitness center provides plenty of exercise options so that visitors can get their daily workouts in without leaving the premises.
For those who want to further relax after their workout sessions, there is also a steam sauna and spa with massage chairs and other luxurious features to top off your visit.
Shooting Star Casino Mahnomen, MN FAQ
Does Shooting Star Casino Have A Sportsbook?
Unfortunately, this casino does not currently have a sportsbook. The casino offers sports-related entertainment on big screens throughout the facility, but no betting is allowed.
Although they may choose to add this service in the future, there are currently no plans to do so. In the meantime, people looking for that type of experience can check the options available at nearby casinos in Minnesota or out-of-state venues.
Is Poker Available At Shooting Star Casino?
For the poker fanatics out there, you'll be happy to know that this casino is a great place to satisfy your craving.
This casino offers plenty of options when it comes to its poker selection. There are classic Texas Hold'em tables and a wide variety of other variations and tournaments available.
Whether you're looking for a simple game for two players or a larger tournament with eight or more competitors, you'll be able to find something suitable at this casino.
What Are The Age Requirements For Gambling At Shooting Star Casino?
This casino takes its responsibility to provide safe and responsible gambling experiences seriously. That is why the age requirement for all casino gaming activities, including shooting star lotto, table games, slot machines, and bingo, is 21.
This ensures that only those of legal age play in the casino, per state regulations and laws. All guests must have valid identification on them at all times in the form of a driver's license, passport, or military ID card, which shows they are of legal age to play.
Does Shooting Star Have An Online Casino?
If you're wondering whether this casino has an online casino, the answer is yes. You can now play your favorite table and slot games from the comfort of your own home, thanks to Shooting Star's online platform.
Featuring its own distinct virtual environment as well as a vast selection of slots and blackjack tables, this digital realm offers plenty of new and exciting ways to have fun and win big.
Is There An Shooting Star Casino App?
Whether you're visiting the casino or like to play casino games from the comfort of your own home, you'll be delighted to know that there is an app.
This user-friendly app makes it easy to access your favorite games while also providing you with valuable information about upcoming shows and events at the casino.
You can check out the current promotions and events on the app and look up detailed maps for all of their locations so that you never get lost.
What Is The Dress Code At Shooting Star Casino?
The dress code at this casino is casual, although guests are encouraged to dress in neat and respectable attire.
Shorts, jeans, athleisure wear, t-shirts, and tank tops are all acceptable options; however, swimwear or clothing with explicit language should be avoided. Furthermore, visitors should refrain from wearing hats or hoods, and open-toed shoes should be avoided.
Is There An Airport Shuttle Available From Shooting Star Casino?
Unfortunately, there is no airport shuttle available from this casino at this time. However, the casino does offer a free shuttle service to those who wish to visit the nearby White Earth Indian Reservation, which contains a number of cultural and historical sites.
This shuttle operates on Saturdays only and can be booked directly through the casino's website.
What Is The Smoking Policy At Shooting Star?
This casino follows a strict no-smoking policy in all indoor areas of the property. Guests who wish to smoke must do so outside, away from any open windows or other entry points.
However, an outdoor smoking patio is located near the casino entrance, providing smokers with a place to light up while still being close to the casino floor. The smoking patio is open 24 hours a day and offers comfortable seating, ashtrays, and refreshments.
What Is The Pet Policy At Shooting Star Casino Minnesota?
Pets are allowed in the hotel's pet-friendly rooms and can be on the casino floor during specific times as long as they are leashed.
The hotel provides special amenities such as pet beds and food bowls for guests who choose to bring their pets on vacation. Additionally, all pet-friendly rooms also feature an array of pet-friendly services, such as grooming and walking services.
Is Wifi Available At Shooting Star Hotel & Casino?
Yes, free WiFi is available throughout the entire property at Shooting Star Casino. Guests can connect to the internet from anywhere in the hotel or casino and enjoy fast, reliable speeds.
There is also a business center for those who need to check emails or search online for information about upcoming events or promotions. Additionally, guests can make use of the complimentary high-speed printing services for their convenience.
What Is The Cancellation Policy For Shooting Star Hotel?
The cancellation policy for Shooting Star hotel is 7 days in advance of the check-in date. Guests must cancel at least 7 days prior to their arrival date in order to receive a full refund.
For cancellations made after this time, guests will be charged one night's stay and will forfeit any additional charges or fees. Any changes or cancellations must be made directly with the hotel prior to the date of arrival.
Conclusion
Shooting Star Casino is a great destination for gambling and entertainment. The casino offers an easy-to-use app to access its games and plenty of promotions and events.
The dress code is casual, but guests should refrain from wearing explicit clothing or swimwear. Additionally, there's no airport shuttle available, but the casino offers a free shuttle to the nearby White Earth Indian Reservation.
The casino follows a strict no-smoking policy and provides a pet-friendly area for guests who wish to bring their furry friends along. WiFi and complimentary high-speed printing services are available throughout the property.
Guests must cancel at least 7 days in advance to receive a refund, so be sure to plan accordingly.