1st Jackpot Casino Tunica Resorts
Address: 1450 Jackpot Blvd, Tunica Resorts, MS 38664, USA
Phone Number: +1 866-422-5597
Website: https://www.1stjackpot.com/
Hours: 1st Jackpot Casino is open 24 hours a day, 7 days a week.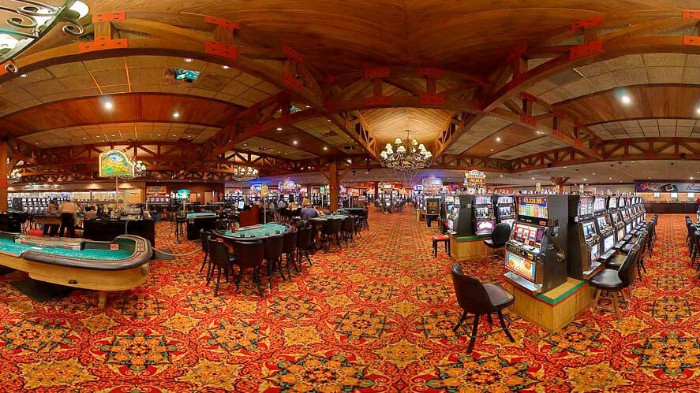 1st Jackpot Casino Tunica was founded in 2006 by a group of experienced casino professionals. The goal was to create a world-class gaming and entertainment destination, and they have certainly succeeded.
It offers more than 850 slots and video poker machines, as well as table games like blackjack, roulette, and craps. There's also a high-limit area for those looking to make some serious bets.
In addition to the casino floor, 1st Jackpot Casino also has a race and sports book, a full-service restaurant, and a lounge.
1st Jackpot Casino Tunica is open 24 hours a day, 7 days a week. So whether you're looking for some excitement or just need a place to stay, 1st Jackpot is the place for you. Experience the best of what Tunica has to offer and make 1st Jackpot Casino Tunica your one-stop shop for gaming, entertainment, and relaxation.
Guests rate 1st Jackpot Casino as a great place to gamble and have fun. The casino is always clean and well-maintained, and the staff is friendly and helpful.
There are plenty of slots and table games to choose from, and the high-limit area is perfect for those looking to make some serious bets. The restaurant and lounge are also great places to relax and enjoy a meal or a drink.
Overall, guests rate 1st Jackpot Casino as one of the best casinos in Tunica.
(Related reading: Mississippi casinos)
Gaming
This casino offers over 850 slots and video poker machines, as well as classic table games such as blackjack, craps, roulette, and more. There is also a high-limit area for those who have the budget to make larger bets.
Table Games
For those looking for excitement, this casino is the place to be. There is a multitude of table games available at the casino catering to all types of players, from beginners to experts. Craps and roulette tables can be found spinning away, surrounded by cheering onlookers.
For more low-key play there are Blackjack and Three-Card Poker tables that offer plenty of chances to win big with strategies and luck.
If you're looking for something more unique, Mississippi Stud is a simple draw poker game filled with heart-pounding excitement as players look to make their best hands or continue betting on streaky draws.
There's also Pai Gow Poker for those who prefer the classic Asian version of poker or Big 6 Wheels which generate big payouts when hitting its lucky numbers.
Table games vary in minimum depending on the day and time of your visit. Generally, Mondays to Thursdays are less expensive than Fridays and Saturdays, while table game minimums generally start at $5 at most times during the week.
Slots
At this casino players have a vast selection of popular slot machines to choose from. Whether you're looking for traditional games or the latest and greatest releases, there's something here for everyone.
Popular slot machine titles include Wheel of Fortune Ultra 5 Reels, Loteria El Niño, Triple Red Hot 7s Free Games, Cleopatra's Quest For Immortality, You Swing Your Ballons, and Extreme Fruits Ultimate.
All games are designed with stunning graphics and captivating sound effects that immerse you in the action and encourage winning combinations.
With betting limits ranging from pennies to five-dollar denominations and a wide variety of themes to suit any taste, 1st Jackpot Casino Tunica has plenty of fun in store for its patrons.
Whether you're trying your luck on a progressive jackpot game or playing more conservatively on a classic 3-reel slot machine, there is something here to appeal to every kind of slot player.
The slot machines at 1st Jackpot Casino's payback percentages range from 85% to 99%. The average return on all machines is approximately 95%. This means that for every $100 wagered, players can expect to win around $95.
The Slot Machine Payback Percentage is determined by the Mississippi Gaming Commission and is updated annually. The percentage of money returned to players when playing a particular game can vary between casinos and may be higher or lower than the average return rate.
Hotel/Resort
Although this casino does not offer an onsite hotel, there is a recommended hotel nearby. Hollywood Hotel Tunica is the place to stay for those seeking a unique blend of entertainment and luxury.
Situated in Tunica, the resort offers a variety of amenities to its guests such as gaming, fine dining, and a health club. The hotel boasts over 600 guestrooms with views of the magnificent Mississippi River, providing travelers with a luxurious lodging experience.
In addition to all these accommodations, guests seeking more exciting activities can visit 1st Jackpot Casino which is located onsite and features multiple gaming options including slot machines and table games such as blackjack, roulette, and poker.
On top of this, there are regular live entertainment events hosted onsite at The Bar Stage which feature great music by local bands that everyone can enjoy on Friday and Saturday nights.
With so many great amenities available, Hollywood Hotel Tunica provides a truly unforgettable stay that you won't soon forget.
Restaurants & Buffets
When you are visiting the 1st Jackpot you won't have to worry about a bad meal or subpar service. The Silo Eatery is designed to ensure that each customer experiences nothing but the best cuisine and hospitality.
Here, you can expect no compromise on quality or taste; The Silo Eatery serves all the classics in classic diner style with an added touch of southern hospitality that sets it apart from other restaurants.
On top of these standouts, the eatery also has a rotating menu of specials to switch things up every now and again. With options ranging from savory and smoky barbeque to creative vegan dishes, The Silo Eatery ensures there's something for everyone.
Whether you're looking for a quick bite before hitting the slots or settling in for a proper Southern feast, you won't be disappointed when you visited The Silo Eatery at 1st Jackpot Casino Tunica.
Pools
Unfortunately, this casino does not offer a pool for its guests. However, there are plenty of nearby hotels that have their own pools and hot tubs for those seeking some relaxation after a long day at the casino.
For instance, the Hollywood Hotel Tunica is located onsite and has an outdoor swimming pool with cabanas and a Jacuzzi for guests to enjoy.
Also nearby is the Fitz Casino & Hotel which offers an indoor pool with a hot tub, as well as a fitness center and other amenities.
1st Jackpot Casino Tunica, MS FAQ
Does 1st Jackpot Casino Have A Sportsbook?
Casinos in Tunica offer sports fans the perfect place to relax and bet on their favorite teams. 1st Jackpot Casino and Hollywood Casino have everything a sports fan could hope for.
At both locations, you can find updated real-time odds, points, and over/under information for an exciting gambling experience.
With some of the area's largest video screens, you'll be able to show your support for your teams as they compete for victory – all while enjoying fantastic food and amazing drink specials.
With betting options for football, basketball, hockey, tennis, and more, they'll make sure you can get your game-day fix.
Is Poker Available At 1st Jackpot Casino?
Yes, this casino offers a variety of poker tables and tournaments. Whether you're an experienced player or a novice, you'll find plenty of action at 1st Jackpot's casino floor.
You can choose from Texas Hold'em, Omaha, Seven-Card Stud, and even Draw Poker. All tables are staffed by friendly dealers and expert floor bosses to help you get the most out of your poker experience.
What Are The Age Requirements For Gambling At 1st Jackpot Casino?
The minimum age for gambling at this casino is 21 years of age. All guests must present valid government-issued identification upon entering the casino floor to prove that they are of legal gambling age.
Anyone under the age of 21 will not be allowed access to the casino floor, even if accompanied by an adult.
Does 1st Jackpot Have An Online Casino?
Many people enjoy playing their favorite casino games but don't have the time or opportunity to visit a real-life casino. For these people, the 1st Jackpot Casino has made it possible to play their favorite games right from home.
This NV-based establishment has launched an online casino for players to log on and start playing with ease and convenience. With mychoice casino, you get access to all your favorite slots including progressives, multiples, video poker, and table games such as blackjack and roulette.
No longer do you have to take a trip out to the Vegas Strip or Atlantic City in order to test your luck; now you can do it from the comfort of your own home! Logging in is easy with a quick registration, reliable services, and top-notch security measures in place.
Is There An 1st Jackpot Casino App?
The 1st Jackpot Casino App allows players to have full access to all their favorite casino games while never leaving their living room.
Players can quickly and safely deposit money into their account straight from their smartphone or tablet, and they can also easily withdraw winnings when they hit the right combination.
They can also take advantage of a variety of bonus offers and promotions designed to help them make their bankroll last longer. Not only that but thanks to live chat support available 24/7, players can get help with anything they need without ever needing to wait in line at an actual casino.
In other words, with the 1st Jackpot Casino App, gamblers have everything they need in one convenient package – so download it now and join in on all the fun.
What Is The Dress Code At 1st Jackpot Casino?
At this casino, the dress code is smart casual. They ask that all its guests dress in a manner that reflects the respectful atmosphere we strive to create.
This includes keeping clothing and accessories appropriate for a gambling environment. Shirts must have sleeves and be tucked in, pants/shorts should not be excessively baggy, and all guests must wear shoes.
Is There An Airport Shuttle Available From 1st Jackpot Casino?
Yes, this casino offers a free shuttle service from McCarran International Airport in Las Vegas. The shuttles run at scheduled times throughout the day and make stops at various casinos on the Strip.
Call ahead to arrange your pick-up and arrival times so that you can conveniently get to and from the airport with ease.
What Is The Smoking Policy At 1st Jackpot?
This casino has a no-smoking policy in the casino area. However, there are designated outdoor areas where guests can smoke.
Additionally, the hotel rooms and suites at this casino all come equipped with their own balconies for smokers who want to enjoy their cigarettes without having to leave the comfort of their rooms.
What Is The Pet Policy At 1st Jackpot Casino?
This casino does not allow pets on the premises. Guests who wish to bring their pets with them while they stay at this casino can make arrangements to have their pets stay in a nearby kennel or boarding facility.
Is Wifi Available At 1st Jackpot?
Yes, complimentary wifi is available throughout the premises of this casino. Guests can log into the network by using their room key and then enjoy a high-speed connection for all their internet needs.
What Is The Cancellation Policy For 1st Jackpot Casino?
As there is no hotel on site, there is no cancellation policy.
Conclusion
1st Jackpot Casino offers a great gaming experience with convenient access to all your favorite games right from home. With the 1st Jackpot Casino App, you can easily deposit and withdraw money while taking advantage of bonus offers and promotions.
The dress code is smart casual, there's a free shuttle service from the airport, no smoking policy inside the casino, and complimentary wifi. So why wait? Download the 1st Jackpot Casino App today and start playing.