Ameristar Casino Vicksburg
Address: 4116 Washington St, Vicksburg, MS 39180, United States
Phone Number: +1 601-638-1000
Website: https://www.ameristarvicksburg.com/
Hours: Ameristar Casino is open 24 hours a day, 7 days a week.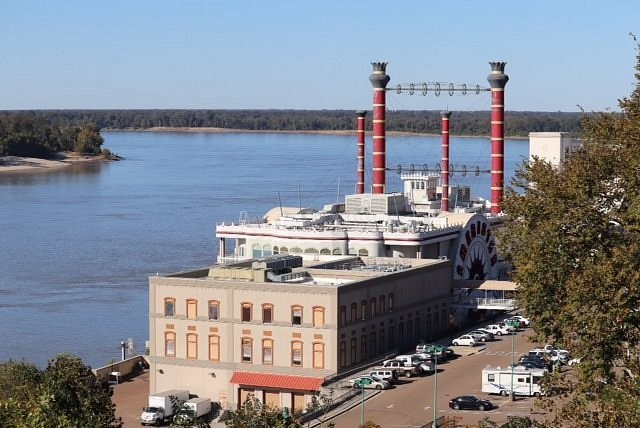 The Ameristar Casino Vicksburg was originally built in 1994 as the Lady Luck Casino. In 2001, the casino was sold to Ameristar Casinos and underwent a $25 million renovation. The casino was then renamed Ameristar Casino Vicksburg.
Today, it is one of the largest casinos in Mississippi, with over 120,000 square feet of gaming space located on the riverboat. The casino features over 1,000 slot machines and 38 table games.
The casino also offers a variety of dining options for guests, including the Flame Brazillian Steakhouse and The Spread Buffet. Additionally, it has live entertainment on-site featuring a variety of acts throughout the year.
There is also an event center located inside the casino where various events are held, such as boxing matches, concerts, and comedy shows.
Ameristar Casino Vicksburg also has a luxurious hotel with over 550 guest rooms and suites, featuring amenities such as an outdoor pool and hot tub. The hotel also features its own spa for guests to relax after a long day of gaming or sightseeing in the area.
For those exploring the city of Vicksburg, the hotel provides a complimentary shuttle service to local attractions and restaurants. In addition, it hosts various promotions throughout the year where guests can earn rewards and prizes.
Ameristar Casino Vicksburg is rated 4.4 out of 5 on TripAdvisor. Guests who have visited the casino generally enjoy its variety of gaming options and live entertainment. The casino also has a luxurious hotel with excellent amenities, making it a great place to stay for a night or longer.
Overall, Ameristar Casino is a great place for guests to experience excitement and luxury all in one spot.
(Related reading: Mississippi casinos)
Gaming
This casino offers a wide selection of gaming options, including over 1,000 slot machines and 38 table games. Table games offered include Blackjack, Roulette, Craps, and more.
Table Games
At this casino, you won't be disappointed if you're looking for a wide variety of table games. From the classics like Blackjack and Roulette to the more modern options like Cajun Stud and High Card Flush, there's something for everyone.
Plus, you'll find an extensive selection of table limits, so everyone can join in on the fun–whether you're a novice or an experienced player. With professional dealers that know each game inside and out, Ameristar Casino is sure to provide a memorable experience for visitors.
The minimums for table games vary depending on the game and the day of the week. For example, the minimum bet for Blackjack is $5 from Monday to Thursday and $10 on Friday and Saturday. The minimum bet for Roulette is $3 on all days of the week.
Slots
With over 1,000 state-of-the-art slot machines offering denominations from one cent to $100, there are plenty of opportunities to hit it big on the reels.
Whether you prefer classic 3-reel slots, modern video slots with hundreds of paylines, or progressive jackpots with life-changing amounts at stake, Ameristar has something for everyone.
Some of the casino's most popular titles include 'The Voice', 'Monopoly Hot Shot', 'Buffalo Gold', 'Twice Your Monkey' and the ever-popular 'Wheel of Fortune'.
There's a game for every mood and budget, making Ameristar Vicksburg an ideal destination for players in search of a winning experience.
Ameristar Casino slot machine payback percentage is not publicly disclosed. However, Mississippi state law requires that all machines must return at least 80% of the money wagered over a period of time.
Therefore, it is likely that Ameristar Vicksburg has a slot machine payback percentage somewhere in this range.
Hotel/Resort
For those seeking a luxurious getaway, Ameristar hotel offers a wide range of accommodation options. The hotel features over 550 rooms and suites, all with modern amenities such as plush bedding and flat-screen TVs.
This resort offers a variety of amenities for guests to enjoy during their stay. These include:
Complimentary Shuttle Service to local attractions and restaurants
Luxurious accommodations with modern amenities
RV Park
An outdoor pool and hot tub
24-Hour Room Service
On-Site Dining
Live Entertainment
Casino Gaming with over 1,000 Slot Machines and 38 Table Games
Promotions throughout the year with rewards and prizes.
The cost for a stay at this casino varies depending on the type of accommodation you choose. Rates range from $109 per night for standard rooms to $199 per night for suites.
The resort also offers special discounts and packages throughout the year, so be sure to check their website for more information.
Check-in time at Ameristar Hotel is 4:00 pm
Check-out time at Ameristar Hotel is 11:00 am
Restaurants & Buffets
Ameristar Casino offers a wide selection of restaurants for visitors to choose from. Whether you're looking for an all-you-can-eat buffet or a quick bite, there's something here for everyone.
One standout is the Heritage Restaurant, which features an abundant home-style menu full of classic dishes drawn from the Cajun and Creole traditions. For casual diners, Bella's Bakery & Café provides just the atmosphere they're looking for with warm and friendly service.
All their pastries are homemade and they offer full breakfast and lunch menus with items like sandwiches, omelets, salads, and more.
And if you're looking for a unique drink experience be sure to visit Bourbons – the only speakeasy in town that specializes in traditional bourbon cocktails. No matter where you go at Ameristar Casino Vicksburg restaurants, you won't be disappointed.
Pools
Ameristar Casino pools are open seasonally during the summer months and are staffed with trained lifeguards. The pool is a great place to relax or take a dip after a long day of gaming.
The resort also offers an outdoor hot tub, perfect for those looking to unwind in style. Guests can rent private cabanas for the day and enjoy exclusive access to one of the pool's best spots alongside plenty of plush amenities.
Pool hours are 9 am-10 pm, and the resort has a strict no-glass policy for the safety of their guests. So be sure to leave your glass containers at home if you plan on spending time around the pool.
Ameristar Casino Vicksburg, MS FAQ
Does Ameristar Casino Vicksburg Have A Sportsbook?
When it comes to sportsbooks, this casino delivers. Here, those with a competitive streak will find an engaging atmosphere where they can come to place bets, watch their favorite teams go head-to-head, and potentially win big.
The End Zone is their luxurious sportsbook and viewing area located in the casino. Slick monitors line the walls, allowing guests to keep track of any sports game they may have bet on.
Guests can choose from traditional betting options such as point spreads, money lines, and parlay wagers. Further, there's plenty of comfy seating for when football lovers want to sit back and really get into the game.
Is Poker Available At Ameristar Casino Vicksburg?
Yes, poker is available at this casino. The resort's poker room is located on the main casino floor and offers tournaments throughout the week.
In addition, guests can enjoy cash games that range from No-Limit Texas Hold'em to Pot Limit Omaha Hi/Lo, and more. Whether you're a novice or an experienced player, the poker room at Ameristar is sure to provide an exciting and rewarding experience.
What Are The Age Requirements For Gambling At Ameristar Casino Vicksburg?
The minimum age for gambling at this casino is 21 years old. Visitors must be able to provide valid government-issued photo identification in order to access the casino and participate in any type of gaming.
All forms of gaming are strictly prohibited for guests under the legal age limit, and those caught doing so will be asked to leave the premises.
Does Ameristar Vicksburg Have An Online Casino?
No, this casino does not have an online casino at this time. However, if you're looking for a great place to get your game on, Ameristar is the perfect spot.
Whether you're interested in slots, poker, blackjack, or roulette, there's something here for everyone. Plus, with plenty of restaurants, bars, and entertainment options you can guarantee a great time when visiting the casino.
Is There An Ameristar Casino Vicksburg App?
Yes, the mychoice app allows you access to exclusive offers, including personalized rewards, discounts, and bonuses. You can easily check-in for your VIP status at any Ameristar Casino location across the US when you use the mychoice app.
As a member of the mychoice program, you'll receive exclusive offers for hotel stays, special event invitations, and access to dozens of offers from top retailers and brands.
With the mychoice app, it's easy to manage your play history and use your reward points for entertainment experiences like venue tickets or free meals and drinks at casino restaurants.
What Is The Dress Code At Ameristar Casino Vicksburg?
The dress code for this casino is smart casual. Guests are encouraged to wear clothing that is comfortable and appropriate, such as trousers or jeans with a collared shirt, sweater, or jacket.
Is There An Airport Shuttle Available From Ameristar Vicksburg?
Yes, this casino offers complimentary shuttle service to and from Vicksburg's local airport. The shuttles run every hour on the hour, starting at 9:00 am and ending at 10:00 pm.
To book a ride in advance, simply call the resort's customer service line or visit their website. The shuttles are a great way to get to and from the casino in comfort and convenience.
What Is The Smoking Policy At Ameristar Casino Vicksburg?
The smoking policy at this casino is designated areas only. Guests are allowed to smoke in select outdoor areas or inside the designated lounge space located in the main gaming area.
For guests who are not interested in smoking, non-smoking gaming options are available throughout the resort. The Ameristar Casino seeks to provide a comfortable and enjoyable experience for all visitors.
What Is The Pet Policy At Ameristar Vicksburg Resort?
The pet policy at this casino is that pets are not permitted inside the resort. Service animals, however, are allowed to accompany their owners and must be on a leash or in an appropriate carrier at all times.
Is Wifi Available At Ameristar Vicksburg Hotel & Casino?
Yes, free wifi is available to all guests staying at the hotel. To connect, simply select the "Ameristar" network from your device's list of available connections and enter your room number when prompted.
For guests who need additional assistance connecting to the network, customer service personnel are available 24/7 for help and support.
What Is The Cancellation Policy For Ameristar Casino Vicksburg?
The cancellation policy for this casino is as follows: cancellations must be made 24 hours prior to the arrival date in order to receive a refund. Cancellations after that time period will result in no refund.
Guests are encouraged to contact the customer service team directly if they have any questions or concerns about their reservation.
Conclusion
Ameristar Casino Vicksburg is a great destination for anyone looking to get their game on. With plenty of gaming options, entertainment choices, and amenities, it's easy to see why this casino has become so popular.
And with the help of the mychoice app, guests can easily access exclusive offers and rewards while they play. Whether you're a seasoned gambler or just looking for a night out, Ameristar Vicksburg has something for everyone.
So plan your visit today and experience the best of what this casino has to offer.