Boomtown Casino Biloxi
Address: 676 Bayview Ave, Biloxi, MS 39530, USA
Phone Number: +1 228-435-7000
Website: https://www.boomtownbiloxi.com/
Hours: Boomtown Casino is open 24 hours a day, 7 days a week.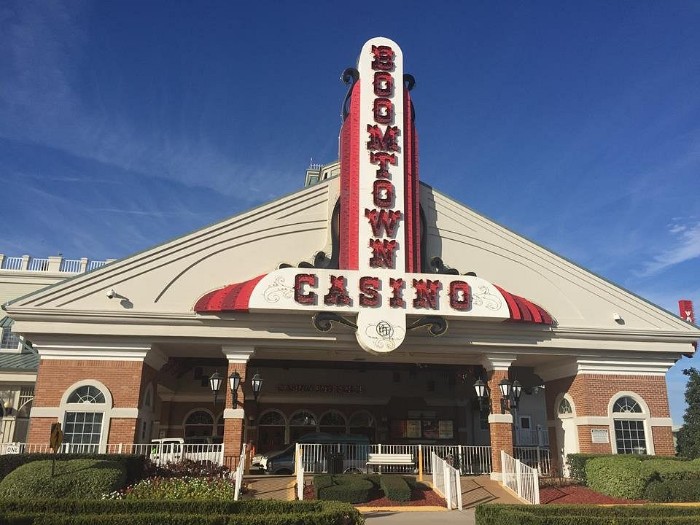 Boomtown is a casino and hotel located in Biloxi, Mississippi. Gaming and Leisure Properties owns and operates the casino, and features over 700 slot machines and 19 table games.
The casino at Boomtown Biloxi houses many high-limit tables for poker and table games such as blackjack, craps, and roulette. The casino also has its own sportsbook, allowing guests to place bets on a range of sports.
In addition to its gaming options, it also features a selection of bars and restaurants. These include several bars offering drinks and light snacks, and a fine dining restaurant offering steaks, seafood, and other delicacies.
Guests can also enjoy live music and entertainment at the Boomtown Theater, as well as live shows in the casino's showroom.
Boomtown Casino Biloxi offers guests a variety of packages and promotions that are tailored to suit their needs. For those looking for an unforgettable experience, Boomtown Casino Biloxi is the perfect destination.
According to TripAdvisor, guests rate Boomtown Casino Biloxi an average of 4.5 out of 5 stars. Many guests praised the casino's wide variety of games, while others appreciate its luxurious atmosphere and great customer service.
Overall, Boomtown Casino is considered a great destination for those looking for a fun and exciting casino experience.
(Related reading: Mississippi casinos)
Gaming
This casino offers 700 slots, 19 table games, and a sportsbook with a range of betting options.
Table Games
Table games are a great way to try your luck in the casino, and Boomtown offers an incredible selection. As soon as you step onto the casino floor, you'll find yourself faced with 19 tables ready for action.
The classic card game of Blackjack can be found at several of the tables, with several high-stakes variants available. Craps also has its own section of the casino floor and is sure to provide lots of fast-paced fun.
If you're looking for strategy games, then Pai Gow poker is something you definitely want to check out. This ancient Chinese game takes skill and understanding to play, but that doesn't mean it isn't fun too.
To cap off the selection are two other dynamic options: Let It Ride and Mississippi Stud. For an unforgettable time in Biloxi, come try your luck on any one of these table games at Boomtown Casino.
The table game minimums at this casino range from $5 to $100, depending on the game and time of day. Blackjack and craps tend to have lower minimums than poker or roulette.
In addition, high-limit games are available for those looking to live life a little larger. High-limit rooms are available with minimums of up to $500. No matter what your budget is, Boomtown Casino has something for every gambler.
Slots
This casino is renowned for its gaming selection, offering thousands of options to players from across the Gulf Coast.
Among the most popular slot machine categories are Lightning Link, Dancing Drums, Star Watch, and Dragon Link. With the Lightning Link games, players compete for progressive jackpots that can reach over $1 million in prize money.
The Dancing Drums slots offer bonus features and wild symbols that multiply potential wins by hundreds of times within a single bet.
Star Watch and Dragon Link machines feature thrilling bonus rounds with multiple interactive elements, and three progressive jackpots can be won among bonus levels.
With each game providing an exciting and immersive experience all on its own, Boomtown Casino Biloxi's selection is sure to satisfy all your slot needs.
Boomtown Casino slots payout percentage is not publicly available. However, according to the Mississippi Gaming Commission, the minimum required payout percentage for all slot machines in Mississippi is 80%.
This means that on average, players are expected to receive at least 80% of their bet back over time.
Hotel/Resort
Although this casino does not offer an onsite hotel, there are several nearby hotels in the Biloxi area that offer great deals.
The Island View Casino is located just a few miles away and offers guests luxurious accommodations, with two room choices: the standard rooms feature two queen beds and basic amenities such as free wifi, while the deluxe rooms come with king-sized beds, upgraded amenities, and a view of the Gulf Coast.
The IP Casino Resort & Spa is also nearby and offers an amazing selection of amenities to its guests. The hotel has several restaurants, spa services, live entertainment, and more.
Boomtown does offer an RV park onsite for you to stay in while enjoying the gaming experience. The RV park has over 50 sites with full hookups and amenities such as:
5 minutes from the beach
ADA Accessible
30 and 50 AMP available
Sites fit up to a 45-foot motorhome
Back in RV Sites
Pull-through RV Sites
Pet friendly (if on leash)
24-hour Security
Full Hookups (electric, water, and sewer)
Trash Receptacles
Wi-Fi
mychoice® discount
No matter your preference, there's something for everyone when it comes to accommodations near Boomtown. With live entertainment, fine dining, and of course wagering options, Boomtown Casino Biloxi is a premier destination for gamblers on the Gulf Coast.
The RV Park at Boomtown Casino is the most cost-effective accommodation option, with nightly rates starting at $30.
The nearby Island View Casino offers rooms from $85-$115 per night for standard and deluxe rooms respectively. The IP Casino Resort & Spa has rates that start at $109 a night.
No matter which option you choose, Boomtown offers great value for the money. With its convenient location, a wide selection of games and amenities, and affordable rates, there's something for everyone at this casino.
Restaurants & Buffets
This casino offers delicious cuisine for every appetite. Guests can choose from several eateries, including the PHO BOY Asian Fusion restaurant and the Stadium Sports Bar & Grill. At PHO BOY, diners can select from a variety of Asian-inspired dishes featuring unique combinations of flavors.
Create an Asian combo with your favorite ingredients or indulge in an all-American breakfast. If you're feeling adventurous, try the one-of-a-kind pho-boy sandwich that merges Asian and American influences into a truly revolutionary culinary experience.
Or head to the Stadium Sports Bar & Grill for lunch as well as appetizers, steaks, and seafood entrees. With its extensive selection of beer and wines and over 40 flat-screen TVs for optimal sports viewing, it's the perfect place to catch all your favorite teams in action.
Whether you're looking for traditional takeout or desire a unique cultural dining experience, Boomtown has something for everyone.
Pools
Unfortunately, this casino does not have an onsite pool. However, there are several nearby hotels that offer pools and other amenities such as beach access and spa services.
The Island View Casino offers guests a relaxing outdoor pool perfect for lounging in the sun or taking a refreshing dip to cool off. The IP Casino Resort & Spa also features a pool as well as a hot tub which is perfect for relaxing after a long day of gaming.
So even though Boomtown doesn't have a pool, there are plenty of options in the area to enjoy all your favorite water activities.
With nearby casinos and resorts offering pools, beach access, spas, restaurants, and entertainment, you are sure to have plenty of fun-filled activities during your stay.
Boomtown Casino Biloxi, MS FAQ
Does Boomtown Casino Biloxi Have A Sportsbook?
No matter what your favorite sport is, you can bet on it at Boomtown. They offer extensive betting options for all of the most popular professional and collegiate sports, including football, basketball, hockey, soccer, baseball, golf, and tennis.
In addition to traditional parlays and match-ups bets, they also offer exotic options such as futures and props. Plus, with in-play betting you won't have to wait until the end of the game for your wagers to pay off – just set it up and watch the action unfold.
Is Poker Available At Boomtown Casino Biloxi?
Yes, poker is available at this casino. They offer both cash games and tournaments in a range of varieties including Texas Hold'em, Omaha Hi-Lo, Seven Card Stud, and much more.
Plus, with their generous casino promotions such as high hands, you can always find an extra incentive to put your skills to the test.
What Are The Age Requirements For Gambling At Boomtown Casino Biloxi?
The minimum age to participate in any gambling activity at this casino is 21 years old. Guests must possess a valid, government-issued photo ID in order to access the gaming floor.
Does Boomtown Biloxi Have An Online Casino?
Gamblers looking for the thrill of the casino floor can now find a home away from home with Boomtown Biloxi's online casino, mychoice.
With all the slots and table games one could wish for easily available for online play, mychoice opens up the world of casino gaming to anyone with access to a computer or smart device.
From exclusive members-only bonuses and promotions to an array of cash prizes and giveaways, linking up is a great way to get even more out of your favorite games.
Whether you're visiting Boomtown Biloxi virtually or in person, don't forget that you have access to the best in online gambling entertainment with mychoice®. Play your favorite casino games from home and watch your rewards climb as you spin and roll your way to victory.
Is There An Boomtown Casino Biloxi App?
Yes, as mentioned above, the mychoice app is available for both iOS and Android users. With this app, you can access the gaming floor from anywhere, check your rewards points balance, and participate in exclusive promotions.
Plus, when you link your existing mychoice account to the app, you can watch your rewards increase as you play. Download it now and start enjoying the convenience and rewards of online gaming with mychoice.
What Is The Dress Code At Boomtown Biloxi?
The dress code at this casino is "smart casual". This means that clothing should be comfortable and appropriate for the atmosphere. For men, this typically includes collared shirts and khakis or slacks.
Women may wear blouses, skirts, or dresses as well. Jeans are generally accepted but should not have any rips, tears, or offensive designs.
Is There An Airport Shuttle Available From Boomtown?
Yes, this casino offers a complimentary shuttle service to and from the Gulfport-Biloxi International Airport. The shuttle runs every 2 hours between 9 am and 7 pm, so you can easily make your way to the casino in time for all the action.
What Is The Smoking Policy At Boomtown Casino?
This casino is a non-smoking facility. This includes both the gaming floor and common areas. Smoking is only allowed in designated outdoor smoking areas, and all guests must adhere to the rules or face removal from the premises.
What Is The Pet Policy At Boomtown Biloxi Casino?
Unfortunately, this casino does not allow pets on the premises. This includes all areas of the casino, including the gaming floor and common areas. Service animals are allowed but must be documented and kept under control at all times.
Is Wifi Available At Boomtown Biloxi?
Yes, free wifi is available throughout the casino. Guests can connect to the high-speed network and stay connected during their visit. There are also plenty of charging outlets throughout the property so you can keep your devices powered up.
What Is The Cancellation Policy For Boomtown Casino Biloxi?
At the RV Park, all cancellations must be done at least 48 hours in advance to receive a full refund.
Conclusion
Boomtown is the ideal destination for gamblers looking for an exciting and rewarding experience. From the well-stocked gaming floor to exclusive online promotions, this casino has everything you need to have a great time.
Plus, with complimentary shuttles to and from the airport, free wifi, and pet policies in place, you can be sure your visit to this casino will be comfortable and convenient. So head on down, spin the slots, and get ready to have a great time at Boomtown Casino Biloxi.