Golden Moon Casino, Philadelphia
Address: 13541 MS-16, Philadelphia, MS 39350
Phone number: +1 866-447-3275
Website: https://www.pearlriverresort.com/golden-moon
Hours: This casino is open 24 hours a day 7 days a week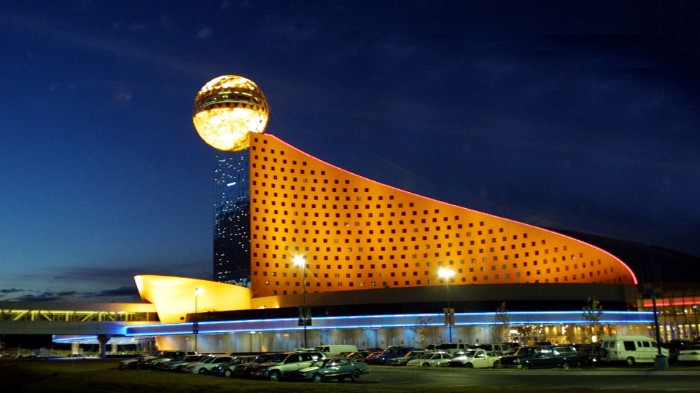 The Golden Moon Casino in Philadelphia, Mississippi, is a part of the Pearl River Resort, which is owned and operated by the Poarch Band of Creek Indians.
The casino has been open since 2002 and features over 1,150 slot machines and 25 table games. Poker tournaments are regularly held in the casino's dedicated 14-table poker room.
In addition to gaming, Golden Moon offers live entertainment for guests to enjoy throughout the week. The casino also has an excellent restaurant in the form of a sports bar and grill known as Bistro 24, with a good selection of dishes that appeals to all palates.
In-house hotel accommodations are available at the on-site Golden Moon Hotel and the Silver Star Hotel & Casino. There is also a golf course, spa, and fitness center located nearby for those who want to take a break from the casino floor.
As of this writing, Golden Moon Casino has a 3.5-star rating on Google Reviews. Most guests seem to enjoy the casino's gaming options and restaurants. Golden Moon Casino is a great place to have some fun and try your luck.
(Related reading: Mississippi casinos)
Gaming
This casino offers a wide range of slot machines and table games. It also has a dedicated poker room offering regular tournaments for those who are interested.
Table Games
When it comes to table games, this casino has something for everyone. For the poker enthusiast, the elevated 14-table poker room is open 24/7 and features ACTION-PACKED games, including all the popular games such as Limit and No-Limit Hold'em, Omaha, and competitive tournaments.
If blackjack is more your style, there are also a number of blackjack tables with friendly dealers ready to take your bets. Or try your luck at one of the casino's many other table games like roulette or craps.
The minimums for the table games at this casino have not been made available on the website. However, you can usually expect casino minimums to be between $2 and $25.
Slots
The slot machines at the casino range from classic reel games to the most modern video slots. There really is something for everyone at this exciting location.
Popular slots include:
Wheel of Fortune
Mega Moolah
Divine Fortune
The casino has not made the payback percentage available to the public. However, the state of Mississippi has a minimum payback percentage of 80%, giving you a clear idea of what to expect from your trip.
Hotel/Resort
The Golden Moon Hotel & Casino is part of the Pearl River Resort and offers guests a luxurious hotel experience. The hotel has over 600 newly renovated rooms, including suites, VIP suites, and standard rooms.
Some of the room types you will find at this location are:
King Room: King bed, spacious room, and plenty of amenities.
Double Smoking: 2 Queen beds, smoking allowed, amenities (non-smoking available).
Suites: Living and sleeping spaces, amenities, sweeping views. VIP suites available.
Guests can relax in the spa or work out in the fitness center. There is also a golf course just down the road for those who wish to take a break from the casino floor.
Some of the amenities you can expect to find at this casino and hotel include:
Luxurious rooms and suites
Restaurant and bar
Fitness center
Spa
Meeting spaces
Event space
Live entertainment
Membership rewards
The cost of staying at the Golden Moon Resort will depend on a variety of factors such as hotel type, number of guests and any special offers.
The standard rates are competitively priced, starting at around $90 per night for double occupancy. If you would like to stay in one of the suites, you can expect to pay anywhere from $150-$200 or more.
You can also take advantage of discounted rates by signing up for the casino's membership rewards program, or you may be eligible for a special package deal.
Check-in time at Golden Moon Hotel is 4:00 pm
Check-out time at Golden Moon Hotel is 11:00 am
Restaurants & Buffets
There's no need to take a gamble on finding a great meal. Bistro 24 at this casino serves up delicious American fare with a Southern twist.
Start your day with breakfast classics like eggs and bacon, or opt for something heartier like our smoked sausage omelet. For lunch and dinner, choose from our mouth-watering selection of burgers, sandwiches, salads, and entrees. And don't forget to save room for dessert.
The warm apple pie is the perfect way to end your meal. Whether you're looking for a quick bite or a leisurely dining experience, Bistro 24 is sure to please.
Pools
This casino does not have any pool facilities. Nearby outdoor attractions include hiking trails, a park and an outdoor swimming pool.
Golden Moon Casino, Philadelphia, MS FAQ
Does Golden Moon Casino Have A Sportsbook?
The casino does have a sportsbook. This is good news for sports fans who enjoy betting on their favorite teams. The sportsbook is located on the first floor of the casino, and it offers a variety of wagering options.
You can bet on traditional team sports such as football and basketball or try your hand at fantasy sports betting. There are also a variety of props and futures bets available. Whether you're a casual fan or a serious gambler, you'll find something to suit your needs at this casino.
Is Poker Available At Golden Moon Casino?
Poker is definitely available at this casino. They have an entire room dedicated to the game, and there are always plenty of tables running. There are also some great poker alternatives available.
Whether you're a cash game player or a tournament grinder, you'll be able to find a game that suits your needs. The staff is also very friendly and helpful, so don't hesitate to ask for guidance if you're new to the casino scene.
What Are The Age Requirements For Gambling At Golden Moon?
Gambling is a fun pastime for many people, but it's important to know the age requirements before you start playing. At this casino in Mississippi, the legal gambling age is 21.
This means that you will need to be at least 21 years old to play any casino games or place bets on sports games. If you are under 21, you will not be able to enter the casino floor or participate in any of the gambling activities.
Does Golden Moon Have An Online Casino?
This location does not have an online casino. However, there are many other casinos in the state that do offer online gambling options.
If you are looking for an online casino in Mississippi, you will need to choose one of the other casinos in the state. There are a few things to consider when choosing an online casino, such as the games offered, the deposit options, and the withdrawal options.
You will also want to make sure that the casino is licensed and regulated by the Mississippi Gaming Commission.
Is There An Golden Moon Casino App?
There is no app currently available. However, the casino does have a mobile website that can be accessed from any smartphone or tablet.
The mobile site offers the same games and features as the desktop version, so you won't miss out on anything by playing on your mobile device. In addition, the mobile site is optimized for touchscreen devices, so you'll be able to enjoy a smooth and user-friendly experience.
So even though there's no app yet, you can still enjoy all the casino offers by visiting the mobile site on your smartphone or tablet.
What Is The Dress Code At Golden Moon?
The dress code at the casino is casual. Shorts, jeans, and t-shirts are all acceptable to wear when visiting the casino.
However, you should avoid wearing clothing that has any profanity or offensive language on it. Keep in mind that this is a tasteful environment, and show respect for the other guests by dressing appropriately.
Is There An Airport Shuttle Available From Golden Moon Casino and Hotel?
No, there is no airport shuttle available from this location. However, the casino does offer free parking for all its guests. So you can easily drive to the casino and park your car in one of the designated areas.
If you are flying into town, there are a few nearby airports from which you can choose. You will need to arrange your own transportation to and from the airport.
What Is The Smoking Policy At Golden Moon Casino?
The smoking policy at this location is that smoking is only allowed in designated areas. This includes the outdoor patio and the gaming floor, which has a smoking section for guests who wish to light up.
If you are a non-smoker, there are still plenty of areas where you can enjoy your time without having to deal with the smoke.
What Is The Pet Policy At Golden Moon Casino?
Pets are not allowed in the casino. If you have a pet, you will need to make other arrangements for its care while you visit the casino.
However, service animals are welcome at this location and can accompany their owners on the gaming floor and throughout the property. Service animals must remain on a leash or harness at all times.
Is Wifi Available At Golden Moon Casino, Philadelphia?
Yes, complimentary wifi is available throughout the property. You will be able to access the internet on your personal device as long as you are within range of the casino's network.
The wifi signal can be strong indoors and outdoors, so you won't have any trouble staying connected while visiting this location.
What Is The Cancellation Policy For Golden Moon Hotel?
The cancellation policy for this location is as follows: you must cancel your reservation at least 24 hours in advance to receive a full refund. If you cancel within 24 hours, you will be charged a fee for one night's stay.
If you fail to show up or do not cancel prior to check-in, you will be charged the full amount of the reservation.
Conclusion
The Golden Moon Casino in Philadelphia is a great option for anyone looking to enjoy some gambling fun. Whether you prefer slots, table games, or sports betting, there's something for everyone here.
Plus, the casino offers plenty of amenities to make your visit enjoyable and comfortable, including complimentary wifi and free parking.
Before visiting the casino, check the dress code and other policies, such as the smoking and pet policies. Also, be aware of the cancellation policy, so you don't get charged for a night's stay if you have to change your plans.