Golden Nugget Biloxi
Address: 151 Beach Blvd, Biloxi, MS 39530
Phone number: +1 228-435-5400
Website: https://www.goldennugget.com/biloxi/
Hours: This casino is open 24 hours a day 7 days a week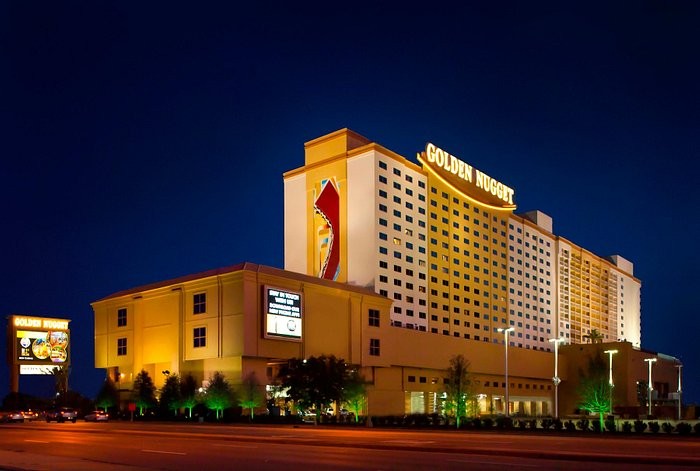 The Golden Nugget Biloxi was first opened in 1992 as the largest casino in the area. It is commonly confused with the Las Vegas location of the same name, which is often called the "Queen of the Coast" and was a favorite of celebrities like Frank Sinatra and Elvis Presley.
The casino is quite spacious, with over 1,100 slot machines and 49 table games. It is open 24 hours a day 7 days a week, and attracts visitors from all over the country.
With its superb gaming, entertainment, and dining options, the Golden Nugget Biloxi is sure to keep you entertained for hours.
It also features an array of entertainment options to keep you entertained throughout your stay. The Grand Ballroom hosts a variety of concerts and other events, while the H20 Poolside Bar & Grill offers delicious food and drinks, including poolside cocktails.
The Rush Lounge features live music, karaoke, and DJs with the perfect atmosphere for a night out. For the ultimate gaming experience, check out their High Limit area, where you can play your favorite games at higher stakes.
The Golden Nugget Biloxi is rated 4.5 out of 5 on TripAdvisor. Guests love the gaming options, restaurants, and entertainment options available at the casino. It is a favorite among visitors and has something for everyone.
(Related reading: Mississippi casinos)
Gaming
This casino offers over 1,100 slot machines and 49 table games. There is also a High Limit area for those who want to play higher stakes. It's the perfect place to feel the rush of the casino floor for the first (or hundredth) time.
Table Games
The casino offers a wide variety of table games to suit every taste. Those who enjoy the classic casino experience can try their hand at blackjack, craps, or roulette.
They can try 21 plus 3 Blackjack, Bonus Spin Blackjack, or Mississippi Stud Progressive for something a little different.
Or, for those who want to aim for the big jackpot, they can try one of the casino's many progressive games, including Pai Gow Poker Progressive and Ultimate Texas Hold 'em Progressive.
Table games at the Golden Nugget Biloxi range in minimum bet from $10-$20, depending on the game. The time of day and day of the week can also have an impact on minimums.
Slots
The casino offers a wide selection of slot machines and table games for visitors to enjoy. From traditional slots and video poker to popular-themed titles, there is something for everyone.
Some of the most popular titles include:
The Walking Dead II
Wheel of Fortune 3D
Dragon Link
Jackpot Inferno
Buffalo Gold
Wild Leper Coins
This casino has not made its payback percentage available to the public. However, the minimum payback percentage in the state of Mississippi is 80%. This should give you a good idea of what you can expect when you visit and play.
Hotel/Resort
The Golden Nugget Biloxi is part of a large and luxurious resort, offering guests the perfect place to relax after a night at the casino. The property boasts several floors with hundreds of elegantly appointed guestrooms and suites.
Some of the room types you will find include:
Terrance King: King bed, private balcony, and amenities.
Terrace Queen: Queen bed, private balcony, and amenities.
Spa Suite: Living and sleeping areas, spa bath amenities, VIP check-in, general amenities.
The resort offers amenities like an outdoor pool, fitness center, golf, spa, and seven restaurants. For those looking for a romantic getaway, the resort offers couples' packages, including luxurious accommodations and spa treatments.
The Golden Nugget Biloxi is located on the Gulf of Mexico and is steps away from the beach. The area also offers plenty of shopping, dining, entertainment and nightlife options for guests to enjoy. With all it has to offer, this is the perfect place for a weekend getaway or extended stay.
Some of the amenities you can expect to find at this hotel and casino include:
Luxurious rooms and suites
Restaurants and bars
Nightlife
Pool
Spa
Hot tubs
Fitness center
Golf
Live entertainment
Meeting spaces
Event spaces
Gift shop
Promotions
The cost of a stay at the Golden Nugget hotel will depend on several factors, including room type, time of year, and additional amenities. The hotel will also have different rates for weekdays and weekends, but you can expect rooms to start at around $100 per night.
You can find more information about rates and packages on their website or by calling the casino directly.
Check-in time at Golden Nugget Hotel is 4:00 pm
Check-out time at Golden Nugget Hotel is 11:00 am
Restaurants & Buffets
The casino and hotel are home to a number of delectable restaurants that are sure to please any palate. For steak lovers, Morton's Steakhouse is a perfect choice, offering dry-aged prime beef that is hand-cut daily.
For those craving, something a little more exotic, Lillie's Asian Cuisine serves up a mouthwatering array of Chinese, Japanese, and Thai dishes. Michael Patrick's is a great option for seafood lovers, offering fresh catches from the Gulf of Mexico prepared in a variety of ways.
No visit to Golden Nugget Biloxi would be complete without stopping by Bubba Gump Shrimp Co., where you can enjoy delicious shrimp dishes while surrounded by memorabilia from the classic film Forrest Gump.
Buffet Prices
The buffet is currently closed, so no pricing is available. Check back for updates.
Pools
The casino offers a perfect way to escape the summer heat. The award-winning H2O Pool + Bar is great to lounge, swim, grab a drink and lunch, and soak up the sun.
You can also rent a private cabana or daybed for the ultimate luxury relaxation. The outdoor oasis is unlike anything on the Mississippi Gulf Coast. Whether you're looking for a day getaway or a place to relax on your vacation, this pool is a great choice.
Golden Nugget Biloxi, MS FAQ
Does Golden Nugget Biloxi Have A Sportsbook?
Golden Nugget Biloxi does have a sportsbook. This is great news for sports fans looking to place a bet while staying at this luxurious resort.
The sportsbook is located on the casino floor, making it easy to access and conveniently located near all of the other action.
In addition, the sportsbook offers a variety of betting options, so whether you're looking to bet on your favorite team or try something new, you're sure to find what you're looking for.
Is Poker Available At Golden Nugget Casino?
Unfortunately, poker is not currently available at this casino in Biloxi. However, the casino offers various other gaming options, including slots, table games, and bingo.
In addition, the casino also has a hotel and spa, making it the perfect place to relax and enjoy all that the Mississippi Gulf Coast has to offer.
Hopefully, poker will be added to the casino's offerings in the future, but in the meantime, there are still plenty of ways to have fun and some great poker variations that you can try out.
What Are The Age Requirements For Gambling At Golden Nugget Casino?
In order to gamble at this casino, you must be 21 years of age or older. This is the legal gambling age in the state of Mississippi.
If you are not 21 years of age, you will not be allowed to enter the casino floor or participate in any gaming activities. Additionally, if you are under 21 years of age and are found to be gambling, you may be subject to arrest and prosecution.
Does Golden Nugget Have An Online Casino?
This location does have an online casino. In addition to the slots, table games and video poker found in the land-based Golden Nugget Biloxi, the online casino also offers a wide selection of other games, including bingo and keno.
There is also a live dealer casino where players can enjoy the thrills of blackjack, roulette and baccarat with a real dealer. With so many different ways to play, this casino is the perfect place to try your luck at winning big.
Is There An Golden Nugget Casino App?
The app is a great way to keep track of your hotel stay while you are on vacation.
This app allows you to view your room number, find out where the closest restaurants and attractions are, and even book your stay right from your smartphone.
In addition, the app also provides exclusive deals and offers that are not available anywhere else; you can check your loyalty points easily and at any time. With this app, you can be sure that you are getting the most out of your vacation.
What Is The Dress Code At Golden Nugget Casino?
The dress code at the casino is casual. You can dress in comfortable clothes, such as shorts and a t-shirt or jeans and sneakers.
However, if you are planning on dining in one of the fine restaurants at this resort, it is recommended to wear something nicer such as slacks and a button-down shirt.
The dress code is strictly enforced, and those not dressed appropriately may be asked to leave the premises. So make sure to check your clothing before entering the casino.
Is There An Airport Shuttle Available From Golden Nugget Hotel and Casino?
Yes, there is an airport shuttle available from the casino. The shuttle runs on a daily basis and offers convenient pick-up and drop-off services to the nearby Gulfport/Biloxi International Airport.
The shuttle also provides round-trip service for those staying at the resort. You can find more information on the shuttle and its schedule online or by calling the hotel.
What Is The Smoking Policy At Golden Nugget Casino?
The casino has a strict no-smoking policy inside the casino facility. This includes all areas of the casino, including both the gaming and dining areas.
Guests can use designated smoking areas outside of the casino if they wish to smoke. Electronic cigarettes are also permitted in these designated areas. However, any vaping or smoking inside the casino is strictly prohibited and can result in removal from the premises.
What Is The Pet Policy At Golden Nugget Hotel and Casino?
Unfortunately, pets are not allowed at Golden Nugget Biloxi. However, service animals are welcome and will be accommodated for all guests.
Service animals must remain on a leash or in a carrier at all times while inside the casino and must have proof of current vaccinations upon entry. All other animals are strictly prohibited from entering the casino and must be left at home or in a boarding facility.
Is Wifi Available At Golden Nugget Biloxi?
Yes, free wifi is available throughout the resort. Guests can access the Wi-Fi from their guest room or any public area within the hotel and casino.
This allows guests to stay connected while on vacation and easily access online resources such as email, social media, and more without worrying about overage or roaming charges.
Guests can also use free Wi-Fi to access the hotel's in-room entertainment options, such as streaming movies and TV shows.
What Is The Cancellation Policy For Golden Nugget Hotel?
Guests must cancel their reservation at least 24 hours before the scheduled arrival time to avoid being charged. No-show guests will be charged the full rate for their stay, and any pre-paid deposits are nonrefundable.
If you need to cancel your reservation, you should contact the hotel directly as soon as possible.
For more information about the cancellation policy, as well as any other questions or concerns you may have, please contact the hotel directly.
Conclusion
The Golden Nugget Hotel & Casino offers a world-class experience for visitors of all kinds. The casino's app and loyalty program make it easy to stay connected while enjoying the resort, and the dress code, smoking policy, pet policy, wifi availability and cancellation policy are just some of the amenities that ensure your comfort and convenience during your visit.
So book your stay today and make sure you get the full golden nugget experience. Be sure to dress appropriately and adhere to all the policies outlined here for a safe, fun time.