Hard Rock Hotel & Casino Biloxi
Address: 777 Beach Blvd, Biloxi, MS 39530
Phone number: +1 228-374-7625
Website: https://www.hrhcbiloxi.com/
Hours: This casino is open 24 hours a day 7 days a week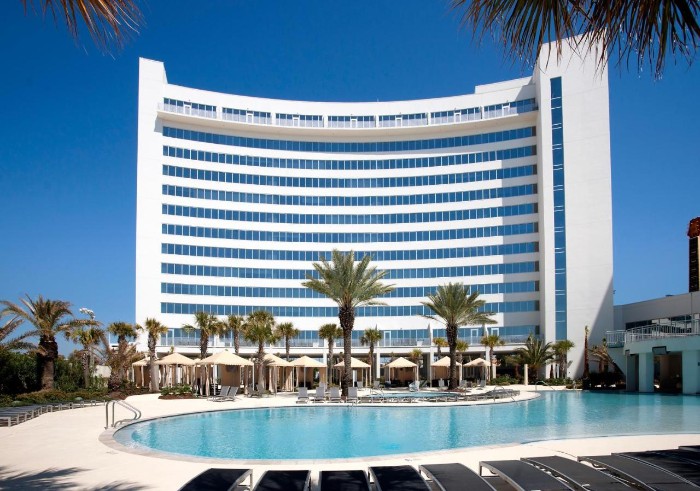 The Hard Rock is a casino and hotel located in Biloxi, Mississippi. The casino is open 24 hours a day, 7 days a week. The casino has over 1,400 slot machines and 50 table games. In addition to the slots and table games, there are also live poker rooms and a sportsbook.
The hotel portion of the complex has 479 guest rooms and stylish suites. The hotel offers guests an outdoor pool with cabanas and a sauna, a fitness center and a spa with hot tubs, as well as fine dining and entertainment. There are also pet-friendly accommodations available.
It also offers guests access to the local beach in addition to its luxurious amenities. Guests can relax on the beach or take part in various watersports activities such as fishing, jet skiing, water skiing, parasailing, and more.
The hotel also features a variety of entertainment options, such as live music performances, theatrical productions, comedy shows, and more.
There is also shopping available at the resort, including boutiques and stores. Guests can also participate in casino activities, such as bingo and trivia.
The Hard Rock Hotel & Casino has a 4.5/5 rating on TripAdvisor. Guests have praised the hotel for its luxurious amenities, beautiful beachfront location, and great entertainment options.
Some guests have noted that the casino can be a bit noisy, but overall, guests have had a positive experience.
(Related reading: Mississippi casinos)
Gaming
Gaming enthusiasts, vacationers, and travelers from around the world visit this casino for its luxurious amenities, great entertainment options, and beautiful beachfront location. But there is also fantastic gaming, and the casino floor is where the real magic happens.
Table Games
This casino offers a wide variety of table games for visitors to enjoy. One of the most popular games is Black Jack, which can be played with Progressive 21+3. This game is perfect for those who are looking for a challenge, as it offers the chance to win big bucks.
Craps is another favorite, as it is a fast-paced game that is perfect for those who want to test their luck. Mississippi Stud is a slower-paced game that requires more strategy and thought, making it ideal for those who want to take their time and try to win big.
Baccarat is another option for those who want to win some money, and Pai Gow is perfect for those looking for a more relaxed game. Whatever your preference, this location has a table game that will suit your needs.
The table game minimums at this casino vary depending on the game. Black Jack has a minimum of $10, while Craps and Mississippi Stud have a minimum of $5. Baccarat and Pai Gow have a minimum of $25. There is also a High Limit area for those looking to raise the stakes.
Slots
There are over 1,400 slot machines at Hard Rock Hotel & Casino Biloxi, offering a wide selection of games to choose from.
Some of the more popular slots include:
Wheel of Fortune
Wild Life
Quick Hit Platinum
Zeus III
Rich Little Piggies
Dancing Drums
The Hard Rock pays back an average of 97% on its slot machines. This is higher than the national average of 88% and the state minimum of 80%. This should give you a clear idea of what to expect from your visit.
Hotel/Resort
The casino offers a wide range of amenities for those looking to stay in the hotel portion of the resort. It's a great way to kick back and relax after the rush of the casino floor.
The hotel has 479 guest rooms and stylish suites, as well as an outdoor pool with cabanas and a sauna, a fitness center and spa, fine dining, and entertainment. Pet-friendly accommodations are available, as well as wheelchair access to the main areas of the resort.
Some of the room types you can expect to find are:
King room
Double Queen room
Cabana Suite
Sky Suite
The hotel also offers packages for weddings and special events. Guests can also enjoy a gym on location, a steam room, catering services, and relaxing hot tubs to take the pressure off after a long day.
Some of the amenities you can expect to find at the hotel and casino are:
Spacious rooms and suites
Pet-friendly accommodation
Personalized playlists
Restaurants and bars
Catering services
Pool with swim-up bar
Sauna
Spa
Gym
Three hot tubs
VIP lounge
Fitness center
Meeting rooms
Event spaces
Wedding services
Live entertainment
Gift shop
Promotions
The cost of staying at this hotel can vary depending on the type of room you choose and the time of year. Rooms start at around $150 per night, with suites ranging from $240 to $400 or more.
Specials and discounts are available throughout the year, so be sure to check the website to see what's available before you book.
Check-in time at Hard Rock Hotel is 4:00 pm
Check-out time at Hard Rock Hotel is 11:00 am
Restaurants & Buffets
With 11 restaurants and cafes, this casino in Biloxi has something to satisfy every craving. For fresh seafood lovers, Half Shell Oyster House serves up Gulf Coast oysters, shrimp and crab dishes.
Or enjoy a perfectly cooked steak at Ruth's Chris Steak House. Those looking for a classic American meal can stop by Hard Rock Cafe Biloxi for burgers, ribs and salads, while those who want an international experience can try Macau Kitchen for Chinese and Vietnamese fare.
The Satisfaction Buffet offers a wide variety of hot and cold dishes, while Sugar Factory American Brasserie is perfect for sweet tooths with its over-the-top desserts and candy-filled menu.
Pizza lovers will enjoy Pie Five, and Tequila's on the Gulf has 50 different types of tequila for guests to choose from. Sound Bar offers Pub Grub favorites like wings and nachos for late-night snacking, while Dunkin' Donuts and Ben & Jerry's have delicious coffee and ice cream treats.
Hard Rock Hotel & Casino Biloxi has a restaurant that will hit the spot, no matter what time of day or what you're in the mood for.
Pools
The casino resort is home to one of the most impressive pools in the world. The pool is Olympic-sized, and it is surrounded by cabanas and beautifully manicured palms.
What makes this pool even more unique is that it has a swim-up bar called Soundbar. Outside guests must be 21 years or older to enter the pool area. This is a truly unique pool experience that is not to be missed.
Hard Rock Hotel & Casino Biloxi, MS FAQ
Does Hard Rock Hotel & Casino Biloxi Have A Sportsbook?
The casino Biloxi does have a sportsbook. This casino offers its guests many sports betting options, including football, basketball, baseball, and more.
There are also various ways to bet so that you can tailor your experience to your personal preferences. The sportsbook is a great place to catch all the action of your favorite games, and with so many betting options available, you're sure to find a way to win big.
Is Poker Available At Hard Rock Casino?
This casino does not currently offer poker games. The casino does offer a variety of table games and slots, as well as live entertainment and a hotel.
Guests can also enjoy the on-site restaurants and bars. For those looking for a game of poker, there are a number of poker variations available as table games at the casino. These can be just as intense and rewarding as the classic variation of the game.
While Hard Rock Hotel & Casino Biloxi does not currently offer poker, there are still plenty of ways to enjoy your time at the casino.
What Are The Age Requirements For Gambling At Hard Rock Hotel & Casino?
The legal gambling age at the casino is 21. This means that you must be 21 years of age or older to gamble at the casino.
There are a few exceptions to this rule, however. If you are 18 years or older, you can play bingo and participate in certain types of electronic gaming. You must also be 21 years of age or older to drink alcohol at the casino.
Does Hard Rock Have An Online Casino?
This location does have an online casino. You can access it through their website and play all of your favorite casino games from the comfort of your own home.
In addition to slots and table games, they also offer a sportsbook and live dealer games. Their online casino is fully licensed and regulated by the Mississippi Gaming Commission. You can be sure that you're getting a fair game when you play here.
Is There An Hard Rock Hotel & Casino App?
The casino app is the perfect way to enjoy all the resort has to offer from the palm of your hand. Book your stay, view menus and make dinner reservations, order room service, find out about upcoming events and more.
The app also includes a casino floor map so you can easily find your way around. Plus, you can check your rewards status and redeem points for free rooms, dining and other perks. The app is a must-have whether you're planning a visit or are already on the property.
What Is The Dress Code At Hard Rock Hotel & Casino Biloxi?
The dress code at the casino is casual attire. This means you should avoid any overly revealing or provocative clothing.
Jeans, shorts, t-shirts and other casual items are acceptable as long as they are in good condition. If you plan to attend any special events or shows on-site, be sure to check the dress code for those particular events.
For the pool area, guests are asked to wear swimwear and refrain from wearing shirts or shoes in the water. Appropriate footwear is required throughout the remainder of the resort.
Is There An Airport Shuttle Available From Hard Rock Hotel & Casino?
Yes, the casino does offer an airport shuttle service to and from the Gulfport-Biloxi International Airport. The shuttle runs 24 hours a day and can accommodate up to 11 passengers at a time. Reservations for the shuttle must be made in advance.
What Is The Smoking Policy At Hard Rock Casino?
The casino offers both smoking and non-smoking areas. Smoking is only allowed in designated areas such as the casino floor, bars and restaurants.
All other areas of the resort are strictly non-smoking, including hotel rooms, meeting spaces, and the pool deck. Electronic cigarettes are prohibited in all areas of the property.
What Is The Pet Policy At Hard Rock Hotel & Casino?
The casino does not allow pets on the property. This includes all areas of the resort, although there are pet-friendly accommodations for those who want to bring their furry friends with them and ensure they are being looked after properly.
Service animals are allowed in accordance with applicable laws. Guests must provide documentation at check-in to prove that their pet is a service animal.
Is Wifi Available At Hard Rock Resort?
Yes, the casino offers complimentary wifi throughout the resort. Guests will need to log in with a valid email address to access the wifi network.
The connection speed is fast and reliable, so you can stream your favorite shows or use social media without any issues. The wifi signal is also secure, so you can feel confident that your data is protected.
What Is The Cancellation Policy For Hard Rock Hotel?
The cancellation policies vary depending on the type of reservation and any special offers that may be available. Generally, reservations made directly with the resort can be canceled up to 24 hours before check-in for a full refund.
Reservations booked through third-party sites may have different cancellation policies, so it's important to read the fine print before booking. In addition, some special offers or packages may be non-refundable if canceled after a certain deadline.
It is important to review the cancellation policy before making your reservation to avoid any potential fees or penalties.
Conclusion
Hard Rock is a great destination for those looking to enjoy a night out on the town. With an array of amenities and services, there's something for everyone. Plus, you can use the casino app to make your stay even more convenient.
From airport shuttles and pet policies to wifi availability and dress codes, this article provides an overview of all you need to know before your visit. Be sure to check out the cancellation policy for your particular reservation and enjoy a worry-free stay at Hard Rock Hotel & Casino Biloxi.