Harlow's Casino, Greenville
Address: 4280 Harlows Blvd, Greenville, MS 38701 
Phone number: +1 662-335-9797
Website: https://www.harlowscasino.com/
Hours: This casino is open 24 hours a day 7 days a week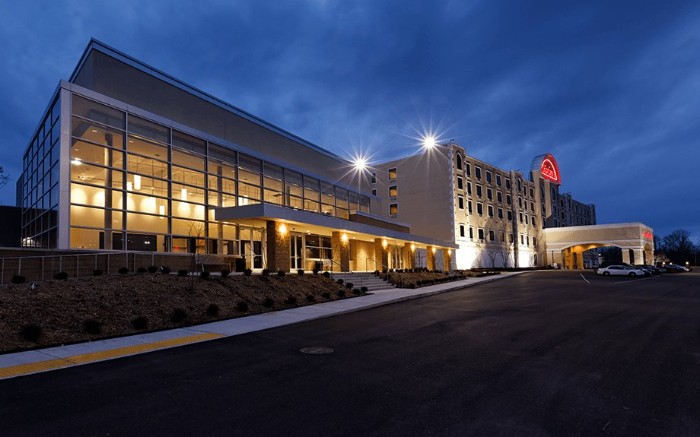 Harlow's is a casino located in Greenville. It is open 24 hours a day 7 days a week, and has slot machines, blackjack tables, and poker tables. It also has restaurants, a fitness center, and a hotel.
Harlow's Casino offers a variety of entertainment options, including live music, comedy shows, and karaoke. Guests can also enjoy the onsite pool and spa services. The hotel at Harlow's Casino has over 300 rooms available, as well as suites for those who want more luxury.
With its convenient location in Greenville, guests will find it easy to explore all of the attractions this city has to offer. Whether you are looking for a night out or just a place to relax and unwind, this casino is a perfect choice.
Guest reviews for Harlow's Casino in Mississippi are generally positive. Guests enjoy the variety of entertainment options available, as well as the convenience of the location.
The casino has a good selection of slots and table games, and the hotel offers a variety of accommodations to suit different needs. Overall, guests are happy with their experience at Harlow's Casino.
(Related reading: Mississippi casinos)
Gaming
This casino offers 24-hour gaming with hundreds of slot machines, blackjack tables, and other table games. It also offers an array of progressive jackpots and cash prizes.
Table Games
Table games are a classic staple of any casino. At this location, they offer a wide variety of table games for our guests to enjoy.
One of the most popular games they offer is craps. Craps is a dice game that can be enjoyed by players of all experience levels. They also have Roll to Win Craps, which is a variation of the game that features a progressive jackpot.
For guests who prefer cards, they have both blackjack and Mississippi Stud. Both of these games are popular choices among casino-goers. Lastly, they also have 3-Card Poker, which is a fast-paced and exciting poker game that can be played with up to six people.
The minimums for all of the table games offered at this location depending on the type of game being played. Generally, minimum bets range from 25 cents to $5 per hand.
Slots
This casino offers a wide variety of slots for guests to enjoy. Some of the most popular slot machines at this location include:
Wheel of Fortune Triple Extreme Spin
Five Times Pay
Buffalo Grand
Cleopatra
Double Diamond Deluxe
China Shores Double Winnings
The casino has not made its payback percentage publicly available. However, the state of Mississippi has a minimum payback percentage of 80%. This should give you a clear idea of what to expect when you visit.
Hotel/Resort
This casino also offers a hotel and resort for guests. The hotel includes spacious guest rooms, including luxurious suites. All of the rooms come with complimentary Wi-Fi, mini-fridges, cable television, and in-room coffee service.
Some of the room types you will find include:
Deluxe Double: Spacious room with two double beds, a Jacuzzi tub, and amenities.
Deluxe King: King-size bed, unique furnishings, Jacuzzi tub, and amenities.
Deluxe Suite: Bedroom, living space, and two bathrooms. Jacuzzi tub and amenities.
The resort is equipped with three restaurants, meeting spaces, a pool, a fitness center, and an event space. The resort also features a spa with treatments such as facials, massages, and body wraps.
The resort is the perfect place to relax and unwind after your night at the casino. There is so much on offer in addition to gambling, and if you want to spend some time relaxing after an intense day on the casino floor, this location has you covered.
Some of the amenities you can expect to find at the casino and hotel are:
Spacious rooms and suites
Restaurants
Pool
Spa
Pantry store
Fitness center
Meeting spaces
Event space
Live entertainment
Promotions
Rates for the hotel and resort at Harlow's Casino vary depending on availability. However, rates are generally reasonable compared to other local options. For example, a deluxe double room starts at around $80 per night.
The casino also offers various promotions throughout the year, so it's worth checking for any specials or discounts that might be available.
Check-in time at Harlow's Hotel is 4:00 pm
Check-out time at Harlow's Hotel is 11:00 am
Restaurants & Buffets
Louie's Steakhouse is one of the most popular restaurants at this casino. The menu features classic American cuisine, such as steaks, burgers, and fries.
The steaks are cooked to perfection, and the burgers are made with fresh, local beef. The fries are crispy and served with a delicious dipping sauce. The Sand Bar Café is another popular restaurant here.
The menu features a variety of sandwiches, salads, and soups. The sandwiches are made with fresh, local ingredients, and the soups are made from scratch.
Perks Coffee and Pastries is a great place to grab a quick bite. The menu features a variety of pastries, such as cookies, cakes, and pies. The coffee is freshly brewed, and the pastries are made with fresh, local ingredients.
Pools
The pool at this casino resort offers the perfect place to take a dip and refresh yourself. The casino has an open pool and deck area where you can catch some rays or cool off during hot summer days.
The pool is open seasonally from 9 am-7 pm. The casino also has a variety of other amenities, such as a fitness center, a business center, and a hotel.
Harlow's Casino, Greenville, MS FAQ
Does Harlow's Casino Have A Sportsbook?
This casino in Mississippi does have a sportsbook. This is good news for sports fans who like to gamble on their favorite teams.
The casino offers a variety of betting options, including point spreads, money lines and prop bets. A mobile app also allows customers to place bets from anywhere in the state.
In addition to being able to bet on sports, the sportsbook here offers a full menu of food and drinks. So whether you're looking to place a bet or watch the game, Harlow's is the place to be.
Is Poker Available At Harlow's Casino?
The casino offers its guests a wide range of gaming options, including poker. The casino features a large poker room with plenty of tables and chairs for players to choose from.
There is also a private room available for high-stakes games. In addition, the casino offers tournaments and other special events on a regular basis. So whether you're a casual player or a seasoned pro, you're sure to find a game that suits your needs at This casino.
What Are The Age Requirements For Gambling At Harlow's?
It is important to note that the casino has a strict age policy in place. Guests must be 21 years of age or older to enter the casino floor. This policy is strictly enforced, and ID checks are carried out regularly.
As such, guests under the age of 21 are not permitted to gamble at Harlow's Casino. There are a number of other casinos in the area that do cater to guests of all ages, so those under 21 can still enjoy a night of gambling elsewhere.
Does Harlow's Have An Online Casino?
This location does not have an online casino. While many casinos have moved to offer online options in recent years, Harlow's has not followed suit.
There are a number of possible reasons for this. It could be that the casino believes that its brick-and-mortar location is sufficient to draw in visitors. Alternatively, it could be that the casino has not yet seen the need to move into the online space.
Whatever the reason, it means that those who want to play casino games at Harlow's will need to do so in person.
Is There A Harlow's Casino App?
There is no app available at this time. However, the casino does have a mobile website that can be accessed by visiting the casino's website on your mobile device.
The mobile website offers the same features as the desktop website, including access to your account, available games, and promotions. You can also find hotel and dining options information on the mobile website.
While there is no app available, the mobile website is a great way to stay connected to the casino while on the go.
What Is The Dress Code At Harlow's Casino Resort?
The dress code at this casino is casual. There is no need to wear formal attire unless you are attending a special event or dinner.
Guests should avoid wearing sleeveless shirts and tank tops, as well as any clothing that could be interpreted as offensive. Baseball caps, hats and hoodies are also not allowed.
Overall, the dress code is designed to ensure that everyone has an enjoyable experience while visiting the casino.
Is There An Airport Shuttle Available From Harlow's Casino and Hotel?
No, there is no airport shuttle available from the casino. However, the casino does offer a complimentary shuttle service to and from local hotels in the area.
For those flying into the area, there are several airports located within a few miles of the casino. These include Gulfport-Biloxi International Airport, Hattiesburg-Laurel Regional Airport, and Mobile Regional Airport.
For those looking for other transportation options, there are a number of taxi and rideshare companies that also service the area.
What Is The Smoking Policy At Harlow's Casino?
The smoking policy at this casino is strictly enforced. Smoking is not permitted anywhere inside the casino, including the gaming floor and all other public areas.
In addition, smoking is prohibited in any outdoor areas that are within 30 feet of an entrance or exit. Guests who violate this policy may be asked to leave the premises.
What Is The Pet Policy At Harlow's Casino and Hotel?
The pet policy at the casino is that pets are not allowed on the casino floor or anywhere else in the casino. However, service animals are permitted and must be accompanied by their owners.
For those who have registered service animals, please note that all rules regarding access to the gaming floor still apply. All guests with service animals must obey the casino's rules and regulations.
Additionally, for those who have pets, several pet-friendly hotels in the nearby area are suited to accommodate your furry friends.
Is Wifi Available At Harlow's Casino?
Yes, Wifi is available at the casino. Guests can connect to the casino's free Wifi network by selecting "Harlow's Casino Wi-Fi" from the list of available networks on their mobile device.
Once connected, guests can access a variety of online services and websites. The connection is secure and can be used for anything from browsing the web to streaming videos.
What Is The Cancellation Policy For Harlow's Hotel?
The cancellation policy for the resort is as follows: guests can cancel their reservations up to 24 hours before the scheduled check-in time without incurring any additional fees.
Cancellations made within 24 hours of check-in will incur a fee equal to one night's stay plus applicable taxes. This fee will be charged to the credit card used for the reservation.
If a guest does not cancel their reservation and fails to check in on the scheduled date, they will be charged for the full amount of their stay.
Conclusion
Harlow's Casino and Hotel is a great destination for those looking for a fun and entertaining experience. With its modern facilities, great customer service, and easy access to the gaming floor, this casino offers something for everyone.
Additionally, with a casual dress code, pet-friendly policies, and complimentary Wifi, guests can rest assured that their stay will be comfortable and enjoyable. Harlow's Casino and Hotel is the perfect place to go whether you're looking for a weekend getaway or just an exciting night out.