Harrah's Gulf Coast, Biloxi
Address: 280 Beach Blvd, Biloxi, MS 39530
Phone number: +1 800-946-2946
Website: https://www.caesars.com/harrahs-gulf-coast
Hours: The casino is open 24 hours a day 7 days a week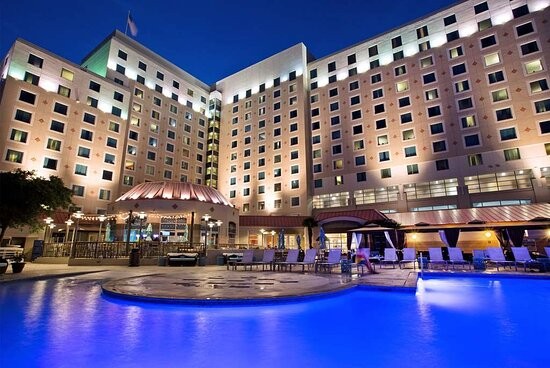 The casino is open 24 hours a day, 7 days a week, located at 280 Beach Blvd in Biloxi, Mississippi. Harrah's Gulf Coast has been in operation since 1994 and is one of the most popular casinos in the state.
It is owned by Caesars Entertainment Corporation and offers a variety of gaming options, including slot machines, table games, and poker. The casino also has a full range of restaurants, bars, and entertainment options.
There is a pool, spa, and golf course, so you can find something to entertain you when you're not on the casino floor. Harrah's Gulf Coast also offers live musical performances and other special events throughout the year.
With its stunning views of the Mississippi gulf coast and its world-class gaming experience, Harrah's Gulf Coast is an excellent destination for gamblers looking to have some fun.
Whether you are a first-time visitor or a seasoned gambler, Harrah's Gulf Coast is the perfect place to spend an exciting night out with friends.
Guests rate Harrah's Gulf Coast as a 4 out of 5 stars casino. The casino offers a great gaming experience with plenty of options for all types of players. The restaurants and bars are also top-notch, and the staff is incredibly friendly and welcoming.
Overall, guests love their time at Harrah's Gulf Coast and would recommend it to anyone looking for a great casino getaway.
(Related reading: Mississippi casinos)
Gaming
The casino offers 645 slot machines and a range of table games for you to enjoy. There are also plenty of opportunities to hit the jackpot with video poker and a selection of video keno machines.
Table Games
This casino offers a variety of table games for guests to enjoy. Roulette is a classic game of chance that is sure to delight any gambler.
Fortune Pai Gow offers a progressive jackpot for those looking for a higher-stakes game that can reach the millions. Blackjack is also available, with side bets that can increase the winnings.
Craps is another popular choice, and Mini Baccarat is perfect for those who want to try their hand at this classic game.
No matter what your preference, there is sure to be a table game that will suit your needs at this location. There are also plenty of promotions that might allow you to win big if you're lucky.
The table game minimums at this casino vary depending on the day and time. Generally, the minimum bet for roulette is $5, while blackjack tables generally have a minimum of $10.
The casino also offers high-roller tables with a much higher wager limit if you're looking for bigger payouts.
Slots
The casino offers a wide selection of slot machines, ranging from classic 3-reel games to the latest video slots. No matter what you're looking for, you're sure to find it on this expansive casino floor.
Popular titles include:
Wheel of Fortune
Sex and the City
Cleopatra
Dragon Light
Many of these machines offer progressive jackpots, so keep an eye out for those if you're hoping to hit it big.
This casino hasn't made its payback percentage available to the public. However, the state of Mississippi has noted that the minimum payback percentage for the state is 80%. Therefore, you should have a clearer idea of what to expect.
Hotel/Resort
The casino also offers guests a luxurious hotel and resort experience. The property features 10 stories of beautifully decorated rooms with breathtaking views of the Mississippi gulf coast.
The hotel includes several amenities, such as an outdoor pool, spa, fitness center, and restaurant. The casino is also located near some of Biloxi's top attractions, such as the Biloxi Lighthouse, Keesler Air Force Base Museum, and Mardi Gras Museum.
Harrah's Gulf Coast also offers an array of exclusive packages that allow you to take advantage of their full-service resort experience. It doesn't matter if you're looking for a romantic getaway or want to escape for a weekend; the hotel has something for everyone.
Some of the room types you will find are:
Deluxe: One or Two King/Queen beds, amenities, choice of smoking or non-smoking
Standard: One of Two King/Queen beds, amenities, and pet-friendly options available
Parlor Suite: Spacious living space, wet bar, amenities, and a large bathroom
Harrah's Gulf Coast is truly a unique casino and resort experience. With plenty of gaming options and luxurious accommodations, it's an ideal destination for those looking to have some fun. The resort has something for everyone, whether you're looking to hit the slots or relax with friends.
The casino also offers special events, promotions, and tournaments throughout the year that can make your visit even more memorable.
Some of the amenities you can expect to find at the casino and hotel are:
Luxurious rooms and suites
Pet-friendly rooms
Restaurants and bars
Pool
Spa
Fitness center
Gold course
Meeting spaces
Live entertainment
Promotions
Gift shop
Prices start from as low as $63 per night for a standard room. However, this can vary depending on the time of year you are visiting and which type of accommodation you choose.
For those looking for even more luxury, the resort also offers suites with stunning views and plenty of amenities. Prices for these rooms range from $180-$300 per night. No matter what type of stay you're looking for, Harrah's Gulf Coast can offer you the perfect getaway.
Check-in time at Harrah's Gulf Coast Hotel is 4:00 pm
Check-out time at Harrah's Gulf Coast Hotel is 11:00 am
Restaurants & Buffets
The casino is home to a variety of delicious restaurants that are sure to please any palate. For a truly unique dining experience, be sure to check out Magnolia House by Kelly English. This intimate setting is perfect for a romantic night or special occasion.
If you're looking for something a little more casual, Mix & Mingle is the place for you. This lively bar and grill feature a menu of American favorites and a wide selection of beers, wines, and cocktails.
Steak 'n Shake is the perfect option for a quick bite on the go. This chain restaurant is known for its delicious burgers and shakes, and it also offers a vegan menu for those who are looking for plant-based options.
The Blind Tiger is another great choice for casual dining, offering an impressive menu of seafood dishes as well as a full bar with ample seating.
If you need your caffeine fix, Starbucks is always a safe bet. The Purple Zebra Daiquiri Bar is your go-to if you want to try some exotic drinks and masterful cocktails. There's something for everyone at this location.
Pools
This resort's heated pool and soothing hot tub are open year-round, seven days a week, for your enjoyment. The resort-style pool deck features fountains, seasonal cabanas and daybeds, and the exterior of the outdoor bar and lounge, Mix & Mingle.
The pool area is complimentary for guests staying at the hotel and is also open to the public for a nominal fee. Pool hours are from dawn to dusk.
Guests can enjoy beautiful views of the Mississippi Sound while swimming laps in the heated pool, relaxing in the hot tub, or lounging on the pool deck. Cabanas are available for rent and include a mini-fridge, TV, chaise lounges, and a ceiling fan.
Daybeds are also available for rent and include a bottle of water and sunblock. Towels are provided complimentary for all guests. Food and beverage service is available from 11 am to 6 pm.
The pool bar offers a variety of frozen cocktails, beers, and wines by the glass, as well as light snacks such as chips and salsa, wings, burgers, sandwiches, salads, and pizzas.
The outdoor lounge features comfortable seating with views of the pool deck and Mississippi Sound. Live music is featured on select nights.
Harrah's Gulf Coast, Biloxi, MS FAQ
Does Harrah's Casino Have A Sportsbook?
This casino offers a full-service sportsbook, making it the perfect place to catch all the action of your favorite games. The sportsbook offers a variety of betting options, including point spreads, money lines, and totals.
You can also bet on props and futures. The sportsbook is open daily from 10 am to 2 am, so you can always get in on the action. In addition to its convenient location and wide range of betting options, the sportsbook also features big-screen TVs, so you never miss a minute of the action.
So whether you're a casual fan or a die-hard gambler, this casino is the perfect place to catch all the action.
Is Poker Available At Harrah's Casino Gulf Coast?
This casino does not currently offer poker games. However, they do have blackjack and three-card poker available. Blackjack is a classic casino game with the goal of getting as close to 21 as possible without going over.
Three-card poker is a newer game that is similar to traditional poker but with only three cards instead of five. Both of these games are available in the casino's main gaming area.
Additionally, a separate room for high-stakes gaming offers higher limits than the main gaming area. So while this location does not currently offer poker games, they do have other gaming options available.
What Are The Age Requirements For Gambling At Harrah's Casino?
The age requirement for gambling at the casino is 21. Guests must present a valid photo ID to enter the casino floor. IDs must be government-issued and include a photograph, date of birth, and expiration date.
Active duty military members with valid identification are also welcome to gamble at Harrah's Gulf Coast. Guests under the age of 21 are not permitted on the casino floor, but they are welcome in all other areas of the resort, including the pool and restaurants.
Does Harrah's Have An Online Casino?
This location does have an online casino. This is a great way to play casino games without leaving your home's comfort. You can find all of your favorite casino games like slots, blackjack, roulette, and more.
Plus, you can enjoy many different bonuses and promotions. When you create an account, you will be able to choose from a variety of welcome offers. You can also take advantage of other reload bonuses, VIP programs, and so much more.
The online casino is a great place to gamble online. You can be sure that you will have a safe and secure experience. Plus, you can enjoy all of the benefits that come with being a member of the club.
Is There A Harrah's Gulf Coast Casino App?
Yes, there is an app. The app is available for both iPhone and Android devices, and it can be downloaded for free from the App Store or Google Play.
The app provides a convenient way to stay up-to-date on all the latest news and events at Harrah's Gulf Coast and access special offers and discounts. Plus, you can use the app to check your account balance, view your comps and tier status, and more.
So whether you're planning a visit or just looking to stay connected, be sure to download the casino app.
What Is The Dress Code At Harrah's Gulf Coast Casino?
The dress code at Harrah's Gulf Coast is smart casual. This means that while there is no specific dress code, guests should avoid excessively revealing or overly casual clothing.
For men, collared shirts and slacks are suggested. For women, dresses and blouses are recommended. Jeans are acceptable as long as they are not ripped, torn, or overly distressed.
Additionally, athletic wear such as shorts and sneakers should be avoided. Shirts must also have sleeves, and no hats are to be worn on the casino floor. So while you don't need to dress up, it is still important to look presentable.
Is There An Airport Shuttle Available From Harrah's Casino?
Yes, there is an airport shuttle available from the casino. The shuttle runs 24 hours a day and seven days a week and can take you to the nearby Gulfport-Biloxi International Airport.
The shuttle costs $25 for one person and $45 for two people. You can call the casino or contact them through their website to make a reservation. The shuttle ride takes about 15 minutes, and reservations must be made in advance.
What Is The Smoking Policy At Harrah's Gulf Coast?
The casino has a non-smoking policy in effect. This means that no smoking is allowed on the casino floor or any other resort public area except in designated outdoor smoking areas.
E-cigarettes and vaping devices are not allowed. Guests who wish to smoke can do so at one of the designated outdoor smoking areas, which are clearly marked and located away from public areas.
In addition to the smoking policy, Harrah's Gulf Coast also has a strict dress code that must be adhered to in order to enter the casino floor.
What Is The Pet Policy At Harrah's Hotel and Casino?
The casino does not allow pets, but pet-friendly rooms are available in the hotel. These rooms are located on separate floors and have designated pet-friendly areas.
These rooms require an additional nominal fee, and all pets must be registered upon check-in. Pets must also be kept on a leash at all times while in the hotel, and they cannot be left unattended in the room or public areas.
Is Wifi Available At Harrah's Casino Resort?
Yes, wifi is available throughout the resort. Guests can access the wifi in their rooms and in public areas such as the lobby and casino floor.
The wifi network is secure and offers fast speeds for streaming and downloading content. Plus, it's free of charge for all registered guests. So you can stay connected while you're at this location.
What Is The Cancellation Policy For Harrah's Hotel?
The hotel has a flexible cancellation policy. If you need to cancel your reservation, you must do so at least 24 hours before the scheduled arrival date in order to receive a full refund.
Cancellations made within 24 hours of the scheduled arrival date will incur a one-night room and tax charge. For more details, please contact the hotel directly.
Conclusion
Harrah's Gulf Coast is a great destination for anyone looking to have a fun and relaxing time. The casino has something for everyone, from slot machines and table games to luxurious hotel accommodations and dining options.
The resort also offers an airport shuttle, free wifi, and pet-friendly rooms for those who are traveling with their furry friends. Plus, it has a dress code and smoking policy that must be adhered to in order to ensure everyone's safety and comfort.