Hollywood Casino Bay St. Louis
Address: 711 Hollywood Blvd. Bay St. Louis, MS 39520
Phone number: +1 228-469-2100
Website: https://www.hollywoodgulfcoast.com/
Hours: The opening hours for this casino are not listed online.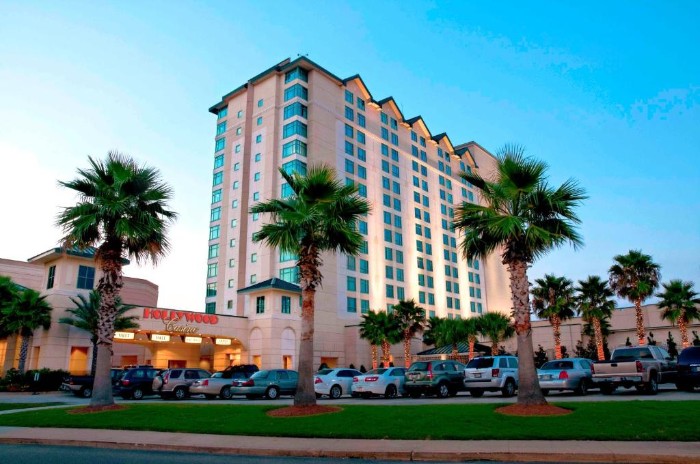 The Hollywood Casino Bay opened in September 1992 as the Grand Casino Biloxi. It was renamed the Hollywood Casino Bay St. Louis several years later. The casino has over 900 slot machines, a poker room, and 20 table games.
Guests can enjoy their favorite casino games, such as blackjack, roulette, craps and slots. There are also live poker tournaments held each month. It also offers a variety of special events, promotions and tournaments throughout the year.
It also features an 18-hole golf course, a hotel and spa, multiple restaurants and bars, and live entertainment. The casino is committed to providing guests with an exceptional gaming experience, outstanding customer service and a variety of entertainment options.
It is dedicated to providing its guests with an unforgettable gaming experience. With its high-quality amenities, friendly staff and exciting games, it's easy to see why this casino has become one of Mississippi's top tourist destinations.
According to TripAdvisor, guests rate Hollywood Casino Bay St. Louis an average of 4 out of 5 stars. They praise the casino's convenient location, various games, and excellent customer service. Overall, most guests enjoy their experience at the Hollywood Casino Bay St. Louis.
(Related reading: Mississippi casinos)
Gaming
This casino offers a variety of gaming options, including slots, table games, and a poker room. This is the place to be if you want a weekend of high-stakes, sports betting, and intense poker sessions.
Table Games
At this casino, guests can enjoy a variety of table games. Blackjack, also known as "21", is a classic card game where players aim to get as close to 21 as possible without going over.
Craps is a dice game that features a number of different betting options. Roulette is a classic casino game where players bet on where a ball will land on a spinning wheel. Poker is a popular card game that can be played in many different variations.
Three Card Poker is a simplified version of poker that is easy to learn. Single and Double Blackjack are variants of blackjack that offer slightly different rules. Cajun Stud is a poker-based game that features an exciting three-card bonus bet.
Mississippi Stud is another poker-based game that offers players the chance to win big jackpots. High Card Flush is a fast-paced card game where players aim to create the best flush using five cards.
The minimum wager for Blackjack is $10, while Craps and Roulette start at $5. Poker games offer various minimums depending on the game, ranging from as low as $1 to as high as $50.
Slots
The casino offers a variety of slot machines, ranging from classic 3-reel games to the latest video slots. It's the perfect way to try your luck and see how big you can win.
Some of the most popular slot machines found at this casino are:
Double Diamonds
Lightning Link
Wheel of Fortune
Buffalo Gold.
88 Fortunes
Double JackpoTriple
Blazing 7s
Quick Hit
Lil' Red Riches
Progressive jackpots are also available on certain slot machines and various promotions throughout the casino.
The casino has not made its payback percentage publicly available. However, the payback percentage for the state of Mississippi is set at a minimum of 80%. While it can be higher than this, it should give you a good idea of the minimum you can expect.
Hotel/Resort
The Hollywood Bay also features a hotel and resort with over 290 rooms that offer guests a luxurious stay in one of the most beautiful areas in Mississippi.
The hotel offers guests a variety of rooms, including deluxe suites, king or queen-sized beds, flat-screen TVs, and other amenities. Guests can enjoy the indoor pool, spa services, fitness center, and other amenities.
Some of the room types you can expect to find are:
Double Rooms: Two beds, amenities, and views of the Bay or the pool.
King Rooms: King bed, large bathroom, amenities, and gorgeous views.
Junior Suites: Living space, jetted tub, amenities, and sweeping views.
Bridges Suite: Living, dining, and sleeping spaces, amenities, and great views.
The resort also features multiple restaurants and bars that offer a variety of food and drinks. Guests can enjoy live entertainment and various special events throughout the year.
Overall, Hollywood Casino Bay St. Louis is a great place to visit if you're looking for a night of fun and entertainment. With its wide variety of gaming options, excellent amenities, and unbeatable customer service, it's no wonder that this casino has become a favorite destination for many.
Some of the amenities you can expect to find at this casino and hotel include:
Over 290 rooms and suites
RV park and marina
Restaurants and bars
Buffet
Gold course
Pool with lazy river
Hot tub
Spa
Fitness center
Meeting spaces
Live entertainment
Promotions
Gift shop
The cost of a stay at Hollywood Casino Bay Hotel will vary depending on the type of room you choose, the time of year, and any special promotions or packages that may be offered. Prices typically range from $99 to $299 per night.
If you are looking for an affordable way to experience all that the casino has to offer, there are a variety of packages available that include dining and entertainment.
Check-in time at Hollywood Bay Hotel is 3:00 pm
Check-out time at Hollywood Bay Hotel is 11:00 am
Restaurants & Buffets
The casino resort is home to three delicious restaurants, each with its own unique atmosphere and menu. Bogart's Steakhouse is the perfect spot for a romantic dinner or special occasion, offering dry-aged steaks and fresh seafood in an upscale setting.
Bridges Grill is a more casual option, perfect for grabbing a bite before hitting the casino floor. The menu features classic American fare like burgers and fries and lighter options like salads and sandwiches.
Celebrity Grill is a 24-hour restaurant that offers everything from snacks and coffee to full meals. Whether you're looking for a quick bite or a leisurely meal, this location has something to satisfy your appetite.
Buffet Prices
This casino is home to the Epic Buffet. This buffet features over 80 dishes, with prices starting at $15 per person and going up to as much as $50 per person.
The buffet includes a variety of international cuisines, as well as an extensive dessert selection. For those who are looking for a bargain, the casino offers discounts for seniors and military members.
Hollywood Casino also offers a special "kids eat free" promotion on certain days of the week. Whether you're looking for an all-you-can-eat feast or a quick bite, the Epic Buffet will satisfy your appetite.
Pools
This casino features one outdoor pool for guests to enjoy. The pool is 350 feet long and winds its way around sun decks and a hot tub. There is also a swim-up bar where guests can enjoy delicious drinks.
The Lazy River is complete with an island sun deck, hot tub, swim-up bar, and more. This is the perfect spot to relax and soak up the sun.
Hollywood Casino Bay St. Louis, MS FAQ
Does Hollywood Casino Have A Sportsbook?
The casino is located in the Bay St. Louis Beach neighborhood, just minutes away from the Gulf Coast beaches. It offers a wide variety of gaming options, including slots, table games, and video poker.
In addition, the casino also has a sportsbook where guests can place bets on their favorite teams. The sportsbook offers a variety of betting options, including point spreads, money lines, and futures.
Guests can also take advantage of the casino's online sports betting platform. This location is a great place to gamble and enjoy the beach.
Is Poker Available At Hollywood Casino Bay St. Louis?
This casino offers a variety of gaming options for its visitors. One type of game that is available at the casino is poker. Poker is a card game that can be played with up to 10 players.
The game's object is to have the best hand when all the cards are dealt. Players will bet on their hands, and the pot will go to the player with the best hand. Hollywood Casino offers both live and electronic poker games.
Live poker games are played with real cards, and electronic poker games are played on a machine. Guests can choose which type of poker game they would like to play. A Poker Room is also available for guests who would like to play tournament-style poker.
What Are The Age Requirements For Gambling At Hollywood Casino?
If you want to gamble at this casino, you must be 21 years of age or older. This is the legal gambling age in the state of Mississippi.
You will be asked to present a valid photo ID when you sign up for a Players Club card or redeem any casino promotions. If you do not have a valid photo ID, you will not be able to gamble at the casino.
The casino also has a hotel and spa on site. If you are 18 years of age or older, you can book a room at the hotel or enjoy the spa facilities. However, you will not be able to gamble at the casino if you are under 21 years of age.
Does Hollywood Casino Have An Online Casino?
This location does not have an online casino. They are a land-based casino only. You can visit their website for more information on their location, hours of operation, and gaming options.
While you cannot play casino games online, you can find many other entertainment options on their websites, such as restaurants and hotels.
Is There A Hollywood Casino Bay St. Louis App?
Unfortunately, there is not currently an app. However, the casino does have a mobile-friendly website that can be accessed from any smartphone or tablet.
The website includes all of the same features as the desktop version, so you'll still be able to enjoy your favorite slots and table games even when you're on the go.
In addition, the mobile site is designed for easy navigation, so you'll be able to find what you're looking for quickly and easily. If you're looking for a convenient way to play at this casino while you're on the go, the mobile site is definitely worth checking out.
What Is The Dress Code At Hollywood Casino?
The dress code at this casino is smart casual. This means that you should be clean and neat in your attire, but you don't need to wear anything too formal.
The atmosphere at the casino is relaxed and welcoming, so feel free to dress comfortably. However, keep in mind that clothing with offensive language or graphics won't be tolerated.
In addition, you should also avoid wearing any loose-fitting or torn clothes that may be deemed inappropriate for the casino atmosphere. All in all, the dress code is pretty laid-back and casual.
Is There An Airport Shuttle Available From Hollywood Casino and Hotel?
Yes, there is an airport shuttle available from the casino. The shuttle will take you to and from Gulfport-Biloxi International Airport.
The cost of the shuttle is $20 per person each way. You can call ahead and make a reservation for the shuttle or show up at the designated spot before departure time.
What Is The Smoking Policy At Hollywood Casino Bay St. Louis?
The smoking policy at this location is that guests are not allowed to smoke inside the casino. However, there is a designated outdoor smoking area where you can enjoy your cigarettes or cigars.
Please be aware that all guests must adhere to this policy, and failure to do so may result in being asked to leave the property.
What Is The Pet Policy At Hollywood Casino and Hotel?
Pets are not allowed in the casino or on the property. However, service animals are permitted and must be accompanied by their owner at all times.
If you do have a pet, there is an off-site kennel that you can use while you're staying at the hotel. The kennel is located a few miles away and offers safe and comfortable accommodations for your pet.
The kennel also offers pick-up and drop-off services, so you won't have to worry about finding transportation for your pet when it's time to go home.
Is Wifi Available At Hollywood Casino?
Yes, free wifi is available throughout the casino. You can connect to the network by selecting "HollywoodCasino" in your device's network settings.
Once you've connected, you'll be able to check emails, browse the web and stay up-to-date with all of the latest news and entertainment options at the casino.
What Is The Cancellation Policy For Hollywood Casino Hotel?
The cancellation policy for this location is that you must cancel your reservation at least 24 hours in advance of your arrival date.
You may be charged a fee if you cancel within the 24-hour period. If you have any questions about the cancellation policy, please contact the customer service team directly for more information.
Conclusion
Hollywood Casino is a great place to visit if you are looking for an exciting night out. With its wide selection of slots, table games, and entertainment options, there's something for everyone at this casino.
The mobile site makes it easy to access all of the same features from your smartphone or tablet, and the convenient airport shuttle makes it easy to get there. The dress code is casual, the smoking policy is strict, and pets are not allowed on the property.
Plus, free Wi-Fi is available throughout the casino, so you can stay connected while playing. Finally, make sure to check out their cancellation policy if you need to change or cancel your reservation.