Horseshoe Casino Tunica
Address: 1021 Casino Center Dr, Tunica Resorts, MS 38664
Phone number: +1 800-303-7463
Website: https://www.caesars.com/horseshoe-tunica
Hours: Casino operating hours are 10 am-11 pm Sun-Thurs and 10 am-3 am Fri-Sat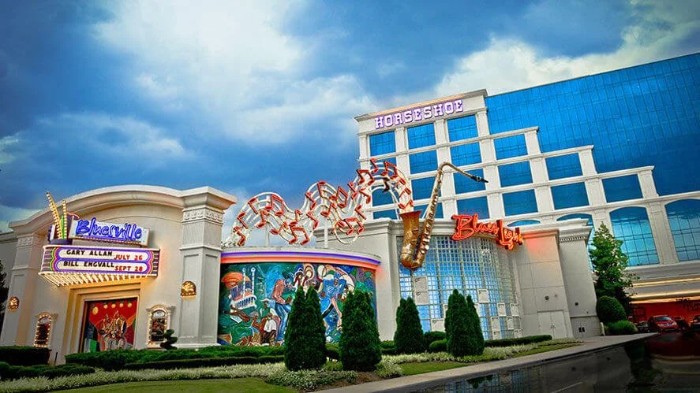 The Horseshoe opened in 1995 as the first casino in the Tunica Resorts area. At the time, it was owned by Harrah's Entertainment. The casino underwent a major renovation years later, including a new hotel tower and other amenities.
In recent years, Caesars Entertainment acquired Harrah's Entertainment, and the Horseshoe Casino Tunica became a part of the Caesars network of casinos.
The casino offers 950 slot machines and table games, including craps, roulette, blackjack, baccarat, and more. The Poker Room at the Horseshoe Casino Tunica has also become one of the most popular poker destinations in the mid-south.
The hotel at the Horseshoe Casino Tunica features over 500 rooms and suites, all of which are equipped with modern amenities.
Guests can also enjoy a variety of dining options at the casino, including casual eateries, fine-dining restaurants, and bars. In addition, guests can take advantage of the spa and pool area at the hotel.
It is a great destination for those looking to relax, have fun, and take advantage of all the casino has to offer.
So far, the Horseshoe Casino Tunica has received mostly positive reviews from guests. On TripAdvisor, the casino has an average rating of 4 out of 5 stars based on over 1,700 reviews.
Guests particularly appreciate the variety of gaming options available at the casino, as well as the friendly and helpful staff.
(Related reading: Mississippi casinos)
Gaming
This casino offers a variety of gaming options, including slots, table games, and a poker room. There is also a sportsbook for those who want to place a bet on the next race or game. Whatever your preference, there is something here for you.
Table Games
At this casino, there are a variety of table games that you can play. These include blackjack, craps, roulette, and three-card poker.
Each game has its own set of rules and guidelines, so it is important to familiarize yourself with the rules before you start playing. Blackjack is a classic casino game that pits the player against the dealer in a battle of who can get closest to 21 without going over.
Craps is a dice game that features a variety of betting options and can be quite exciting. Roulette is another classic casino game that features a spinning wheel and ball, with players betting on where the ball will land.
Three-card poker is a newer casino game that pits the player against the dealer using three cards instead of two. No matter your skill level or experience, there will surely be a table game at this location that you will enjoy.
The table game minimums at the Horseshoe vary depending on the game and the time of day you are playing.
Generally speaking, the minimum bet for a classic casino game such as Blackjack or Roulette is around $10. The table games at this casino also offer higher limits for those looking to bet more.
Slots
This casino offers a wide variety of slots ranging from classic reel-type games to the latest video slots. Some of the most popular slot machines at this casino include:
Wild Fortunes
Triple Cash Wheel
Cats & Dogs
Cleopatra
The casino also offers a variety of progressive jackpot slots that can offer you the chance to win big. There is no shortage of fun and exciting slot machines here, so be sure to check them out when you visit the casino.
This casino is known to have some of the loosest slots in Tunica, which is part of what makes it such a popular destination. The payback for this casino sits at 91.75%, which is fantastic if you're looking to have some fun.
Hotel/Resort
The Horseshoe Casino features a 500-room hotel with a variety of amenities for guests. The rooms come equipped with modern comforts and luxurious bedding, as well as flat-screen TVs and complimentary Wi-Fi.
Some of the room types you will find include:
Deluxe Room: King or Queen beds with plenty of amenities.
Premium Room: King or Queen beds, loads of space, multiple amenities.
Skyline Suite: Comfortable bed, incredible views, and a whirlpool bathtub.
Additionally, there are pet-friendly rooms if you want to visit with your furry friend, allowing your dog to be safe and comfortable while you gamble.
You can also take advantage of the spa and pool area at the hotel. There are also various dining options at the casino, including casual eateries and high-end restaurants.
This casino is a great destination for those looking to relax, have fun, and take advantage of all the casino has to offer. From the extensive gaming options to the luxurious hotel accommodations, you will not be disappointed.
Some of the amenities you can expect to find at this casino and hotel are:
500 rooms and suites
Pet-friendly rooms
Restaurants and bars
Pool
Spa
Meeting spaces
Nightlife entertainment
Live entertainment
Promotions
Prices for this hotel start from as little as $89 per night, depending on the time of year. Be sure to check out their website for the latest deals and special offers.
Check-in time at Horseshoe Hotel is 4:00 pm
Check-out time at Horseshoe Hotel is 11:00 am
Restaurants & Buffets
This casino in Mississippi is known not only for its gambling but also for its great restaurants. One of the most popular burger joints in the area is 8 oz. Burger Bar.
For a more upscale burger experience, try Jack Binion's Steak. If you're looking for something lighter, try JB's Cafe. For a taste of the Far East, Lucky 8 Asian Bistro is a must-try.
Of course, no visit to Horseshoe Casino would be complete without stopping by Starbucks for a coffee or snack. With so many great dining options, it's no wonder this location is one of the most popular casinos in the area.
Pools
This casino offers its guests one outdoor pool that is open seasonally. The pool area also features a relaxing atmosphere that allows you to escape the heat and take some time to unwind.
Guests can enjoy complimentary chaise lounges, towels, and cabanas that are available for rent. The pool is open to guests who are 21 or over, and lifeguards are on duty during operating hours.
For those looking to stay cool in the summer heat, the pool at this casino is the perfect place to relax and unwind.
Horseshoe Casino Tunica, MS FAQ
Does Horseshoe Casino Have A Sportsbook?
This casino does have a sportsbook. The sportsbook is located on the casino's second floor, and it offers a variety of betting options for guests.
There are a variety of sports to bet on, including football, basketball, baseball, and hockey. Guests can also place bets on horse races and other sporting events.
The sportsbook offers a variety of different ways to place bets, including online betting, live to bet, and parlay betting. guests can also take advantage of the casino's loyalty program when placing bets at the sportsbook.
The loyalty program offers rewards for guests who place multiple bets over the course of their visit. As a result, guests who frequently bet at the casino can enjoy many benefits.
Is Poker Available At Horseshoe Casino Tunica?
This location offers a variety of casino games, including poker. Poker is a card game that can be played with 2-10 players.
The object of the game is to have the best hand at the end of the game. Players will take turns betting, and the pot will go to the player with the best hand at the end of the game.
Poker is a fun and exciting game that can be enjoyed by players of all skill levels. Plus, there are some great poker variations available if you feel like something a little different from the classic version.
What Are The Age Requirements For Gambling At Horseshoe Casino?
The legal gambling age at the casino is 21. This means that you must be at least 21 years old to enter the casino, gamble at the casino, or participate in any of the casino's hotel and dining facilities.
If you are under 21 years of age, you will not be allowed to enter the casino or gamble, even if you are accompanied by a parent or guardian. The only exceptions to this rule are for guests actively participating in a tournament or event being held at the casino.
Guests under 21 years of age participating in an event will be allowed to enter the casino but will not be permitted to gamble. So, if you're planning on visiting this casino, be sure to bring your ID and be prepared to show it if asked.
Does Horseshoe Have An Online Casino?
This location does not have an online casino. While many casinos have moved to an online platform in recent years, the casino has remained committed to its brick-and-mortar location.
There are a variety of reasons for this, but the most important factor is likely the casino's desire to maintain a personal touch with its guests. Horseshoe Casino Tunica offers a wide range of gambling options, from slots and table games to sports betting and more.
The casino also features a hotel and several restaurants, making it a popular destination for tourists and locals alike. By remaining offline, the casino can provide its guests with a more complete and intimate experience that is not possible on an online platform.
Is There A Horseshoe Casino App?
There is no app currently available for download. However, the casino does have a mobile-friendly website that can be accessed from any smartphone or tablet.
The website includes all the features of the desktop version, including a full list of casino games, hotel information, and dining options. Additionally, players can use the website to sign up for promotional offers and newsletters.
While there is not currently an app available, the mobile website provides a convenient way to access all of the same information while on the go.
What Is The Dress Code At Horseshoe Casino Tunica?
The dress code at the casino is smart casual. Guests should avoid wearing clothing that is too revealing or overly ripped and torn.
The casino does ask that guests refrain from wearing beachwear, swimsuits, gym attire, tank tops for men, or any other type of clothing deemed inappropriate by the casino's management.
Finally, guests should avoid bringing large bags or backpacks into the casino to ensure that everyone remains safe and secure. By adhering to these dress code guidelines, all casino visitors can enjoy their visit with ease.
Is There An Airport Shuttle Available From Horseshoe Casino Tunica?
No, the casino does not provide an airport shuttle service. However, several transportation options are available from the Memphis International Airport to the casino.
These include taxi services, car rentals and buses that can take you directly to the casino. Travel time is usually about one hour, depending on traffic conditions. If you prefer to drive yourself, the casino is conveniently located near Highway 61.
For those who are looking for a more luxurious option, limo services can be booked in advance for a fee. This will provide you with comfortable and private transport to the casino from the airport.
What Is The Smoking Policy At Horseshoe Casino?
The casino has a strict no-smoking policy in all areas of the facility. This includes cigarettes, cigars and e-cigarettes. The only exception to this rule is in the designated smoking area located outside of the main casino floor.
Guests are encouraged to use this area if they wish to smoke while visiting the casino. The smoking area is open 24 hours a day and includes seating for guests.
What Is The Pet Policy At Horseshoe Casino and Hotel?
Unfortunately, pets are not allowed in the casino. This includes service animals, as they are not permitted to enter any gaming areas at the casino. Guests who wish to bring a pet with them can book a pet-friendly room at the casino hotel.
These rooms provide all of the same amenities as other guest rooms but also include a pet bed and water bowl. This will ensure that furry friends can still enjoy their visit to the casino with their owners.
Is Wifi Available At Horseshoe Casino Tunica?
Yes, wifi is available throughout the casino and hotel. Guests can access the wifi network by selecting "Horseshoe_Guest" from their device's list of available networks.
Once connected, guests will be able to use the internet for free in all areas of the facility. The connection speed is sufficient for streaming high-definition video and other activities.
What Is The Cancellation Policy For Horseshoe Casino Hotel?
The cancellation policy for reservations at the Horseshoe Casino and Hotel depends on the booking. Reservations made directly through the hotel (via phone or online) must be canceled 24 hours before check-in to avoid a fee.
If you cancel within 24 hours, no refunds will be provided, and any deposits taken will be forfeited. Reservations made through third-party sites may have different cancellation policies, so it is important to refer to the individual booking for more information.
In any case, guests should contact the hotel directly if they need to cancel their reservation in order to ensure that all refund or fee charges are properly applied.
Conclusion
Visiting Horseshoe Casino Tunica is a great way to enjoy some entertainment and relaxation. To ensure everyone has the best experience possible, all guests should adhere to the casino's dress code and other policies.
By following these guidelines, visitors can rest assured that their visit will be safe, enjoyable, and hassle-free. Furthermore, the casino offers a variety of amenities, including free wifi and pet-friendly rooms, to make sure everyone is well taken care of.
With these accommodations and its convenient location, Horseshoe Casino is the perfect place for an unforgettable gaming experience.