Island View Casino Gulfport
Address: 3300 W Beach Blvd, Gulfport, MS 39501
Phone Number: +1 228-314-2100
Website: www.islandviewcasino.com
Hours: Island View Casino is open 24 hours a day, 7 days a week.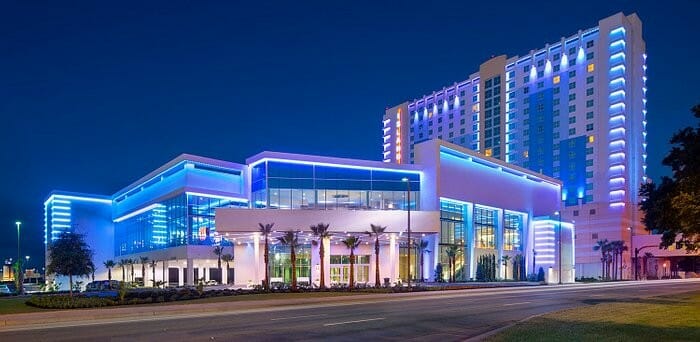 Island View Casino in Gulfport opened its doors in 2006. The casino is one of the largest land-based casinos on the Mississippi Gulf Coast, with over 80,000 square feet of gaming space. The property is now owned by businessmen Rick Carter and Terry Green.
Their gaming space features slots, table games, and a poker room. The casino also offers dining in its several restaurants, like the Buffet, C&G Grill, and Dockside Deli. There is also an entertainment venue with live music and other events.
In addition to the gaming space, this casino has multiple amenities to enhance guests' experience. There is a swimming pool, gift shops, a full-service spa, and a hotel with over 970 luxurious rooms.
Whether you're looking to have a great night out with friends or want to try your luck at the slots, this casino is the place to be. With its top-notch amenities and exciting events, you'll find plenty of ways to have fun here.
According to reviews, this casino in Gulfport has earned an average rating of 4.3 stars out of 5.0 from guests. One guest said, "Great place to play slots and the staff is friendly too. The buffet was also great."
Another guest commented, "There are so many great things about this casino. Love the atmosphere, friendly staff, and all the amenities they offer."
(Related reading: Mississippi casinos)
Gaming
Their 80,000 square feet gaming space features slots, table games, and a 10-table poker room. There are over 2,700 slot machines ranging from penny to $25 in denominations.
Table Games
If you're looking for an exciting night out with friends or family, visiting this casino in Mississippi might just be the thing for you. With plenty of options to choose from, you can indulge in some of the most popular table games right here.
From classic Blackjack to Roulette, Craps to Baccarat, and even Poker, there's something for everyone here at this casino. Table game minimums vary depending on the type of game but generally range from $5 and go up to $1000 per hand.
Slots
The most popular slots at this casino are:
Colossal Wizards
Li'l Red
Wheel of Fortune
Pink Panther
Spartacus Gladiator of Rome
Quick Hits
Forbidden Dragons
Queen of the Wild II
Lightning Link
The Walking Dead
Lazer Lock Ice Sapphire
According to Mississippi Gaming Commission regulations, all Mississippi casinos must return at least 80% on all slot machines. So even if you don't win big, you know your chances of winning are high.
Hotel/Resort
The casino resort offers 970 luxurious rooms and suites, each with a view of the beach or the island. Rooms range from standard rooms to deluxe kings or queens for those looking for something more extravagant.
Additionally, the casino resort offers plenty of amenities to enjoy. These include:
Internet access
Parking on-site
EV charging stations
24-hour front desk
Concierge services
Housekeeping
Onsite restaurants and bars
Live entertainment
Swimming pool
Gift shop
Full-service spa
Business center and meeting rooms
Banquet facilities
A standard room at this casino costs around $109 per night. Prices may vary depending on the season and availability. Their official website always has the most up-to-date prices and special offers.
Check-in time at Island View is 3:00 pm
Check-out time at Island View is 11:00 am
Restaurants & Buffets
If you're planning a trip to this casino in Mississippi and wondering where to eat, there are various delicious options to choose from. One popular choice is The Buffet, offering a wide range of dishes for only $12.99 plus tax.
If you're in the mood for something grilled, the C&G Grill serves tasty burgers and sandwiches. Alternatively, you can head to Dockside Deli for a quick and easy meal or indulge in a steak dinner at Carter Green Steakhouse or Prime Cut.
And for a classic all-American diner experience, The Diner offers breakfast, lunch, and dinner options. No matter what you're in the mood for, this casino has a restaurant sure to satisfy your cravings.
Pools
Traveling to this casino in Mississippi is a treat for those looking to escape into a world of entertainment, relaxation, and fun. In addition to the thrill of the gaming floor, the casino is a haven for those who love to bask in the sun poolside.
With an onsite swimming pool, guests can enjoy the perfect combination of gaming excitement and refreshing relaxation. Whether you want to soak up some rays or dip in the cool water, this casino pool area has you covered.
Island View Casino, Gulfport, MS FAQ
Does Island View Casino Have A Sportsbook?
Yes, this casino has a sportsbook. Guests can bet on sporting events such as football, baseball, basketball, hockey and more. The sportsbook also offers betting options, including point spreads, total points scored and moneyline wagers.
Is Poker Available At Island View?
Yes, they offer multiple variations of poker. You can enjoy classic versions such as Texas Hold'em, Omaha and 7-card Stud, and more. Whether you are a beginner or an experienced poker player, there's something for everyone here.
What Are The Age Requirements For Gambling At Island View Casino?
The legal gambling age in Mississippi is 21 years old. Therefore, all guests at this casino must be at least 21 years of age to enter the gaming floor or participate in any gambling activities. Identification is required for proof of age and may be asked for at any time by a staff member.
Does Island View Have An Online Casino?
No, they do not have an online casino. All gambling activities must be done in person at the physical location in Gulfport. Guests can take advantage of the various gaming and entertainment options and the restaurants and amenities onsite.
Is There An Island View Casino App?
No, there is no app for this casino. However, you can find all the information you need on their website. This includes game rules and regulations, promotions and specials, restaurants and entertainment options, and more.
What Is The Dress Code At Island View?
The dress code is casual. Guests must wear appropriate attire, such as shirts, pants and closed-toe shoes. Swimwear should only be worn in the pool area. No offensive clothing or foul language will be tolerated.
Is There An Airport Shuttle Available From Island View Casino?
No, they do not provide an airport shuttle service. However, there are other ways to get to the casino, such as Uber or a taxi. Additionally, guests can make arrangements for private transportation if they prefer.
What Is The Smoking Policy At Island View?
Smoking is allowed on the gaming floor but not in restaurants, bars or other enclosed areas. In addition, all guests must be at least 21 years old to smoke on the property. Electronic cigarettes are also prohibited.
What Is The Pet Policy At Island View Casino?
Pets are not allowed on the property. Service animals, such as those used by people with disabilities, are permitted. All service animals must be registered with the casino and must remain under the control of their owner at all times.
Is Wifi Available At Island View?
Yes, guests can enjoy free WiFi throughout the casino. This includes restaurants, bars and other areas. Guests must sign up for a username and password to access the network, which is available 24/7.
What Is The Cancellation Policy For Island View Casino?
Guests must provide 48 hours' notice for any cancellations. Any cancellation within that timeline will be subject to a fee. All guests must also agree to the casino's terms and conditions before their reservation is considered valid.
Conclusion
This popular casino resort is the best place for a night of entertainment. Whether you're looking for gaming, dining, or sports betting – this casino has it all. With its convenient location and modern amenities, this casino will surely provide a memorable experience for everyone who visits.
From the age requirements to the pet policy, this casino has everything you need to know before you go. So what are you waiting for? Join in on the fun at Island View Casino!