Isle of Capri Casino Hotel Lula
Address: 777 Isle of Capri Pkwy, Lula, MS 38644
Phone number: +1 610-241-1627
Website: https://www.caesars.com/isle-of-capri-lula
Hours: This casino is open 24/7 on the weekends and until 1 am during the week.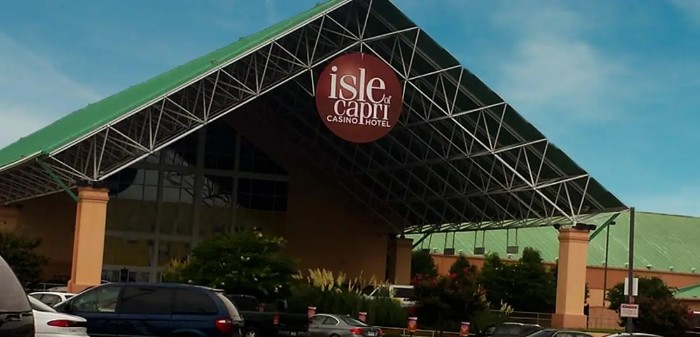 The Isle of Capri Lula was first opened in 1993. It is a large casino that features over 400 slot machines and 7 table games. The casino is open 24/7 on the weekends and until 1 am during the week. It also features a special sportsbook and live entertainment.
The hotel offers 150 luxurious rooms and suites with modern amenities such as free Wi-Fi, flat-screen TVs, room service, and more. Guests can enjoy the fitness center and outdoor pool while they're here. The restaurant serves fine international cuisine for breakfast, lunch and dinner.
There is plenty to do at this location. The casino hosts a variety of promotions and special events throughout the year. There is also live music and DJs in the bars on the weekends.
Guests highly rate the Isle of Capri Casino with an average rating of 4.5/5 on TripAdvisor. Many guests appreciate the luxurious rooms and suites, as well as the variety of promotions and special events that the casino hosts throughout the year.
(Related reading: Mississippi casinos)
Gaming
This casino offers over 400 slot machines and 7 table games, providing you with an unforgettable experience. Additionally, the sportsbook allows guests to place bets on sports games while they are at the casino.
Table Games
This casino offers a wide variety of table games to provide hours of fun and entertainment. Craps is one of the exciting games offered, as well as different variations of poker.
Roulette, where players can place bets on black or red or individual numbers, is sure to create an adrenaline rush. Let it Ride offers an interesting variation on traditional five-card stud poker, with players receiving two separate payout opportunities for each card.
Another favorite game is Blackjack, the classic card game that requires sharp analytical skills and an understanding of risk versus reward. Caribbean Stud Poker gives players the chance to not only compete against other players but also beat the dealer in order to win big payouts.
Table game enthusiasts looking for something different will likely appreciate Spanish 21, combining blackjack and baccarat elements into a fun and exciting game.
The minimum bet at the tables varies depending on the game. The minimum bets for blackjack, craps and roulette are $5, while the minimums for Caribbean stud poker and Spanish 21 are $10 and $25, respectively.
It should be noted that the time of day and the day of the week can have an impact on the minimums.
Slots
This casino offers over 400 slot machines, each of which gives you the opportunity to win fantastic jackpots and enjoy the rush as you watch those symbols turn. Popular games include:
Buffalo Gold Revolution
Wheel of Fortune
Dragon Link
Cleopatra
Zeus III
Monopoly Hot Shot
This casino has not made its payback percentage publicly available. However, the payback percentage for the state of Mississippi starts at 80% and can go higher, which should give you a clear idea of what you can expect.
Hotel/Resort
The hotel at this casino is designed to give you a luxurious experience. The 150 rooms and suites are equipped with modern amenities such as flat-screen TVs, free Wi-Fi, room service and more. They even have pet-friendly rooms for those who want to bring their furry friends.
Some of the room types you can expect to find are:
Coral Reef Classic: Two double beds, spacious room, and amenities.
Isle Luxury: King bed, large bathroom, spacious room, and amenities.
These rooms also come with the option for smoking, non-smoking, accessible, and pet stay.
The fitness center offers the latest equipment and professional trainers' advice on how to get the most out of your workout. The outdoor pool is perfect for cooling off after a long day at the casino.
The restaurant offers international cuisine with sophisticated flavors, perfect for breakfast, lunch and dinner. And if you're looking for something different, the bar area serves cocktails and beer in an atmosphere of fun and relaxation.
Some of the amenities you can expect to find at the hotel and casino are:
Spacious and luxurious rooms
Pet-friendly rooms
Restaurant and bar
Sportsbook
Resort-style pool
Fitness center
Business center
Event space
Live entertainment
Promotions
The cost of staying at this hotel will vary depending on the type of room and amenities included. Prices range from $50 per night for a classic double room and higher per night for a luxury king suite. Prices may also be subject to change with seasonal promotions or special offers.
Check-in time at the Isle of Capri Hotel is 4:00 pm
Check-out time at the Isle of Capri Hotel is 11:00 am
Restaurants & Buffets
For diners looking for a delicious and affordable meal while they're visiting the casino, the O&H Express is the perfect spot. This casual eatery offers American comfort food with a twist.
Choose from hearty favorites such as burgers, wings, sandwiches and deli-style subs, then complement them with classic sides such as French fries and onion rings.
Or go for something different but equally delicious, like the chili dog burrito or the bacon-wrapped hot dog. The great thing about O&H Express is that you can customize your order according to your preferences. For example, swapping out one side for another or adding extra ingredients.
Pools
The casino hotel offers a luxurious oasis with plenty of outdoor recreation. One of the best amenities is the outdoor pool, which transports guests to an island paradise.
The resort-style pool features a wide variety of lounging areas, including a swim-up bar, private cabanas, and sun decks with cabana-style seating–all soaking up the Mississippi sunshine.
As summer arrives, the pool comes alive for daytime soaks or afternoon dips in crystal-clear waters surrounded by tropical plants. After dark, the atmosphere shifts gears with lively music and tiki torches providing soft light against indigo skies.
Safety protocols are the top priority, with lifeguards on duty and complimentary towels supplied at both entry points throughout opening hours.
Isle of Capri Casino Hotel Lula, MS FAQ
Does Isle of Capri Casino Have A Sportsbook?
The casino offers a great sportsbook for bettors looking to make their mark on the world of sports betting. With an array of comprehensive wagering opportunities on a variety of sports and leagues, you're sure to find an event that's right up your alley at this location.
From football to boxing or basketball to baseball, you can be certain that you'll find whatever sporting event you have in mind at this premier gambling destination.
Is Poker Available At Isle of Capri Casino Lula?
Fortunately, those who are looking to find a place to get their poker fix should look no further than this casino in Mississippi. The casino proudly offers a variety of poker tables to meet the needs of all its guests, catering to a wide range of experience levels.
The casino also hosts regular tournaments and offers a variety of bonuses and promotions for its players. Whether you're a beginner or an experienced card shark, you'll certainly find something to enjoy here.
The friendly staff ensures everyone feels welcome, while the varied selection of games means there is something available no matter your skill level.
What Are The Age Requirements For Gambling At Isle of Capri Casino?
Gambling is strictly restricted to guests aged 21 or older. All guests must present valid photo identification prior to entering the casino premises.
Guests under the age of 21 will not be permitted to enter the gambling area even if accompanied by an adult. Similarly, alcohol is also prohibited for persons under the legal drinking age of 21 years old.
The casino prides itself on providing a safe and enjoyable environment for patrons enjoying an evening out with friends or family. It also praises its commitment to protecting underage individuals from gambling activities they are not legally allowed to partake in.
Does Isle of Capri Have An Online Casino?
This Mississippi staple surprisingly does not offer an online casino option. While there are other ways in which players can take part in their favorite gambling games, those hoping to play from the comfort of home will be disappointed to learn that there is no digital version of the casino available at this time.
Regardless, anyone who wants to enjoy the thrill that comes with taking a chance on any game of luck or skill will certainly not be disappointed with what this iconic location has to offer.
Between its stunning interiors and spectacular amenities and services, it's no wonder why so many people continue to choose this casino as their go-to destination for all things fun and exciting.
Is There An Isle of Capri Casino Hotel App?
The casino provides an excellent selection of slot machines and table games to cater to all kinds of gamblers. While many casinos offer their own mobile apps, no official app can be downloaded onto your mobile device.
However, their website offers an intuitive mobile layout where you can sign in with your username or email to access gaming options as well as view promotions and restaurant specials.
You can also access support services from the home page, such as customer service and account information. It's easy to see why many make the trip out to the casino to try their luck. So, no app exists for now, but visitors will certainly enjoy what this unique gaming facility offers.
What Is The Dress Code At Isle of Capri Casino Lula?
The dress code for the casino is that all guests must wear neat, clean and appropriate attire. No torn or frayed clothing is allowed, and all shirts should have sleeves.
No offensive messages or logos should be present on any shirt, shorts, pants or another type of clothing worn in the casino. The management reserves the right to refuse admission or service to any person whose clothing is deemed inappropriate.
This casino encourages all of its guests to dress their best for the ultimate gaming experience.
Is There An Airport Shuttle Available From the Isle of Capri Casino Hotel?
The casino does not offer an airport shuttle service from nearby airports. However, several taxi and ride-share services are available for guests to utilize to get around the area.
Additionally, car rentals can also be arranged for those who wish to explore the region beyond the casino's immediate vicinity.
What Is The Smoking Policy At Isle of Capri Casino?
The casino has a strict no-smoking policy. This means that smoking is not allowed in any area of the casino, including the gaming floor and all public areas.
Guests are welcome to use designated outdoor smoking areas if they wish to smoke while at the casino. However, these areas are not included in the casino's no-smoking policy. The casino also prohibits the use of any e-cigarettes or vaporizers on its premises.
What Is The Pet Policy At Isle of Capri Casino and Hotel Lula?
The casino does not allow pets in any of its areas. This includes the gaming floor and all public areas, including restaurants and bars.
The hotel does allow pets in their guestrooms, but the hotel reserves the right to limit the number of pets that can be in a single room. Furthermore, an additional fee is associated with bringing a pet into the hotel. Guests are responsible for any damages caused by their pets.
Is Wifi Available At Isle of Capri Casino Hotel?
Yes, complimentary wifi is available throughout the casino and hotel. Guests should be aware that the connection speed may vary depending on their location within the property.
Additionally, access to certain sites or services may be restricted in order to ensure a secure connection for all guests.
What Is The Cancellation Policy For Isle of Capri Hotel?
The casino's cancellation policy varies based on the type of reservation made. For reservations made directly through the hotel, cancellations must be made at least 24 hours before your scheduled check-in time to receive a full refund.
For reservations booked through third-party sites such as Expedia or Booking.com, guests must refer to the cancellation policies of their respective booking sites.
Conclusion
Isle of Capri Casino and Hotel Lula offers a unique gaming experience for guests. With its intuitive mobile layout, guests can easily sign in to access gaming options, promotions and restaurant specials.
Plus, the casino's dress code and pet policy ensure that everybody has an enjoyable visit.
Additionally, complimentary wifi is available throughout the property, while rental cars and taxi services can help guests explore the local area. When making reservations, be sure to check the cancellation policy for your specific booking.
With all these features, Isle of Capri Casino and Hotel Lula is sure to provide a memorable gaming experience for anybody that visits.