Magnolia Bluffs Casino, Natchez
Address: 7 Roth Hill Rd, Natchez, MS 39120
Phone number: +1 601-235-0045
Website: https://magnoliabluffscasinos.com/
Hours: The casino tends to operate between the same set hours except on weekends. Monday 10 am–2 am, Tuesday 10 am–2 am, Wednesday 10 am–2 am, Thursday 10 am–2 am, Friday 10 am–4 am, Saturday 10 am–4 am and Sunday 9 am–2 am.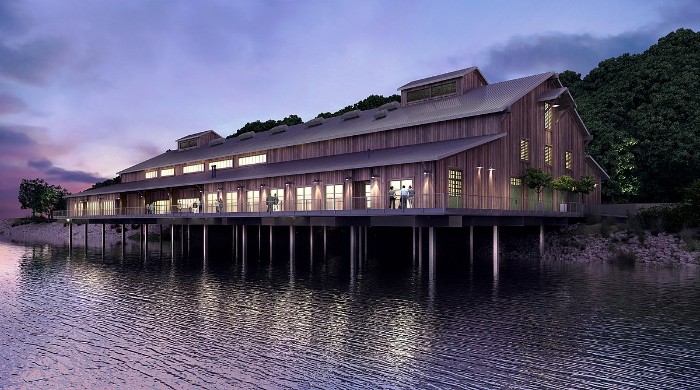 The Magnolia Bluffs Casino was first opened in 2012, and the hotel opened in 2018. The casino is located on Roth Hill Road in Natchez and has been a popular destination for gamblers in the region.
The casino offers a variety of gaming options, including slots, table games, sportsbook bets, and poker. It also has a hotel, restaurant, and lounge on-site.
It has a range of amenities and entertainment options for guests, including live concerts and events. In addition to the gaming floor, guests can also enjoy a seasonal saltwater pool for a unique touch to their stay.
Guests who have visited Magnolia Bluffs Casino, Natchez, have generally given it high marks. The casino has been described as being well-run and offering a great selection of games and amenities.
In addition, the staff is reportedly friendly and helpful, which adds to the overall positive experience.
(Related reading: Mississippi casinos)
Gaming
This casino offers a variety of gaming options, including slots, table games, sportsbook bets, and poker. There is something for everyone, and you're sure to enjoy an adrenaline-fueled night.
Table Games
This casino is an exciting gaming destination offering something for every member of the family. With 14 tables, they have plenty of games to choose from, so you're sure to find something to your taste.
At this casino, you'll be able to challenge your friends and family in some classic table games, including blackjack, roulette, craps, and poker.
Whether it's betting on the number that will come up on the roulette wheel or bluffing your opponents at poker for the pot, there are plenty of thrills and excitement around every table.
Plus, with friendly dealers ready to help you learn as you play as well as special tournaments for prizes, there's always something new to explore when playing at this casino.
The minimum bet for table games at the Magnolia Bluffs Casino varies depending on game selection. For Blackjack, the minimum bet is $10, while for Roulette, it is $5, and for Craps, it is $10.
For poker, there are several variations of this game available in different denominations, ranging from as low as $1 to as high as the casino allows. Minimums can vary according to the day of the week and the time of day.
Slots
There are over 500 slot machines to choose from at this casino, and you can take advantage of high-stakes games with excellent jackpots.
Some of the most popular slot machines at this casino are:
Buffalo Moon
Temple Tiger
Pop'N Pays
Buffalo Grand
Dancing Drums
Wicked Winnings
This casino has not made its payback percentage publicly available. However, the state of Mississippi tends to have a payback percentage that hangs around 80%. This should give you a clearer idea of what to expect from the casino.
Hotel/Resort
This casino offers a hotel, restaurant, and lounge on-site. The hotel has 108 rooms with luxurious amenities alongside a delicious complimentary breakfast.
Guests can enjoy the fitness center and sauna. Plus, the casino also offers free Wi-Fi, valet parking, and a range of other services to make your stay more comfortable.
Some of the room types you can expect to find are:
Standard King: King bed, spacious room, and amenities.
Standard Double: 2 double beds, spacious room, and amenities.
King Suite: King bed, living area, bath, and amenities.
Accessible Standard and Suite: The same as the other rooms but made accessible for disabled guests.
The saltwater pool is seasonally available, and it makes the perfect place to kick back and relax. The hotel bar is available on weekends, and there is plenty of space for those who want to make use of the business center or host a lavish banquet.
Some of the amenities you can expect to find at the casino and hotel are:
Spacious and luxurious rooms
Restaurant and bar
Complimentary breakfast
Saltwater pool
Fitness center
Business center
Event space
Banquet room
Promotions
The cost to stay at Magnolia Bluffs hotel varies depending on the room type and time of year. For Standard and Accessible rooms, prices start from $113 per night plus tax. King Suites tend to be much higher. Prices may vary according to availability and season.
Check-in time at Magnolia Bluffs Hotel is 3:00 pm
Check-out time at Magnolia Bluffs Hotel is 11:00 am
Restaurants & Buffets
This casino has two great restaurants, each with its own unique style and appeal. The Sports Bar and Grill is a lively spot to grab a bite to eat while taking in sporting events on one of the many flat-screen TVs.
From classic comfort food to create contemporary dishes, guests can enjoy breakfast all day at the Sports Bar and Grill, complete with hearty omelets, pancakes, and more. Later in the day, visitors can relish burgers and bar fare crafted from local ingredients while watching their favorite games.
The Center Bar offers late-night snacks and an extensive selection of craft beers from around the world, all served with Southern hospitality. Located just off the casino floor, it's hard not to relax here and enjoy top-notch libations.
Pools
In addition to its gaming tables, slot machines, and entertainment shows, the hotel offers a gorgeous pool that is open seasonally. The saltwater pool is one of their not-to-miss attractions, with its sparkling blue water that can provide hours of relaxation or adventure.
From swimming laps to floating leisurely on an inner tube, guests will find a wide range of activities for fun in the sun.
Magnolia Bluffs Casino, Natchez, MS FAQ
Does Magnolia Bluffs Casino Have A Sportsbook?
One particularly popular attraction at this casino is its sportsbook. This recently established betting area allows fans to make wagers on their favorite teams both domestically and internationally.
In addition to traditional bets like straight wins or totals, details predictive propositions are also available. The sportsbook is equipped with cutting-edge technology that processes bets quickly and accurately while offering excellent payout odds.
Whether you're an avid sports fan or an occasional bettor, the sportsbook at this casino is sure to provide plenty of thrills and excitement.
Is Poker Available At Magnolia Bluffs Casino?
this casino offers the ultimate gaming experience. There's something for everyone, from slot machines and table games to live entertainment. One of the casino's most popular offerings is its poker room.
Here, you'll find all of the classic favorites. In addition, there are many varieties of tournament play with jackpots that reach into the thousands.
If you prefer a more strategic approach, the casino also offers poker experts who can help guide you through gameplay and assist in planning your strategy to win big.
What Are The Age Requirements For Gambling At Magnolia Bluffs Casino?
All patrons must be over 21 years of age in order to participate in any gaming activity at the casino. This includes everything from slot machines and video poker games to table games like blackjack and roulette.
You'll also need to present an acceptable form of ID when placing bets or redeeming winnings from the floor.
If caught trying to enter the premises under the age of 21, you may receive an eviction notice from security personnel – so be sure to bring proof of your age if you intend on gambling at this casino.
Does Magnolia Bluffs Have An Online Casino?
One thing nowhere to be found at this location is an online casino. The operators have made a conscious decision not to move into this area, perhaps because they value the social aspect of traditional casino gambling more than what could be offered by an online equivalent.
In any case, it's worth noting that if you're looking for an online experience, then Magnolia Bluffs should not be your first port of call.
However, if you want to enjoy some good old-fashioned casino fun while also enjoying the atmosphere and hospitality that makes this casino such a popular destination, then it's definitely worth checking out.
Is There An Magnolia Bluffs Casino and Hotel App?
Despite its popularity, the casino does not currently offer an app to enjoy games from the comfort of home.
This may be an inconvenience for those looking to play the many games offered at this particular casino while they are away from the property. However, there are still plenty of ways to access your favorite gambling activities without having to rely on a mobile app.
For example, you can use their website to browse through the list of available promotions and log in to your account.
What Is The Dress Code At Magnolia Bluffs Casino?
The dress code at this casino is casual. Although they ask that you refrain from wearing anything too revealing, no formal attire is required to enjoy the casino's amenities.
In addition, if you are attending one of the casino's special events, it would be wise to check what type of dress code is in effect for that particular event. But all in all, you can usually expect the dress code to remain comfortable and casual throughout your stay.
Is There An Airport Shuttle Available From Magnolia Bluffs Hotel and Casino?
Patrons of this casino can take advantage of an airport shuttle service to get to and from the casino. The shuttle runs between the casino and Jackson International Airport (JAN) and is available 7 days a week.
The cost of the shuttle service varies depending on your destination but typically ranges between $30 -$50 per person. For more information, you can contact the casino directly to inquire about their shuttle service.
What Is The Smoking Policy At Magnolia Bluffs Casino?
Smoking is allowed in designated areas throughout the casino and hotel. These areas are clearly marked with a "smoking area" sign, so visitors should be aware of these before lighting up.
However, smoking is not permitted inside any of the hotel rooms or at any of the gaming tables. Additionally, outside smoking areas must be at least 25 feet from any hotel entrance.
Before they light up, patrons should also be aware of local laws and ordinances concerning smoking in public areas.
What Is The Pet Policy At Magnolia Bluffs Casino?
Unfortunately, pets are not allowed inside the casino and hotel. This policy is in place to ensure that all patrons have a safe and comfortable stay at the property.
However, some pet-friendly hotels are located nearby if you are looking for lodgings that can accommodate your furry friends. Be sure to check with each establishment regarding their individual pet policies.
Is Wifi Available At Magnolia Bluffs Casino and Hotel?
Yes, the hotel and casino offer free WiFi to all visitors. The connection is reliable and secure, so guests can enjoy a seamless online experience while staying at the property.
The same goes for other amenities such as cable TV or room service – these are also available at no additional cost to guests. You can also expect excellent customer service from the staff, who are always willing to help visitors with their questions and concerns.
What Is The Cancellation Policy For Magnolia Bluffs Hotel?
The cancellation policy for the hotel varies depending on your reservation type. Generally, reservations are fully refundable if canceled at least 24 hours before check-in.
However, some reservations may be subject to a fee or not eligible for a refund at all. To ensure that you understand the cancellation policy for your particular reservation, be sure to check with the casino staff prior to making any changes.
Conclusion
Magnolia Bluffs Casino and Hotel offers a great variety of amenities, from gaming tables to pet-friendly hotels. Their dress code is casual, their smoking policy is strict, and visitors can enjoy free WiFi during their stay.
Finally, the hotel has a flexible cancellation policy that allows for refunds if canceled prior to check-in. Overall, a trip to the Magnolia Bluffs Casino and Hotel should be an enjoyable experience for all guests.