Silver Star Casino Philadelphia
Address: 13541 MS-16, Philadelphia, MS 39350
Phone Number: +1 866-447-3275
Website: www.pearlriverresort.com/silver-star
Hours: Silver Star Casino is open 24 hours a day, 7 days a week.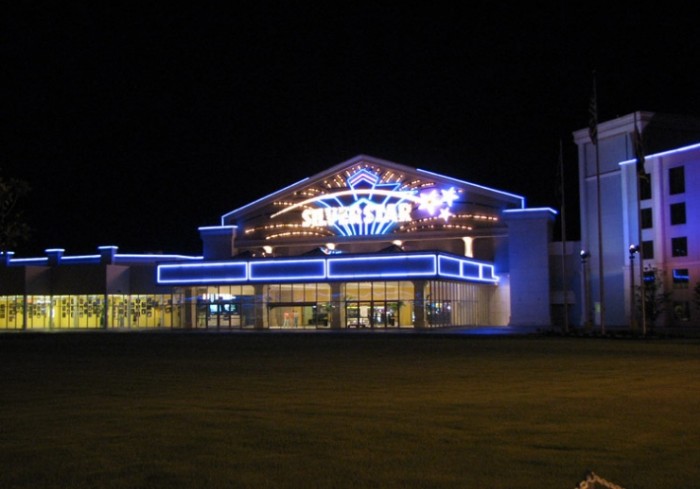 Silver Star Hotel & Casino in Philadelphia, Mississippi, has been a destination for locals and tourists alike since its opening in 1994. It is one of the largest casinos in the state, centrally located within the Pearl River Resort complex.
Since it opened its doors, it has become a top-rated gaming destination for visitors from all over the country. It features over 1,200 slots, video poker, keno machines, and table games such as blackjack, craps, roulette, and mini-baccarat.
Silver Star Hotel is part of the Pearl River Resort complex that offers 503 luxury hotel rooms and suites with great amenities such as an outdoor swimming pool, indoor fitness facility and spa services.
It also offers a variety of exciting dining and entertainment options. There are several restaurants, bars, and lounges to choose from, offering everything from fine dining to casual pub grub. The casino also has a live entertainment stage featuring top-notch music.
Whether you're looking to win big at the tables, enjoy a delicious meal, or relax and take in some live entertainment, Silver Star Hotel & Casino has it all.
Overall, guests rate this casino highly. Guests say, "The staff was friendly and attentive, the room was comfortable, and the casino was great." Another review says, "The casino is spacious and well-lit, with plenty of table games and slots. Prices were reasonable."
The casino has also consistently scored high ratings on TripAdvisor, Yelp and Google sites. So, if you're looking for an exciting, top-notch gaming experience, Silver Star Casino is a great choice.
(Related reading: Mississippi casinos)
Gaming
This state-of-the-art casino offers everything from classic slots to the latest technology in gaming, including video poker and keno. There are over 1,200 slot machines with a variety of denominations and table games such as blackjack, craps, roulette and mini-baccarat.
Table Games
This casino offers countless opportunities for a fun night out. Whether you're a novice or an ace, you'll find games to fit your style and comfort level.
Try all popular table games: Blackjack, Roulette, Craps and Mini Baccarat. If the standard fare doesn't please you, let it ride with one of their exciting speciality games, BlackJack or Beat the Dealer, Dice.
Bring your friends or make some new ones as you enjoy the friendly atmosphere and maybe hit the jackpot.
For those who are looking to get their feet wet without risking too much, they offer a variety of table game minimums all the way down to $5 but generally range between $5-$15.
Slots
You will find a selection of popular slot machines at Silver Star Casino that satisfy all gamers. Whether you're a fan of traditional-style reel slots or prefer to try your luck on the latest video slots, there is something for everyone.
If poker is more your style, be sure to check out their wide array of video poker games, plus exciting versions of video Keno.
The Silver Star Casino slot machine payback percentage is not publicly disclosed. However, Mississippi's gaming commission requires all casinos to be within a certain payback percentage range. This means that while we don't know the exact payout, it is likely to be 80-100%.
Hotel/Resort
The Silver Star Hotel and Casino is part of the Pearl River Resort complex, which includes a 503-room luxury hotel. Each room is outfitted with modern amenities such as complimentary Wi-Fi, cable TV, coffee makers, and air conditioning.
You can choose from a variety of room types available:
Silver Star Accessible King – 1 king bed (offers non-smoking/smoking room)
Silver Star Double – 2 double beds (offers non-smoking/smoking room)
Silver Star King – 1 king bed and a sitting area (offers non-smoking/smoking room)
This casino offers a variety of amenities to make your stay even more enjoyable. Some of the amenities offered at Silver Star include:
A fully-equipped fitness center
A full-size outdoor swimming pool
Three whirlpool spas
Restaurants
Live entertainment
Silver Star Hotel offers competitive rates for hotel rooms and suites. Rates vary based on the time of year, room type, and availability. You will need to contact the hotel directly for more information about room rates and availability.
Check-in time at Silver Star is 4:00 pm
Check-out time at Silver Star is 11:00 am
Restaurants & Buffets
Silver Star Casino has something for everyone when it comes to dining. Phillip M's is their fine dining restaurant named in honor of the late Tribal Chief Phillip Martin, serving up delicious dishes for a truly unforgettable experience.
Rally Alley offers quick meals such as delicious sandwiches, pizza and hot dogs, while Stats Sports Bar & Grill provides burgers, wings, BBQ and salads with an added bonus of TVs to watch your favorite sports game.
For more on-the-go options, The Bakery makes breakfast sandwiches, gourmet sandwiches, pizzas and pastries that are sure to satisfy any craving.
The Buffet Prices
If you're planning a visit to this casino, one of the highlights should definitely be the Buffet. Here, you can enjoy a delicious variety of freshly cooked cuisine with all-you-can-eat options.
Although no prices are currently available for the buffet, it is sure to be packed full of fantastic flavors that everyone can enjoy. It's difficult to find top-quality buffet dining outside of Las Vegas, but Silver Star offers customers an exceptional experience to remember.
Pools
This casino offers an unbeatable outdoor pool experience on its premises in Mississippi. With a full-sized outdoor swimming pool and three whirlpool spas, you'll be sure to relax and enjoy the summer months with friends and family.
Lounging chairs provide extra comfort while also looking out onto the grounds so that you can take it all in. The casino also offers plenty of other amenities throughout the day, so you won't even have to leave the grounds if you don't want to.
Silver Star Casino Philadelphia, MS FAQ
Does Silver Star Casino Have A Sportsbook?
Yes, this casino offers a sportsbook. The Timeout Lounge, located in the Golden Moon Hotel & Casino within the Pearl River Resort complex, has got you covered.
The newly remodelled Timeout Lounge is the perfect place to catch up on all your favourite sports games while placing bets on professional league sporting events and major collegiate athletic competitions.
The space has 20 TVs displaying feeds from the major sports networks, 12 updated boards with a listing of games and scores, as well as 3 stations for in-person bets.
Is Poker Available At Silver Star?
Yes, you can find a wide variety of poker games at the Pearl River Poker Room. The room is open all day and night, with 14 tables available.
You can play all your favorite poker variants like Limit and No-Limit Hold'em, Omaha, and more. If you're feeling competitive, the room also hosts tournaments with prizes up for grabs.
What Are The Age Requirements For Gambling At Silver Star Casino?
The minimum age requirement for gambling at this casino is 21 years old. This is in accordance with the Mississippi Gaming Control Act of 1990, which requires all casinos to have a minimum age limit of 21.
Does Silver Star Have An Online Casino?
At this time, they do not offer an online casino option. However, you can still enjoy all the exciting gaming action right onsite at their physical location.
Is There An Silver Star App?
At this time, there is no Silver Star Casino app available. However, they do have a sport betting app available called PRR Sports Betting. This app allows you to place bets on sporting events and view live scores from your phone.
For the latest news and updates, you can follow them on social media or check their website for more information.
What Is The Dress Code At Silver Star Casino?
The dress code at this casino is pretty relaxed. While they do not allow any clothing that may be deemed offensive, they generally accept smart-casual attire such as jeans and a collared shirt. Make sure to avoid wearing anything too revealing or profane, though.
Is There An Airport Shuttle Available From Silver Star?
The casino offers a 24/7 shuttle service so you can get there conveniently anywhere. To discover more information on the shuttle's times and prices, just contact the resort directly during their operating hours.
What Is The Smoking Policy At Silver Star Hotel & Casino?
The casino has a strict no-smoking policy in all indoor areas, including the gaming floor. However, they do have specific outdoor smoking areas available for guests who want to take a break and smoke while still enjoying the atmosphere of the resort.
You can also book non-smoking rooms in the hotel, so you won't have to worry about secondhand smoke if you're staying for a few days.
What Is The Pet Policy At Silver Star?
Unfortunately, the hotel and casino do not allow pets in their accommodations or on the property. Although they do allow service animals, they must be registered with the front desk and have proper identification.
Is Wifi Available At Silver Star Hotel & Casino?
Yes, they offer free wifi throughout the property, so you can stay connected while you're there. Simply ask the front desk for the network details, and you'll be all set.
What Is The Cancellation Policy For Silver Star Casino?
All cancellations must be made at least 24 hours before your check-in date. Any late cancellations or no-shows will be charged the full rate for the first night's stay.
Conclusion
Silver Star Hotel & Casino offers a wide variety of gaming, entertainment, and dining options, plus all the comforts of home.
With its convenient location, ample amenities, and friendly staff, there's something for everyone at this Mississippi casino. Whether you're looking for an exciting night out or just a relaxing getaway, Silver Star is the perfect destination.