Trop Casino Greenville
Address: 199 N Lakefront Rd, Greenville, MS 38701
Phone Number: +1 662-332-6900
Website: www.caesars.com/tropicana-greenville
Hours: Trop Casino Greenville is open Monday 9 AM–1 AM, Tuesday 9 AM–1 AM, Wednesday 9 AM–1 AM, Thursday 9 AM–12 AM, Friday Open 24 hours, Saturday Open 24 hours, Sunday Open 24 hours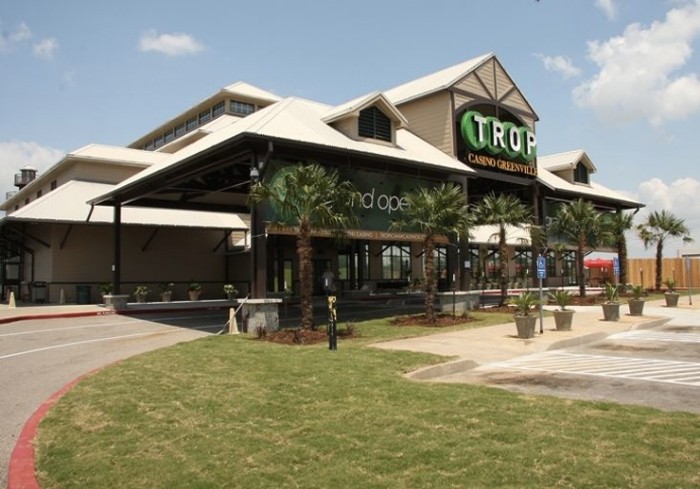 Trop Casino Greenville opened its doors in May 2012 and is owned by Gaming and Leisure Properties, Inc. and Caesars Entertainment.
The casino features over 600 slot machines as well as electronic table games. It also offers a variety of live table games, including blackjack, craps, roulette and more.
The on-site restaurant, Big Water's Cafe, serves a wide selection of American-style dishes in a casual atmosphere. Guests can also enjoy cocktails, draft beers, and wine by the glass at Big Water's Lounge.
It offers a variety of promotions, giveaways and special events throughout the year. Guests can also take advantage of the Trop Advantage rewards program, which offers exclusive discounts and other benefits for loyal customers.
Trop Casino Greenville is highly rated by guests, with an overall rating of 4.5 stars out of 5 on Google Reviews. Guests say, "Great service, friendly dealers and staff. Great food at the restaurant. Lots of fun!"
Another reviewer wrote, "The casino was clean, and the staff were friendly. I enjoyed playing slots and trying my luck at craps. Would definitely recommend it!"
So if you're looking for a night of gaming fun, head on over to this casino, as you won't be disappointed.
(Related reading: Mississippi casinos)
Gaming
This casino also offers more than 600 electronic gaming machines and various electronic table games, including blackjack and craps. The casino also hosts tournaments and promotional events throughout the year, giving guests the chance to win prizes or rewards points.
Table Games
At this casino, you'll find all the classic table games. Take your chances at Blackjack and see if you can get closer than the dealer when betting on 1 to 11. Try your luck with Roulette and choose from numbers 1 to 36 as well as 0 and 00 for a shot at some big wins.
And for something a little different, try your hand at Craps, with its specialized lingo and different ways to win by betting individual numbers or intersections of up to five numbers at once.
The minimum bet for table games at Trop Casino Greenville is $5. The maximum bet varies depending on the game and can range from $100 to $1,000 or more. Check with the casino staff before playing to ensure you're comfortable with the specific table game limits.
Slots
At this casino, you'll find popular and exciting slot machines that bring the thrills of Las Vegas right to your fingertips. From classic 3-reel favorites to the latest blockbuster video slots, experience fun gaming with a variety of hit titles.
You can look forward to engaging in bonus rounds, free spins, and more. With 600 thrilling machines waiting for you, there are plenty of opportunities to win big.
The average payback percentage for slot machines at this casino is currently unavailable. However, the Mississippi Gaming Commission requires that all slot machines offer a minimum payback of 80%.
Hotel/Resort
Trop Casino Greenville does not have a hotel or resort attached to the property. However, there are numerous hotels and resorts in the surrounding area; these include:
Hampton Inn & Suites
Comfort Suites
Holiday Inn Express.
These hotels offer various amenities to make your stay comfortable, including complimentary breakfast buffets, high-speed internet access and more.
Restaurants & Buffets
Although they don't have their own buffets, this casino offers plenty of full-service, high-quality dining and snack options that are sure to satisfy anyone.
At Big Water's Cafe, guests can experience a wide variety of delicious dishes in a unique waterfront setting. The menu features appetizers, soups, salads, sandwiches and platters, so there is something sure to please everyone.
Their guest-favourite local catfish is served in a variety of ways and comes from U.S. farms that uphold the highest standards of quality. From the crispy hand-breaded or fried fillet strips to the classic catfish sandwich, this is true southern cooking at its best.
Enjoy your meal along with the charming views of Lake Ferguson for an enjoyable dining experience each time you visit.
Trop Casino, Greenville, MS FAQ
Does Trop Casino  Have A Sportsbook?
Yes, the casino boasts 16 sportsbook kiosks to provide bettors with an exciting and easy betting experience. To make things more enjoyable, there is a comfortable seating area right next to the kiosks, complete with 10 screens where you can catch all the action.
Additionally, Sunday Ticket lets you keep up with every NFL game while horse racing fans can tune into the day's top races from racetracks across the US.
Is Poker Available At Trop Casino Greenville?
Although they don't offer a dedicated poker room, they have exciting gaming tables where you can play 3-card poker. You can spend your evening in an originally themed atmosphere with all kinds of great food, drinks and opportunities for winning big. 
What Are The Age Requirements For Gambling At Trop Casino?
The minimum age for gambling at this casino is 21. All guests must present valid identification prior to entry. No one under the age of 21 is allowed in the gaming area or on the property.
Does Trop Casino Have An Online Casino?
They do not have an online casino. However, players worldwide looking for a great gaming experience can still enjoy everything this casino offers in person.
Is There An Trop Casino Greenville App?
Although this casino doesn't offer an app, they have a Sportsbook App combined with Caesars Rewards. The sportsbook component lets users place wagers on their favorite sports or events, making their time playing at the casino even more exciting.
In addition, players can take advantage of exclusive features, including alerts, whenever a new promotion or offer becomes available.
What Is The Dress Code At Trop Casino Greenville?
The dress code at this casino is casual. Guests should feel comfortable dressing in jeans, t-shirts, shorts, and sneakers.
Is There An Airport Shuttle Available From Trop Casino?
Unfortunately, there isn't an airport shuttle available from the casino to any of the nearby airports.
However, several alternative options exist for getting to and from the airport. Some of the best ways include renting a car, taking a taxi or ride-share service, or scheduling a private car service in advance.
What Is The Smoking Policy At Trop Casino?
Smoking is not allowed in the casino except for designated areas located throughout the property. For guests who would like to smoke, there are smoking patios available onsite where all types of tobacco are permitted.
What Is The Pet Policy At Trop Casino Greenville?
The casino does not allow pets on the premise. Service animals with proper documentation from a doctor or veterinarian are the only exception. All other animals must remain in the care of their owners off-site.
Is Wifi Available At Trop Casino?
Yes, free Wi-Fi is available throughout the casino property. Guests can easily connect to the network and enjoy browsing, streaming multimedia content, and other activities.
What Is The Cancellation Policy For Trop Casino Greenville?
As mentioned, there is no hotel attached to the casino, so there are no booking policies or cancellation fees to worry about. Guests should note that any special promotions and offers may be subject to their explicit terms & conditions.
Conclusion
Trop Casino Greenville is the perfect spot for an enjoyable evening out. With its wide selection of gaming tables, sports betting kiosks, and other entertainment options, you're sure to find something fun to do.
Be sure to bring your valid ID with you if you are 21 or over, and make sure to check out their smoking patios if you need a smoke break.
With free Wi-Fi and plenty of food and drinks, Trop Casino Greenville is sure to provide you with an unforgettable experience.