Ameristar Casino Kansas City
Address: 3200 North Ameristar Drive, Kansas City, MO 64161
Phone number: +1 816-414-7000
Website: https://www.ameristarkansascity.com/
Hours: This casino is open 24 hours a day 7 days a week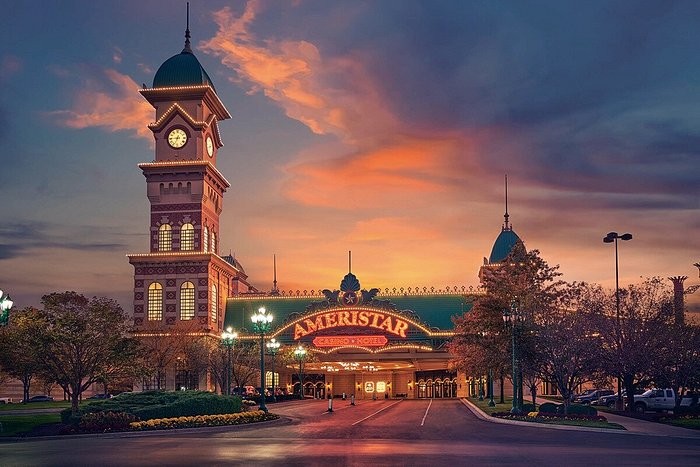 Ameristar is the largest casino in the state of Missouri, located just a short 20-minute drive from The Plaza in downtown Kansas City. It first opened its doors to guests in 1997 and has since become one of the most beloved gaming destinations in the Midwest.
The casino offers over 1,950 slot machines with the latest titles featuring a variety of denominations, 60 table games such as blackjack, craps and roulette, and video poker.
The casino also features a number of excellent amenities, including seven restaurants to choose from, ranging from fine dining to casual fare, a 20-lane bowling alley, an 18-screen movie theatre and a bar where you can grab a delicious drink or signature cocktail.
For those looking for entertainment, Ameristar Casino Kansas City offers a variety of headliners every month to keep you entertained. With everything from live music to comedy shows and even special events like UFC fights and boxing matches, there's something for everyone.
The hotel features 184 luxury rooms and suites, a business center, event spaces, and an indoor pool for guests to enjoy. For ultimate gaming excitement, Ameristar Casino Kansas City is the place to be.
With a wide variety of games, amenities and entertainment options all under one roof, it's no wonder why so many people love to come here.
Ameristar Casino Kansas City has earned a reputation as one of the best gaming destinations in the Midwest. Guests rate it highly for its wide array of gaming options, world-class amenities, and convenient location close to downtown Kansas City.
(Related reading: Missouri casinos)
Gaming
This casino offers over 1,950 slot machines, 60 table games and video poker. With so much to choose from, there is sure to be at least one game that catches your interest and leaves you eager for that big win.
Table Games
This casino has something for everyone at their table games. Just to name a few favorites, you can play classic blackjack with friendly and knowledgeable dealers, take your chances rolling the dice with a game of craps, or try and beat the house at roulette.
They also offer Mini-Bac and Pai Gow Poker if those are more your style. Every night is filled with excitement and potential winnings at this casino in Kansas City. So why wait? Grab some friends, make your way to the casino, and have a great time playing your favorite table games.
The minimum bet limits vary depending on the table game. For blackjack, bets start as low as $5.00 and can go up to $500. Craps start at $2.00, while Roulette is $1.00 per number or color selection. Pai Gow poker has a minimum of $10, and Mini-Bac is $20.00.
Slots
The slots at Ameristar Casino Kansas City offer a variety of denominations, ranging from penny games to $25 plus machines. With hundreds of slots available, there is something for everyone here.
Popular titles include:
Buffalo Gold Revolution
It's Magic
Lightning Cash
Quick Hit Platinum
Triple Diamonds
The payback percentage for this casino is 90.3%. When you consider that the state of Missouri has a minimum payback percentage of 80%, you get a clear idea of what you can expect from your time on the casino floor.
Hotel/Resort
Ameristar Casino Kansas City has 184 luxury rooms and suites, all designed with soothing colors and stylishly furnished, to make your stay as comfortable as possible.
From the deluxe king room to the suite with a balcony view of the river, you are sure to find something that meets your needs.
A few of the room types you can expect to find at the hotel are:
Deluxe King: King bed, spacious room, and plenty of amenities.
Deluxe Queen: 2 Queen beds, spacious room, and plenty of amenities.
Player Mini-Suite: Living and sleeping spaces, balcony with views, and plenty of amenities.
The hotel and casino also offer several restaurants for guests to enjoy, an indoor pool and a business center. With all of these amenities, it's no wonder why so many people choose to stay at the Ameristar Casino Kansas City when they come to town.
For entertainment, Ameristar Casino Kansas City brings in headliners each month so that you can experience live music and comedy shows right at the casino. It's also home to special events like UFC fights and boxing matches.
If you're looking for a one-stop destination with all of your favorite games, world-class amenities and entertainment options, this casino is the place to be. So why wait? Make plans today and get ready for an unforgettable stay.
Some of the amenities you can expect to find at the hotel and casino include:
Luxury rooms and suites
Restaurants and bars
Indoor pool
18-screen theatre
Bowling alley
Arcade
Live entertainment
Business center
Event spaces
Promotions
The cost to stay at the casino hotel depends on the room type and season you choose. Rates for rooms start at around $119 per night and go up from there. There are also many packages that offer special deals when booking multiple nights or activities in advance.
Check-in time at Ameristar Hotel is 4:00 pm
Check-out time at Ameristar Hotel is 11:00 am
Restaurants & Buffets
A night out at this casino is sure to include amazing dining experiences because they have something to satisfy every craving.
At Great Plains restaurant, you can find classic American cuisine like their ribeye steak served with petite potatoes or the Missouri BBQ pork pizza. In the mood for some tasty pub grub? Try Amerisports Brew Pub's Bavarian pretzels accompanied by sharp cheddar and beer cheese dip.
If you're in the mood for a fiesta of flavor, Willy & Jose's Cantina offers Mexican favorites such as chimichangas and burritos. Enjoy Italian classics with a modern twist at Sugo, like the prosciutto-wrapped rabbit loin over rosti potatoes.
Big Tony's Pizza serves New York-style pies with fresh ingredients that everyone loves. You'll love an evening at An Pho for delicious Asian-style dishes, where entrees include Kung Pao Chicken and Pad Thai Noodles.
The Burger Joint brings classic burgers and flavorful fries right to your table. Last but certainly not least is Club 38, where specialty craft cocktails meet classic bar amenities—spend your evening enjoying drinks and savory sliders or classic favorites like crispy chicken tenders or ale-battered fish & chips.
Pools
This casino offers the perfect escape from hot summer days. Their cool and refreshing indoor pool is ideal for relaxing while you're there.
With many comfortable spots to soak up the sun or take a dip, you can truly experience ultimate luxury away from your home.
Ameristar Casino Kansas City, MO FAQ
Does Ameristar Casino Have A Sportsbook?
This casino is a popular attraction for entertainment seekers, but unfortunately, it does not offer a sportsbook for customers who are looking to gamble on their favorite teams.
This is because sports betting is currently illegal in Missouri. The casino provides plenty of other opportunities for great fun, with over 2,200 slots, video poker machines, and more than 90 gaming tables, making it a fantastic alternative.
Is Poker Available At Ameristar Casino Kansas City?
Unfortunately, this casino does not offer any type of Poker games. That being said, there are a variety of other options available here. From slots to table games and some great poker variations, you're sure to find the perfect game for you.
What Are The Age Requirements For Gambling At Ameristar Casino?
This casino offers exciting experiences for all ages. However, if you are looking to try your luck at the gaming tables or slot machines, you need to make sure that you are of age – the minimum age requirement is 21 years old.
The casino reserves the right to ask for valid identification before allowing guests access to any of its gaming areas.
Does Ameristar Have An Online Casino?
This location definitely has an online casino. You can play all your favorite games, like Video Poker and slots, from the comfort of your own home.
You can also choose from a variety of table games like Blackjack, Roulette and Baccarat. With multiple payment options, great customer support, and various promotions to choose from, you'll always have a great time.
Plus, this casino takes security seriously with state-of-the-art technology, so you can be sure that your account is safe and secure.
Is There An Ameristar Casino Kansas City App?
Unfortunately, if you're looking for an app, there isn't one available. The best way to stay up-to-date and access this casino's details is by utilizing the website directly.
You'll find full game previews, promotion pages, menus, events and more to help you plan your perfect visit. With all the information available online, you won't miss out on a single thing that this casino has to offer.
What Is The Dress Code At Ameristar Casino?
The dress code at this casino is smart casual. You'll feel comfortable and confident in almost anything you wear, whether jeans, a t-shirt or a formal outfit.
As long as your clothing is neat and presentable, you'll be accepted by the casino. Keep in mind that all guests must have their valid ID on them at all times, so make sure to bring yours, or you won't be able to enter.
Is There An Airport Shuttle Available From Ameristar Casino Kansas City?
No, there is no airport shuttle available from this casino. However, the Kansas City International Airport (MCI) is only a 25-minute drive away, and taxis are available to take you to your destination.
As an added convenience, there's also a rental car service located near the airport that can easily get you to Ameristar Casino in no time.
What Is The Smoking Policy At Ameristar Casino?
The smoking policy at this casino is quite strict. Smoking is not allowed anywhere inside the premises, and guests must adhere to this policy or risk being fined or asked to leave the property.
However, guests can use an outdoor smoking area near the entrance if they need a smoke break. If you choose to take advantage of this area, please make sure to keep your cigarette butts properly disposed of.
What Is The Pet Policy At Ameristar Casino Kansas City?
Unfortunately, pets are not allowed inside the casino. This rule is strictly enforced, so please leave your pet at home or in a hotel room if you plan on visiting.
Service animals that are necessary for assistance are welcome, but all other animals must stay away from the casino premises.
Is Wifi Available At Ameristar Casino?
Yes, free WiFi is available throughout the casino. All you need to do is connect to the "Ameristar" network and enter your email address.
Once connected, you'll have full access to the internet and all of the amenities this casino offers. With a fast connection, you won't have any problems streaming your favorite shows or playing online games.
What Is The Cancellation Policy For Ameristar Hotel?
The cancellation policy at this casino is quite simple. All reservations must be cancelled within 24 hours of making them, or you will forfeit your deposit.
If you cancel after the 24-hour period, there may also be an additional fee assessed. Be sure to read through all the details before booking to make sure you understand their policies and fees.
Conclusion
Ameristar Casino Kansas City is a great place to visit if you're looking for a night of fun and entertainment. With its wide variety of games, great customer service, and easy access to all the amenities, you'll be sure to have a fantastic time at this casino.
Whether you're visiting for business or pleasure, make sure to read up on the policies and dress code beforehand so you can make the most of your trip.